The eighth annual World Cup of Softball is not only a chance for softball's elite to prove they are the best but also a chance to prove the sport belongs in the Olympics.
The event, which begins July 17th at ASA Hall of Fame Stadium in Oklahoma City, Okla., offers a chance for the sport to make a good impression on the International Olympic Committee.
As the Associated Press notes (via FoxNews.com), the IOC will meet in Buenos Aires, Argentina on Sept. 7-10 to decide whether wrestling, squash or softball/baseball will make the schedule for the 2020 Olympics.
While that is of huge importance to the sport, the more pressing issue is the World Cup.
Check out everything needed to enjoy the action, and then I'll offer up a tournament preview.
TV and Live Stream Schedule
ESPN will carry the broadcasts. Live stream and viewing information can be found at WatchESPN. All times ET.
July 11 at 8 p.m.: USA vs. Canada on ESPN and ESPN3
July 12 at 8 p.m.: USA vs. Australia on ESPN and ESPN3
July 13 at 12 p.m.: USA vs. Canada on ESPN
July 13 at 9 p.m.: USA vs. Japan on ESPN
July 14 at 1 p.m.: USA vs. Puerto Rico on ESPN and ESPN3
July 14 at 9 p.m.: Championship Game on ESPN 2
Schedule of Play
Schedule information according to softballoutlet.com. All times ET.
Date
Time
Matchup
July 11
4:30 p.m.
Japan vs. Australia
7 p.m.
USA vs. Canada
July 12
11:30 a.m.

Puerto

Rico vs. Canada
2:30 p.m.
Canada vs. Japan
7 p.m.
USA vs. Australia
July 13
10 a.m.

Puerto

Rico vs. Japan
12:30 p.m.

Puerto

Rico vs. Australia
3 p.m.
Australia vs. Canada
8 p.m.
USA vs. Japan
July 14
12 p.m.
USA vs.

Puerto

Rico
2:30 p.m.
Seed 5 vs. Seed 4
5 p.m.
Seed 3 vs. Winner of 4 and 5
8 p.m.
Seed 1 vs. Seed 2(Championship)
Tournament Preview
The U.S. has dominated this tournament. In the inaugural event, held in 2005, the Americans finished as runners-up after losing to Japan in the championship game. Since then, they have won every World Cup.
In its World Cup history, the U.S. has posted an impressive 39-4 record. And it has only lost to two teams—losing twice to both Japan and Canada.
Both of those teams will join the Americans in this tournament, along with Australia and Puerto Rico.
The tournament format is fairly simple. The teams will play in a round robin with the results determining the seeding for the final day of play. The top two seeds will earn spots in the championship game, while the remaining seeds will get a chance to battle for third place.
While the U.S. should be considered a favorite, it certainly isn't a lock. In the 2012 World Championships, Japan defeated the U.S. in extra innings to take the title. That was the last time those two powerhouses battled.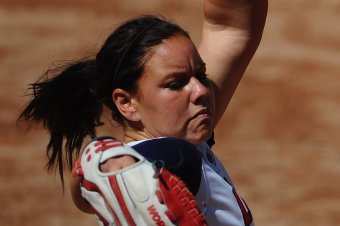 Dennis Grombkowski/Getty Images
Also, the U.S. will have to deal with the absence of Keilani Ricketts. Her loss is a big one. Ricketts is a stud.
She is the two-time National Collegiate Player of the Year and a tremendous pitcher and hitter. As Rhiannon Walker and Stephanie Kuzydym of NewsOK.com note, a contract situation with USA Softball will cause her to miss the event.
While her absence won't keep the talent-laden Americans from competing for the title, it certainly diminishes their chances.