8 People We Can't Wait to Hear from at 2013 Big Ten Media Days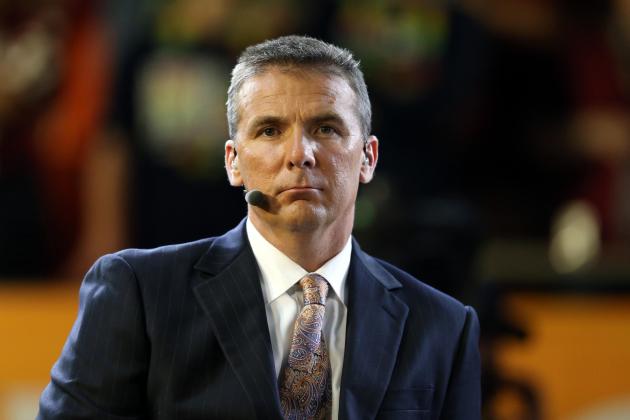 Matthew Emmons-USA TODAY Sports

The Big Ten's media days will take place from July 24-25 in Chicago, allowing local and national media members a pre-season chance to interview coaches and select players.
While still a few weeks away, the full list of attendees has already been released, including three players from each Big Ten squad. And though every coach and player has his own, unique insights to share, some undoubtedly have fans more excited than others.
After a long, arduous offseason, some have a lot of, not a few, questions to answer.
Begin Slideshow

»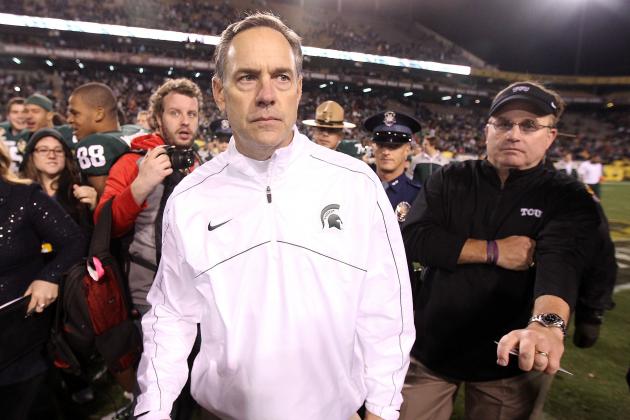 Christian Petersen/Getty Images

Mark Dantonio has raised the Spartans from "Michigan's Little Brother" to a genuine Big Ten force. Defense has been his trademark, but up until last year, the offense had always pulled its weight—former QB Kirk Cousins is the leading passer in school history after starting three years under Dantonio.
But the wheels fell off in 2012, and without that delicate balance, State didn't become bowl eligible until its last regular-season game. The defense was just as good (if not better) than ever, finishing second in Football Outsiders' DFEI, the opponent-adjusted efficiency of a teams' defense, but the passing game was consistently inconsistent.
Trying to turn over a new page and return to his old successful formula, it was curious to see Dantonio bring no offensive skill players to Chicago. More specifically, it was curious to see fifth-year senior and until-further-notice starting quarterback Andrew Maxwell left at home.
Notoriously tight-lipped—Dantonio is a worthy disciple of the Belichick-Popovich Academy for Interview Temperament—the Spartans coach is not likely to say anything newsworthy..
But, heck: It's media day. Why not give it a try and ask?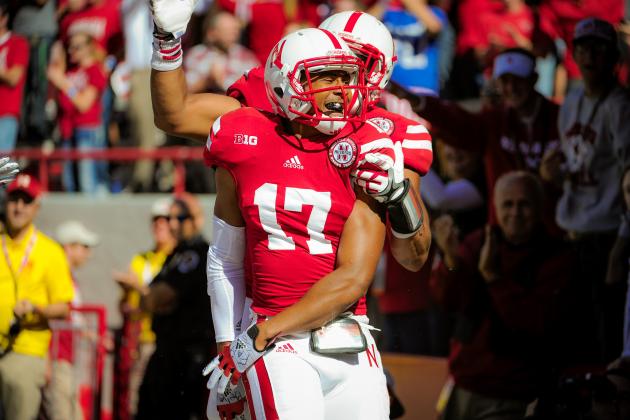 Eric Francis/Getty Images

Nebraska's defense faded in a big way down the stretch last season, allowing 115 points in its final two games. Only four starters return to pick up the pieces, which means, despite an offense that's poised to excel, Nebraska fans have tempered their expectations for 2013.
Ciante Evans, an impressive cornerback prospect and the backbone of Nebraska's rebuilt defense, is the only defender heading to Chicago. With so many questions surrounding the unit he patrols, he could have important insights into how the squad has come together this offseason.
Evans will face plenty of salient questions, such as: How does Auburn transfer Jonathan Rose look in the secondary? What about highly touted JUCO pass-rusher Randy Gregory? How happy are you that Wisconsin isn't back on the schedule?
More than anything, Evans should be asked about the leadership vacuum in Lincoln. There seemed to be a crisis in that department as the defense collapsed last year, and, by bringing him to Chicago, head coach Bo Pelini is ostensibly asking Evans to step up and fill that void.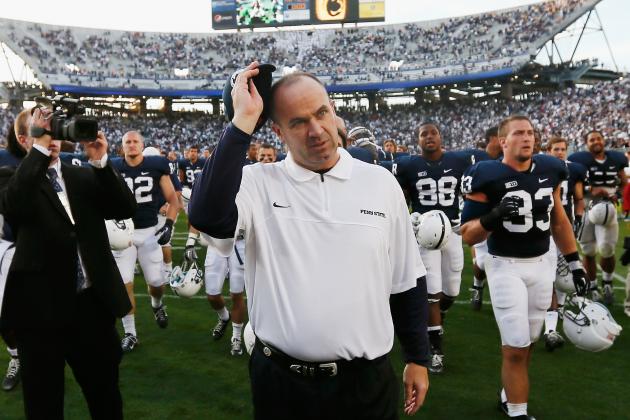 Rob Carr/Getty Images

Like Texas A&M's Kevin Sumlin and Notre Dame's Brian Kelly, O'Brien was approached by NFL teams this offseason, but opted to stay among the amateur ranks.
O'Brien's decision was particularly noble considering the situation at Penn State. Even with no prospect of making a bowl game in the next three years, he opted to honor his contract and stay faithful to Happy Valley.
In Chicago, folks will want to know what went into such a bold decision and where he stands going forward. What if the NFL comes calling again in 2014? How committed will he be if things don't break well on the field? Where does he see himself in five years?
And that's just the start of it. O'Brien also has a wealth of personnel questions to answer, particularly at quarterback, where blue-chip newcomers Tyler Ferguson and Christian Hackenberg were both listed atop the post-spring depth chart.
It wont be must-see TV like last year's panel, but O'Brien will be a riveting attraction nonetheless.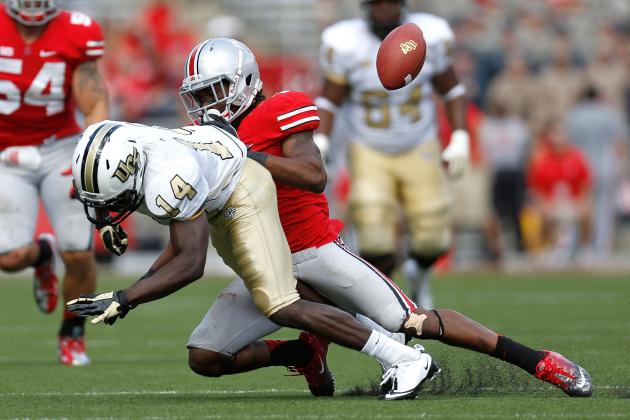 Kirk Irwin/Getty Images

Roby enjoyed a fine campaign in 2012 and has earned the lofty expectations surrounding his senior year. After coming up with 63 tackles, two interceptions and one touchdown as a junior, he has been pegged as a first-team All-American by respected voices like Phil Steele.
But, really, we can't wait to hear and see Roby in Chicago because he is a treat to listen to and watch. Funny, quick and engaging, he has established himself as one of the consensus "best interviews" in college football—an opinion duly shared by ESPN blogger Brian Bennett.
A shoulder injury kept Roby out of spring practice, so there are plenty of serious questions to ask and legitimate reasons to persist. But, once all that boring stuff is done, Roby can let his personality shine through and become a highlight of the week.
Joe Robbins/Getty Images

Fitzgerald has taken the once-hapless Wildcats and led them to five straight bowls, including the school's first postseason victory since 1949. But, with great success comes great responsibility—the responsibility to sustain it.
Even fifth-year NU players have never had to deal with expectations this big. Winning has always been a happy bonus in Evanston, not something expected to transpire. Students used to be content with simply putting forth a good effort.
Now, Northwestern returns 15 starters from a team that went 10-3 last year, with two wins over SEC bowl teams. Nobody in the Big Ten will take the Wildcats for granted. They demanded to be treated like the big boys, so now this is the cross they must bear.
Fitzgerald has dealt with such pressures before, but never as a coach. How he and his three best players—QB Kain Colter, RB Venric Mark and DE Tyler Scott—handle themselves in Chicago could be a telling sign of their mental preparation.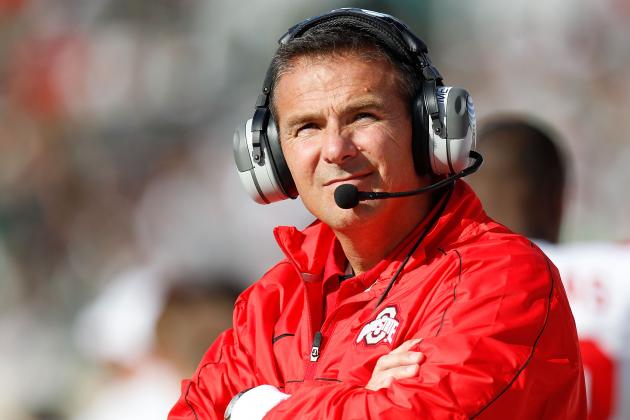 Gregory Shamus/Getty Images

Let's hope Meyer fields the obligatory Aaron Hernandez question early, so the media can move onto more pertinent things. He made his position explicitly clear in a text to The Gainesville Sun and nothing any media-type in Chicago could ask will get him to elaborate much further.
Hernandez notwithstanding, though, Meyer is still one of the most intriguing characters in Chicago. After a surprising 12-0 debut in Columbus, his now-bowl-eligible Buckeyes stare down the barrel of a marshmallow-soft schedule—one that doesn't include Michigan State or Nebraska in the regular season.
Anything other than a BCS National Championship appearance will be considered a bust—a position Meyer has been in before, but one that is foreign to all of his players. It will be interesting to see how he handles a new group of young men in the face of such towering predictions.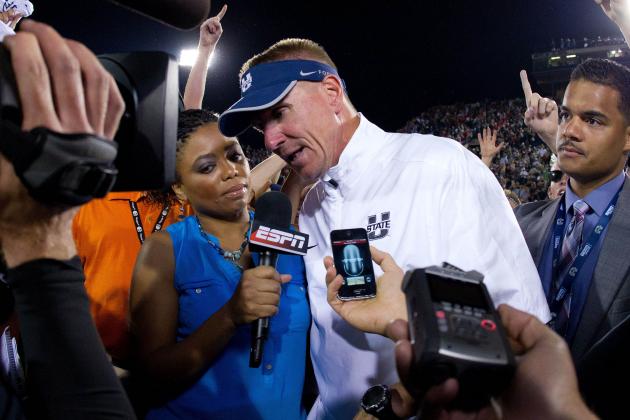 Russ Isabella-USA TODAY Sports

Andersen enters the Badger State an outsider, something his new fans aren't used to welcoming in such a role. Their last two head basketball coaches spent a combined 44 years coaching in Wisconsin before landing the job in Madison, and their last football coach (Andersen's predecessor Bret Bielema) was promoted from within.
That alone is enough to draw intrigue toward Andersen's booth, but the lifelong Utah boy will have plenty more questions to answer. Before taking over at Utah State, he was a coordinator at current Pac-12 school Utah. But when Andersen was there, Utah was still in the Mountain West. Which means this is his first experience coaching at a power-conference program in any capacity.
How has the transition been so far? Has the media been different than it was at a small, isolated MWC school? How have the fans treated you since arriving?
Andersen was also a slow starter at Utah State, going 4-8 in each of his first two seasons. The cupboard is obviously less bare in Madison, but people want to know how he plans to avoid such regression. Because, for the first time in his fairly green career, Andersen is now at a school that doesn't recommend winning, it demands it.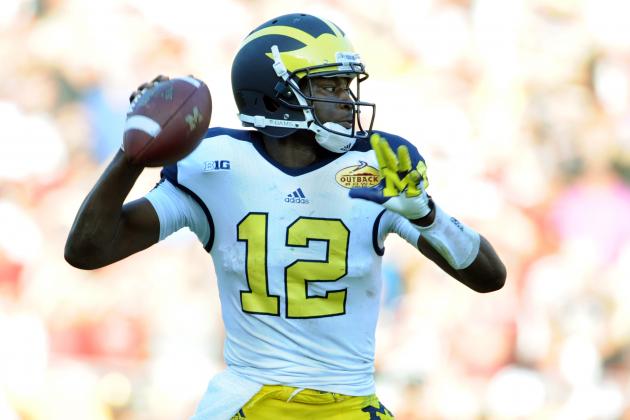 Al Messerschmidt/Getty Images

One of just four juniors invited to Chicago, Gardner is the only QB in attendance who wasn't starting at this time last year. To amplify that pressure, he's taking over for NCAA 14 cover boy Denard Robinson at one of the most "under-a-microscope" positions in sports—a hallowed role occupied by Jim Harbaugh, Tom Brady and countless other greats over time.
Gardner was terrific down the stretch in 2012 and is a major reason for Michigan's optimism going forward. He threw for 1,219 yards and 11 touchdowns in only five starts. Even though his record was just 3-2, those two losses came by five points each and both were against top-10 opponents (Ohio State and South Carolina).
Now attending his first media day, it will be nice to pick Gardner's brain and see how he's dealt with the burden of leadership. It's one thing to come off the sideline and play the role of season savior. But it's another thing entirely, a much more difficult thing, to deal with an offseason of expectations in Ann Arbor.
Questions won't just touch upon those intangibles, but also how much Michigan plans to use him. Despite starting 2012 as a wide receiver, once Gardner took over at quarterback, most of his damage was done from the pocket. How he plans to use his speed (and whether he thinks his body can hold up if he does so frequently) remains a principal inquiry for Michigan.