Early Predictions for the 2015 MLB All-Star Rosters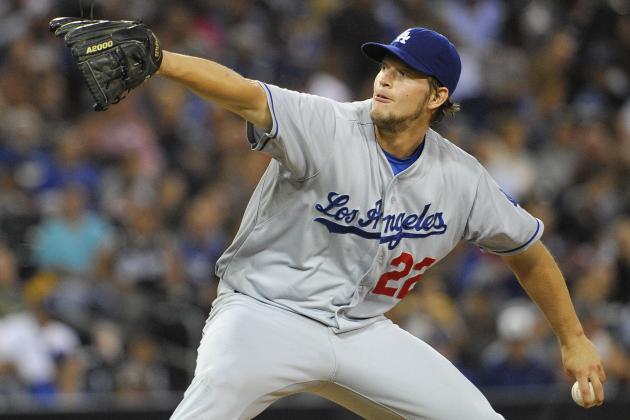 Denis Poroy/Getty Images

With the 2013 MLB All-Star Game right around the corner, I wasn't at all surprised to see multiple pieces of All-Star content on my "to-do" list for the week.
When I saw the numbers "2015" in the title for this piece, I asked the man in charge of B/R's MLB content whether it was a typo or not. Surely, he couldn't be serious.
Turns out that he was—and no, his name isn't Shirley (it's Stephen for those wondering).
So, more than two years before the 86th MLB All-Star Game gets underway at Great American Ballpark in Cincinnati, and with no restrictions on how I put the rosters together (other than that every team must be represented), I donned my prognostication cap and got to work.
These teams include many of the stars you'll see take the field on Tuesday, July 18 at Citi Field—but not all of them.
I've not predicted player movement between teams—if a player is set to hit free agency in the next two seasons and appears on either the American League or National League roster, it's under the assumption that he will re-sign with his current club.
I also did not attempt to include the 34th and final member of each league's squad, elected each season by the fans via the Final Vote—though in retrospect, perhaps I should have.
That said, you will find at least one player making the 2015 All-Star team at a different position than the one that he currently plays, pushed aside by one of the top prospects in the game. If you're looking to see some of those top prospects in future All-Star Games, I can assure you that you won't be disappointed.
Enough talk—let's see what these rosters look like, shall we?
Begin Slideshow

»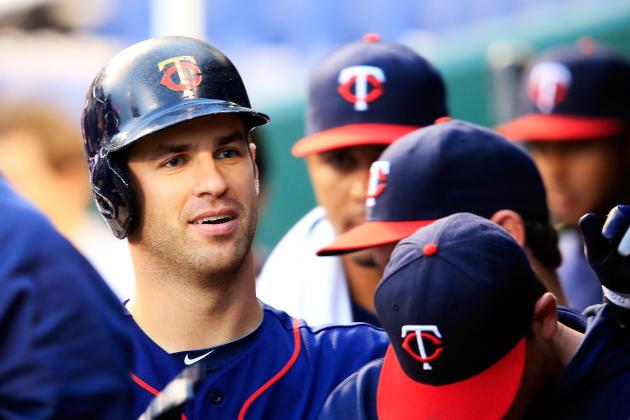 Jamie Squire/Getty Images

2015 All-Stars
Starter: Joe Mauer (MIN)
Reserves: Matt Wieters (BAL) Salvador Perez (KC)
Overview
While it seems like Joe Mauer has been around forever, he'll only be 32 years old in the 2015 season, and while his skills as a receiver may slide, his bat will remain one of the best in all of baseball, earning him his fourth consecutive All-Star appearance (seventh overall).
Salvador Perez, 25, will just be hitting the beginning of his prime and will serve as Mauer's biggest competition for the starting spot for the American League. His power will have caught up with the rest of his game, making him a legitimate threat to hit .300 with 20-plus home runs on an annual basis.
Neither Mauer nor Perez will be able to hold a candle to Matt Wieters defensively, and while the 29-year-old will still struggle to hit for average, he'll be closer to .270 than .230, earning him his third All-Star selection after a two-year layoff.
Next In Line
Jason Castro (HOU)
Mike Zunino (SEA)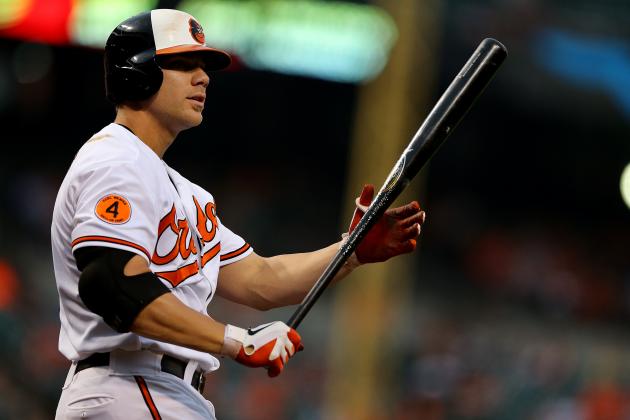 Patrick Smith/Getty Images

2015 All-Stars
Starter: Chris Davis (BAL)
Reserves: Edwin Encarnacion (TOR), Prince Fielder (DET)
Overview
Chris Davis' remarkable ascension from bust to best first baseman in the American League continues, as the 29-year-old is the American League's home run leader at the halfway point for the third consecutive season.
Edwin Encarnacion, 32, still a big-time force in the middle of Toronto's lineup, makes the team, but his selection is one of the more hotly contested ones among fans and pundits alike.
Sooner or later, Prince Fielder's girth is likely going to take its toll, but at the age of 31, Detroit's first baseman remains one the premier run producers in baseball.
Next In Line
Eric Hosmer (KC)
Carlos Santana (CLE)
Jonathan Singleton (HOU)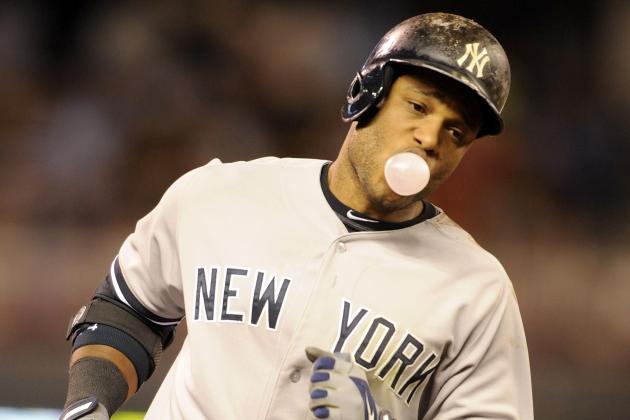 Hannah Foslien/Getty Images

2015 All-Stars
Starter: Robinson Cano (NYY)
Reserves: Jason Kipnis (CLE), Dustin Pedroia (BOS)
Overview
While 32-year-old Robinson Cano gets the nod as the American League's starting second baseman, he faces a stiff challenge from 29-year-old Jason Kipnis, who continues to impress with his combination of power and speed, with 20 home runs and more than 20 stolen bases heading into the break.
Dustin Pedroia, 31, continues to be the key to Boston's offense and one of the best second basemen in the game, making his sixth appearance in the midsummer classic.
Next In Line
Jose Altuve (HOU)
Jurickson Profar (TEX)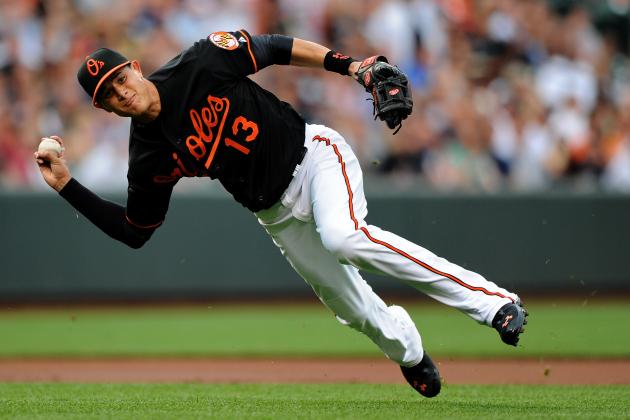 Patrick Smith/Getty Images

2015 All-Stars
Starter: Manny Machado (BAL)
Reserves: Miguel Cabrera (DET), Evan Longoria (TB)
Overview
After playing second fiddle to Miguel Cabrera for two years, Manny Machado finally feels the love from the fans and is elected to start at the hot corner for the American League.
The best defensive third baseman in baseball, Machado, 23, has matured to the point where his doubles power has developed into home-run power, making him one of the most dangerous hitters in all of baseball.
That's not to say that Miguel Cabrera, 32, isn't still terrorizing the opposition, but his defense has regressed to the point where not even his gaudy offensive numbers can fend off Machado's all-around game for the starting spot.
Good enough to start in the game, 29-year-old Evan Longoria simply can't catch a break. Just as Cabrera looks vulnerable to topple from the starting spot, Machado comes along and claims the job for himself.
Next In Line
Adrian Beltre (TEX)
Josh Donaldson (OAK)
Brett Lawrie (TOR)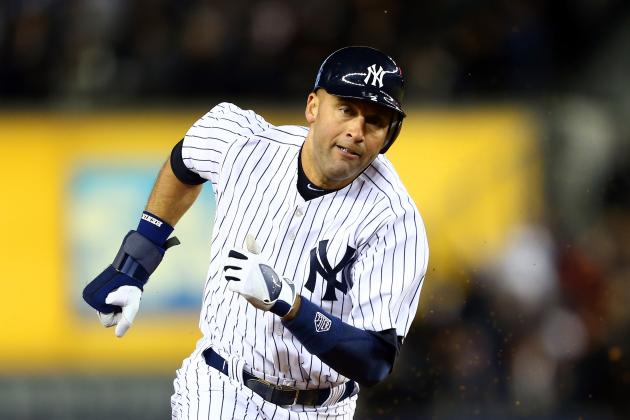 Al Bello/Getty Images

2015 All-Stars
Starter: Derek Jeter (NYY)
Reserves: Elvis Andrus (TEX), Xander Bogaerts (BOS)
Overview
Is Derek Jeter, now 41 years old, the best shortstop in the American League?
Nope, but that doesn't matter, because the fans pick the starters, and Derek Jeter is still...Derek Jeter.
That's not to say that Jeter isn't still a terrific hitter, but his defense has regressed to the point where even the most devout Yankees fan can't defend the team's longtime captain anymore.
Elvis Andrus, 26, still provides little in the way of power, but is once again getting on base with regularity and making use of his biggest asset, his speed.
After a solid rookie campaign in 2014, 22-year-old Xander Bogaerts makes his first All-Star team, due in part to a weak shortstop group in the American League. Still years away from his prime, Bogaerts is more of a doubles hitter than the home-run hitter most predict him to be down the road.
Next In Line
Francisco Lindor (CLE)
Jose Reyes (TOR)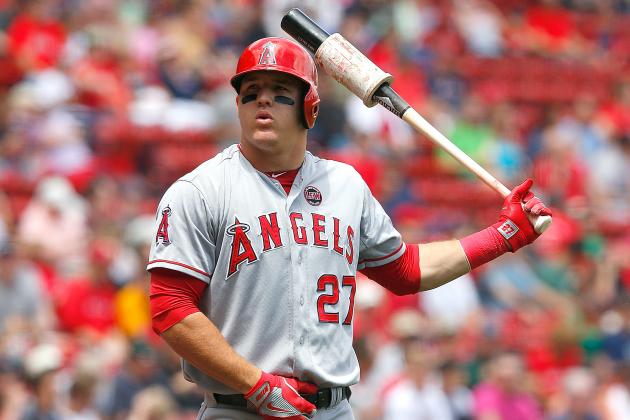 Jim Rogash/Getty Images

2015 All-Stars
Starters: Austin Jackson (DET), Adam Jones (BAL), Mike Trout (LAA)
Reserves: Jose Bautista (TOR), Michael Choice (OAK), Wil Myers (TB)
Overview
Not only can the starting outfield for the American League all hit, but this might be one of the best defensive outfields that the All-Star Game has seen in years.
Both Austin Jackson (28) and Adam Jones (29) are in the primes of their careers and still produce at a very high level, while Mike Trout, 23, continues to get better—a scary thought considering how good he's been up to this point.
Even at the age of 34, Jose Bautista remains one of the premier sluggers in baseball, ranking among the MLB leaders in home runs at the halfway mark, though his mediocre batting average, which he struggles to keep above .250, makes his selection one of the more hotly debated ones among fans and pundits.
While many expected to see Yoenis Cespedes as one of the six American League outfielders, he is passed over in favor of his 25-year-old teammate Michael Choice, who builds upon an excellent rookie campaign in 2014 and has established himself as one of the bright young stars in baseball, hitting for average and power.
Wil Myers, 24, has numbers worthy of being one of the three starters, but lackluster support from a still somewhat anemic Tampa Bay fanbase leaves his All-Star chances in the hands of the manager and his fellow players, who all recognize that Myers has big-time talent.
Next In Line
Yoenis Cespedes (OAK)
Nick Castellanos (DET)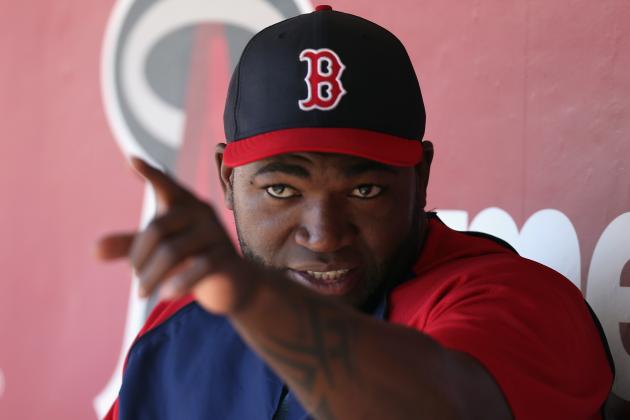 Jeff Gross/Getty Images

2015 All-Stars
Starter: David Ortiz (BOS)
Overview
David Ortiz, 39, announces before the season that 2015 will be his final year. His numbers at the halfway mark are still solid, but this is more of a sentimental pick by fans than anything else.
Next In Line
None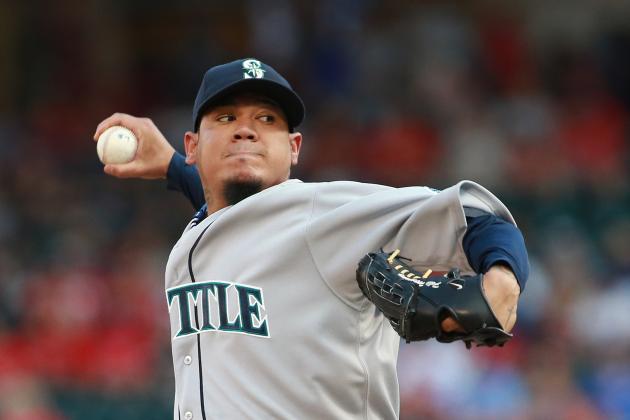 Rick Yeatts/Getty Images

2015 All-Stars
Yu Darvish (TEX), Sonny Gray (OAK), Felix Hernandez (SEA), Matt Moore (TB), Michael Pineda (NYY), Chris Sale (CWS), Max Scherzer (DET), Justin Verlander (DET)
Overview
Five of the eight starters on the American League squad are no-brainers: Yu Darvish (28), Felix Hernandez (29), Chris Sale (26), Max Scherzer (30) and Justin Verlander (32).
All are established veteran hurlers who continue to pitch at an incredibly high level, with Darvish having just beat out King Felix for the 2014 American League Cy Young Award in one of the closest races in history.
Oakland's Sonny Gray, 25, becomes the next terrific young Oakland starter, ranking among the league leaders in multiple categories, while Michael Pineda, 26, has surpassed CC Sabathia as the ace of the staff in New York.
Next In Line
Clay Buchholtz (BOS)
Kyle Gibson (MIN)
Taijuan Walker (SEA)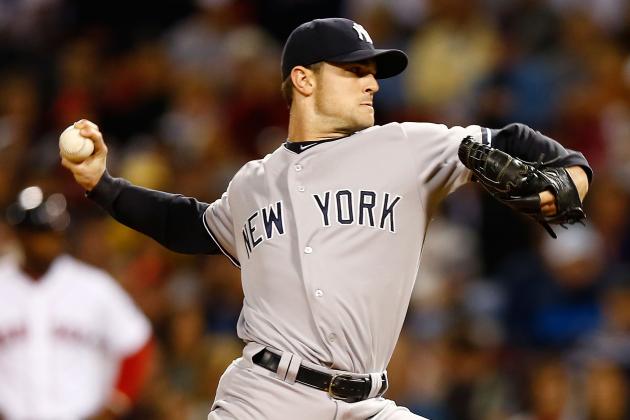 Jared Wickerham/Getty Images

2015 All-Stars
Greg Holland (KC), Glen Perkins (MIN), David Robertson (NYY)
Overview
With Joe Nathan and Mariano Rivera retired, 32-year-old Glen Perkins has become the best closer in the American League, while a pair of 30-year-olds, Greg Holland and David Robertson, are right behind him in the pecking order.
Next In Line
Neftali Feliz (TEX)
Ernesto Frieri (LAA)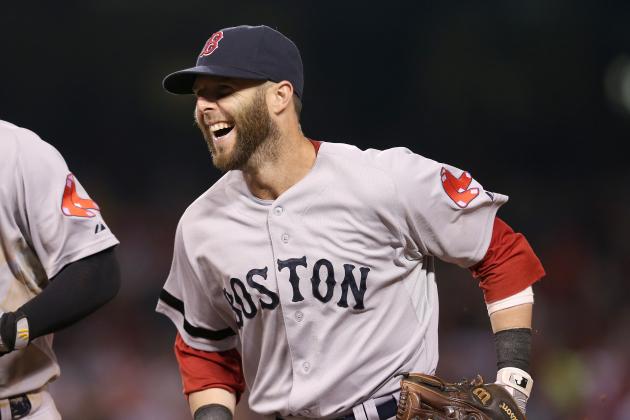 Stephen Dunn/Getty Images

2015 American League All-Stars Team-by-Team Breakdown
Baltimore (3): 1B Chris Davis, CF Adam Jones, 3B Manny Machado
Boston (3): SS Xander Bogaerts, DH David Ortiz, 2B Dustin Pedroia
Chicago (1): SP Chris Sale
Cleveland (1): 2B Jason Kipnis
Detroit (5): 3B Miguel Cabrera, 1B Prince Fielder, CF Austin Jackson, SP Max Scherzer, SP Justin Verlander
Houston (1): C Jason Castro
Kansas City (2): C Salvador Perez, RP Greg Holland
Los Angeles (1): CF Mike Trout
Minnesota (2): C Joe Mauer, RP Glen Perkins
New York (3): 2B Robinson Cano, SS Derek Jeter, RP David Robertson
Oakland (2): CF Michael Choice, SP Sonny Gray
Seattle (1): SP Felix Hernandez
Tampa Bay (1): RF Wil Myers
Texas (2): SS Elvis Andrus, SP Yu Darvish
Toronto (2): RF Jose Bautista, 1B Edwin Encarnacion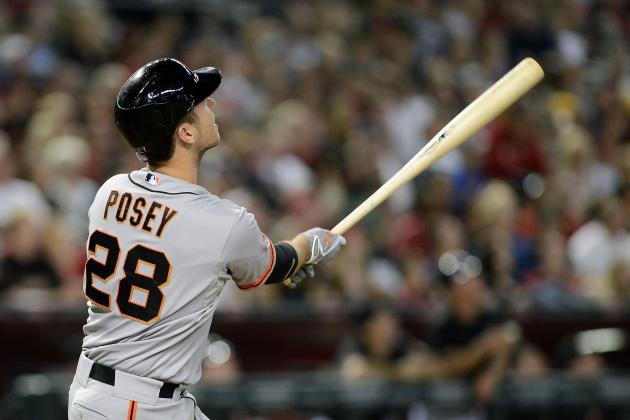 Jennifer Stewart/Getty Images

2015 All-Stars
Starter: Buster Posey (SF)
Reserves: Yadier Molina (STL), Wilin Rosario (COL)
Overview
After being selected behind the Cardinal backstop for the National League starting in 2012, it takes three years for 28-year-old Buster Posey to finally beat out 33-year-old Yadier Molina to reclaim the role.
While Posey continues to perform an a MVP level, years of wear-and-tear behind the plate begin to take their toll on Molina, who, while still very productive, is no longer the best player in St. Louis and has lost a bit of his mobility behind home plate.
Just entering the prime of his career, 26-year-old Wilin Rosario has become the best power-hitting catcher in baseball, though his home-and-away splits show that he's actually a more effective hitter away from the cozy confines of Coors Field than he is in front of his hometown fans.
Next In Line
Travis d'Arnaud (NYM)
Yasmani Grandal (SD)
Jonathan Lucroy (MIL)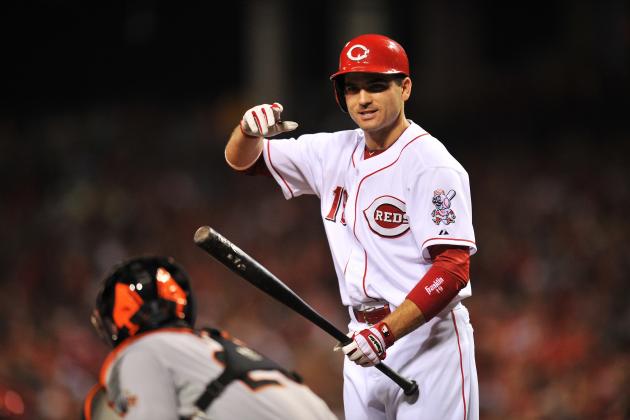 Jamie Sabau/Getty Images

2015 All-Stars
Starter: Joey Votto (CIN)
Reserves: Ike Davis (NYM), Paul Goldschmidt (ARI)
Overview
While 31-year-old Joey Votto ranks fourth among National League first basemen in power numbers, trailing Ike Davis, Freddie Freeman and Paul Goldschmidt, the Cincinnati faithful make sure that their first baseman gets the starting nod for the fourth consecutive season.
Davis, 28, finally figures out that he doesn't need to swing at every pitch that comes his way and puts together the best first half of his career, while Goldschmidt, 27, continues to put up monster numbers in Arizona and is unquestionably the National League's MVP at the midway point of the season.
Next In Line
Allen Craig (STL)
Freddie Freeman (ATL)
Hunter Morris (MIL)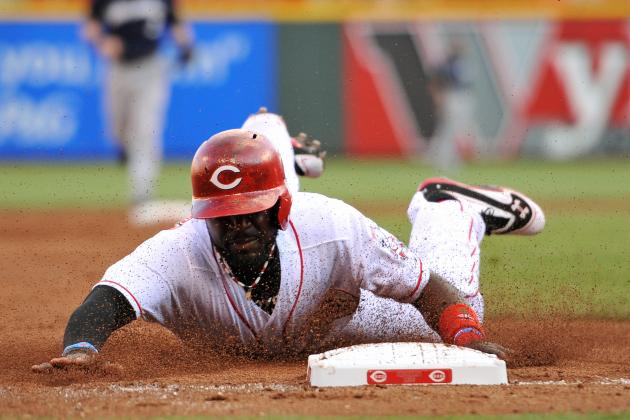 Jamie Sabau/Getty Images

2015 All-Stars
Starter: Brandon Phillips (CIN)
Reserves: Starlin Castro (CHC), Kolten Wong (STL)
Overview
Now 34, Brandon Phillips has lost a step and makes spectacular plays in the field far less frequently than he did in seasons past. Still, he swings a powerful bat and is the best run-producer at the position on the senior circuit.
Pushed off of shortstop by Javier Baez, 25-year-old Starlin Castro finally has his focus and maturity catch up to his tools, thriving as the starting second baseman in Chicago and making his third appearance at the midsummer classic after a two-year hiatus.
After a subpar rookie campaign in 2014 that saw him split time with Matt Carpenter, 24-year-old Kolten Wong finds himself leading all National League second basemen in batting average, earning the first All-Star selection of his young career.
Next In Line
Daniel Murphy (NYM)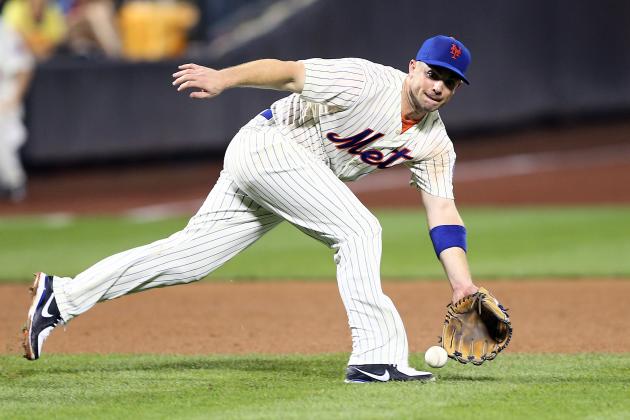 Elsa/Getty Images

2015 All-Stars
Starter: David Wright (NYM)
Reserves: Pedro Alvarez (PIT)
Overview
No longer asked to carry the entire offense in New York, 32-year-old David Wright puts together one of the best first halves of his career, winning the starting spot easily over a relatively unimpressive field of candidates.
While 28-year-old Pedro Alvarez has still never performed up to MVP-caliber levels, he builds upon his impressive 2013 and 2014 campaigns, leading the National League in home runs heading into the All-Star break despite hitting below .250 and striking out five times as often as he draws a walk.
Next In Line
Nolan Arenado (COL)
Matt Carpenter (STL)
Ryan Zimmerman (WAS)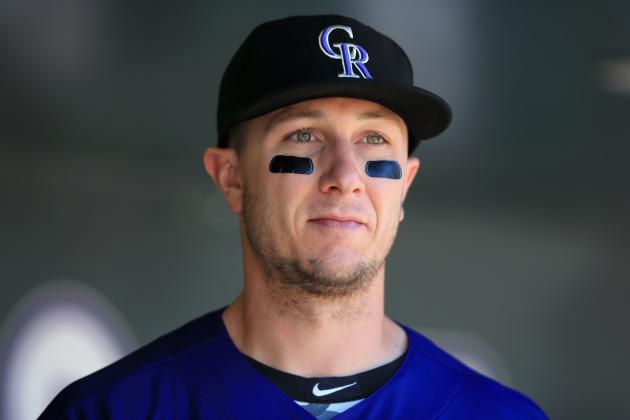 Doug Pensinger/Getty Images

2015 All-Stars
Starter: Troy Tulowitzki (COL)
Reserves: Javier Baez (CHC), Jean Segura (MIL)
Overview
After three injury-filled seasons, 31-year-old Troy Tulowitzki is finally able to stay healthy and gets to play in the All-Star Game for the second time in his career, despite having been elected to the game four times previously.
Javier Baez, 22, who has supplanted Starlin Castro as the starting shortstop in Chicago, shows the world why he was such a highly touted prospect, hitting for power and average while playing Gold Glove-caliber defense.
While the power he displayed in 2012 has faded a bit, 25-year-old Jean Segura has firmly established himself as one of the best hitters in the National League, using his speed to lead the league in triples and stolen bases heading into the All-Star break.
Next In Line
Everth Cabrera (SD)
Didi Gregorius (ARI)
Andrelton Simmons (ATL)
Patrick McDermott/Getty Images

2015 All-Stars
Starter: Carlos Gonzalez (COL), Bryce Harper (WAS), Oscar Taveras (STL)
Reserves: Domonic Brown (PHI), Jason Heyward (ATL), Yasiel Puig (LAD), Giancarlo Stanton (MIA)
Overview
While 29-year-old Carlos Gonzalez has bucked his two-year run of performing better on the road than at home, his overall numbers are still among the best in baseball and land him in his fourth consecutive All-Star Game.
Like his American League counterpart Mike Trout, 22-year-old Bryce Harper continues to improve in all areas of his game, becoming the most dangerous hitter in the National League and finding himself on pace to surpass Barry Bonds for the second most intentional walks in a season.
After winning the National League Rookie of the Year award in 2014, 23-year-old Oscar Taveras has established himself as the best player in St. Louis, leading the team in nearly every offensive category and making the first of what will be many All-Star Game starts over the course of his career.
Domonic Brown, 27, continues to thrive in the middle of Philadelphia's lineup and ranks among the league leaders in home runs and RBI, while 25-year-old Jason Heyward finally begins to put it all together and looks like the franchise player in Atlanta that many believed he could become.
While he has slowed down after a historic rookie campaign in 2013, 23-year-old Yasiel Puig makes his second appearance in the All-Star Game, leading the Dodgers in every offensive category and looking like one of the most complete players in all of baseball.
Still the best player in Miami, 25-year-old Giancarlo Stanton has managed to avoid being stuck with the "injury-prone" label and returned to hitting majestic home runs, making his second consecutive appearance at the midsummer classic.
Next In Line
Carlos Gomez (MIL)
Billy Hamilton (CIN)
Justin Upton (ATL)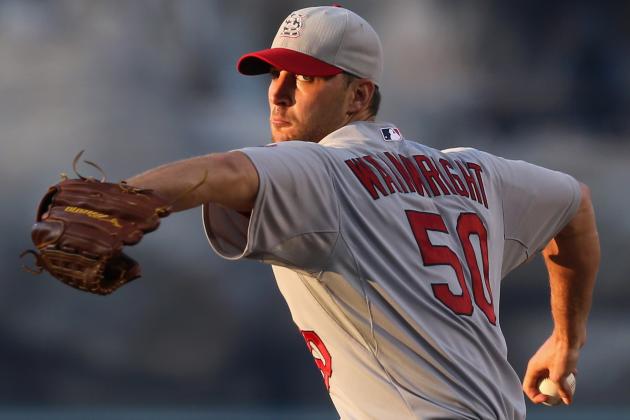 Jeff Gross/Getty Images

2015 All-Stars
Archie Bradley (ARI), Andrew Cashner (SD), Gerrit Cole (PIT), Jose Fernandez (MIA), Matt Harvey (NYM), Clayton Kershaw (LAD), Mike Minor (ATL), Stephen Strasburg (WAS), Adam Wainwright (STL)
Overview
At 33 years old, Adam Wainwright is the only member of the senior circuit's starting rotation over the age of 30, yet his numbers on the season are as good as any of his younger counterparts.
Four of the National League East's best arms comprise half of the rotation, with a pair of 26-year-olds, Matt Harvey and Stephen Strasburg, leading the way. Jose Fernandez, 22, finds himself in a heated battle with Harvey, Strasburg and 27-year-old Clayton Kershaw for the National League strikeout lead.
After two years of being overlooked, 27-year-old Mike Minor makes his first All-Star appearance, joining 22-year-old Archie Bradley, 28-year-old Andrew Cashner and 24-year-old Gerrit Cole as first-time participants in the midsummer classic.
Next In Line
Madison Bumgarner (SF)
Cole Hamels (PHI)
Shelby Miller (STL)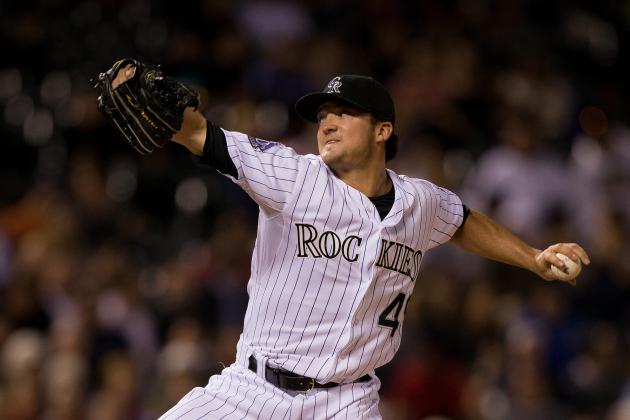 Justin Edmonds/Getty Images

2015 All-Stars
Rex Brothers (COL), Aroldis Chapman (CIN), Craig Kimbrel (ATL), Bobby Parnell (NYM)
Overview
Despite pitching in one of the more hitter-friendly parks in baseball, 27-year-old Rex Brothers has established himself as one of the premier closers in baseball, though he's not on the level of his 27-year-old counterpart in Atlanta, Craig Kimbrel, who is the best in all of baseball.
Making his fourth consecutive All-Star appearance, 27-year-old Aroldis Chapman continues to hit triple-digits on the radar gun with regularity, while Bobby Parnell, 30, finally gets acknowledged as one of the best relievers in the National League after three consecutive seasons of posting an ERA below 2.50.
Next In Line
Kenley Jansen (LAD)
Jim Henderson (MIL)
Trevor Rosenthal (STL)
Christian Petersen/Getty Images

Team-By-Team Breakdown
Arizona (2): SP Archie Bradley, 1B Paul Goldschmidt
Atlanta (3): RF Jason Heyward, RP Craig Kimbrel, SP Mike Minor
Chicago (2): SS Javier Baez, 2B Starlin Castro
Cincinnati (3): RP Aroldis Chapman, 2B Brandon Phillips, 1B Joey Votto
Colorado (4): RP Rex Brothers, RF Carlos Gonzalez, C Wilin Rosario, SS Troy Tulowitzki
Los Angeles (3): RP Kenley Jansen, SP Clayton Kershaw, RF Yasiel Puig
Miami (2): SP Jose Fernandez, RF Giancarlo Stanton
Milwaukee (1): SS Jean Segura
New York (4): 1B Ike Davis, SP Matt Harvey, RP Bobby Parnell, 3B David Wright

Philadelphia (1): LF Domonic Brown
Pittsburgh (1): 3B Pedro Alvarez
San Diego (1): SP Andrew Cashner
San Francisco (1): C Buster Posey
St. Louis (4): C Yadier Molina, CF Oscar Taveras, SP Adam Wainwright, 2B Kolten Wong
Washington (2): RF Bryce Harper, SP Stephen Strasburg