Early Projection for Boston Bruins' 2013-14 Depth Chart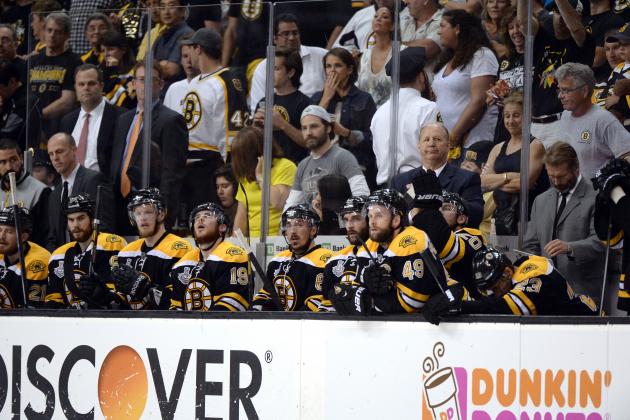 Harry How/Getty Images

For the first time in a few years, the Boston Bruins' lineup will be significantly different from the previous season.
The B's made two serious tweaks to their lineup by signing Jarome Iginla and trading Tyler Seguin and Rich Peverley to Dallas for Loui Eriksson.
The strength of Boston the past three seasons has been having four strong lines that can be effective no matter who is on the ice.
Here's a (very) early look at the potential depth chart for the Bruins heading into next season.
Begin Slideshow

»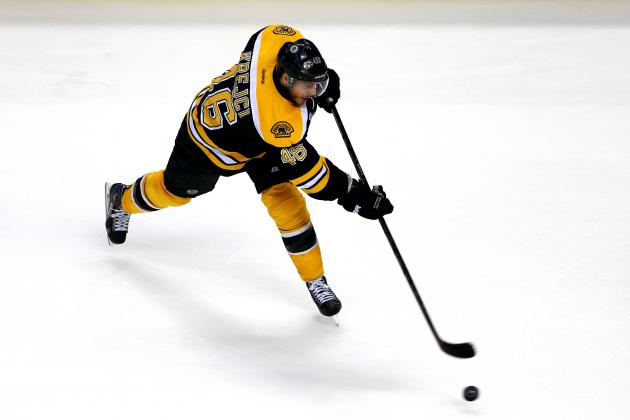 Elsa/Getty Images

David Krejci
Krejci had a phenomenal playoff run and led the league in points for the second postseason in three years. The line he centered with Milan Lucic and Nathan Horton was the highest-scoring line in the playoffs.
However, it was crippled last week when Horton signed a seven-year deal with the Columbus Blue Jackets.
Fluto Shinzawa of the Boston Globe reports that newly signed Jarome Iginla is expected to take Horton's spot on the line next season. The chemistry between Krejci and Lucic should make it an easy transition for Iginla.
Patrice Bergeron
Bergeron is Boston's best all-around player. He's one of the best penalty killers in the league and is effective down low on the power play.
And, oh yeah, he scores big goals.
He could easily be the No. 1 center, but if Claude Julien puts him on the second line, it will make it the NHL's best second unit. He will stick with Brad Marchand on his left side next year, and Loui Eriksson is expected to play on his right, according to Shinzawa.
Chris Kelly
Kelly is an effective grinder and does a solid job all around. He'll be staying in the same spot as last season.
Gregory Campbell
Campbell could be a third-line center on two-thirds of other NHL teams, which makes him such a valuable asset to the Bruins. After breaking his leg against the Pittsburgh Penguins in the Eastern Conference Final, the sports world found out how tough he was.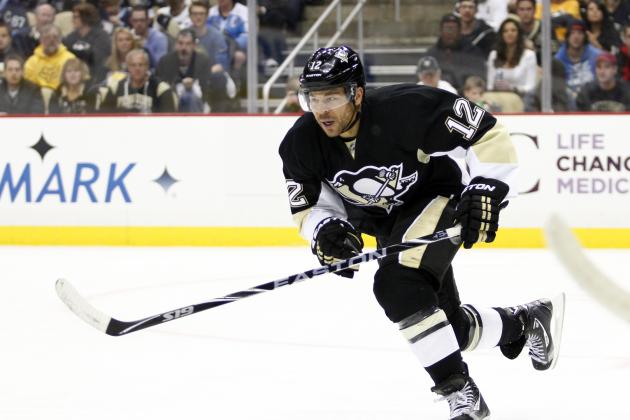 Justin K. Aller/Getty Images

Jarome Iginla
As previously mentioned, Iginla is expected to be the top right winger for the Bruins next season. After spurning Boston for Pittsburgh earlier this season, he is eager to get a second chance.
Iginla should see time on the power play, where he likes to set up to the goalie's right for one-timers. Don't be surprised to see Loui Eriksson get some time on the top line, but for now, Iginla is the guy.
Loui Eriksson
Eriksson will be back to his natural position of winger, and he'll most likely start the season alongside Bergeron and Marchand. If he or Iginla don't gel with their respective lines, expect the two wingers to switch and try to find chemistry with the other line mates.
According to NHL.com's Matt Kalman, Eriksson said the following in a conference call with the media:
I've played both sides through my whole time I played in Dallas. And I know both sides. But I like to play on the right side and I know I've been talking to [Boston general manager] Peter [Chiarelli] about it and he said he wants me to play on the right side.

So I think that will be a good fit for me. I know they have real good players, especially Bergeron, and they have Krejci as centermen, and they have a lot of good players to play with. So I don't think it will be any problem to play with those guys because they're going to make me better and I'm going to try to make them better too. So it will be real nice to come and play with them.
Jordan Caron
The 22-year-old Caron should finally find a regular spot in the lineup next season. He only played 17 games this season after playing in 48 the previous year. The 25th overall pick in 2009 is expected to skate with Chris Kelly and Carl Soderberg, according to the Boston Globe's Fluto Shinzawa.
Shawn Thornton
The 35-year-old enforcer is now a mainstay on the Bruins' fourth line, and that won't change next season. He doesn't get much ice time, but he makes it known when he's on the ice. He will drop the gloves when the team needs it and is a great teammate.
Thornton knows he's a fourth-line winger, and that's how it should be.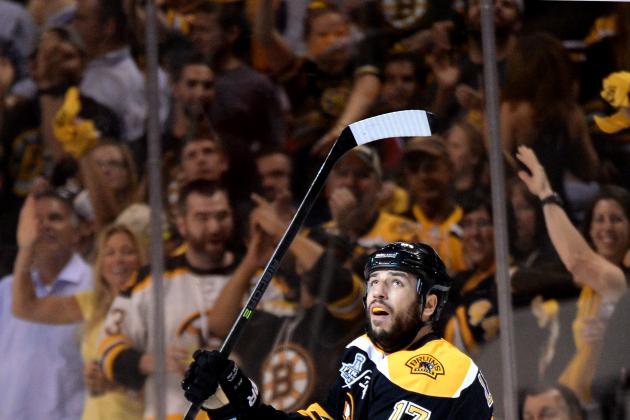 Harry How/Getty Images

Milan Lucic
The bruising power forward will once again be Boston's top left winger, and he'll continue to play alongside David Krejci. Lucic was tied for second in the playoffs with 19 points and had the go-ahead goal in Game 6 of the Stanley Cup Final before Chicago had its furious comeback.
Brad Marchand
"The Little Ball of Hate" will be the second-line left winger for center Patrice Bergeron. Marchand's goal-scoring was down this postseason, but he was great at getting under the skin of his opponents, especially in the Pittsburgh series. He'll also see time on the penalty kill and power play.
Carl Soderberg
The 27-year-old Swede provided a spark for the Bruins when he was inserted into the lineup against Chicago. After reaching a multi-year agreement earlier this year, it appears he will stay in North America and be a regular for Boston.
Daniel Paille
The grinder who came up big in overtime in Game 2 against the Blackhawks will remain with his comrades Gregory Campbell and Shawn Thornton on the fourth line. He's a solid player who comes up big in critical situations.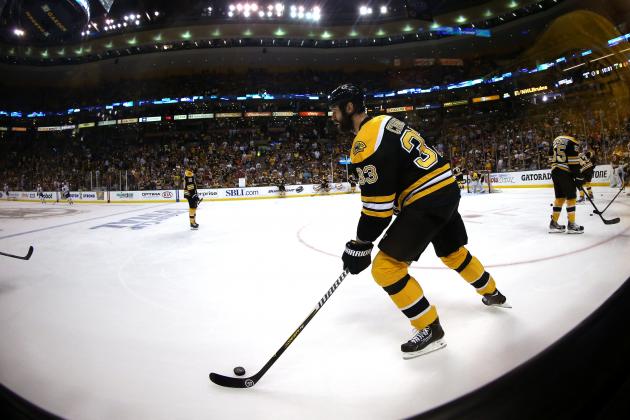 Bruce Bennett/Getty Images

Zdeno Chara and Dennis Seidenberg
Claude Julien split the two up during the Pittsburgh series, only to put them back together against the Blackhawks. There's no question they are Boston's best defenders and will be a nightmare for any forward to skate against next season. Both have rocket shots from the point, and Chara should look to shoot more next season.
Dougie Hamilton and Johnny Boychuck
Hamilton was a solid rookie in the regular season but was a healthy scratch late in the playoffs after the emergence of Torey Krug. Hamilton, still only 20, will learn a lot more in his second season teamed up with veteran Johnny Boychuk.
Adam McQuaid and Torey Krug
Krug became a nice story in the playoffs when he scored four goals in his first five career playoff games. He came back down to earth in the final two rounds but was still effective. He might have to battle for ice time with Matt Bartkowski, but Krug has the edge right now. McQuaid will be a lock to be in the third defensive pairing.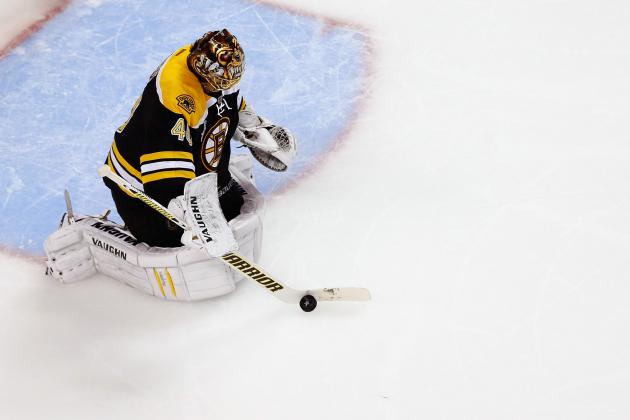 Jared Wickerham/Getty Images

Tuukka Rask
Rask solidified himself as the franchise goalie this season after Tim Thomas took the year off. Rask posted a .929 save percentage and a 2.00 goals-against average with five shutouts. As reported by USA Today's Harry Hawkings, he signed an eight-year, $56 million extension on Wednesday that will keep him in Boston until the end of the 2020-21 season.
Chad Johnson
The newly signed Johnson will be Rask's backup this season. As the No. 2 netminder for the Phoenix Coyotes last season, he went 2-0-2 with one shutout. The 27-year-old was originally drafted by the Penguins in 2006 and played for Canada at the 2010 World Championships.