Power Ranking Every Milwaukee Bucks Player Already on Roster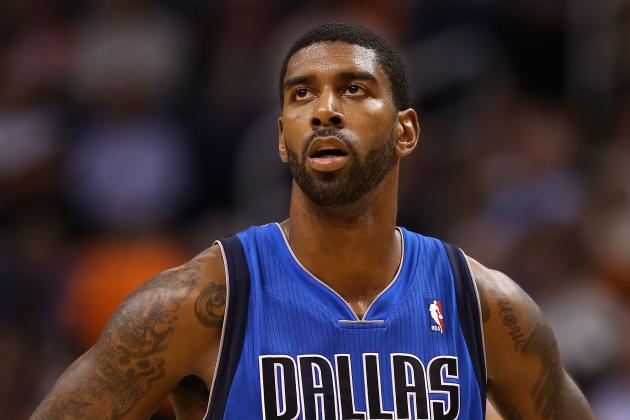 Christian Petersen/Getty Images
Did the signing of Mayo immediately make him the team's best player?
Instead of sitting back and passively letting opportunities pass them by, the Milwaukee Bucks have attacked the inevitable offseason decisions they were faced with head-on. In the past several weeks, the roster has changed and the team dynamic has shifted.
With changes come new opportunities.
Some of the moves made have been positive and, naturally, some of them have been headscratchers.
And as the new-look roster continues to mold into its final form, it's important to understand where the talent is and what it means to the organization.
Considering that the Bucks have yet to begin their play in the Las Vegas Summer League, these rankings were compiled from an individual's previous play, whether that be in college or international competition and, in the case of rookies, their potential.
So, from least valuable to most valuable, where does each current member of the roster rank?
Begin Slideshow

»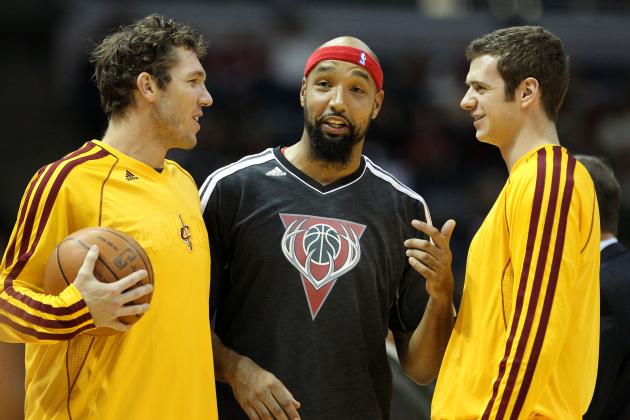 Mike McGinnis/Getty Images
Chatting during warmups was about all Gooden did last season.
It shouldn't come as a huge surprise that Gooden brings up the rear in these rankings.
Despite finding success in 2011-12 by averaging 13.7 points, 6.5 rebounds and 2.6 assists per game, Gooden hardly stepped onto the court for any meaningful minutes this past season.
He experienced the worst season of his career across the board (3.3 PPG, 1.9 RPG, 0.4 APG) and provided no use for the Bucks throughout the year.
His numbers in 2011-12 indicate that he might still have years left in the tank, but with the organization clearly looking to get younger, he doesn't fit the plan.
Adding insult to the situation is the fact that Gooden will make $6.6 million over the next two seasons, taking up valuable cap room in the process.
The Bucks could amnesty Gooden to free that space, but there has been nothing to indicate they're exploring that option at this point.
Until that happens or until the season begins, hard work and an acceptance of a lesser role are his two best options if he wants to see more playing time.
Ersan Ilyasova and John Henson are undoubtedly ahead of him in the rotation, but if he stays in shape and asserts himself, he could provide some value at power forward—albeit at an expensive rate.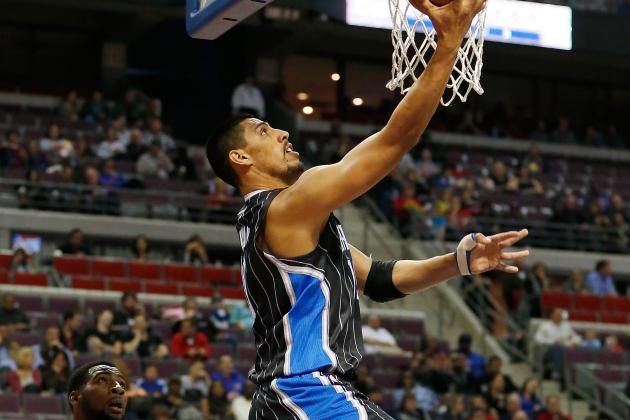 Gregory Shamus/Getty Images
Ayon has made a career out of hustling and scrapping.
Coming in at No. 13 is another power forward, Gustavo Ayon.
Ayon came to Milwaukee via the J.J. Redick trade at last year's deadline, but appeared in just 12 games for the Bucks.
In those games, he averaged 4.3 points, 4.9 rebounds and 1.0 assist per game in just 13.6 minutes of playing time.
If Ayon does any one thing particularly well, it's that he hustles. Outside of that, he's your typical role player who can be plugged into the rotation due to foul trouble, injuries or lackluster energy.
And with a 59.5 field-goal percentage, when he does look to score, he does so with excellent efficiency.
It's unlikely that he'll make any great strides this season—or move up in these rankings—and be anything more than he has been thus far into his career, but if the situation calls for it, he can play some useful minutes.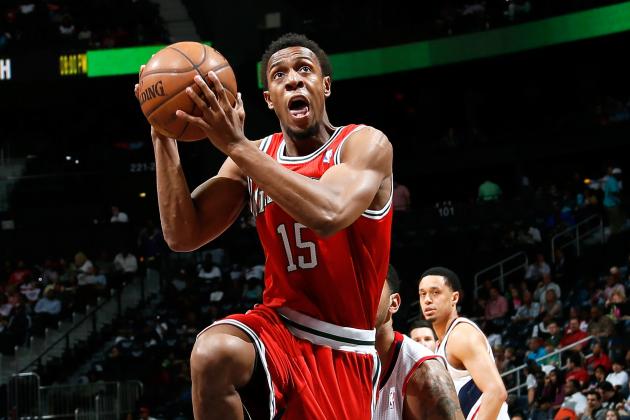 Kevin C. Cox/Getty Images
Smith's speed and ability to penetrate make him useful in some situations.
Ish Smith is a prime example of what happens to a player when he doesn't have much of an offensive arsenal.
It's certainly true that he has tremendous speed and quickness, but his inability to score and to do so efficiently prevent him from becoming a legitimate No. 2 point guard, let alone a starter.
And while his ability to push the ball, penetrate and make the occasional nice pass make him valuable in small spurts, his value doesn't go much beyond that.
If someone gets into foul trouble or gets injured, Smith isn't a bad guy to have on the roster. He typically does a nice job of handling the ball without making too many mistakes.
It looks as though the Bucks will be set as far as point guards go this season, but in order for Smith to earn more than occasional garbage minutes, he must work on his shot this offseason and become a more productive scorer.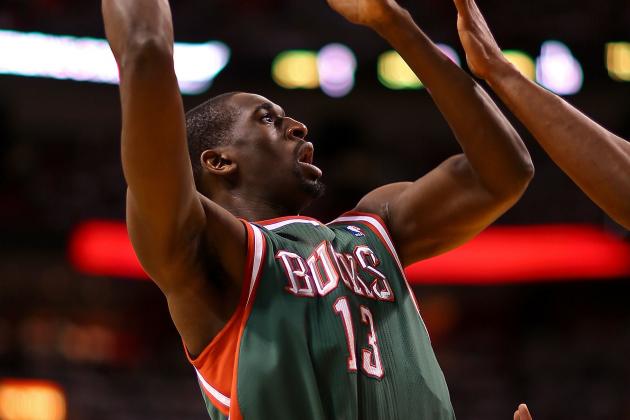 Mike Ehrmann/Getty Images
Udoh is yet another body the Bucks can use in the paint.
Joining the plethora of power forwards that the Bucks have at their disposal is Ekpe Udoh.
Udoh is similar to Ayon in the sense that he's a player who's going to give you hustle and excellent effort during the minutes that he's on the floor.
Outside of that, though, Udoh isn't tremendously skilled.
Averaging just 4.3 points and 3.3 rebounds per game last year, his value in terms of scoring and rebounding isn't all that great. However, his solid build makes him a force to be reckoned with, and he's not afraid to get after it defensively.
His 1.1 blocks per game in 17.3 minutes of playing time and 1.5 defensive win shares show that as a defender, he does provide value.
With Ersan Ilyasova having the starting spot locked up and John Henson emerging as a legitimate player, Udoh's minutes probably won't increase.
However, if he continues to exert the amount of effort he did last season, he'll still find himself having a spot on the team.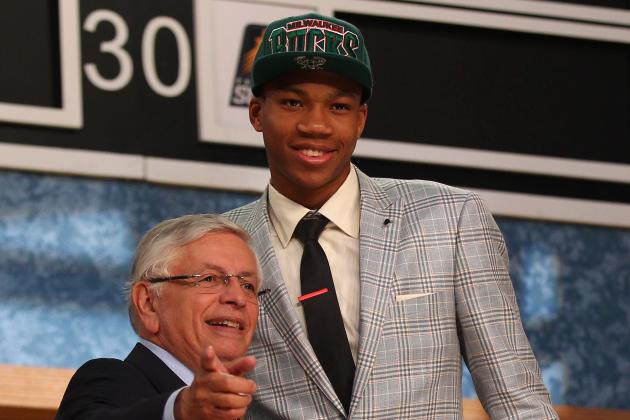 Mike Stobe/Getty Images
How long will it take for the young Greek to make an impact?
The Bucks selected Giannis Antetokounmpo with the No. 15 pick in this summer's draft, and there's no denying that they have high expectations for the 18-year-old Greek.
At 6'9", 200 pounds, he's long and lanky. But with time he should be able to pack some muscle onto that already impressive frame.
While he's still very young and very raw, Antetokounmpo possesses the measurables that typically have scouts drooling.
Even with hardly any relative experience, he is one of the most talent athletes that the Bucks will have at their disposal this year, which alone makes him a valuable asset.
His length and quickness should help him step right in defensively, and if his offensive arsenal continues to blossom, he could be looking at a long, successful future in the league.
In the end, Antetokounmpo was certainly a high-risk, high-reward choice in the draft, but that apparently was something general manager John Hammond was willing to do.
He will certainly struggle during any minutes he plays during his rookie season, but learning the NBA game and putting in countless hours of work may allow him to contribute by season's end.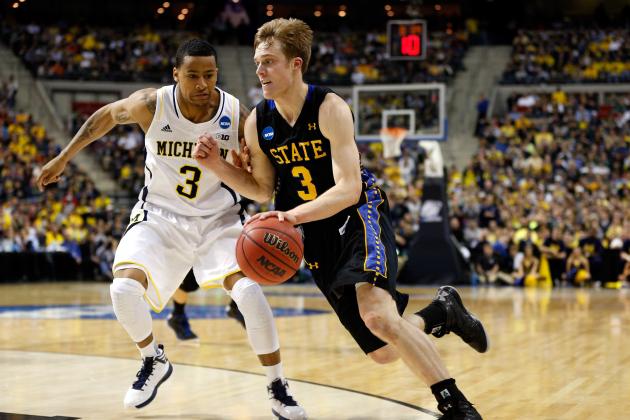 Gregory Shamus/Getty Images
Wolters will have no trouble offensively in the NBA.
Despite being less gifted than Antetokounmpo, point guard Nate Wolters receives a higher ranking because of his experience at the collegiate level.
Not to mention that offensively, Wolters is ready to play right away.
During his four years at South Dakota State, he averaged 18.5 points, 4.7 rebounds and 5.3 assists per game while shooting 45.0 percent from the field and 34.2 percent from three-point territory.
While the Summit League isn't exactly a spectacular conference to play in, Wolters had some very good games, including a 34-point, five-rebound and seven-assist performance against the Washington Huskies back during the 2011-12 season.
That Washington team housed current NBA players Tony Wroten and Terrence Ross.
With great size and a knack for understanding how an offense should run, Wolters shouldn't have much trouble adapting to the NBA style.
Where he might struggle, though, is on the defensive end.
He's not the quickest player around and will have a difficult time keeping some of the league's quicker guards in front of him.
But hey, Steve Nash was never the greatest defensively either.
Will Wolters reach that level? Probably not. Those are incredibly big shoes to fill.
However, Wolters should see success in some capacity.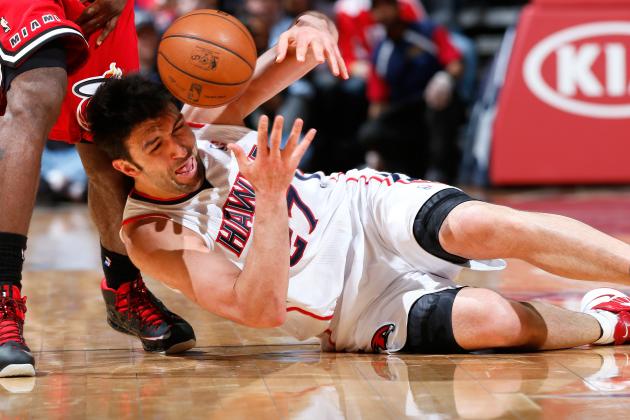 Kevin C. Cox/Getty Images
Pachulia is back for his second stint with the Bucks.
Perhaps the most confusing move the Bucks have made so far this offseason was signing Zaza Pachulia to a three-year, $15.7 million contract.
The 29-year-old veteran spent one season with the Bucks back in 2004-05 before becoming a staple for the next eight seasons in Atlanta.
At 6'11" and weighing 240 pounds, Pachulia is definitely another body and should prove to be a respectable backup to shot-blocking extraordinaire Larry Sanders, but one has to wonder if he was worth it at that price.
Surely the Bucks could have spent that money better elsewhere.
For example, according to Adrian Wojnarowski of Yahoo! Sports, J.J. Hickson earned himself a three-year, $15 million contract from the Denver Nuggets and has had much more success recently than Pachulia.
Still, with Sanders' habit of getting into foul trouble and making early exits from games via ejection, Pachulia isn't a terrible investment. He rebounds well and isn't one to shy away from a confrontation.
And while he won't be more than a role player for the Bucks, if can accept that, he should be able to provide the team with some value for the next three seasons.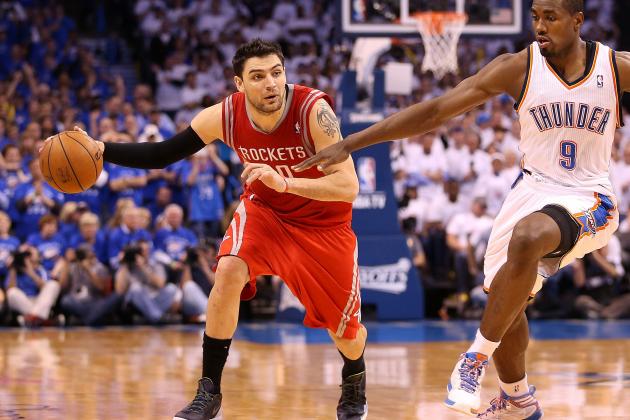 Christian Petersen/Getty Images
Delfino is back in a Bucks uniform and should provide some offense.
When Mike Dunleavy signed with the Chicago Bulls, the Bucks needed to fill the void he left from a scoring standpoint.
And they wasted little time in doing so, bringing back Carlos Delfino just a season after losing him to the Houston Rockets via free agency.
Delfino lacks the size and efficiency that Dunleavy possesses but is a solid scoring option at the small forward position off the bench.
However, it appears as though he may find himself starting for the Bucks, especially since Luc Mbah a Moute was traded to the Sacramento Kings last week.
In that role, Delfino's worth takes a significant hit, but he can knock down threes and play pretty solid defense.
Should he want to increase his role, he'll need to work on scoring more efficiently. For his career, Delfino is just a 40.1-percent shooter from the field and knocks down 36.5 percent of his three-point attempts.
While he's not ideal, there's an opportunity for him to contribute in a big way.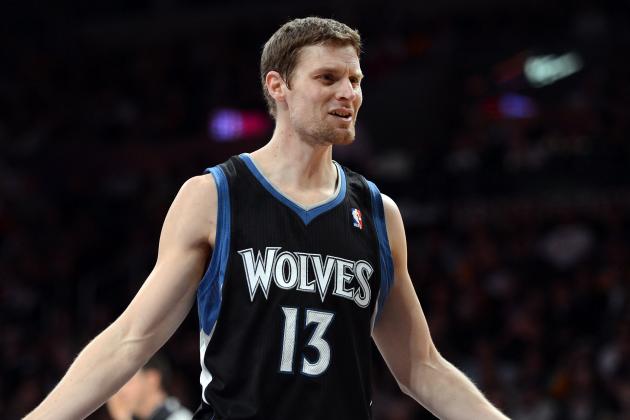 Harry How/Getty Images
The addition of Ridnour gives the Bucks a little more depth at point guard.
Luke Ridnour isn't a superstar and probably shouldn't be any team's starting point guard, but he is an excellent backup who, at the right price, can be very valuable.
According to Jeffy Zgoda of the Star Tribune, Ridnour—who played in Milwaukee prior to his stint in Minnesota—was acquired by the Bucks for a second-round draft pick.
Throughout his career, Ridnour has been a very serviceable player, especially off the bench.
During the 2009-10 season with the Bucks, Ridnour appeared in all 82 games and averaged 10.4 points, 1.7 rebounds and 4.0 assists per game while shooting 47.8 percent from the field.
Having a player who can provide those kinds of numbers on a regular basis as a backup is crucial.
This past season, the team didn't have a player who could step in and score when Brandon Jennings and Monta Ellis struggled to score with any type of consistency.
If Ridnour can continue doing what he's done throughout his career, he should prove to be a valuable asset and the Bucks will have spent the $4.3 million he's owed this year well.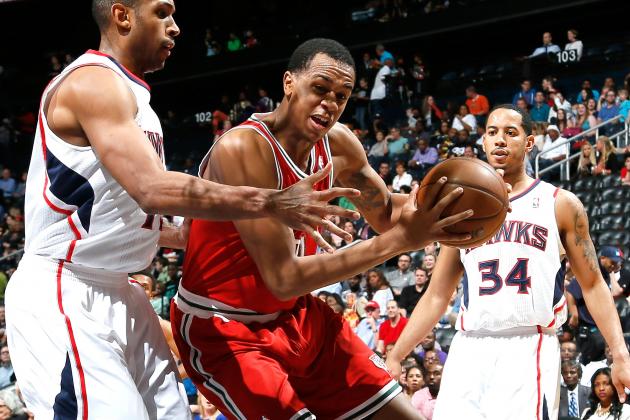 Kevin C. Cox/Getty Images
Henson clearly has a bright future ahead of him.
Despite it not showing up in his rookie averages, John Henson quietly put together a very good season in 2012-13.
This becomes extremely evident when you convert his numbers per 36 minutes of playing time—which is closer to what he should be averaging down the road in his career.
When converted, his stats translated to averages of 16.5 points, 12.9 rebounds and 1.8 blocks per 36 minutes.
And while there are variables that slightly inflate numbers when they get converted like that, Henson still was impressive on more than one occasion.
Take, for example, his performance against the Orlando Magic on April 10 in which he scored 17 points, grabbed 25 rebounds and blocked seven shots.
Better yet, he scored 28 points and managed to haul in 16 rebounds against the Oklahoma City Thunder on April 17.
Throughout the season, Henson got better.
With his lengthy frame, great footwork and excellent athleticism, he's already poised to become a very good player. If he can develop his post game more this summer and work on his mid-range jump shot, he'll be even more of an asset for the Bucks this coming season.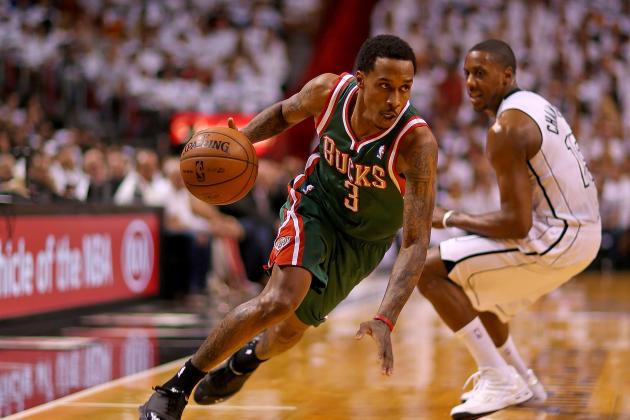 Mike Ehrmann/Getty Images
Jennings could be even better if he played within himself.
Coming in at No. 4 is restricted free agent Brandon Jennings.
Surprised to see him this low? Well, it shouldn't come as one.
Despite having a ton of talent, Jennings hasn't been able to put it all together and become one of the league's best point guards.
Plagued by his itchy trigger finger and terrible efficiency, Jennings has had moderate success during his first four seasons in the league.
There's no denying that the skill set is there; one just has to question whether or not the mental aspect of the game is.
Perhaps a bigger question is whether or not Jennings will be on this list for the Bucks when the next rankings are unveiled next month.
As Adrian Wojnarowski of Yahoo! Sports indicated, Jeff Teague has signed Milwaukee's offer sheet and, barring the Atlanta Hawks matching it, he'll become a Buck.
If that turns out to be the case, Jennings is all but done in a Bucks uniform.
However, if he somehow does return, he'll need to work on becoming more team-oriented and increase his willingness to play defense.
He put his great passing ability on display in March against the Toronto Raptors when he recorded 19 assists.
If he continues to distribute and works on taking better shots, there's no reason to believe he couldn't become one of the league's best point guards. Those are big ifs, though.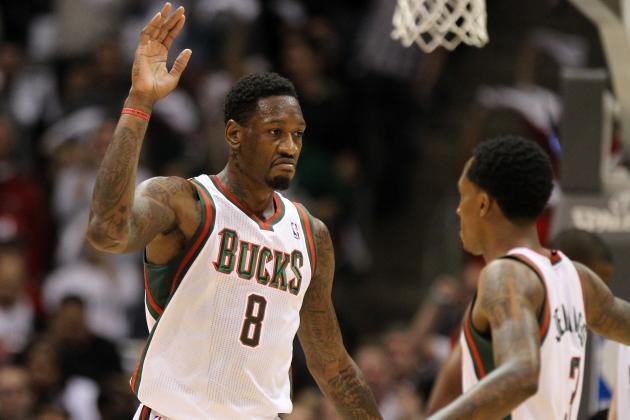 Mike McGinnis/Getty Images
Improvement offensively would further elevate Sanders' game.
Larry Sanders emerged as one of the best shot-blockers around during the 2012-13 season. He also proved to be one of the biggest personalities as he managed to rack up 14 technical fouls and five ejections.
And while he might have had some struggles keeping his temper in line, it also showed that he had a genuine passion for the game and what he was doing on the court.
That kind of attitude is always refreshing, regardless of what it leads to. Sanders just needs to learn how to control it.
On top of that passion, Sanders improved almost every aspect of his game. For the season he averaged 9.8 points, 9.5 rebounds, 1.2 assists and 2.8 blocks per game while shooting 50.6 percent from the field.
Those numbers are enough to show the overwhelming value Sanders brings to the team.
With his long arms and good athleticism, he is an intimidating defensive force and is certainly not afraid to crash the boards in order to grab a rebound.
If there's one area in which he's still very raw, it's on the offensive end.
Even with that being the case, though, Sanders still posted good numbers last season. If he works hard this summer on his post game and continues to improve offensively, there's no reason why he cannot become a premier center.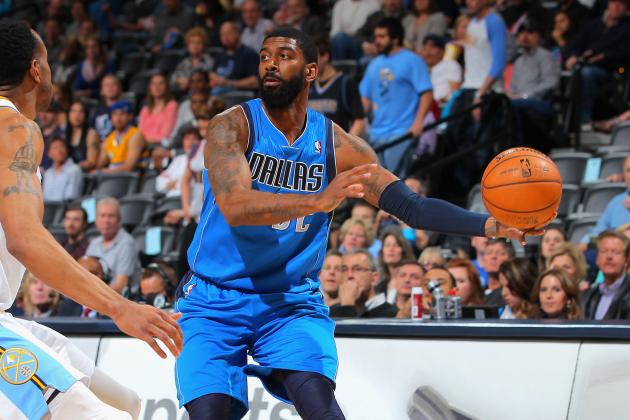 Doug Pensinger/Getty Images
Mayo will have the chance to be Milwaukee's go-to scorer.
The acquisition of O.J. Mayo has been Milwaukee's biggest offseason move thus far and one that will pay huge dividends in the long haul.
Mayo was drafted third overall in the 2008 NBA draft behind the likes of Derrick Rose and Michael Beasley.
Coming off his one season of college ball at USC, Mayo entered the pros with the reputation of being a big-time scorer. During his first season with the Memphis Grizzlies, he didn't disappoint, scoring 18.5 points per game on 43.8-percent shooting.
And while his scoring numbers have decreased since then, they'll rebound in Milwaukee.
Mayo is coming off an impressive year with the Dallas Mavericks during which he shot 44.9 percent from the field and a career-high 40.7 percent from three-point range.
With the Bucks, more scoring opportunities will be provided to him, and he'll certainly be taking more than the 12.5 shots he took per game this past season.
If there's an area in which Mayo needs to improve, it's in the aggressiveness department.
For a shooting guard, he needs to be getting to the foul line much more often. His career average of 2.8 free-throw attempts per game is too low, and in order to provide the Bucks with the offense they'll need, he needs to attack much more.
But at just 25, the sky is still the limit for Mayo, and he should enjoy success in Milwaukee.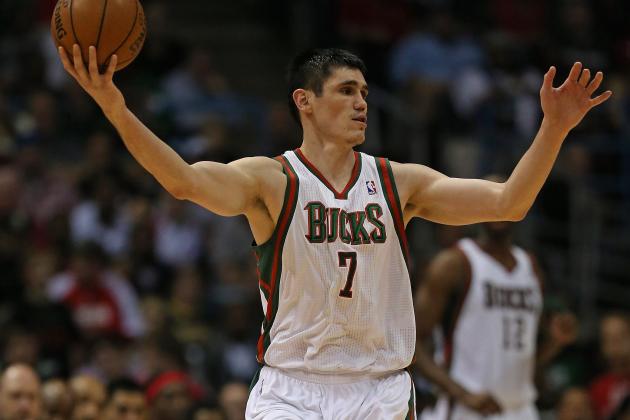 Jonathan Daniel/Getty Images
Ilyasova could be Milwaukee's best overall player.
This may a bold choice for the No. 1 spot in these power rankings, but Ersan Ilyasova is perhaps Milwaukee's most important and diverse player.
At 6'9", 265 pounds, Ilyasova possesses a frame that, given his skill set, makes him a very hard player to defend. Whether it's hitting the open three or knocking down mid-range jump shots, Ilyasova can score in a wide variety of ways.
Last season he averaged 13.2 points, 7.1 rebounds and 1.6 assists per game while shooting 46.2 percent from the field and a great 44.4 percent from three-point range.
However, those numbers could have been even better had he not gotten off to a slow start.
In fact, after All-Star Weekend, Ilyasova averaged 17.2 points, 9.0 rebounds and 1.5 assists per game.
There's no denying his talents on the offensive side of the ball. Although he's not anywhere near him yet in terms of talent, his skill set is very similar to that of Dirk Nowitzki.
And it's for that reason he finds himself holding the top spot in these power rankings.
If Jennings and Ellis both in fact end up elsewhere—and it appears they both will—Ilyasova's role with continue to expand and that's a good thing for the Bucks.
There's no telling what kind of level he can reach with more improvements, but working on his post game a little bit more in the offseason would allow him to exploit smaller defenders and add another way to regularly score.
Right now, he makes his living on jumpers and threes. Adding another aspect would make him that much more difficult to defend.
Look for Ilyasova to be one of Milwaukee's best offensive contributors this season.