Stock Up, Stock Down for the NHL's Top Remaining Free Agents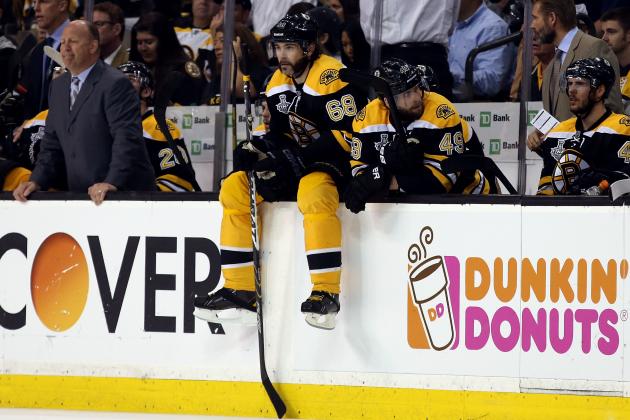 Bruce Bennett/Getty Images

The NHL's free-agency period is almost a week old, and there are still many quality players available at each position.
With the salary cap going down about $6 million next season, general managers need to be more cautious in the free-agent market, especially when signing veterans to contracts that are expensive and/or include more than a one-year term.
Even though most of the best UFAs are veteran players in the final stages of their careers, there are still a few younger players in their prime who would be great additions to contending teams.
Let's take a look at the latest stock watch for the best players available on the free-agent market.
Begin Slideshow

»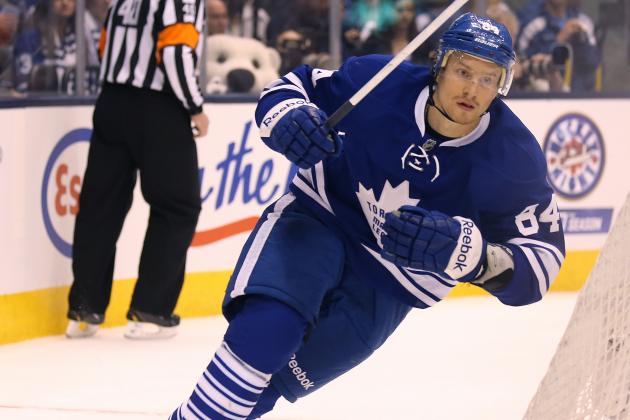 Claus Andersen/Getty Images

Mikhail Grabovski is one of the few top-six forwards under the age of 30 still available on the free-agent market as an UFA.
His impressive playmaking ability and faceoff skill—he won 50.6 percent of his draws in 2013—make him a more-than-serviceable second- or third-line center for a team lacking depth down the middle. He's also more than capable of tallying 40-60 points in a normal 82-game season with 17-20 minutes of ice time per game.
With that said, the manner in which he left the Toronto Maple Leafs may have hurt his reputation a bit.
The Globe and Mail's James Mirtle tweeted his thoughts regarding Grabovski's situation on Tuesday: "I wonder how much Grabovski's rant to [TSN's Jonas Siegel] cost him in free agency? (Even if he had a point, likely spooked some teams.)"
Grabovski is probably frustrated with how the buyout and the first week of free agency played out, but the good news for him is that many teams across the league still need to bolster their depth and skill at the center position.
He will eventually be signed, but his current stock is not high.
Stock: Down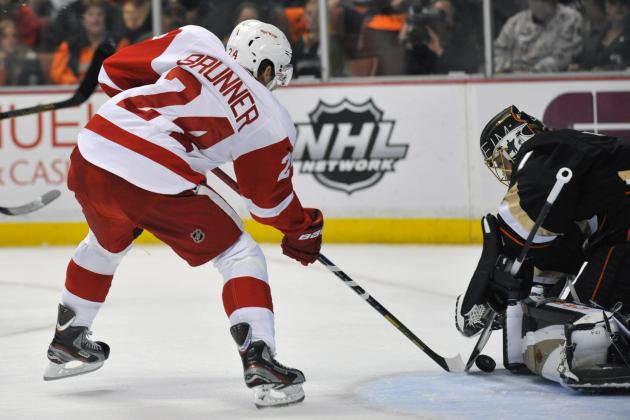 Gary A. Vasquez-USA TODAY Sports

As a skilled forward who is versatile enough to excel at even strength and on the power play as a top-six forward, Damien Brunner is surprisingly still unsigned.
Dave Pagnotta of The Fourth Period has reported that Brunner is seeking an annual average value (AAV) of $3 million in his new contract, which is actually a reasonable price to pay a young forward with goal-scoring skill, speed and grit.
He tallied 26 points in 44 regular-season games, then added nine points in 14 playoff games for the Red Wings during his rookie campaign.
Teams may be concerned about his ability to produce offensively on a consistent basis without playing alongside superstar center Henrik Zetterberg, who helped Brunner post impressive scoring totals in Switzerland during the lockout and in the NHL's 2013 season.
But as a third-line forward on a contending team, Brunner would give tremendous depth to a club that lacks the necessary amount of bottom-six scoring to make a serious run in the playoffs. Teams with four good lines often become champions—just look at the last three Stanley Cup winners.
Brunner may have expected to be signed a lot sooner, but as the top forward on the market, it probably won't be too long before a general manager decides to add this quality young player to his roster.
Stock: Slightly down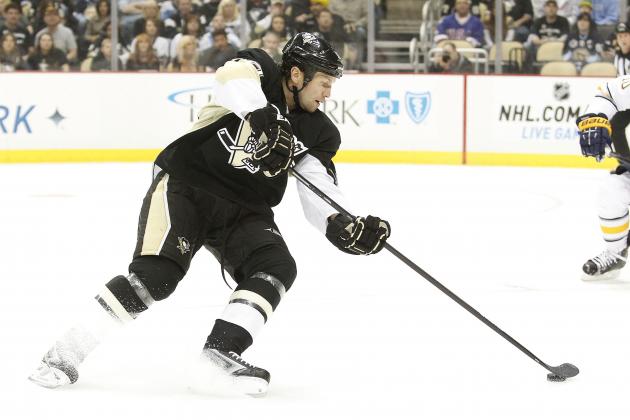 USA TODAY Sports

Brenden Morrow didn't look like himself in the playoffs for the Pittsburgh Penguins, and that was probably the case because he played with a kneecap injury, according to Rich Miller of ESPN 970.
Assuming Morrow will be fully healthy for next season, he could add some valuable depth to a contending team as he pursues the first Stanley Cup of his career.
The veteran winger is still capable of playing a top-six role and providing 40-55 points in a normal 82-game season. He also brings fantastic leadership as a longtime captain, 92 games of playoff experience and the size, grit and compete level expected from a power forward. Morrow could excel in a third-line role and contribute to the penalty kill.
His age and injury issues from last season are causes for concern. He didn't score at the rate expected, and his skating was a bit slower than in years past.
He's not the same dominating force from his prime, but signing Morrow to a one- or two-year deal is well worth the risk for general managers if the money is reasonable.
Stock: Slightly down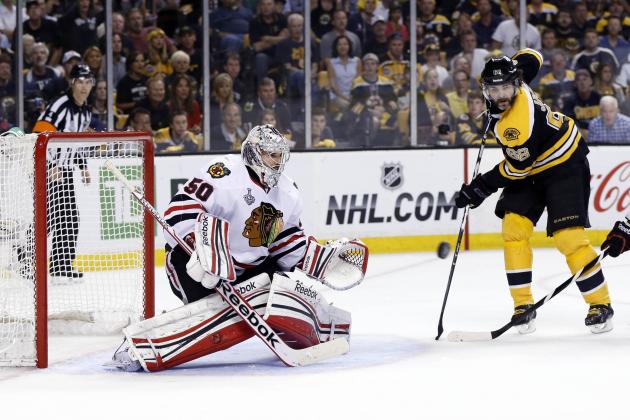 Greg M. Cooper-USA TODAY Sports

Jaromir Jagr is one of the most popular unsigned free-agent forwards. The two-time Stanley Cup winner spent the end of last season with the Boston Bruins, with whom he tallied 10 points in 22 playoff games.
Jagr did prove last season that he's still a valuable third-line winger who could also play an important role on the power play with his playmaking and puck-protecting skills.
The latest report on the 41-year-old's situation comes from Adrian Dater of The Denver Post, who tweeted "I'm hearing Jagr to Carolina is very possible" on Tuesday.
The concerns about Jagr are his lack of speed, deteriorating goal-scoring skills, poor defense and inability to shine in a top-six role.
There are many more younger and less expensive options for general managers to pursue in free agency, which doesn't bode well for Jagr.
Stock: Down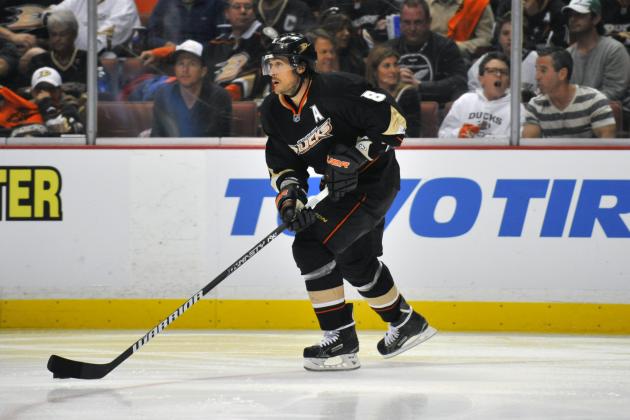 Gary A. Vasquez-USA TODAY Sports

Veteran-winger and future Hall-of-Famer Teemu Selanne has not re-signed with the Anaheim Ducks. There are no reports of the 43-year-old retiring, so the expectation is that the "Finnish Flash" will return for another season.
Even at the end of his career, Selanne is still a productive player who could excel as a second- or third-line forward on a Stanley Cup contender. Selanne tallied 24 points (12 goals, 12 assists) in 46 games last season on a talented Anaheim Ducks team, proving that he still has some gas left in the tank.
The dream scenario for fans in Winnipeg would be to see Selanne return to the Jets and end his career with the team he began it with. Signing with the Jets would actually be a good fit for the veteran forward, whose scoring production and leadership would benefit Winnipeg quite a bit.
Selanne will likely take his time deciding on his plans for next year. When he's ready, there should be plenty of teams interested in signing him if his final decision is to explore free agency instead of immediately re-signing with the Ducks.
Stock: Slightly up or unchanged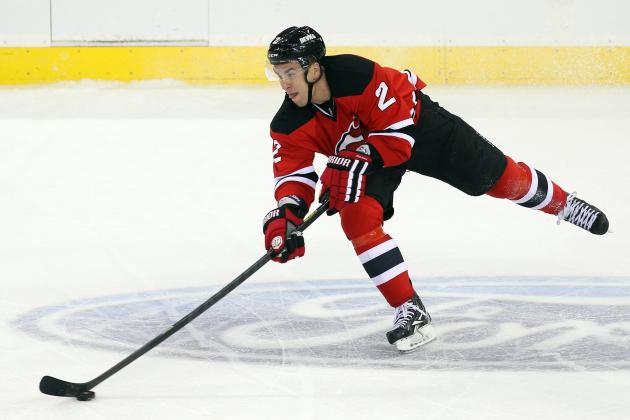 Ed Mulholland-USA TODAY Sports

Marek Zidlicky is one of the top defensemen remaining on the free-agent market. He possesses an impressive two-way skill set and 38 games of playoff experience.
When asked about bringing back Zidlicky for next season, Devils general manager Lou Lamoriello told Tom Gulitti of The Record, "...that's still something we'd like to try and get done."
The 36-year-old veteran is capable of tallying 20-35 points from the blue line and logging 17-22 minutes of ice time per game against the opposing teams' top forwards.
The concerns about Zidlicky include mobility and a lack of size and strength. With that said, there aren't many defensemen left on the market who could join a playoff- or championship-caliber team and play a top-four role, and Zidlicky is one of those players.
Stock: Unchanged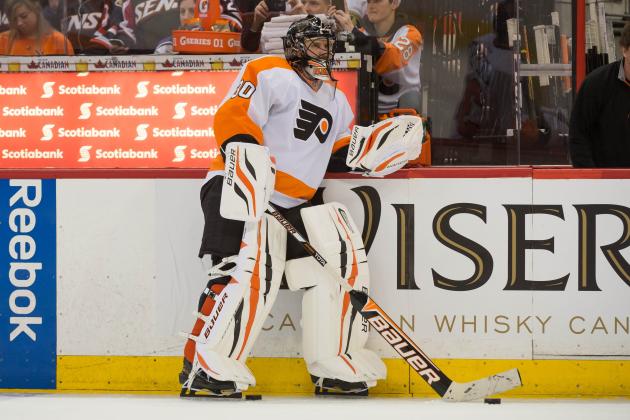 Marc DesRosiers-USA TODAY Sports

There have been no reports about teams being close to signing former Philadelphia Flyers goaltender Ilya Bryzgalov, who was bought out of his contract with the Broad Street club after two disappointing seasons.
While the Russian goaltender didn't live up to expectations in Philadelphia, he wasn't as terrible as some fans describe. He played in front of a horrible defense all year, and the Flyers asked him to bail out defensemen too many times following terrible turnovers.
Bryzgalov has a proven record of success in the NHL from his career with the Anaheim Ducks and Phoenix Coyotes. In a quieter hockey market without the same media attention and expectations as he got in Philadelphia, he could be a solid No. 1 goalie again.
The concern about Bryzgalov is the potential that he could be a distraction off the ice. He didn't handle the media well in Philadelphia and made himself look more like a comedian than a hockey player at times during HBO's 24/7 series prior to the 2012 Winter Classic.
The bad news for Bryzgalov is there aren't many teams that need a veteran goaltender in the free-agent market. Even if a general manager decides to sign a UFA on a short-term deal for next season, former Conn Smythe Trophy-winner Tim Thomas would be a much better option than Bryzgalov.
His best choice is probably the KHL route. Bryzgalov could probably make more money playing overseas and be a starter next year.
Stock: Way Down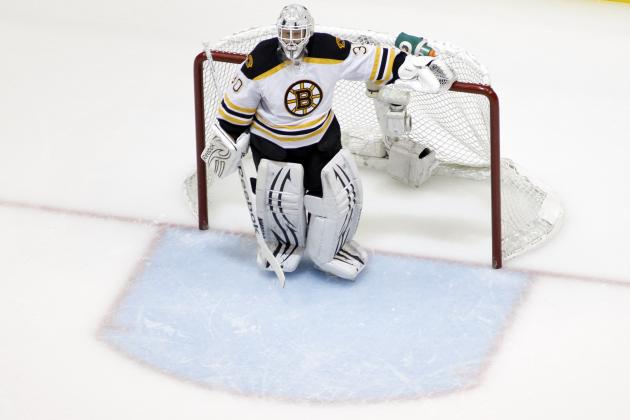 Justin K. Aller/Getty Images

Tim Thomas has become the most intriguing player left on the market.
The expectation is that if he returns to the NHL, he will once again be an elite goaltender capable of leading a team on a deep playoff run.
With that said, the off-the-ice distractions that Thomas created toward the end of his career with the Boston Bruins and the fact that he took an entire season off may be scaring some teams who want to make a goaltending upgrade.
The concerns for Thomas are the small amount of championship contenders that need a better No. 1 goalie and the possibility that teams may decide to make a change at the position through the trade market instead of signing a UFA.
But as the best goaltender available, it's likely that Thomas will be signed at some point. His playoff resume is impressive, and he's more talented than several of the starting netminders currently in the league, even at age 39.
Stock: Unchanged or slightly down
Nicholas Goss is an NHL Lead Writer at Bleacher Report. He was also a credentialed writer at the 2011 and 2013 Stanley Cup Final, as well as the 2013 NHL draft. Salary information via CapGeek.