MLB Prospects Update: Hottest, Coldest Hitters at Every Minor League Level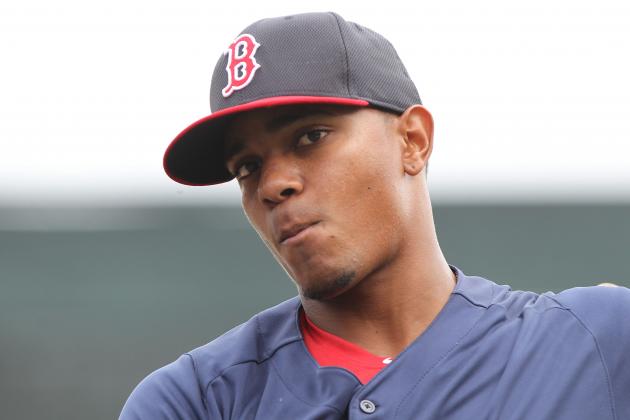 Kim Klement-USA TODAY Sports
Boston's Xander Bogaerts has been raking lately in Triple-A.
With the start of rookie and short-season leagues, the prospect watch has really kicked into gear. Several of the top draft picks who signed early have been assigned to teams and are letting their talents shine.
Add that to the bevy of top prospects who have been on the field since April and there is a wealth of stats and information to go over each day.
Boston's Xander Bogaerts (pictured above) has been one of the most impressive talents. He started the season with lofty expectations thanks to his power and ability to hit for average, but a quick start in Double-A got him bumped to Pawtucket and escalated his time frame to the big leagues. He is currently hitting .269/.364/.430 with five homers in 93 at-bats for the PawSox.
We will have the latest updates on the hottest and coldest hitters at every level of the minors coming right up.
Note: All stats courtesy of MiLB.com unless otherwise noted.
Begin Slideshow

»
Hottest
(Like my colleague Mike Rosenbaum did last week, we are just going over the hottest hitters because most players have just a handful of games under their belt and not a good enough sample to judge.)
J.P. Crawford, SS, Philadelphia Phillies
.481/.517/.586, 2 2B, 7/2 K/BB (6 G)
The Philadelphia Phillies' first-round pick in last month's draft has started out well offensively. He doesn't have a lot of power in his stroke, but the contact he is making has been hard. His aggressiveness is getting the better of him on the bases, as he is just 2-for-4 in stolen base attempts over the last week.
Hunter Dozier, SS, Kansas City Royals
.419/.438/.677, 6 XBH (5 2B, 1 HR), 3/1 K/BB (7 G)
A controversial pick when the Kansas City Royals took him eighth overall, Hunter Dozier has performed well so far in the Pioneer League. His bat was never really a question mark, and that has held true thus far.
Where he plays in the field is another story.
D.J. Peterson, 1B, Seattle Mariners
.323/.323/.613, 5 XBH (3 2B, 2 HR), 6/0 K/BB (7 G)
While not displaying a ton of patience, which isn't a big deal, D.J. Peterson is showing off plenty of pop so far in the Northwest League. The Seattle Mariners' 2013 first-round pick leads the league in home runs and is second in slugging percentage.
Justin Williams, OF, Arizona Diamondbacks
.300/.323/.300, 9/1 K/BB (7 G)
On the surface, Justin Williams' numbers don't look that impressive. But when you consider that he was one of the youngest players drafted in June—he won't turn 18 until August 20—there are reasons to be encouraged.
He is incredibly raw and will have to show more power, but the bat is intriguing enough to keep him on the radar.
Hottest
Stetson Allie, 1B, Pittsburgh Pirates
.324/.414/.607, 34 XBH (16 2B, 17 HR, 79/36 K/BB (66 G)
Drafted as a pitcher and converted to a hitter when he couldn't find the strike zone, Stetson Allie is putting on a display in the South Atlantic League. At 22, he is going against pitching that isn't as physically developed as him. But he is also re-learning to hit after two years as a pitcher.
He has cooled off recently, hitting just .200/.273/.375 in the past 10 games, but his overall numbers are still impressive considering where he came from.
Jorge Alfaro, C, Texas Rangers
.263/.334/.458, 28 XBH (16 2B, 11 HR, 74/15 K/BB (72 G)
Jorge Alfaro continues to get better as the season moves along, hitting .361/.400/.528 in his past 10 games. He was a potential breakout candidate in the Texas Rangers' system before the year and has done nothing to quiet that talk. He just turned 20 and is already catching in a full-season league.
Carlos Correa, SS, Houston Astros
.325/.416/.460, 24 XBH (17 2B, 5 HR), 50/37 K/BB (69 G)
Byron Buxton got all the attention among 2012 draftees for his blazing start, but Carlos Correa is not far behind in the development and is nine months younger. After a slow start, the No. 1 pick in last year's draft has been on fire hitting .355/.474/.581 with a 5-1 BB-K ratio.
Jorge Polanco, 2B, Minnesota Twins
.306/.355/.457, 34 XBH (22 2B, 9 3B, 3 HR), 45/27 K/BB (81 G)
All it took was a little physical maturity for Jorge Polanco's bat to start playing. He was overshadowed at Cedar Rapids by Buxton, but the 20-year-old has proved his breakout 2012 campaign was not a fluke.
Hitting is no easy task in the Midwest League, so to see a player this young with 34 extra-base hits is very impressive.
Coldest
Dante Bichette Jr., 3B, New York Yankees
.201/.278/.286, 15 XBH (9 2B, 5 HR, 79/28 K/BB (79 G)
Dante Bichette Jr. looked like he would prove the New York Yankees right for drafting him in the second round of the 2011 draft with a much better swing and approach in 54 games after signing out of high school. But the past two years have been dreadful, culminating in the disaster that you see right now.
He has bottomed out in Low-A with no signs of hope looming.
Bubba Starling OF, Kansas City Royals
.218/.301/.364, 23 XBH (14 2B, 8 HR), 85/30 K/BB (78 G)
After being touted as the best raw talent in the 2011 draft, Bubba Starling has not developed as anyone expected. He was put in a short-season league last year, then bumped up to the Midwest League this season.
It hasn't been a smooth transition, as he is still incredibly raw in all aspects of the game and isn't making adjustments to get better.
Rio Ruiz, 3B, Houston Astros
.238/.336/.364, 20 XBH (15 2B, 5 HR), 57/37 K/BB (67 G)
Rio Ruiz was one of the players the Houston Astros signed to an overslot deal last June because of his offensive upside. He is just 19 in his first full pro season, so it is hardly time to panic, but it is disheartening to see that his raw power hasn't really translated to game action so far.
Hottest
Alen Hanson, SS, Pittsburgh Pirates
.288/.345/.441, 30 XBH (19 2B, 5 HR), 57/26 K/BB (75 G)
One of the top prospects on a loaded West Virginia squad last year, Alen Hanson continues to perform well after being pushed to High-A. He has been struggling a bit lately, but for a 20-year-old to have his slash line in High-A while still boasting some physical projection is very good news for his future.
Delino DeShields, Jr., 2B, Houston Astros
.288/.388/.398, 19 XBH (10 2B, 7 3B), 64/41 K/BB (69 G)
I think of Delino DeShields as a better version of Billy Hamilton, though the former isn't quite as fast as the latter.
Both have blazing speed and can steal of ton of bases, but DeShields has more physical strength and bat speed to really drive the ball into the gaps. He also has a better understanding of the strike zone.
Deven Marrero, SS, Boston Red Sox
.274/.351/.355, 17 XBH (16 2B, 1 HR), 37/27 K/BB (60 G)
A bit old for the level, 22-year-old Deven Marrero has shown a much better feel for hitting lately and could still project as an above-average regular based on his ability to play plus defense at shortstop and hit for some average and draw walks.
The power will never be a big part of his game, but as long as the defense holds up, he will be fine.
Coldest
Trevor Story, SS, Colorado Rockies
.210/.277/.352, 27 XBH (17 2B, 8 HR), 119/25 K/BB (82 G)
Apparently hitting in the friendly confines of Asheville last year really did a lot to inflate Trevor Story's numbers, because this season has been a disaster of epic proportions. He has struck out 119 times in 315 at-bats.
It has fallen apart quickly for the Colorado Rockies' youngster with no real sign of it getting better.
Richie Shaffer, 3B, Tampa Bay Rays
.246/.298/.367, 24 XBH (18 2B, 5 HR), 67/20 K/BB (78 G)
At least Story had one year to brag about, unlike Tampa Bay Rays' 2012 first-round pick Richie Shaffer. The Clemson product has been a disappointment virtually since the day he signed.
His stint in the Arizona Fall League exposed a lot of holes in his game, which have carried over into the minor league season.
Hottest
Reymond Fuentes, OF, San Diego Padres
.333/.414/.471, 23 XBH (16 2B, 5 HR), 55/31 K/BB (68 G)
A forgotten part of the Adrian Gonzalez trade two years ago, Reymond Fuentes has come into his own after a disastrous 2012 season. His all-around ability is what made him a key piece of that deal with Boston, but the development of his bat will get him to the big leagues sooner than later.
Mike O'Neill, OF, St. Louis Cardinals
.315/.427/.387, 15 XBH (12 2B, 2 HR), 19/56 K/BB (77 G)
Undoubtedly the most unique prospect in the minors, Mike O'Neill doesn't boast one big league tool. But because of his small stature, pitchers have no idea how to work him and it allows him to boast that incredible strikeout-to-walk ratio.
Joc Pederson, OF, Los Angeles Dodgers
.299/.388/.522, 36 XBH (19 2B, 14 HR), 74/41 K/BB (82 G)
A Futures Game participant, Joc Pederson continues to be one of the most consistent performers in the minors. His stock as a future average big league regular continues to look bright.
The power-speed combination will give the Los Angeles Dodgers a lot to cheer about this Sunday in Citi Field.
Arismendy Alcantara, SS, Chicago Cubs
.270/.350/.471, 37 XBH (23 2B, 12 HR), 79/36 K/BB (87 G)
A sleeper prospect coming into the year, Arismendy Alcantara is starting to add more bulk to his frame and the results are showing in his offensive output. Even though he is probably a second baseman in the big leagues, the improved performance makes it easier to envision him carving out a big league career.
Ronny Rodriguez, SS, Cleveland Indians
.292/.312/.431, 27 XBH (17 2B, 6 3B, 4 HR), 46/9 K/BB (73 G)
Ronny Rodriguez has been aggressively pushed by the Cleveland Indians because his power is playing, but you can see that his approach and pitch recognition still need work.
That said, a strong .340/.367/.404 line in the past 10 games has bumped up his season numbers and could be a sign that the young shortstop is starting to figure things out.
Slade Heathcott, OF, New York Yankees
.253/.322/.372, 22 XBH (14 2B, 4 3B, 4 HR), 84/28 K/BB (75 G)
The top players in the Yankees' system coming into the year have gotten off to a slow start. Slade Heathcott was slow to adjust to Double-A but is hitting much better so far in July with a .423/.483/.538 line and three doubles in 26 at-bats.
Coldest
Kaleb Cowart, 3B, Los Angeles Angels
.218/.283/.313, 18 XBH (12 2B, 5 HR), 76/28 K/BB (82 G)
Kaleb Cowart was one of the few bright spots in a depleted Los Angeles Angels' system coming into the year, but this season has not been kind to the 21-year-old. He may not have been ready for a push to Double-A after just 69 games in High-A that were solid but unspectacular.
Mikie Mahtook, OF, Tampa Bay Rays
.239/.319/.370, 29 XBH (18 2B, 7 3B, 4 HR), 73/32 K/BB (88 G)
Mikie Mahtook's struggles have been hard to pinpoint, as nothing seems to be working right since he signed out of LSU. The surprise is that his bat—which didn't have a lot of power but was advanced enough that you thought he could hit for average and get on base—has fallen so flat.
Joe Panik, SS, San Francisco Giants
.254/.339/.353, 24 XBH (18 2B, 3 3B, 3 HR), 38/42 K/BB (87 G)
Joe Panik has regressed the further up the ladder he has climbed. Double-A is often the step where you find out what a prospect is made of since the off-speed stuff and control get much better.
The San Francisco Giants shortstop hasn't taken to the new level very well.
Hottest
Tony Sanchez, C, Pittsburgh Pirates
.294/.378/.526, 35 XBH (26 2B, 9 HR), 54/26 K/BB (67 G)
The Pittsburgh Pirates have to be thrilled with the performance of Tony Sanchez in Triple-A. He was the No. 4 overall pick in the 2009 draft—mostly because he signed cheap—and had a strong start to his professional career before fading in 2011 and 2012.
At least now there is a chance the team could get something from the former first-round pick.
Nick Castellanos, OF, Detroit Tigers
.288/.363/.462, 40 XBH (28 2B, 11 HR), 64/44 K/BB (93 G)
Nick Castellanos used a red-hot June to bring his season numbers back to where we thought they would be given his natural hitting ability. July has been rough thus far, but since he is such a good hitter, you have to believe he will turn it around quickly.
Jaff Decker, OF, San Diego Padres
.277/.383/.419, 21 XBH (13 2B, 7 HR), 65/43 K/BB (78 G)
Jaff Decker isn't an elite talent, but he just knows how to maximize the skills he has and succeed no matter where he plays. This season has gone a long way to show the 23-year-old could turn into a solid big leaguer with advanced pitch recognition and a good hit tool.
Power is the one missing tool, though he can be a good doubles hitter.
Coldest
Billy Hamilton, OF, Cincinnati Reds
.248/.300/.339, 18 XBH (11 2B, 5 HR), 70/25 K/BB (80 G)
The one question that has always hovered over Billy Hamilton is about how much he would hit. We know he can fly when he puts the ball on the ground and on the bases, but the old saying goes that you can't steal first.
He is having issues driving the ball
Christian Colon, SS, Kansas City Royals
.244/.298/.330, 14 XBH (6 2B, 6 HR), 34/24 K/BB (83 G)
Sanchez and Christian Colon are two peas in a similar pod. Both were drafted fourth overall one year apart, considered overdrafts at the time and battled inconsistencies throughout their minor league career.
Sanchez has at least taken some steps forward, while Colon appears to have stalled out.
Anthony Gose, OF, Toronto Blue Jays
.223/.312/.306, 16 XBH (12 2B, 2 3B, 2 HR), 84/30 K/BB (71 G)
Anthony Gose is a baffling prospect to watch. He can show you four plus tools on a given day, but the one that matters most (hitting) has never come around. His inability to make contact has always held down his power.
At just 22 years old, it might be time to accept that things just aren't going to happen for the talented young man.
If you want to talk baseball, feel free to hit me up on Twitter with questions or comments.