Detroit Red Wings' Biggest Takeaways from the Start of Free Agency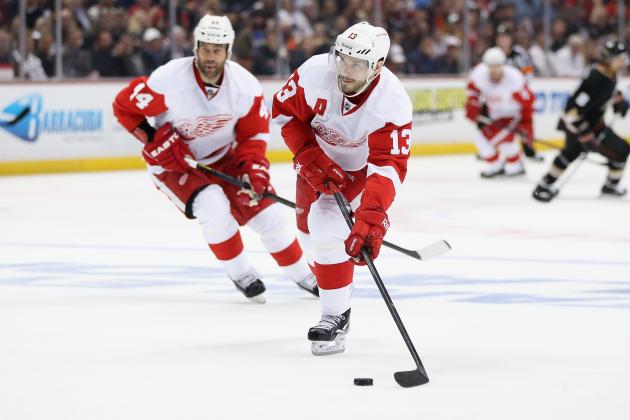 Jeff Gross/Getty Images

The Detroit Red Wings have already made waves in the NHL free-agency period, signing Daniel Alfredsson and Stephen Weiss to build on an already impressive top-six unit.
These signings should help the Red Wings score more this season than in the lockout-shortened season, but will be judged accordingly if the Red Wings are eliminated earlier in the playoffs next season.
Each of the signings that Detroit made on July 5 has an implication for next season, so here are the five takeaways for the Red Wings' start of free agency.
Begin Slideshow

»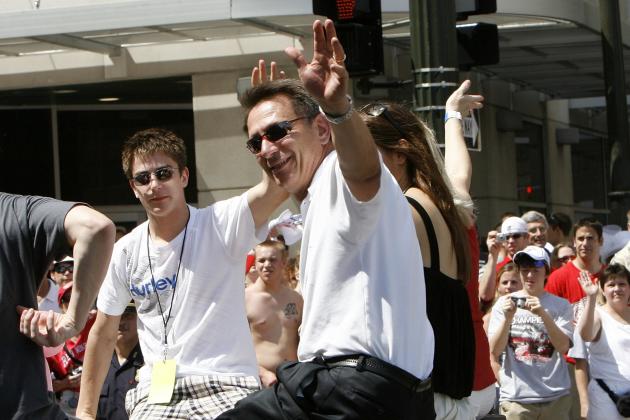 Gregory Shamus/Getty Images

With the signing of Daniel Alfredsson and Stephen Weiss on the first day of free agency, the Red Wings management proved that they are serious about winning a Stanley Cup this season.
No, Daniel Alfredsson isn't the second coming of Steve Yzerman—nothing close as a matter of fact—but Alfredsson does bring some intangibles to the Red Wings, including his special teams play, leadership in the locker room as well as his overall desire to win.
Alfredsson also brings something that Damien Brunner only brought some of the time—his right-handed shot. The 40-year-old Swede doesn't hesitate to let his shot go from the point or top of the circle or wherever else he needs to shoot it from.
Brunner cannot say the same thing, as there were countless times last year where he either fanned or didn't shoot pucks on wide-open chances.
Stephen Weiss will be an excellent replacement for Valtteri Filppula, and he is worth far more than Filppula on paper, as Weiss has hit 42 points or more in every non-lockout season since 2006-07. Filppula has hit 40 points just twice.
Despite the Red Wings' log jam at forward once again, it is abundantly clear that this is a good type of log jam to have, as head coach Mike Babcock can now put his players on lines without having to worry about lack of experience or skill (see Justin Abdelkader on the first line).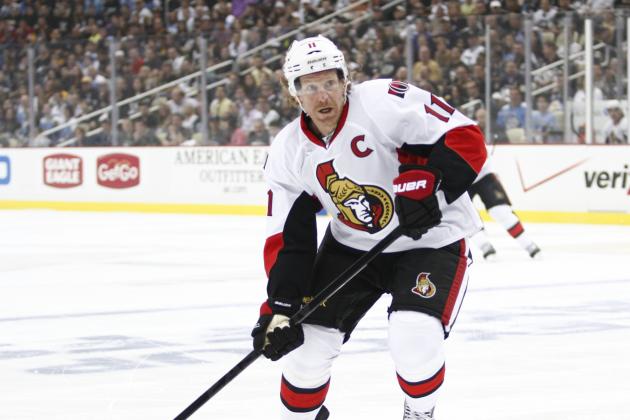 Justin K. Aller/Getty Images

It is—or should be—the top goal of every hockey player to win a Stanley Cup one day.
Daniel Alfredsson had been with the Ottawa Senators for 17 seasons, but played in only one Stanley Cup Final, losing to the Anaheim Ducks in 2007.
"Alfie" wanted another shot at winning his first Cup, so he turned down the Senators and talked about it in an Ansar Khan article on MLive.com:
I didn't really see myself making a change, but as we got closer to free agency, thoughts started creeping in that it's been 18 years and I haven't won the Stanley Cup. That's my dream...I feel Ottawa is getting closer and closer and going in the right direction and has a really bright future, but at this point of my career I don't have that kind of time to wait for that...I feel this is right for me and I really like to (finish) it with the Detroit Red Wings.
The fact of the matter is that sometimes a player realizes that they only have a certain time frame to win a Stanley Cup. While some players have longer time frames than others, Alfredsson does not have the luxury of being one of those players.
While it is hard to leave a team where one has been literally the face of the franchise for the past decade-plus, Alfredsson made a decision with which hockey players can sympathize.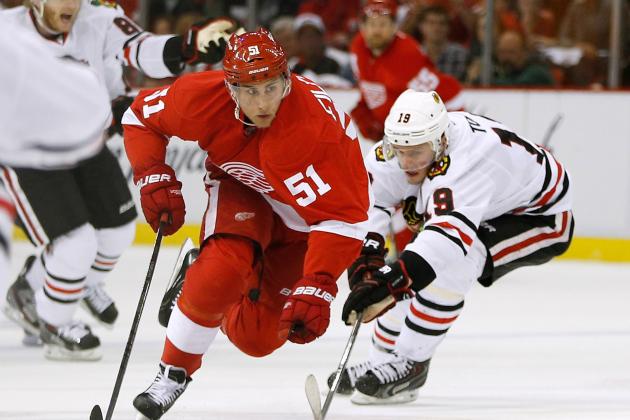 Gregory Shamus/Getty Images

Pride goes before the fall. Sometimes, anyway.
Valtteri Filppula is as misguided as he was inconsistent this past season. Helene St. James, a Red Wings beat writer for the Detroit Free Press, tweeted that Valtteri Filppula "believes that he's No. 1 center and should be paid as such."
Hold the phone. There's this other guy on the Red Wings named Pavel Datsyuk who is just a tad bit better than Filppula.
Oh, and on that new team that Filppula signed with, the Tampa Bay Lightning, there's a guy named Steven Stamkos who is also just a tad bit better and more worthy to be called a No. 1 center than Filppula.
So to put it in perspective, Filppula had 17 points in 41 games last season after putting up 66 points the previous season. He has put up more than 42 points in a season just once.
So what about him makes him a No. 1 center again?
Get lost, Valtteri.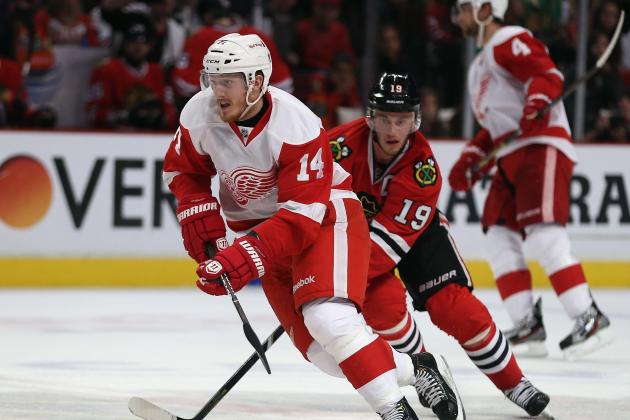 Jonathan Daniel/Getty Images

With the signing of Alfredsson and Weiss comes the downside of the fact that the Red Wings have 14 forwards signed without RFA forwards Gustav Nyquist and Joakim Andersson.
Both players showed that they can be more than serviceable in the playoffs this past season, but at present, neither are for sure going to be Red Wings next season.
With most of the big-name free-agency signings done for right now, the focus turns to trades and buyouts.
The Red Wings have $2.3 million in cap space, per CapGeek, but with 14 forwards signed, if all forwards were to be healthy, Ken Holland would likely have to resort to a trade or a cap compliance buyout to make things work next season.
But Holland knows, via a Helene St. James tweet, that getting the Red Wings roster trimmed is "a work in progress," so expect some more roster moves of some kind before training camp begins in September.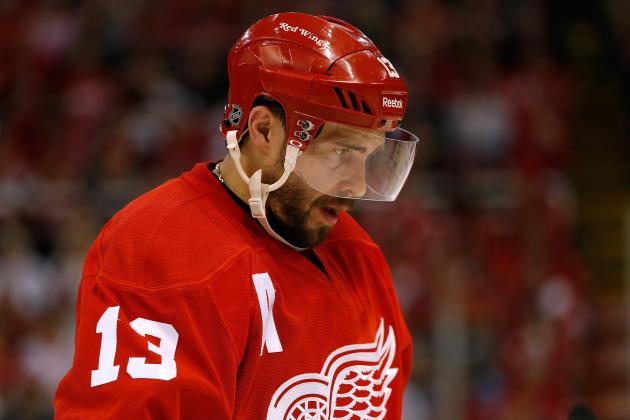 Gregory Shamus/Getty Images

The underlying signing (or extension) that most Red Wings fans may have forgotten about after free agency opened on July 5 was that of Pavel Datsyuk. Datsyuk agreed to a three-year extension on his deal, meaning that this year will not be the last season he plays for the Winged Wheel.
To call his deal the most important contract that Ken Holland has negotiated this offseason would be a vast understatement, as Datsyuk is one of the main reasons that the Red Wings are so successful every season.
His puck-possession game and ability to fend off defenders and find open players with the puck makes him one of the most consistent and elite players in the game today.
Regardless of what fans may say about Weiss and Alfredsson signing in Detroit, Datsyuk's three-year extension is actually the most important contract that Ken Holland has structured this offseason.
All statistics via CapGeek.com or NHL.com unless otherwise noted.
For more article updates, Follow @Isaac_Smith91