Early Predictions for Houston Rockets' Starting 5 Next Season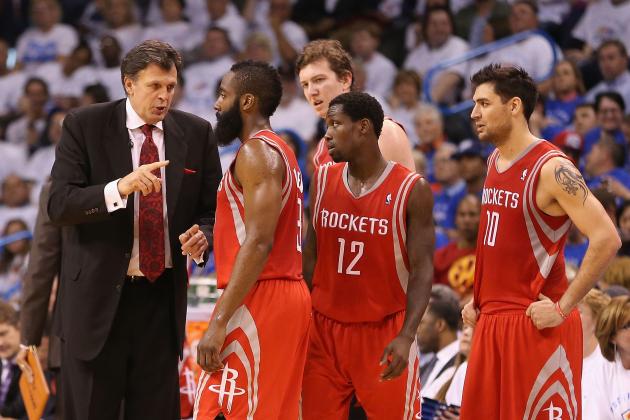 Christian Petersen/Getty Images
With the addition of a certain big man in the paint, morale will be sky high in Houston next season.
The Houston Rockets have moved from a side story to front page news day in and day out with the addition of Dwight Howard. They may not have ascended to the level of the Miami Heat, but there might not be another team in the NBA facing the pressure they will endure this season.
How the roster accommodates arguably the best center in basketball will not be solved overnight. The rest of the lineup will have to change their approach a bit in order to maximize their potential.
It is anybody's guess how the first year of the Dwight Howard-era will go given just how volatile he has been in recent years. He has become somewhat of a loose cannon and developed a reputation for being a coach killer, but he should have a huge chip on his shoulder both on and off the court.
All things considered, this should be a big season for the Rockets. Here are the predictions for what kind of individual seasons to look forward to.
Begin Slideshow

»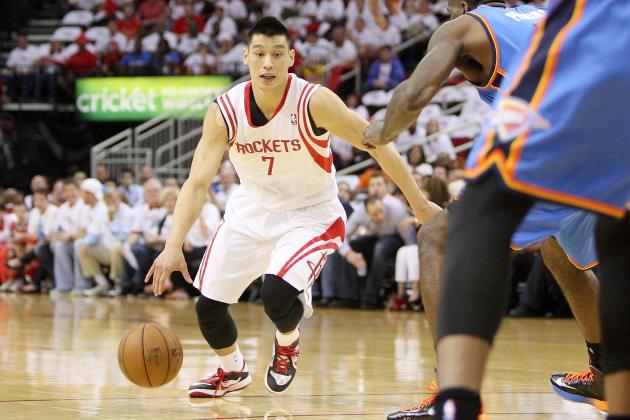 Troy Taormina-USA TODAY Sports

Linsanity is now a thing of the past. It seems so faint and almost hard to believe that it ever took place.
When Jeremy Lin burst onto the scene in New York in 2012, his expectations rose far beyond his own capabilities. Houston rewarded him with a big contract, and he returned the favor by turning in a less-than-stellar campaign.
Lin found himself on the bench at the end of last season, unseated by a red-hot Patrick Beverly at point guard.
Lin should have his job secure at the moment, but Beverly is still breathing down his neck. And if he starts this season similarly to last year (10.2 points per game on 37 percent shooting in November), he could easily find himself on the bench.
Granted, he did get injured, but when healthy, he completely disappeared in the playoffs last season. Linsanity had turned Linvisible and left James Harden and Chandler Parsons to shoulder almost all of the offensive load.
Last year was also his first go-around as a first-time starter. At age 24, he still stands to improve, much like his fellow 20-somethings in Harden and Parsons.
Dwight Howard makes everyone's lives easier. Howard clogging up the paint and slamming down easy buckets will make running point for the Harvard alum just a little bit more fun and prevent him from going Lincognito again.
Too much?
Projected Stats (Per Game): 13.3 points, 7.0 assists, 1.7 steals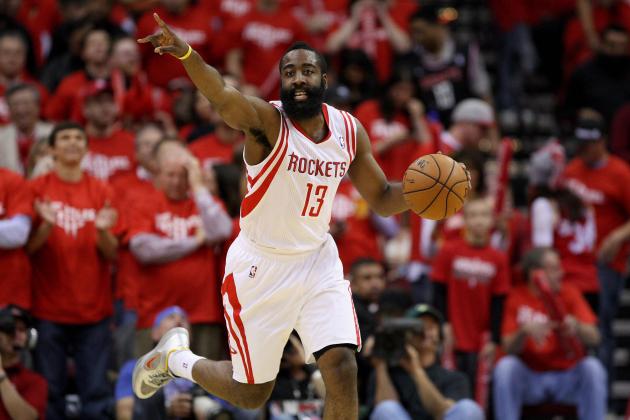 Troy Taormina-USA TODAY Sports

In his first season after being freed from the purgatory that was the Oklahoma City bench, Harden played the entire year with a burning desire to announce to the entire league that he has arrived.
Harden went from super sixth man to bona fide superstar in the blink of an eye. He turned this entire franchise around and now has them within striking distance of a possible NBA Finals run.
Averaging 25.9 points per game last season put him fifth in the league. He can score in every which way and has proven to be incredibly durable in his short career as well. The addition of Howard will only help him.
The one area where he saw a dip in production last season was in field-goal percentage. He slipped from 49 percent to under 44 percent, largely due to the number of shots he was taking and simply by being the No. 1 option on offense.
Howard will draw the defense inward, leaving Harden open to knock down the three or drive to the rim when he pleases.
Harden and Howard were first and second respectively in free-throw attempts per game last season. Having both of them in uniform together will prove to be a major headache for opposing defenses for that reason alone.
Last season was mostly Harden's "prove it" year. He had to show everyone that he wasn't just a sixth man, and he succeeded with flying colors. Now, he must prove that he can lead his team to the top. Having Howard along for the ride will make that much easier.
Projected Stats (Per Game): 23.7 points, 4.9 rebounds, 6.1 assists, 1.9 steals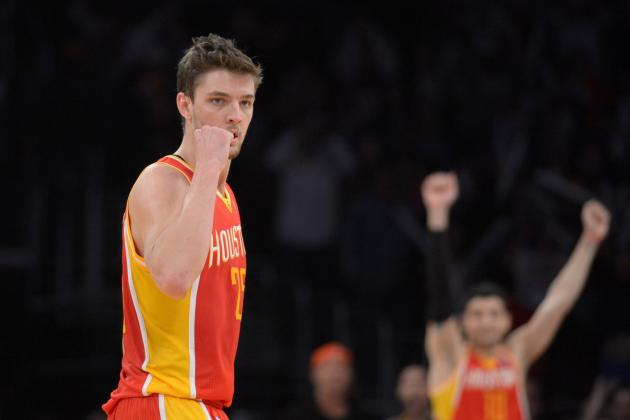 USA TODAY Sports

Chandler Parsons is a very nice player who stands to get better, but his biggest play of this season may have already been made with his Dwight Howard recruiting.
Who knew these two were such good buddies? Did we ever think we would see the day that an NBA superstar leaves Kobe Bryant for Chandler Parsons?
Well, that day has come, and Parsons stands to benefit from it. The former Florida Gator put together a great all-around season last year with 15.5 points, 5.3 rebounds and 3.5 assists per game. He has already turned himself into one of the more diverse talents in this league and is the perfect guy to have around Howard.
The fact that Parsons elevated his game to the stratosphere in the playoffs had to play some part in his Howard recruiting. He obviously did a lot of talking, but he backed it up to the tune of 18.2 points, 6.5 rebounds and 3.7 assists against the top-seeded OKC Thunder.
Best of all, Parsons shot 39 percent from downtown last season. We all remember how Orlando rode Howard to the Finals with sharpshooters like Rashard Lewis, Hedo Turkoglu, Jameer Nelson, J.J. Redick and Courtney Lee around him.
Houston must take a page out of Orlando's book since it so clearly laid out the recipe for how to win with the best defensive big man of our generation. Parsons has a startlingly similar game to Hedo Turkoglu, which should have Dwight feeling just as comfortable as ever.
Projected Stats (Per Game): 13.7 points, 5.1 rebounds, 4.4 assists, 1.1 steals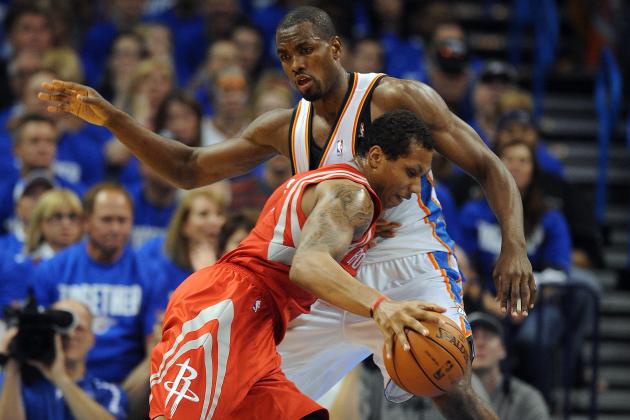 Mark D. Smith-USA TODAY Sports

Most Rockets fans would have preferred a different Smith be on this slide, but their other big free-agent target took his talents to Detroit.
Without Josh Smith alongside D12, Houston is left with some bleak options at power forward. Omer Asik had demanded a trade after reports surfaced of his unhappiness about playing alongside Howard.
Thoughts were kicked around a bit possibly involving him in a trade for a stretch-4 like Ryan Anderson to slot alongside Howard, but Houston has decided against granting Asik his request.
While the last domino has yet to fall, Greg Smith is the likely starting power forward on this team as it stands.
The position was a bit of a revolving door last season for Houston and proved to play a part in its undoing after it was mauled by Serge Ibaka and the Thunder in the first round of the playoffs.
Smith came on strong at the end of last season. While he only averaged 6.0 points per game in limited minutes, he made the most of his chances down the stretch. He improved to the tune of 8.8 points per game on almost 60 percent shooting in April, even breaking out with an 18-point/19-rebound game against Indiana.
While it's been in a limited role, Smith has shot 62 percent from the field so far in his career. That says he at least knows how to take smart shots and can convert them with regularity.
Alongside Howard, he will have his shots and will be a nice asset to this team if he can provide similar production this coming season.
Projected Stats (Per Game): 7.8 points, 5.8 rebounds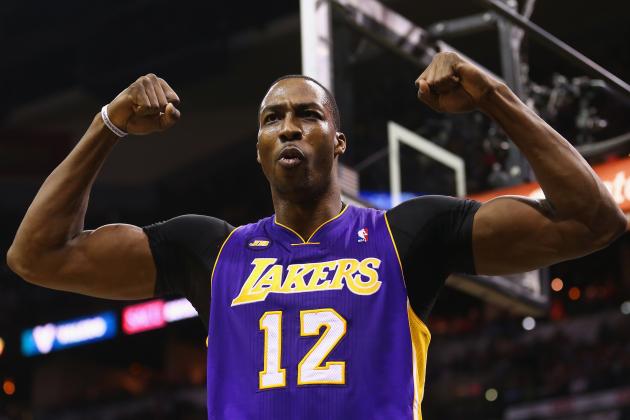 Ronald Martinez/Getty Images

Dwight Howard will have to flex his muscles a lot in order to win over the hearts of fans again.
Once regarded as one of the most likable superstars in the league, Howard is now onto a third team in three years. He has played a huge role in the downfall of former coaches Stan Van Gundy and Mike Brown, while also driving Lakers coach Mike D'Antoni nuts last season as well.
Kevin McHale will have his hands full, and at first glance, it seems like a good match. Howard will have the tutelage of McHale and Hakeem Olajuwon at his disposal—two Hall of Famers with boatloads of knowledge to share. His post game could stand to improve with their help.
Not to be forgotten, Howard was not completely healthy last season. He had a torn labrum throughout the season that "Dr." Kobe Bryant deemed not serious enough to keep him off the court. He was also a season removed from serious back surgery, which he recovered quickly from.
He did look stiff at times last season and lacked his usual explosiveness around the rim. That should not be an issue next season.
Howard will also be more of a focal point on offense. This is still James Harden's team, but he now has a nice new 6'11" toy to play with.
Harden has proven to be a willing passer as has Chandler Parsons. Bryant, Pau Gasol and Steve Nash never seemed to figure out how to all play together—granted, they all got injured a lot.
Above it all, Howard is now in a place that he chose. He has no more excuses and nobody else to blame. He sat back and made his decision, and he chose Houston, so it is time for the "Dwightmare" to end and for the chiseled center to show some real results.
Projected Stats (Per Game): 20.2 points, 14.1 rebounds, 1.7 assists, 2.4 blocks