When the Los Angeles Dodgers acquired Ricky Nolasco from the Miami Marlins, they envisioned a starting pitcher who could have considerable impact in their fight for the NL West title.
"We've liked Ricky for a while," general manager Ned Colletti told ESPN.com. "He's a gamer, a quiet, focused and successful pitcher who can add depth to our rotation."
Nolasco made Colletti look good on Tuesday.
Thrown into the middle of the fight in the NL West against the division-leading Arizona Diamondbacks, Nolasco was simply brilliant.
He was never in any real trouble all night, breezing through six scoreless innings before giving up a double and a run-scoring single in the seventh. He ended his night with just one run allowed on four hits with five strikeouts and no walks.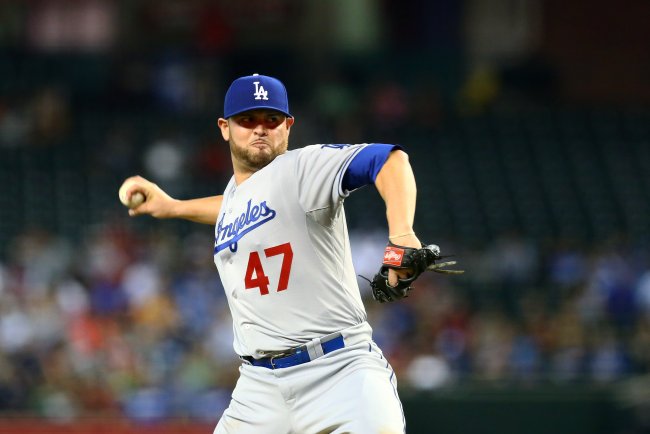 Mark J. Rebilas-USA TODAY Sports
It wasn't the easiest way to debut for Nolasco. He was facing Ian Kennedy, who was on the hill for the first time against the Dodgers since the ugly bench-clearing brawl on June 11. Kennedy's actions in that game earned him a 10-game suspension.
No such fireworks in this game, however. Kennedy did hit shortstop Hanley Ramirez with a pitch in the first inning, but it was with a 79 MPH curve and obviously not intentional. The Dodgers rocked Kennedy for six runs on nine hits, knocking him out in the sixth inning.
Meanwhile, Nolasco kept on dealing. His performance is exactly what will be needed as the Dodgers continue to climb up the standings in the NL West.
Dodgers fans on Twitter voiced their support of his efforts as well.
Oh yeah, Ricky Nolasco won on his Dodger debut tonight. A successful acquisition!

— Jonathan Biles (@Jonathan_Biles) July 10, 2013
Ricky Nolasco was a great pickup for the Dodgers

— Fitz⚾ (@F_itz5) July 10, 2013
Great debut by Ricky Nolasco and another win for the #Dodgers. Such a departure from over a month ago when they couldn't do anything right.

— Chris Huang (@WhateverHuang) July 10, 2013
Just 2.5 games behind the Diamondbacks in the division, the Dodgers now have a quartet of pitchers in Clayton Kershaw, Zack Greinke, Hyun-jin Ryu and Nolasco with whom to do battle with. If that core stays healthy and continues with quality efforts, the second half of the season could be an entirely different story for the Dodgers.
Our rotation is beast! "@Toe_knee2: Ricky Nolasco!"

— Ricardo Lira ⚾ (@TheRealRicky) July 10, 2013
Just got off a flight to see Ricky Nolasco's line in his Dodger debut. Man, that rotation can be fierce. Plus he didn't cause a brawl.

— Anthony Witrado (@WitradoSN) July 10, 2013
The brawl turned out to be a secondary story on this night.
It's just one start, but it's a start that could lead to a new beginning for both Nolasco and the Dodgers.
Doug Mead is a featured columnist with Bleacher Report. His work has been featured in the Seattle Post-Intelligencer, SF Gate, CBS Sports, the Los Angeles Times and the Houston Chronicle.
Feel free to talk baseball with Doug anytime on Twitter.