Rating the US Players vs. Belize in Gold Cup Clash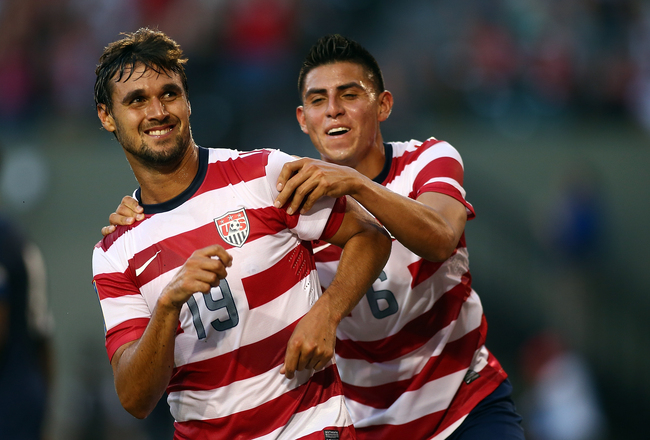 Jonathan Ferrey/Getty Images
The United States men's national team opened up its 2013 CONCACAF Gold Cup campaign in style with a 6-1 win over Belize.
In their first-ever meeting against the Central American nation, the Yanks received a brilliant performance from Chris Wondolowski as he scored a first-half hat-trick.
Stuart Holden, Michael Orozco Fiscal and Landon Donovan all added a goal each in the second half as the Americans cruised to three points in front of a thunderous crowd at Jeld-Wen Field in Portland.
Read on for all of the player ratings from the Yanks' triumph on Tuesday night.
Goalkeeper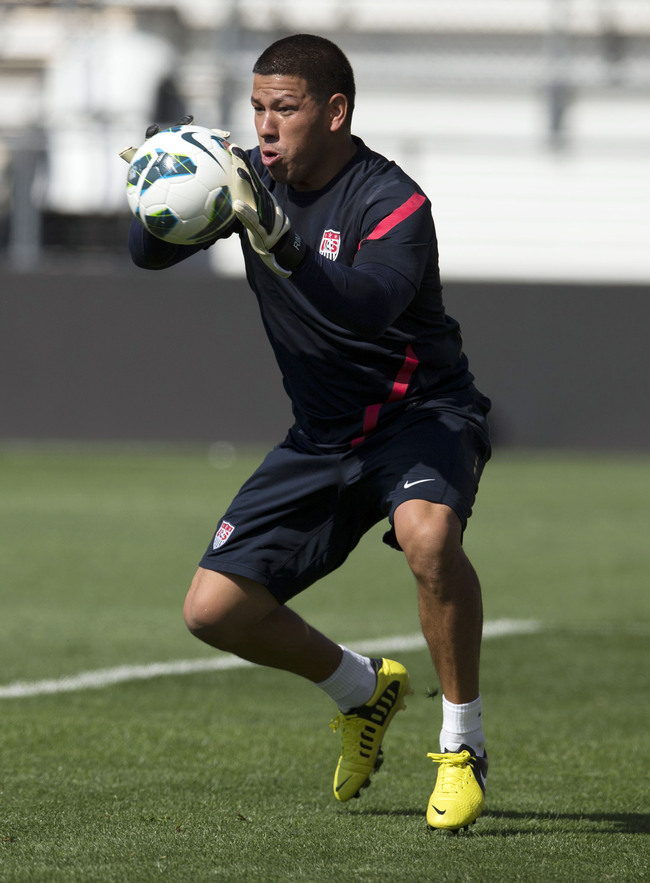 Greg Bartram-USA TODAY Sports
Player: Nick Rimando
Rating: 7
On a night where he was expected to pull up a recliner in his own net as he watched his team move forward, Nick Rimando showed up when he was needed for the Yanks.
On the lone Belize goal, he was left out to dry by the poor man-marking by the back four.
Defenders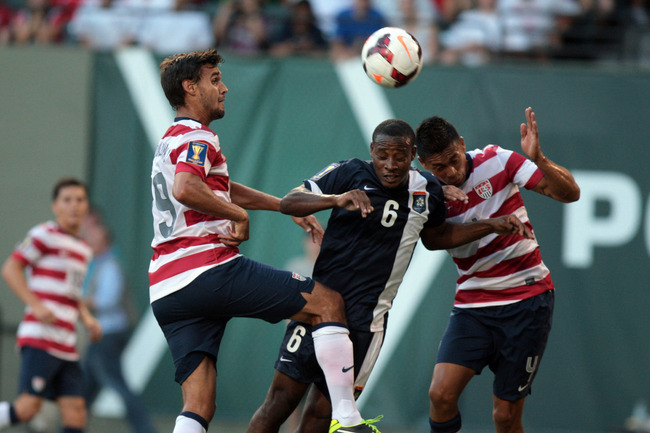 Scott Olmos-USA TODAY Sports
Players: Michael Parkhurst, Michael Orozco Fiscal, Clarence Goodson, DaMarcus Beasley
Ratings: Parkhurst: 6.8; Orozco Fiscal: 7.2; Goodson: 7; Beasley: 7
The American back four was not forced into many pressure situations against Belize, and that allowed all four defenders to move forward at some point in the match.
Michael Parkhurst was the man to blame for not marking Ian Gaynair on the only Belize goal, but he made up for that just a minute later as he assisted on Wondolowski's third goal.
Michael Orozco Fiscal was quiet for most of the match until he moved forward in attack and finished off a Landon Donovan free kick in style in the 72nd minute.
Clarence Goodson meandered forward early in the first half before he sat back and got a good view of the American attack driving the pace of the match in the attacking half of the pitch during the second half.
DaMarcus Beasley had little impact on the match as well because of the attacking impetus of the Yanks, but he did show us once again in the 56th minute that he is still capable of making surging runs forward and getting a chance on goal.
Midfielders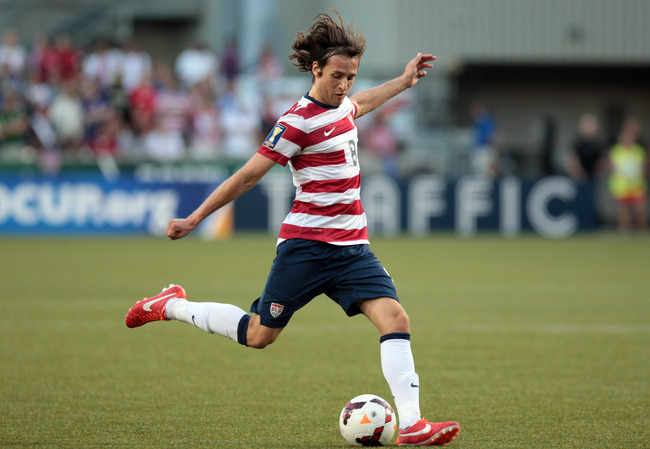 Scott Olmos-USA TODAY Sports
Players: Kyle Beckerman, Joe Corona, Mix Diskerud, Jose Torres
Ratings: Beckerman: 6.5; Corona: 6.9; Diskerud: 7.5; Torres: 7.3
Besides his assist on the second Wondolowski goal, Kyle Beckerman did not have a great match as the anchor of the 4-1-3-2 formation.
A good chunk of Beckerman's passes were not positive, and he failed to make a constant impact before he was substituted out of the match at halftime.
Corona's play in the midfield was overlooked a bit by the performances of the other midfielders, but he did hold his own during his time on the pitch.
Diskerud, a native of Norway, finally became cup-tied to the United States with his start, and he impressed many with his work ethic up and down the pitch.
He also showed plenty of confidence from outside the penalty area as he let loose on a few shots that reached the Belize goal throughout the match.
Torres was a pleasant surprise in the American attack as he linked up well with his teammates, especially Landon Donovan.
On the first goal scored by Wondolowski, Torres sent in the original cross that produced the goal that opened the floodgates.
Forwards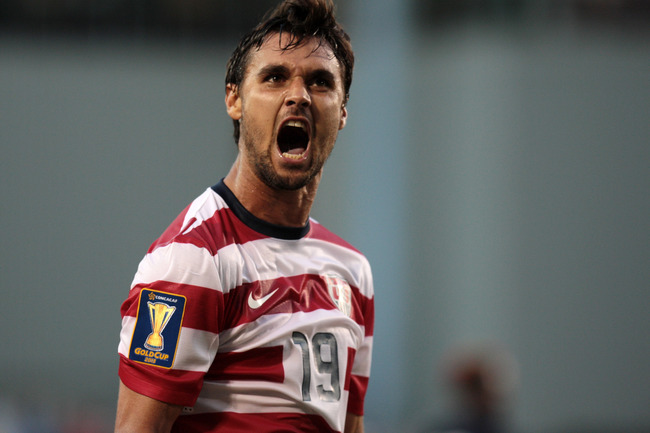 Scott Olmos-USA TODAY Sports
Players: Landon Donovan, Chris Wondolowski
Ratings: Donovan: 8.5; Wondolowski: 8.7
Both Landon Donovan and Chris Wondolowski made statements to manager Jurgen Klinsmann that they should be the starting forward duo for the rest of the Gold Cup.
Donovan continued his blazing hot form with two assists and a penalty-kick goal in the 76th minute.
With his assist on Stuart Holden's 58th-minute goal, Donovan earned his 50th international assist, a mark that was moved to 51 just minutes later on Orozco Fiscal's goal.
As for his American scoring record, Donovan extended that to 52 goals as he slotted home the penalty for the sixth goal of the match for the Yanks.
Wondolowski also played with plenty of fire in front of goal against Belize.
A first-half hat-trick for the San Jose Earthquakes forward—whose name was misspelled on his jersey—was a welcome sight for American fans who have seen him struggle at the international level in the past.
Substitutes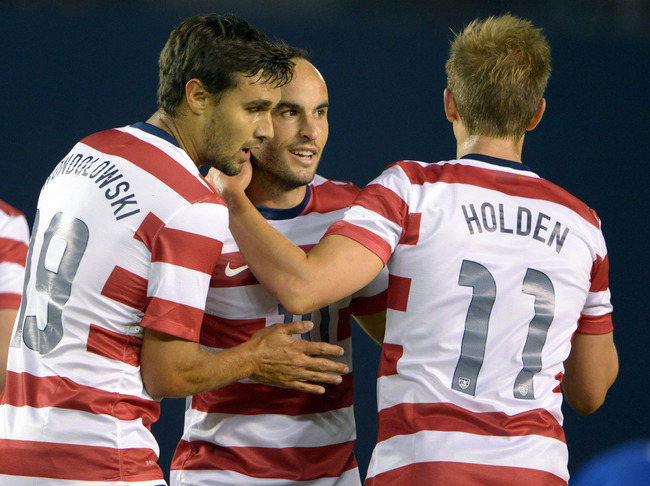 Kirby Lee-USA TODAY Sports
Players: Stuart Holden, Brek Shea, Alejandro Bedoya
Ratings: Holden: 7; Shea: 6.5; Bedoya: 6.5
Stuart Holden may have been the most anticipated substitute used in the Klinsmann era, and he did not disappoint as he linked up well with Donovan in the midfield during his 45 minutes on the pitch.
Holden was rewarded for all of his hard work in the 51st minute as he netted a goal that was celebrated by American fans everywhere.
Brek Shea and Alejandro Bedoya came on later in the second half, and while they did not have the same impact on the match that Holden did, they did play strong and they should play into Klinsmann's plans for the rest of the tournament.
What ratings would you give the United States players for their performances against Belize?
Comment below or leave me a comment on Twitter, @JTansey90.
Keep Reading

United States (National Football): Like this team?