Power Ranking Every Minnesota Timberwolves Player Already on Roster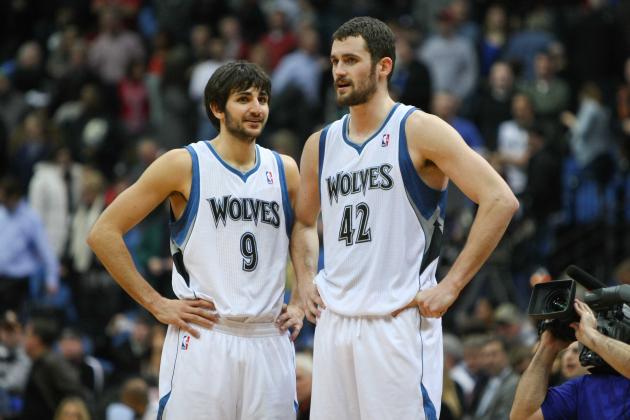 Brace Hemmelgarn-USA TODAY Sports
Who do you think Tom put as No. 1 in his power rankings, Kevin? I don't know, Ricky, but it's really important to me!
With the acquisition of Kevin Martin and the re-signing of Chase Budinger, the Minnesota Timberwolves have pretty much rounded out their roster.
They still need to re-sign Nikola Pekovic, but other than that, the big names are currently in place.
Now that this roster has taken shape, Bleacher Report will take a look at which players will make the biggest impact next season.
Who will be No. 1? Will it be Kevin Love or Ricky Rubio? Or maybe I've just gone nuts and put Shabazz Muhammad on top? (You never know. I'm kinda nuts!)
Note: Stats are season averages from 2012-13; "Role" is the player's projected role on the team. For rookies, draft placement replaces stats.
Begin Slideshow

»
Drafted: Second round, No. 59 overall
Role: Depth forward
Bojan Dubljevic is unlikely to come to Minnesota until 2015.
He is signed with Valencia BC in Spain through the 2015-16 season with a €1 million buyout clause. However, he can be bought out for €200,000 in the summer of 2015.
If the 'Wolves want to make the Montenegrin a depth forward (and backup teddy bear), it will cost them a lot of money, and it is unlikely to happen unless he really blossoms in Europe.
Drafted: Second round, No. 53 overall
Role: Depth guard
Hey! At least Lorenzo Brown is in America!
The Roswell, Georgia, native (the one without aliens) played his college ball at North Carolina State University and, as a junior, averaged 12.4 points and 4.3 rebounds per game while leading the Atlantic Coast Conference in assists with 7.2 per game.
His ceiling is probably a depth guard, but that could come in handy down the road.
Stats: 9.5 mins, 3.9 points, 2.0 rebounds, 0.3 assists, 0.2 steals and 0.9 blocks in 30 games
Role: Depth forward
Also known as the random guy who got M-V-P chants last year, Chris Johnson became a fan favorite instantly, but his lack of size (6'11", 210 lbs) will probably keep him off the court.
Rick Adelman used him sparingly when he got back (Johnson was signed when Terry Porter was coaching), and Johnson is unlikely to be part of Minnesota's future plans.
Drafted: First round, No. 21 overall
Role: Depth center
Gorgui Dieng is a large center (6'11, 245 lbs) out of Senegal. At Louisville, he was known for his shot-blocking and defensive prowess, but he still needs to work on his offensive game.
As long as he plays well in summer ball, he should be able to lock down the backup center position and be a replacement for Pekovic if he re-signs.
There is an outside chance he gets the starting position if Pek re-signs, but without any post game, it seems unlikely the 'Wolves toss him the keys right away.
Stats: 25.1 mins, 8.7 points, 5.1 rebounds, 0.8 assists, 1.0 steals and 0.5 blocks in 80 games
Role: Depth forward
His role really should say "Energy Player."
Dante Cunningham scored a little bit and played some solid defense, but he's one of those guys who are hard to evaluate with numbers. It just seems like the entire Target Center gets a buzz when he's on the court.
He's a great change-of-pace player who could get a decent contract extension if he keeps it up and earns sort of a "cult" following in Minneapolis.
Stats: 23.9 mins, 8.6 points, 2.3 rebounds, 3.7 assists, 0.7 steals and 0.4 blocks in 77 games
Role: Backup point guard
Alexey Shved did not put up the numbers J.J. Barea and Luke Ridnour did last year, and he did not play well alongside Ricky Rubio, unfortunately. But he still could be the backup point guard next year.
While he averaged less points and assists than Barea and Ridnour, the Russian is also significantly younger (24) and probably more talented than the other two players on the depth chart, making at least one of them expendable.
Stats: 23.1 mins, 11.3 points, 2.8 rebounds, 4.0 assists, 0.4 steals and 0.0 blocks in 74 games
Role: Backup point guard
Barea may be smaller than a church mouse and flop more than a beached whale, but he also can score and dish the ball.
He has learned to be crafty with his size and can be a scoring threat as a point guard.
Unfortunately, his defense leaves something to be desired, and his flopping will eventually empty out his pocket book and make the Wolves look foolish.
He's worth keeping around but should be dealt if Minnesota can get some value for him.
Stats: 22.1 mins, 9.4 points, 3.1 rebounds, 1.1 assists, 0.6 steals and 0.3 blocks in 23 games
Role: Backup guard or forward, possible starter
Budinger's numbers don't look great, but he also missed most of the year due to knee surgery and was not himself once he got back.
When he's at full capacity, Budinger is a dynamic shooter who can dunk. He will probably start the year coming off the bench to play the 2 or 3, but he could easily take over a starting spot should Minnesota need him to (let's really hope it isn't due to the whole team being injured again...).
Stats: 27.7 mins, 14.0 points, 3.3 rebounds, 2.0 assists, 0.9 steals and 0.1 blocks in 77 games
Role: Starting shooting guard
Martin comes over from the Oklahoma City Thunder with some familiarity with Adelman from his Sacramento Kings days.
At 30, he is a veteran who should not only be a leader on the team but also a productive player in his prime.
He fills a much-needed position and will be given every opportunity to succeed in Minnesota.
Drafted: First round, No. 14 overall
Role: Depth guard or forward, possible starter
People are going to tweak out that he is this high, but Muhammad is one of those rookies who has a lot more to prove off the court than he does on it.
Bazz needs to a) change his Twitter handle b) ensure his father lets him do his thing and c) be a good teammate. This means he has to play defense, pass the ball and celebrate when his teammates score.
If he can do that, Muhammad has enough talent to be a regular part of the rotation right away and could be an exciting scorer in Minneapolis.
Stats: 24.6 mins, 12.0 points, 5.5 rebounds, 0.6 assists, 0.6 steals and 0.5 blocks in 78 games
Role: Backup forward, possible starter
Derrick Williams is kind of like Bazz with less baggage.
He is incredibly athletic and has the opportunity to be the starting 3 or back up Love at the 4. Paired with Muhammad, Minnesota has two dynamic scorers for Rubio to pass the ball too, effectively taking pressure off of Love to carry the team.
D-Will could become a star if he builds off of the progress he made last season.
Stats: 30.2 mins, 11.5 points, 2.5 rebounds, 3.8 assists, 1.0 steals and 0.2 blocks in 82 games
Role: Backup point guard
It sounds funny that the 'Wolves want to trade him, given the numbers he put up last year, but Minnesota really doesn't need another backup point guard, and Ridnour really isn't a 2.
Ironically, the team's oldest player was the only guy to play all 82 games. Ridnour is also 32, so he has passed his prime and will not stay healthy forever.
He is an asset if he stays, but like Barea, he should be moved for the right offer.
Stats: 29.7 mins, 10.7 points, 4.0 rebounds, 7.3 assists, 2.4 steals and 0.1 blocks in 57 games
Role: Starting point guard
You're just a bad person if you don't like Rubio.
He will warm your heart with a little pep talk if you are feeling down and wishes nothing more than to pass you the ball in a mind-boggling way.
All he asks in return is that you remember he was the fifth Beatle.
OK, I made the last part up, but the first two are very true, making Rubio the best poster child for an NBA team. Ever.
Stats: 34.3 mins, 18.3 points, 14.0 rebounds, 2.3 assists, 0.7 steals and 0.5 blocks in 18 games
Role: Starting power forward
Ironically, Love is a little harder to love.
He openly expressed his dislike for how the 'Wolves were being run, and there is a feeling among some fans that he wants to bolt for L.A. when his contract is up.
Fortunately for Love and 'Wolves Nation, David Kahn is long gone and Flip Saunders appears to be getting along with the longest-tenured Timberwolf.
Is Love really asking for that much anyways?
He just wants a championship-caliber team around him and for everyone to remember that his uncle was the lead singer of The Beach Boys (that actually is true).
In short, just love him and he will "Love You" back.
Tom Schreier covers Minnesota sports for Bleacher Report and is a contributor to Yahoo! Sports.