United States vs. Belize: Live Analysis of the Americans' Gold Cup Opener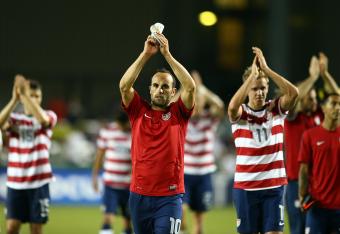 Jonathan Ferrey/Getty Images
Final: 6-1 United States
The United States men's national soccer team dismantled Belize in the first round of the CONCACAF Gold Cup.
Chris Wondolowski had a hat trick in the first half, with two diving headers and one tally off a rebound. Halftime substitution Stuart Holden scored after just 11 minutes on the pitch, Orozco added a header goal and Landon Donovan made good on a penalty kick.
The Americans are trotting out many players trying to prove their worth in time for the World Cup such as Donovan, Holden, Wondolowski and Mix Diskerud.
The U.S. now has a six-game win streak, including an easy 6-0 win over Guatemala in the game before Belize.
Belize has never qualified for the World Cup and is playing in their first Gold Cup, but the US couldn't sleep on the tiny Central American nation. Canada and Mexico, the other tournament favorites, were upset by Martinique and Panama.
Deep in the farmer's markets of Portland, a confused hippie is being asked, "Kyle Beckerman, can I have your autograph?"
Grant Wahl is a great reporter with a grating voice.
Final: U.S. 6, Belize 1: Well, Belize did better than Guatemala. Great job by Wondo, Donovan, Holden, Orozco and Rimando when tested.
88:37: Wondo could have taken another touch there, and if he had, it might have been goal number four.
83:14: Cobi Jones has said Orio's name too many times. Headed to the pantry now.
81:13: Orozco's near miss prompts the question: What's more impressive, three goals from a striker or two from a defender?
75:37: And Donovan joins the party. To be honest, that didn't look like a hand ball, considering the defender's arm was at his side, and the ball mostly hit his chest.
73:17: Another goal! Nice distraction by the men leaping through the box, and good work from Orozco to finish. That's three header goals for the U.S. tonight.
69:26: Harrison Tasher's bleaching the word "Belize" into the back of his head is the coolest thing I've seen in a long time. Let's see Clint Dempsey do that for the World Cup (saying USA, of course).
If you're not happy for Stuart Holden right now, you have a heart like a dried split pea that's buried under eight feet of moldy gravel.

— Steve Brisendine (@SteveBrisendine) July 10, 2013
61:35: Nice way to sum up the emotions now, after Holden's injury-plagued career dampened so much promise.
58:12: Stuart Holden scored that after coming on the pitch just 11 minutes ago. Donovan now has 51 goals and 50 assists for the USMNT, making him the first member of the "50-50" club.
52:37: "Thanks Fox Sports, I really wanted to see a close-up of the Astroturf on an injured player's forehead," said no one ever.
46:18: If both of Lennen's feet had hit Diskerud, that would have been a red. As it is, that's a STRONG yellow.
Halftime: And just like that, Holden is coming in.
Halftime:
J Incharlotte: "They need Holden in there." My guess is we'll see him in the second half, because Klinsmann will want to test him before playing him against better opponents.
Halftime: Which Wondo goal is the best so far? Comment your pick below.
Halftime: The first half has come to a close, and Wondolowski has one goal for every "W" on his jersey. No spelling bee trophies for the USMNT front office.
41:50: Wondolowski answers back with another diving header goal! A hat trick in the first half, no matter the opponent, is a remarkable feat.
40:47: Belize...scored? Time to restart FIFA. Wait, that was real life?
37:18 Wondo again! The pride of San Jose with a slick header, and the hat trick watch is officially on.
35:56: Another wasted scoring chance. If the Americans were playing a competitive nation, there could be cause for concern.
34:48: Romando is busier today than against Guatemala, though not by much.
32:35: Clutch foot save by Orio, though it's worth noting Wondolowski was open in front of the goal and Torres had a free passing lane.
23:01: Surprising test for Rimando. That might be Belize's best chance of the night.
20:36: That little slip prevented Belize from going down 2-0.
This article is
What is the duplicate article?
Why is this article offensive?
Where is this article plagiarized from?
Why is this article poorly edited?

United States (National Football): Like this team?