Michigan State Basketball: Spartans' Odds to Land Each Top Recruiting Target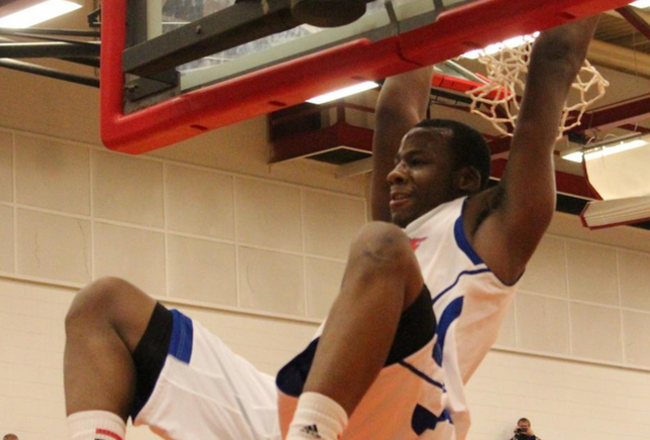 Chicago Curie's Cliff Alexander is one of three top 2014 targets for Michigan State. (Photo: 247Sports)

Recruiting top-tier athletes isn't the problem for Michigan State Spartans coach Tom Izzo.
However, convincing them to play in East Lansing seems to be.
At this point, it doesn't look like the Spartans, who have been to six Final Fours under Izzo, are clear favorites to claim 2014 prime-timers Cliff Alexander, Jahlil Okafor and Tyus Jones.
Jones and Okafor want to play together. That could be tricky.
Alexander, according to a recent report from MLive.com's Diamond Leung, isn't planning to officially visit Michigan State.
Securing package players is a test for any coach. Only Jones and Okafor know where they'll go to college. If 247Sports.com's predictions hold true, both Jones and Okafor will commit to Duke, which beat Michigan State in the 2013 Sweet 16.
Is Tyus Jones a Lock for Duke?
Apple Valley star point guard Tyus Jones would be a great vehicle for the Spartans to utilize.
But Mike Krzyzewski and the Duke Blue Devils feel the same way. According to 247Sports, Coach K leads the pack in the Jones Sweepstakes. If Duke landed Jones, it'd be the second high-profile steal in as many years.
Still stinging from the loss, Michigan State failed to secure 2013's LeBron James, Jabari Parker of Simeon, who chose Duke over the Spartans.
When analyzing Jones' recruitment, one factor rises to the top of conversation: He wants to play with Jahlil Okafor, who is also considered a Duke-lean by 247Sports.
Jones said the following about joining Okafor in May to MaxPreps' Greg Bates.
Every school knows that me and Jahlil would like to attend the same school.. I think we'd be a phenomenal duo. He's a beast down low and a phenomenal big man. He has great hands, great feet, very mobile. Myself, I think, that'd be good to play alongside him just because I know I can pass the ball and set him up and be able to get him easy baskets
At 6'1" and 170 pounds, Jones, the nation's No. 1 recruit of 2014 according to 247Sports, would be a slightly above average sized collegiate 1-guard. However, he has touches of an NBA skill set.
And he still has a year of high school ball to play.
What About Jahlil Okafor?
As the No. 1 center of 2014 and No. 2 overall prospect, Whitney Young's Jahlil Okafor is on the top of several coaches' wish lists.
The 6'10", 270-pound will-be prep senior has offers from the who's who of NCAA hoops. Imagine Okafor teamed up with Jabari Parker and Tyus Jones—that'd be one superior trio of athletes romping the floor in front of the Cameron Crazies.
However, Okafor would be a great replacement for Adreian Payne, Michigan State's senior big man. Okafor would probably have a year with Branden Dawson, who would be a senior, along with a strong supporting cast that could include Gary Harris, a projected 2014 NBA Draft Lottery Pick.
Okafor is a sure one-and-doner, and when talents such as Okafor choose a college, they typically look for one that has the best chance of winning a national championship.
Perhaps the possibility of Michigan State not having guys like Harris and Dawson in the future is enough to deter Okafor.
It's anyone's guess at this point.
But, as mentioned earlier, he wants to play with Jones. Yeah, there goes that repetitive factor again—Okafor wants to attend college, and play basketball, with Jones.
Okafor said the following about playing with Jones in May to CBSSports' Jeff Borzello:
I talk to him every day. He's one of my best friends. We definitely want to go to the same school. Even without basketball, I'd want to go to college with him. He's a point guard, pass-first. He makes the game a lot easier for me. ... We want to commit at the same time," Okafor said. "You don't want to have to deal with it throughout your last year. If we know where we're going, we're definitely going to commit
Okafor would immediately start in East Lansing, and so would Jones. During the interview with Borzello, Okafor had nothing but positive comments pertaining to Duke. He says the school would afford him memorable life experiences, not just a college athletic career.
It seems that Coach K has his hooks firmly planted into Okafor. The same is probably true for Jones. Izzo has a slight chance at getting both. But that's about it.
Let's call it a 20 percent chance.
If that.
There's a Little Hope for Cliff Alexander
Cliff Alexander, a 6'9", 240-pound forward/center from Chicago Curie has been compared to NBA center Dwight Howard.
Izzo probably hopes Alexander isn't as fickle as Howard.
And Izzo probably hopes that 247Sports' prediction comes true—the recruiting site has Alexander picking Michigan State over Kentucky and Kansas. However, Kentucky is listed as a 57-percent favorite compared to the Spartans' 29 percent. Kansas is listed as a 14-percent favorite.
Izzo has another thing going for him: Alexander, 2014's No. 10 prospect, doesn't care where Jones and Okafor play; his decision won't be based on that, according to a report from NBCSports' Terrence Payne.
Although Alexander doesn't plan to take an official visit to East Lansing, 247Sports' prediction carries a little weight. It's impossible to forecast the future, but the site has been fairly accurate.
Let's call Izzo's chances of getting Alexander better than maybe, but not quite certain. If it means anything, Alexander also excluded Kentucky from the visit list, leaving Memphis, Arizona, Kansas, and Louisville, the 2013 NCAA champ.
Follow Bleacher Report's Michigan State Spartans basketball writer Adam Biggers on Twitter @AdamBiggers81
Keep Reading

Michigan State Basketball: Like this team?