Metta World Peace might be released via amnesty by the Los Angeles Lakers, but despite Kobe Bryant's protestations, it's the right move for the storied franchise.
Kevin Ding of the Orange County Register first reported the team's desire to make such a move:
Sweet a guy as he is, @MettaWorldPeace will be waived via amnesty by Lakers to save about $30 million, barring some late change.

— KEVIN DING (@KevinDing) July 8, 2013
Bryant responded to the reported move on his official Twitter account, lamenting the loss of World Peace (it's not yet official) and expressing his desire to keep the team together for one more run in 2013-2014:
No game 7 win without Metta! This is a tough day for laker nation #misspeace #newcbacasualty

— Kobe Bryant (@kobebryant) July 9, 2013
Personally I'd keep Metta and make a run with the unit we have and just add a few pieces #keepthepeace #lakersstilldeciding

— Kobe Bryant (@kobebryant) July 9, 2013
While Ding mentioned a savings of $30 million, Mike Bresnahan of the Los Angeles Times offered a different figure, along with some other pertinent information regarding the potential move:
The Lakers couldn't actually waive World Peace until a one-week period set to begin Wednesday, and they would still have to pay his $7.7-million salary next season, but they could save at least $15 million in luxury taxes if they made the move.
While saving money is certainly on the mind of team owner Jerry Buss, letting World Peace walk makes more sense from the perspective of rebuilding the Lakers' depleted roster.
Los Angeles features a corps of starters whose best days are behind them—especially in light of Dwight Howard's defection to the Houston Rockets and the team's new deal with center Chris Kaman, as reported by ESPN Los Angeles' Ramona Shelburne.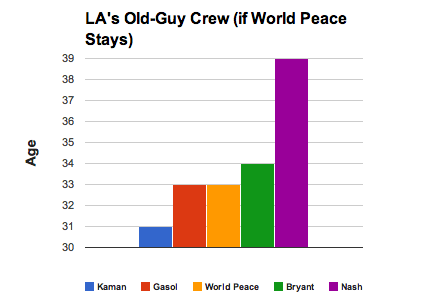 Steve Nash, Pau Gasol, Bryant, World Peace and Kaman are all well past 30 years old, and the franchise mortgaged it's future by trading draft picks to acquire Nash and Howard.
Unfortunately, the gamble didn't pay off.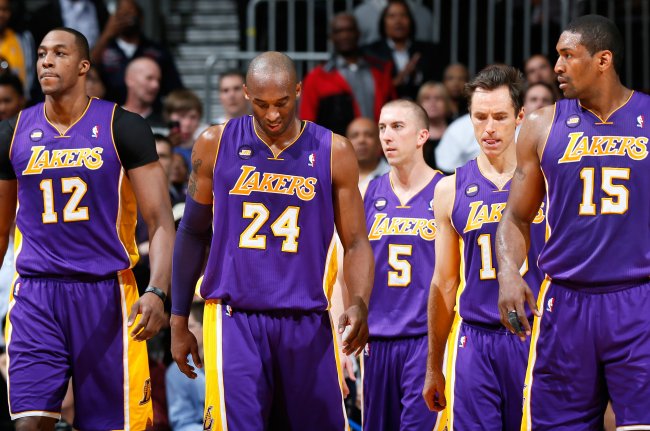 Kevin C. Cox/Getty Images
Howard left after one miserable season, Nash was injured for a good portion of last season (and is approaching the age of 40), and now Bryant is attempting to come back from a devastating Achilles-tendon injury.
The Lakers should _____ Metta World Peace this season.
Obviously, the Lakers won't be among the teams tanking for Andrew Wiggins in the 2014 NBA draft, but the franchise must face facts about its chances of winning the Western Conference—let alone an NBA title.
The Lakers don't have the depth to compete for a championship this season—with or without World Peace. The smart move for the franchise at this juncture is to simply let World Peace go and figure out what kind of work needs to be done in 2014-2015.
By that time, Los Angeles will have plenty of room to maneuver for one or two top NBA stars. The team's salary-cap situation for the 2014-2015 season is wide open—the only player slated to earn any cash whatsoever is Steve Nash, who is set to earn $9.7 million.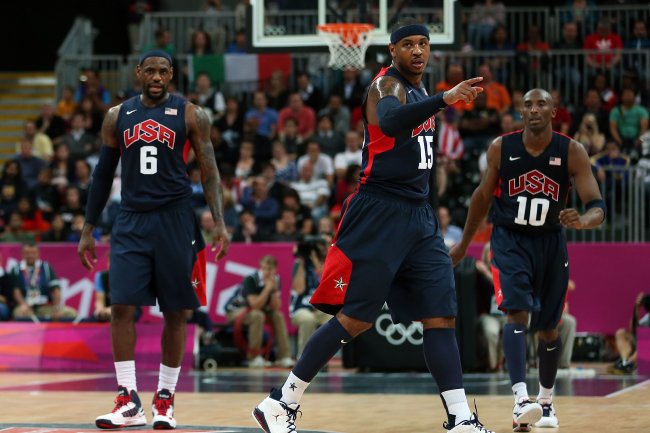 Ezra Shaw/Getty Images
This upcoming season is going to be frustrating for the team and its fans. That's a fact that cannot be denied. The only thing to do now is simply grin and bear another season filled with mediocrity, but there's hope for a bright future in short order.
LeBron James and Carmelo Anthony—among others—will be unrestricted free agents in the summer of 2014. If Los Angeles and its fans can focus on the possibility of constructing another dynasty, perhaps the agony of defeat won't be so difficult to endure this upcoming season.
Follow me on Twitter @JesseReed78