25 Current College Football Players and Coaches with the Most Swag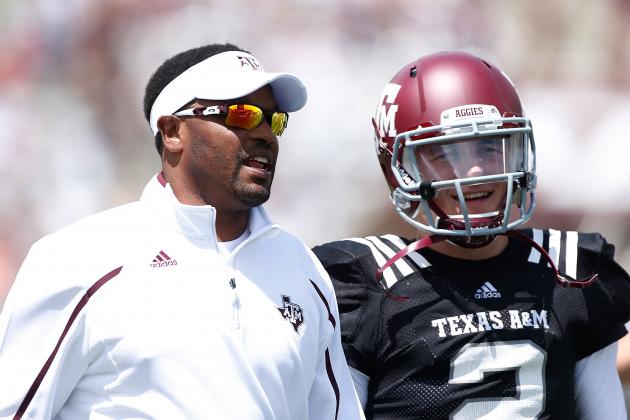 Scott Halleran/Getty Images

Swag is a word that is relatively new to the English language, and to find the meaning we are going to use it for, it is necessary to refer to the Urban Dictionary.
Somebody with swag is not just cool, but a little more than that.
Whether it is the way they dress, or how they act, something sets these individuals apart from the rest. There is a confidence to these individuals that is not found in everybody.
There are players and coaches with swag throughout college football. Some are blessed with a little more than others.
On the other end of the spectrum, there are coaches and players that have the complete opposite of swag. We will save that discussion for another time.
This article will focus on the players and coaches with the most swag heading into the 2013 college football season.
Here are the top 25 with a few others added in.
Begin Slideshow

»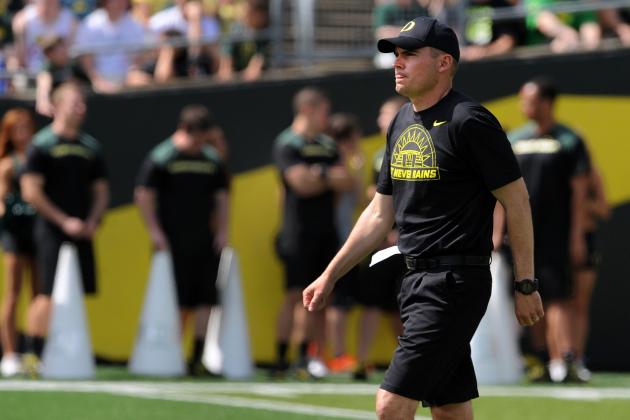 Steve Dykes/Getty Images

Here are five names that just missed the list, but still have enough swag to hold their own.
Mark Helfrich: Even though the new Oregon head coach is only in his first season running the program, he learned a little bit from former head coach Chip Kelly.
Pat Fitzgerald: The Northwestern head coach has more style than some might expect, and seems to be one with the players.
Devonta Freeman: The long hair of this Florida State running back is only adding to his swag. No doubt the Florida State backfield might have the most swag in the nation.
Bronco Mendenhall: What other coach can pull off the T-shirt during a game quite like Mendenhall? Probably only a select few.
June Jones: The former Hawaii coach and current SMU head man is full of swag both on and off the field.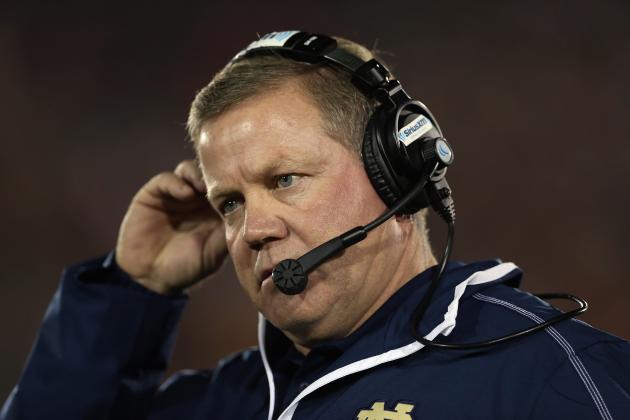 Jeff Gross/Getty Images

Brian Kelly has many different looks, and he pulls them all off quite well.
Whether he is wearing the visor or not, he can be one of the most intimidating coaches in college football.
There is no question about his confidence as well. He is a smooth talker who can snake his way out of just about anything.
Certainly swag was something this son of a politician was born with.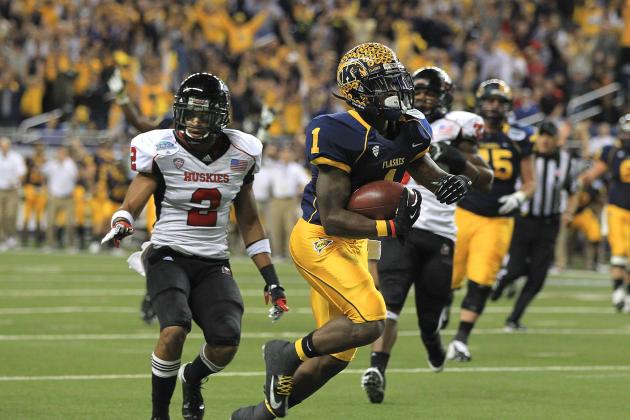 Dave Reginek/Getty Images

Dri Archer is not only one of the best running backs in the country, but he looks very cool in the process.
Whether it is on or off the field, this small, but ultra-quick Kent State running back has as much swag as anybody in the conference.
It all begins with his name, which is one of the most unique in the sport. Very few things are as important as a name when talking about swag.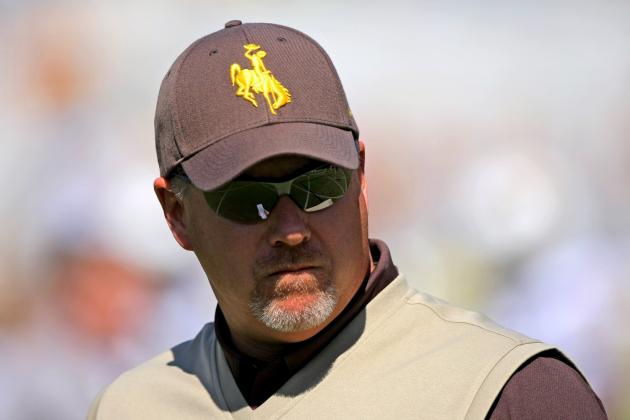 Doug Pensinger/Getty Images

If anybody can rival former Ohio State head coach Jim Tressel for best sweater vest, this is just the guy.
It is hard to pull off the outfit he does, particularly being the head coach of a team with the colors like Wyoming.
Head coach Dave Christensen does it perfectly. He is one of the best dressed coaches in the game, showing shows off his swag on a consistent basis.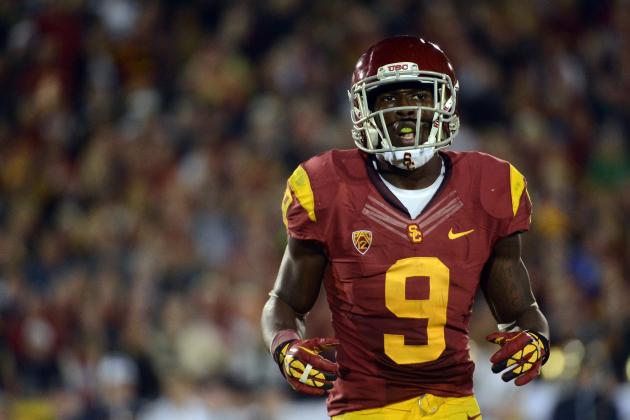 Harry How/Getty Images

USC stud Marqise Lee is the best wide receiver in the country, and probably the most talented player in the entire nation.
What gives him so much swag is the fact that he knows it.
Lee shows most of his swag on the field by dominating the competition, but also before he even steps on the field knowing that he can't be stopped.
That is the definition of swag.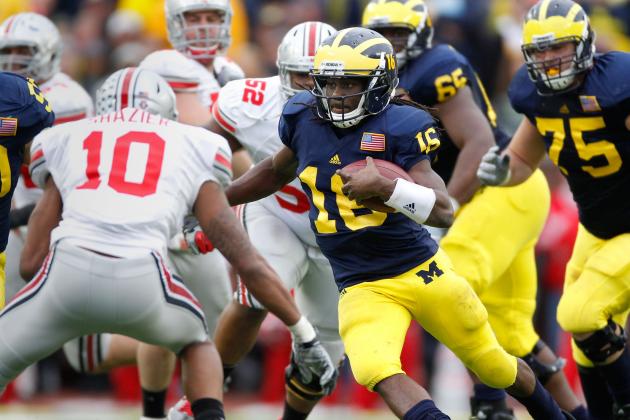 Gregory Shamus/Getty Images

Ohio State linebacker Ryan Shazier may be one of the least known players on the list, but he is one of the top linebackers in the country heading into the 2013 season.
Shazier is no stranger to the shaved head. He pulls it off quite well.
Anyone who can dominate on the field like he does, and do it with a shaved head certainly has swag in my book.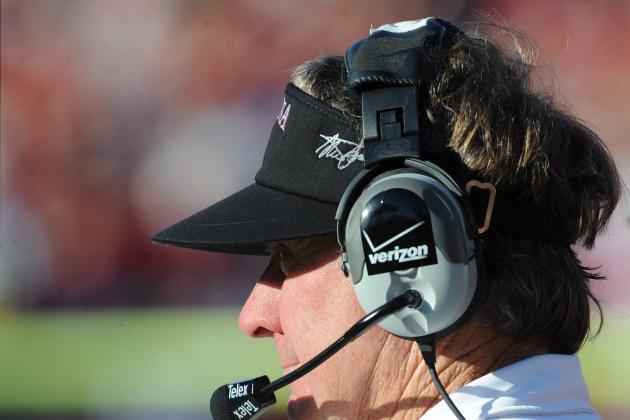 Al Messerschmidt/Getty Images

Steve Spurrier has been one of the more stylish college football coaches for quite some time now. He pulls off the visor like few others can.
There is no shortage on confidence with this guy. Overconfident would be a much better way to describe him. That is exactly what swag is.
To add to that, he has won virtually everywhere he has gone at the college level. That does nothing but help his swag factor.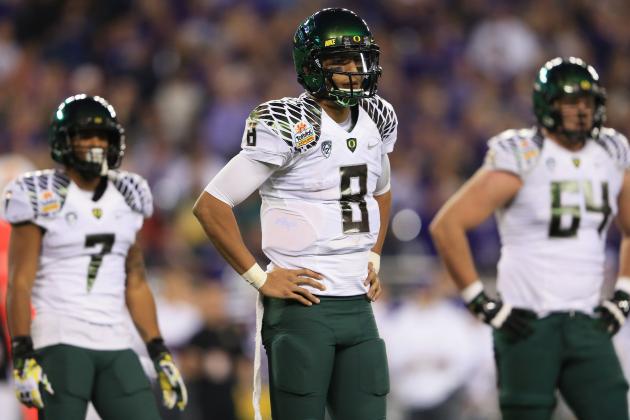 Doug Pensinger/Getty Images

Oregon appears to be a university where a lot of swag exists. It all might start with the uniforms and the coaching staff.
One player on the roster who has some swag is quarterback Marcus Mariota.
Mariota led the high-powered offense last season, and did it in style from start to finish. His confidence and ability will likely continue to grow entering his sophomore season, as will that swag of his.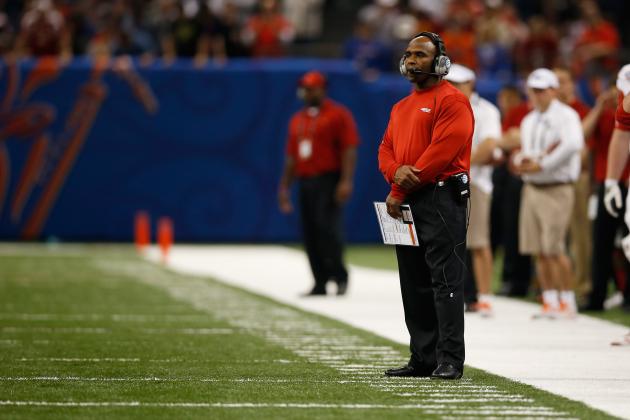 Chris Graythen/Getty Images

Louisville head coach Charlie Strong possesses a different kind of swag.
The Cardinals head coach is one of the more intimidating men in college football. He always looks good when he is staring down a player on his team after a costly mistake.
Strong has only been a head coach for a few years, but he learned from one of the best in Urban Meyer.
The shaved head and the black pants make him one of the best dressed coaches in college football.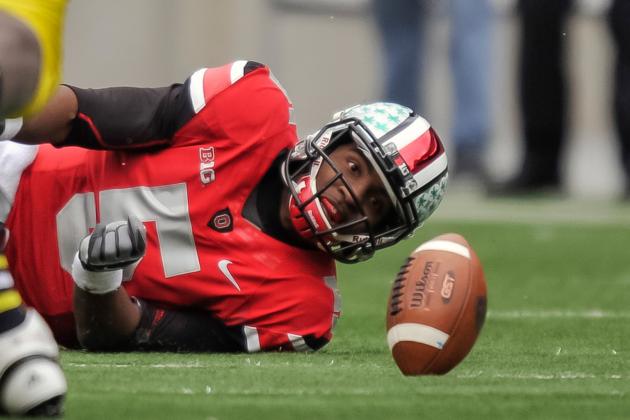 Jamie Sabau/Getty Images

For a lot of players and coaches, swag starts up top with some stylish hair.
Ohio State quarterback Braxton Miller possesses hair that is always perfectly trimmed and looking very fresh.
His play on the field also adds to his swag.
A national title in 2013 might move him near the top of the list.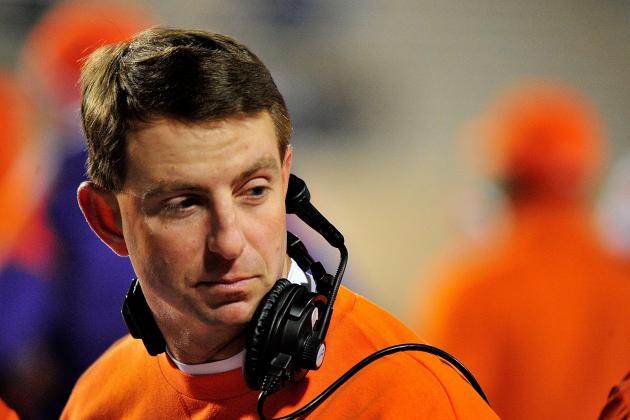 Grant Halverson/Getty Images

It is not a sweater vest, and it is definitely not a hoodie. Clemson head coach Dabo Swinney can sometimes be seen wearing a bright orange sweater.
While that may not seem like swag to some, Swinney pulls it off perfectly. Having the guts to wear something like that is certainly swag-worthy.
He has quickly developed into one of the more outspoken coaches in college football. He is not afraid to get into it with anybody, and he always does everything in style.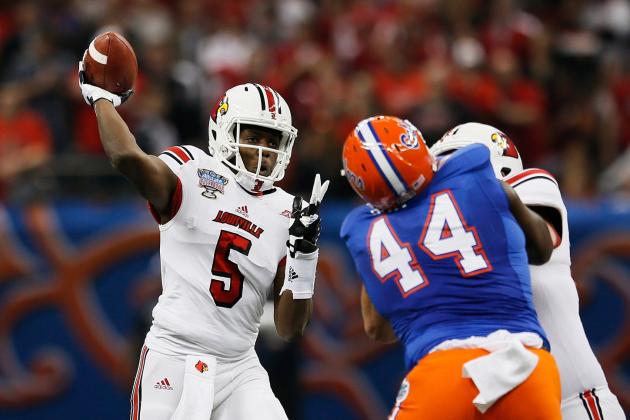 Kevin C. Cox/Getty Images

While swag is certainly defined in terms of talent, look and confidence, it can also be found in a player with clutch ability.
Louisville quarterback Teddy Bridgewater proved to have just that, as he showed up in a huge way dominating the Sugar Bowl over the heavily favored Florida Gators.
Bridgewater is one of the best quarterbacks in the nation, and might pick up a little of his swag from his head coach.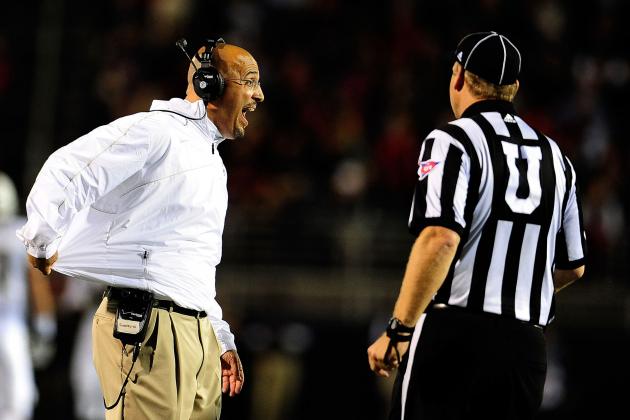 Stacy Revere/Getty Images

Vanderbilt head coach James Franklin is similar to Charlie Strong when it comes to swag. He rocks the shaved head. Franklin however, might be a little more vocal than Strong.
He has an intensity level that most other coaches do not come anywhere close to matching.
Franklin has led somewhat of a revival at Vanderbilt. He has done so with plenty of swag to go along with the victories.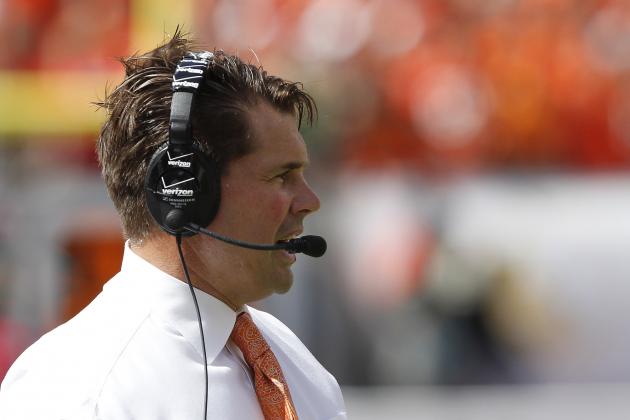 Joel Auerbach/Getty Images

Not many coaches wear a tie anymore, but Miami head coach Al Golden is one of them.
That itself gives him enough swag to crack the top 15 on the list.
Golden is somewhat of a throwback, with his hair becoming disheveled throughout the game.
He has brought the swag back to Miami with some of the recruits he has brought in over the past few seasons.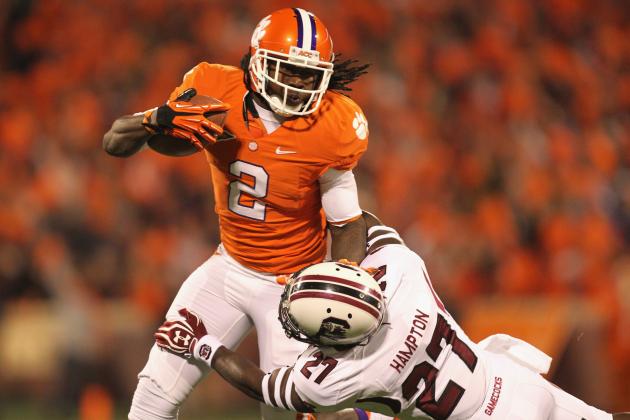 Streeter Lecka/Getty Images

Sammy Watkins likes to let that long hair flow. That is a look that not everybody can pull off, but he does it quite well.
Throw in the fact that he is one of the most talented wide receivers in the nation and Watkins easily makes the list.
He has had some off-the-field problems, but has seemingly overcome those. He will be a force this coming season.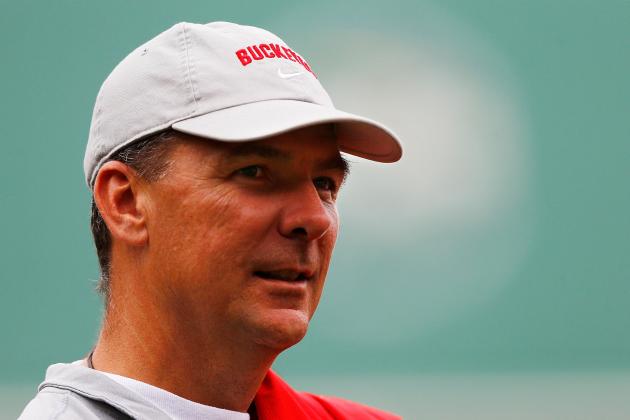 Jared Wickerham/Getty Images

Urban Meyer is the definition of cool. He is a smooth talker who seems to be very convincing, similar in a way to Brian Kelly.
Meyer is not only one of the top coaches in the nation, but he is also always in the limelight. He seems to have a way with the players that few other coaches do.
He has brought a winning attitude back to Columbus, and some swag to go along with it.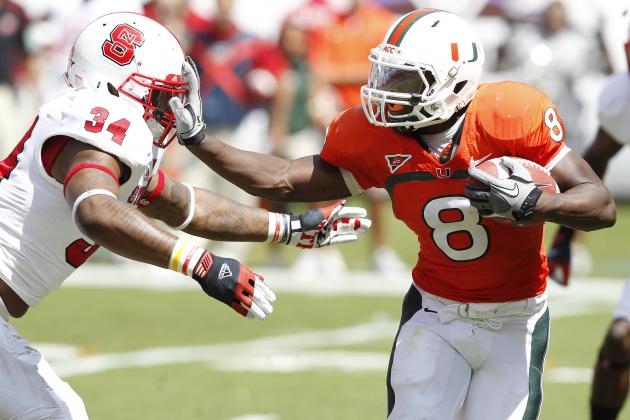 Joel Auerbach/Getty Images

Duke Johnson burst onto the scene last year both at running back and on special teams during his freshman campaign.
He, along with Al Golden, has brought the swagger back to the "U". Miami is now a factor in the ACC picture. It appears it might stay that way for quite some time.
Johnson is one of the most explosive players in the country. With a name like Duke, it is hard to not have at least a little bit of swagger.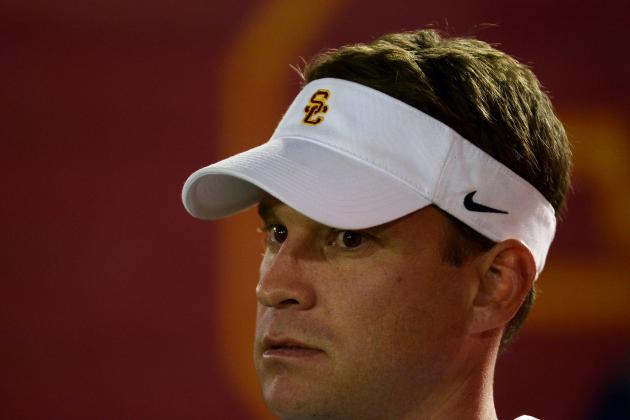 Harry How/Getty Images

Many people may not like Lane Kiffin. He might not even be a good head coach in the eyes of most, but this guy is up near the top of the swagger scale when it comes to head coaches.
Kiffin looks extremely young. That is something that never hurts when it comes to swagger.
He has a way with the players, always finding a method to bring in the top recruits in the country.
When it comes to confidence, this guy has plenty.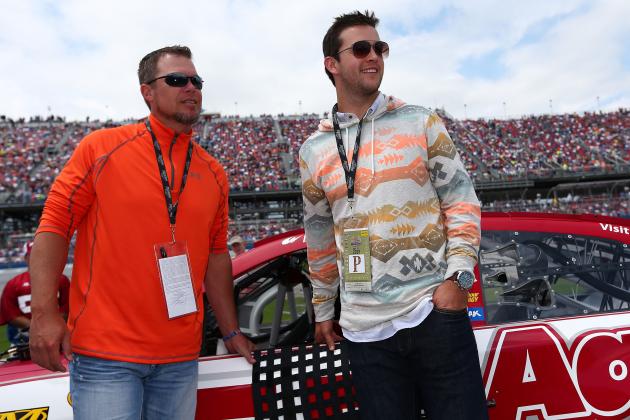 Tom Pennington/Getty Images

Alabama quarterback A.J. McCarron has it all. He has won multiple national championships, traveled the country during the off-season and even has a beautiful girlfriend.
Even though a lot of people dislike him because he plays for the Crimson Tide, this guy is one of the coolest players in the nation.
Just look at his unique style when it comes to apparel. This guy has swagger written all over him.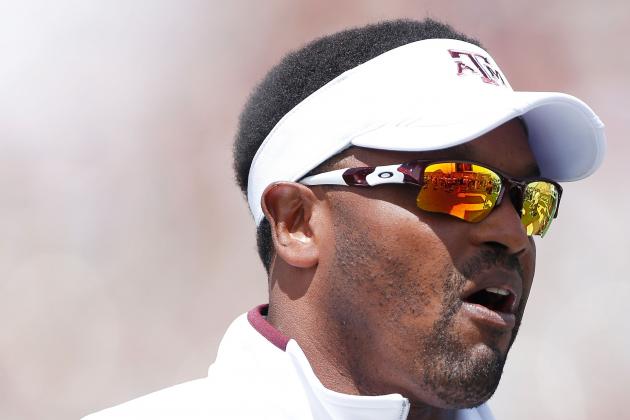 Scott Halleran/Getty Images

Kevin Sumlin loves to rock the shades and visor. No other coach in the country does it quite like he does.
He is an up-and-coming head coach with a lot of swag to go along with it.
Like a lot of other coaches on the list, he is a smooth talker and extremely confident. By his amount of quickly rising Twitter followers, it is easy to see just how much swag he has.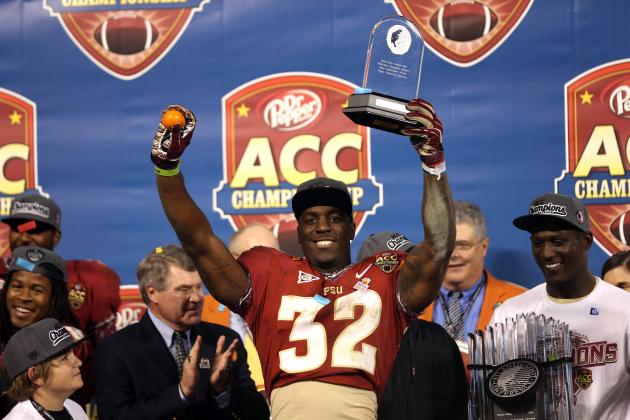 Streeter Lecka/Getty Images

Florida State running back James Wilder Jr. is one of the most jacked players in the country. Those arms are no joke. He is never afraid to show off those guns, and even will give fans a little taste of his stomach every once in a while.
He has a chance to be one of the top running backs in the ACC this season.
Wilder Jr. has it all, with swagger being at the top of the list.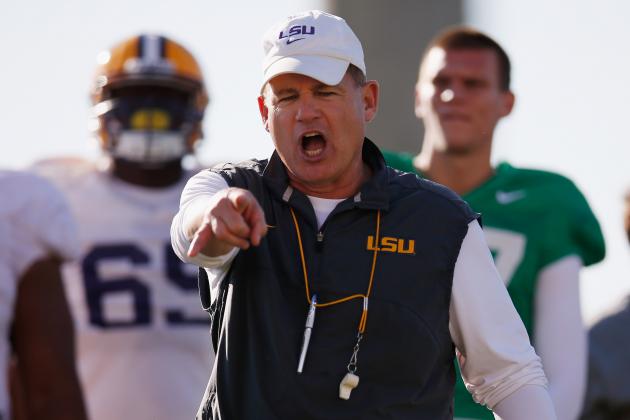 Chris Graythen/Getty Images

Les Miles tops the list as far as college football coaches are concerned.
His swag might be a little different than a lot of others, but he has his own style that fits him quite well.
Miles has been seen doing a lot of quirky things, such as eating grass during games and making some ridiculous comments during postgame interviews.
Judging by his amount of Twitter followers, which is over 110,000, Miles has plenty of swagger.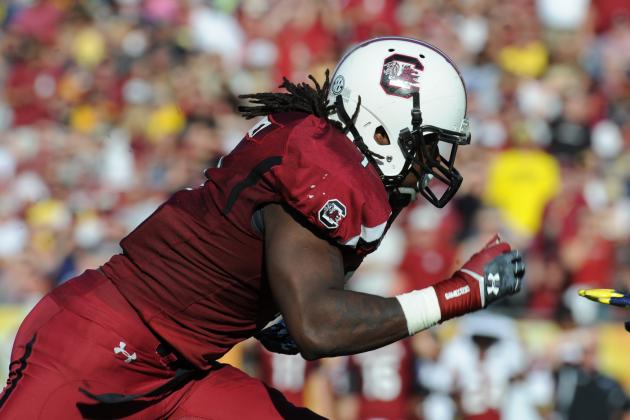 Al Messerschmidt/Getty Images

South Carolina defensive end Jadeveon Clowney is the only defensive player on the list.
His swagger is unique from a lot of the other players. Clowney is one of the most dominating players in the game. His famous hit in the Outback Bowl against Michigan made national news.
Picking up the ball like that with one hand was the definition of swagger.
The long hair does not hurt either.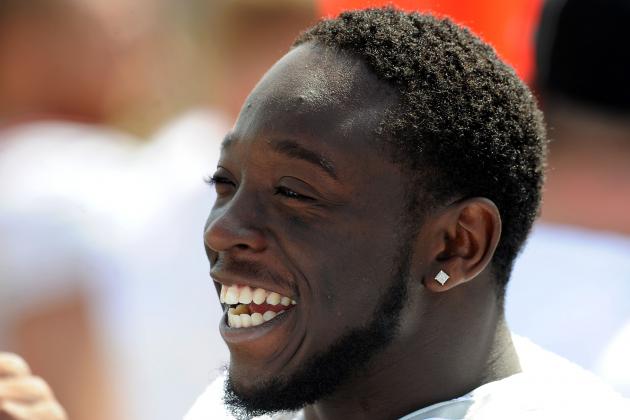 Steve Dykes/Getty Images

Oregon running back De'Anthony Thomas has a style that is unmatched by anybody else in the country.
He might be the fastest player in the nation, and when he dashes to the end zone he always does so in style. The visible earrings during the game are a nice added touch.
A name like De'Anthony certainly does not hurt either.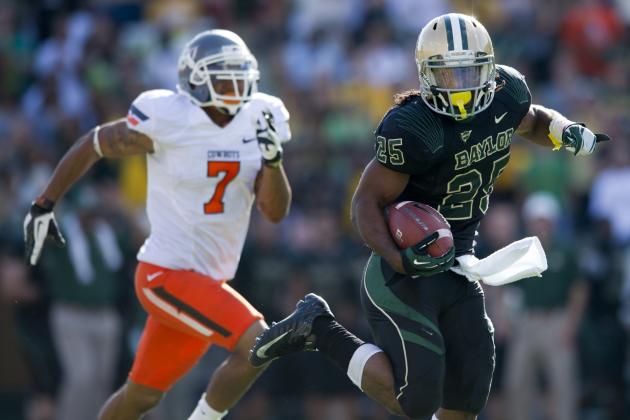 Cooper Neill/Getty Images

When it comes to swagger, one of the main prerequisites is confidence. There is no question that Baylor running back Lache Seastrunk has plenty of that.
Seastrunk guaranteed that he would win the Heisman Trophy in 2013. If that isn't confidence I don't know what is.
He is a very explosive back who loves to rock the long hair every once in a while as well.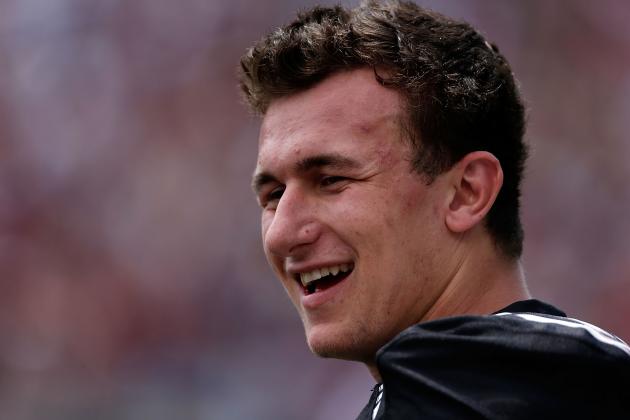 Scott Halleran/Getty Images

Topping the list is Heisman Trophy winner Johnny Manziel.
Manziel burst onto the scene a little less than a year ago, but from the start it was easy to see that this guy had plenty of swagger.
He has accomplished just about everything both and and off the field.
Manziel has been in the national spotlight for months now. He is the definition of swagger at the college level.