Early Projection for New York Rangers' 2013-14 Depth Chart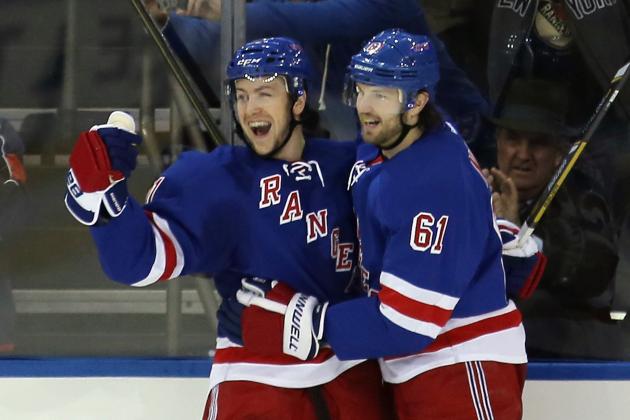 Bruce Bennett/Getty Images
Derek Stepan and Rick Nash
Although we're nearly three months away from the start of the 2013-14 NHL season, the New York Rangers' snug cap situation has allowed us to get an early idea of what the team's roster will look like in the upcoming season.
After the minor signings of Dominic Moore, Aaron Johnson and Benoit Pouliot on July 5, the Rangers were left with roughly $11.25 million to sign restricted free agents Ryan McDonagh, Derek Stepan, Carl Hagelin, Mats Zuccarello and Justin Falk. McDonagh signed for $4.7 million per year on Monday, and as Katie Strang of ESPN reports, Hagelin followed suit Wednesday, signing for $2.25 annually, leaving the Rangers with about $4.3 million to work with for the remaining three players.
What this means is that, between now and the start of the season, the Rangers roster should be set, considering the fact that the Rangers surely won't be able to make a splash in the free-agent market. The only potential changes would come as a result of general manager Glen Sather making a deal to move out some salary.
In reality, there's no guarantee the Rangers will be able to fit those three players under the cap, and if that were the case, we would definitely see some changes. But for the purpose of this article, we'll assume Sather gets it done.
So, read on for an early look at the 2013-14 New York Rangers.
Begin Slideshow

»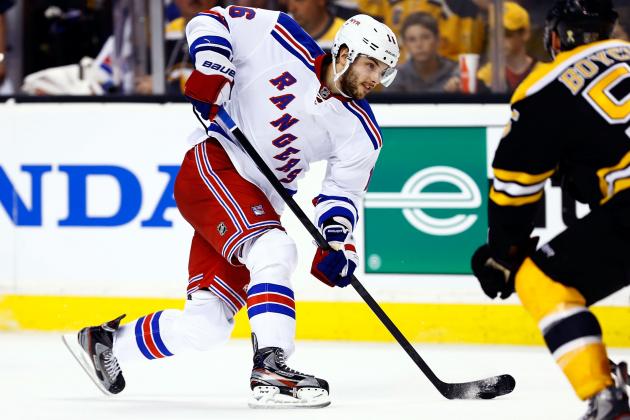 Jared Wickerham/Getty Images
Derick Brassard
Although it was widely believed that the Rangers would use one of their two compliance buyouts on overpaid center Brad Richards, Sather and the Rangers' brass decided to hold off—for now.
Management feels Richards could be prime for a rebound season under new coach Alain Vigneault. AV's open and creatively-inviting system could be exactly what the doctor ordered for Richards, as he tries to get back to 80-point form.
One of the three signings the Rangers did make on the opening day of this summer's free agency signing period was a center, and a former Blueshirt, at that. Dominic Moore looks poised to return to the Rangers' bottom six as the team's fourth-line center and push Brian Boyle out to the wing.
His smart, pesky brand of hockey rounds out a center group that includes Derek Stepan, Derick Brassard and Richards and affords the Rangers depth at the position they didn't possess last season.
It's become painfully obvious, too, who has become this team's first choice down the middle in the wake of Richards' downfall. Stepan performed at nearly a point-per-game pace last season, thanks to his improvements in skating and shooting. Oh, and playing with Rick Nash for most of the year didn't hurt either.
Last but certainly not least is Brassard, who came to New York as a part of the Marian Gaborik trade just hours before last season's trade deadline. His creativity and offensive production nearly saved the Rangers, as he was able to lessen the blow of Richard's miserable campaign.
1. Derek Stepan
2. Derick Brassard
3. Brad Richards
4. Dominic Moore
5. Oscar Lindberg
6. Darroll Powe
7. Micheal Haley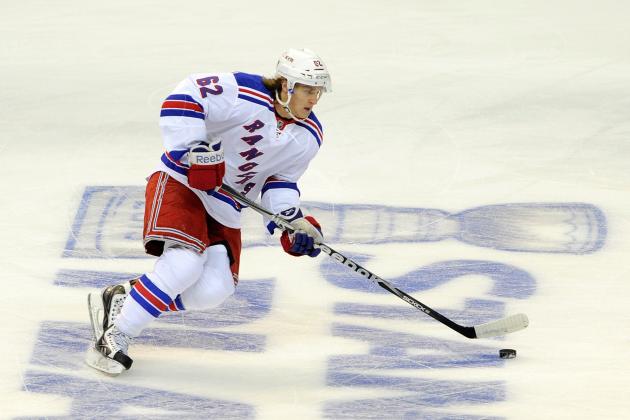 Greg Fiume/Getty Images
Carl Hagelin
The Rangers' left side is significantly more crowded than their right side. Because of that, expect some of the left-handed guys to play on their weak side, and for the purpose of this piece, I've taken the liberty of switching some players.
Rick Nash, the Rangers only elite scoring talent, is by trade a left winger, although I think he might be better off playing on the right side. Nevertheless, I would assume Vigneault starts him on his natural left. Regardless of what side Nash plays most of the season on, he will be leaned on heavily, and if he cannot carry the load, the Rangers will be doomed.
Returning from last season will be Carl Hagelin, Taylor Pyatt and Brian Boyle. Hagelin, the speedy Swede, can be slotted on any line on the left side, as he brings a well-rounded approach fit for any unit.
Taylor Pyatt could play anywhere in the bottom six—and even on the second line, if need be—but look for him and Brian Boyle to switch off between those two lines and the press box for most of the season.
The reason these two veterans will find it hard to remain in the lineup is because there are a handful of more-skilled players looking to make an impact. Chris Kreider will no doubt get a fair shot at a roster spot this season. The 22-year-old with blinding speed and great size could flourish in Vigneault's more open system.
There's also Benoit Pouliot, who was signed by the Rangers on July 5. The seven-year NHL and AHL vet will be 27 when the season begins, and could bring more offensive creativity to the lineup.
1. Rick Nash
2. Carl Hagelin
3. Benoit Pouliot
4. Chris Kreider
5. Taylor Pyatt
6. Brian Boyle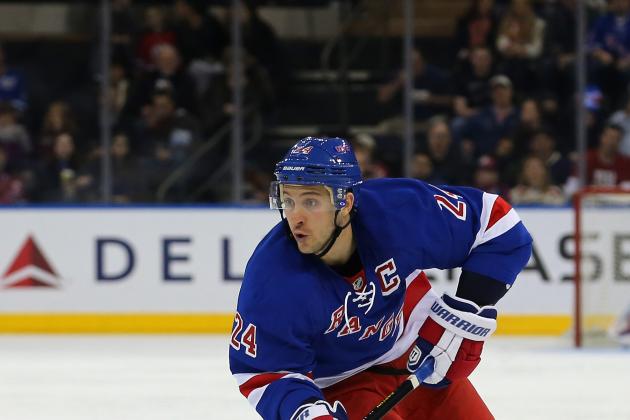 Bruce Bennett/Getty Images
Ryan Callahan
The Rangers right-side attack will be led by captain Ryan Callahan. At 28, Callahan will skate in his sixth full season for the Rangers and his third as captain.
Although Vigneault probably won't line up with both Callahan and Nash on the first line, Cally is still this team's best option at right wing. After him, there are a lot of question marks.
The only real guarantee is Derek Dorsett. The third piece acquired by the Rangers in the Gaborik deal was brought in to add toughness lost when Brandon Prust signed with the Montreal Canadiens last summer. Look for Dorsett to reclaim his spot on right wing in the bottom six.
Mats Zuccarello, although unsigned, is expected to return. If he doesn't, the Rangers are very thin on the right. Zuccarello is listed as a left winger, but he spent most of last season with the Rangers on the right, and given the lack of options there, Zuccarello will probably stay on that side.
Arron Asham is still under contract with the Blueshirts, but he was recently waived to free up some cap space. It's doubtful he'll be on the team next season, but he could still be a viable call-up option.
Finally, there are three youngsters who've got a shot at claiming a roster spot, depending on what Vigneault wants to do.
J.T. Miller will probably have to reinvent himself on the right side, considering both left wing and center are jam packed. Miller has experience on the right, so it shouldn't be an issue, especially for a kid as talented as him. One of his biggest assets is his versatility, and he's going to have adapt if he wants to make the team this year.
The other two, the recently-acquired Danny Kristo and the three-year Elitserien veteran Jesper Fast, will also get strong consideration. Kristo brings a wealth of talent and skill to the right side, although he is a bit undersized. At 23, he'll be entering his first full season as a pro, and if he isn't ready, he won't be rushed.
Fast, who is also undersized, is 21 and really turned heads this season in Sweden playing for HV71. His 35 points in 47 games was impressive, considering he was playing against men in a pro league, but a full camp and preseason will determine whether or not his responsible, two-way game is mature enough for the NHL.
1. Ryan Callahan
2. Mats Zuccarello
3. Derek Dorsett
4. J.T. Miller
5. Jesper Fast
6. Arron Asham
7. Danny Kristo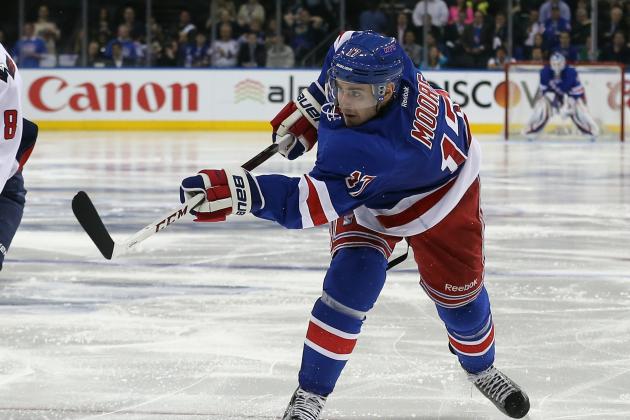 Bruce Bennett/Getty Images
John Moore
Ever since John Tortorella was introduced as head coach of the Rangers, the team's defensive unit has been one of its best assets. Although Torts was criticized on numerous occasions for stunting young players' development—for example, Chris Kreider and J.T. Miller—he had a large part in the growth of the team's junior blueliners.
Despite Tortorella's departure, the responsibility that the core group of defensmen have inherited will not waver. New boss Alain Vigneault has been presented with a wonderful gift of a deep, hard-working and talented defensive corps who are very disciplined. With some of his creative influence, the group could expand their prowess into the offensive zone to add much-needed back-end goal-scoring production.
The entire core unit that has carried the Rangers for the past two seasons will return next season. Ryan McDonagh, Dan Girardi, Marc Staal, Michael Del Zotto and Anton Stralman form one of the league's best top-five, and it's a testament to the Rangers ability to acquire and develop young defensemen into solid players.
John Moore, another return piece in the Gaborik trade, is set to play in his first full season as a Ranger in 2013-14. The 22-year-old's skating ability and offensive upside, along with his responsible in-zone play, could make him an important member of Vigneault's new-look Rangers.
The organization also added two new blueliners this offseason, one through trade and another through free agency. Justin Falk was acquired from the Minnesota Wild on the morning of draft day, and what the 24-year-old brings to New York is size and steady defensive play.
Aaron Johnson, the 30-year-old NHL and AHL vet, was the team's other addition. The Rangers second free-agent signing of the summer gives the Rangers experience and further defensive depth, which assistant general manager Jim Schoenfeld believes is vital to a team's playoff success.
Dylan McIlrath, the team's first-round selection in the 2010 NHL Entry Draft, could be a wild card heading into camp. The 21-year-old spent his first professional season with Connecticut of the AHL and turned heads with his steady, hard-nosed play.
Although the Rangers have made a conscious effort to not rush McIlrath in his development, he could get a serious looking-at now that fellow right-handed defensemen Matt Gilroy, Roman Hamrlik and Steve Eminger are all poised to leave the Big Apple.
Left Defense
1. Ryan McDonagh
2. Marc Staal
3. Michael Del Zotto
4. John Moore
5. Justin Falk
6. Aaron Johnson
7. Danny Syvret
8. Conor Allen
Right Defense
1. Dan Girardi
2. Anton Stralman
3. Stu Bickel
4. Dylan McIlrath
5. Samuel Noreau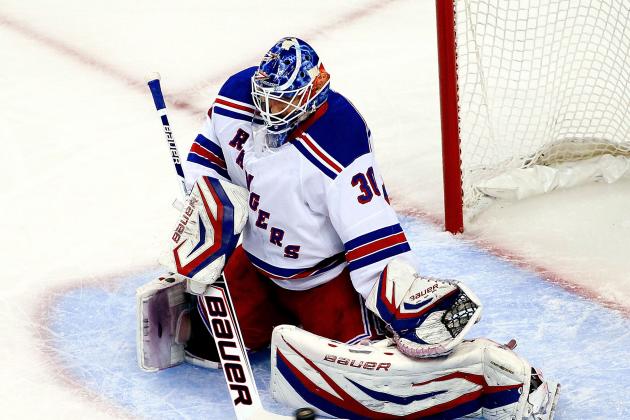 Alex Trautwig/Getty Images
Henrik Lundqvist
I'll keep this short.
As everyone knows, Henrik Lundqvist is the best goalie in the world. For as long as he wants to be in New York, he'll be the starter.
As for the rest of them, well, let's just say it's not too complicated.
Martin Biron, at 35, is entering the last year of his contract with the Rangers. His experience and ability to perform well while playing sparingly means he's the team's easy choice for the backup role.
After that, there's Cam Talbot, Scott Stajcer and Jason Missiaen, who all look poised to fill the organization's AHL and ECHL needs. Talbot would be the Rangers' first choice if there were to be an injury to either Lundqvist or Biron, but if the former went down, there'd be no saving the Rangers—especially with Talbot, Stajcer and Missiaen in the queue.
1. Henrik Lundqvist
2. Martin Biron
3. Cam Talbot
4. Scott Stajcer
5. Jason Missiaen