Orlando Summer League 2013: Day 3 Scores, Stats and Highlights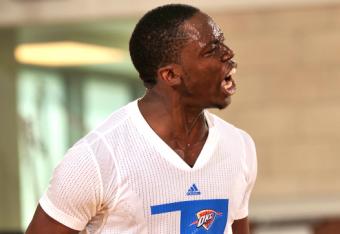 The Orlando Summer League is a chance for some of the bright young stars in the NBA to shine, and many took advantage of that opportunity.
Every team in the tournament has some combination of unheralded players looking for playing time and burgeoning stars trying to showcase their ability. While the games are not as competitive as the regular season, there is still a chance for the most talented guys to separate themselves from the pack.
On Day 3, players like Reggie Jackson, Kelly Olynyk and others really took charge and gave an idea of what we should look forward to next season.
Here is a look at every game on the day with the biggest stories in each.
Boston Celtics 76, Indiana Pacers 74
Full Box Score at NBA.com.
A huge second quarter by the Celtics gave the squad the advantage as they outscored the Pacers 25-9, giving them an 11-point lead heading into halftime.
While Indiana was able to catch up and eventually tie the game at 74-74, two Phil Pressey free throws with 10 seconds left gave Boston the win.
How many points per game will Kelly Olynyk average during the regular season?
However, the star of the game was Kelly Olynyk, who continues to impress in Day 3 of the summer league. The No. 13 pick of the draft finished with a game-high 21 points to go with nine rebounds and four assists.
The former Gonzaga star utilized more of an inside game than usual while proving his toughness around the basket. This is the type of play that will carry over into the regular season.
Indiana was also led by its first-round pick as Solomon Hill finished with 15 points on 7-of-15 shooting. Miles Plumlee, entering his second year with the Pacers, was impressive as well and finished with seven rebounds.
Boston will hope to continue its strong play with a game Wednesday against the Houston Rockets, while the Pacers have a day off before returning to action on Thursday.
Oklahoma City Thunder 79, Detroit Pistons 75
Full Box Score at NBA.com.
Oklahoma City earned the win thanks to a great comeback effort that featured 36 points scored in the fourth quarter, but the big story was Reggie Jackson.
The guard finished the game against the Pistons with 35 points on 12-of-19 shooting from for the floor. According to Michael Wallace of ESPN, this was a summer league record:
OKC guard Reggie Jackson talks about his Orlando summer league record 35-point effort in today's win vs Detroit. pic.twitter.com/PFj2aoUnB1

— Michael Wallace (@WallaceNBA_ESPN) July 9, 2013
Of course, his teammate Kevin Durant was not happy about having his mark of 34 broken:
Got dammit @rjOKCson_15

— Kevin Durant (@KDTrey5) July 9, 2013
Jackson showed plenty of potential last season, especially when Russell Westbrook got hurt in the playoffs. However, Tuesday's performance shows that he is ready for a big year.
While Durant might be upset about losing his record, he is certainly excited about playing alongside him next season. That also goes for Andre Roberson, who displayed his elite rebounding ability once again with 10 on the day.
On the other side of the court, the Pistons also have plenty to be excited about. First-round pick Kentavious Caldwell-Pope had a team-high 19 points, including a 4-of-10 effort from behind the arc.
Andre Drummond showed his continued improvement with a double-double of 12 points and 11 rebounds. If he can keep this up, he will have a big role with Detroit next season.
Oklahoma City moves to 3-0 with the win and will put the undefeated record on the line against the Philadelphia 76ers in the next game. Detroit does not play until Thursday, when it matches up with the NBA Champion Miami Heat.
Houston Rockets 85, Utah Jazz 71
Full Box Score at NBA.com.
Houston dominated this matchup from start to finish, building up a 20-point lead through three quarters before settling on an 85-71 win.
The Rockets showcased a great team effort with nine players finishing with between six and 11 points in the game. Reserve forward Greg Smith was probably the most impressive with 10 points, seven rebounds and a blocked shot.
Conversely, it was a disappointing performance all around for the Jazz. First-round pick Trey Burke is expected to take over as the starting point guard this season, but he managed only 11 points and two assists on the day.
To make matters worse, he finished with four turnovers and only hit five of his 15 shots from the field. His only real bright spot was an impressive pull-up three-point shot to give the team its first points of the game.
Alec Burks provided the only life on the offensive end with 18 points, but the third-year guard still only shot 5-of-15 from the floor.
Utah will hope to do better Wednesday against the Brooklyn Nets in the first game of the day. Houston will battle against Boston in a matchup of two of Tuesday's more impressive teams.
Miami Heat 94, Orlando Magic 80
Full box score at NBA.com.
The Miami Heat's Summer League version of the "Big 3" led the way in a sloppy 94-80 victory that saw both teams combine for 64 free-throw attempts on Tuesday night.
High-flying James Ennis led the squad with 19 points on 5-of-11 shooting to go with six rebounds and a steal, while Jarvis Varnado added 16 and former Belmont sharpshooter Ian Clark chipped in 15.
For the Magic, it was once again about No. 2 overall pick Victor Oladipo.
The former Indiana superstar was efficient from the field, pouring in 22 points on just seven field-goal attempts (12-of-14 from the line and 2-of-2 from beyond the arc).
Although he struggled to take control of the ball (five turnovers), he filled up the rest of the box score with five rebounds, two assists and two steals in 26 minutes, as he continues to establish himself as the most exciting player this summer.
Both teams get a day off before playing on Thursday, with the 2-1 Heat taking on the Detroit Pistons and the 1-2 Magic battling the winless Philadelphia 76ers.
Follow Rob Goldberg on Twitter for the latest updates in sports.
This article is
What is the duplicate article?
Why is this article offensive?
Where is this article plagiarized from?
Why is this article poorly edited?