Ranking the NBA Big Men Left on the Free Agency Market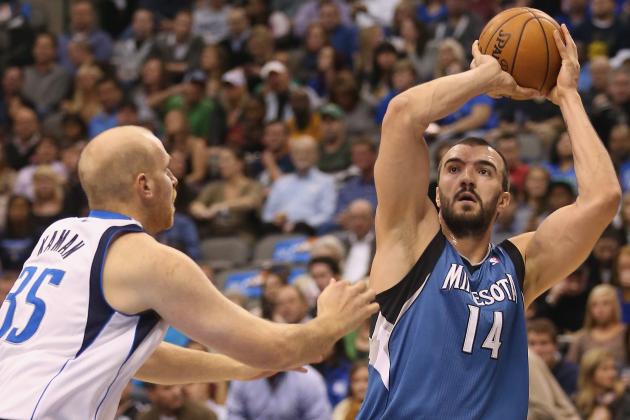 Ronald Martinez/Getty Images

Dwight Howard, Andrew Bynum and Al Jefferson are all off the market, but that doesn't mean that the free-agency pool is devoid of quality big man. There are still a handful of rotation bigs left, as well as two studs who could make a large impact wherever they land.
Yes, the class started out weak and has dwindled even further. But that doesn't mean the talent is all gone.
To be eligible for these rankings, a player had to be a true "big man," which means that he lines up either at center, both power forward and center or exclusively at power forward. Even a player like Antawn Jamison, one who spends most of his time at the 4 but shifts to the 3 occasionally, will not be found.
Height and power on the inside are crucial weapons for any squad, and these players are now the best ways to build up the depth of a team's arsenal.
Note: All stats, unless otherwise indicated, come from Basketball-Reference.com.
Begin Slideshow

»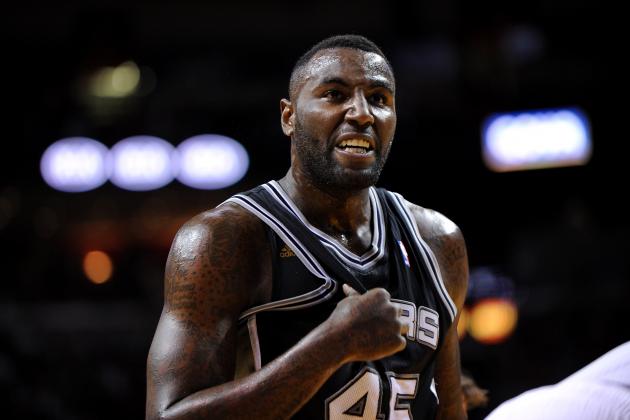 Steve Mitchell-USA TODAY Sports

Last Team: San Antonio Spurs
Age: 24
Position: PF
2012-13 Per-Game Stats: 5.4 points, 3.8 rebounds, 0.7 assists, 0.6 steals, 0.2 blocks, 14.6 PER
DeJuan Blair may only be 24 years old, but don't tell that to his knees. They won't believe you, given the remarkable amount of wear and tear they've endured over the years.
The former Pittsburgh standout has spent four years in the NBA, and he's already declining thanks to his diminishing athleticism and lack of ability to stay on the court.
He posted a sub-17 PER for the first time in his career during the 2012-13 season, and there weren't many signs he'd get his career back on track.
Blair remains a hard-nosed big man willing to bang around in the post whenever he works his way onto the court, but that's about it. His knees prevent him from doing much else, at least in terms of actions that have positive results.
The power forward should settle in on the end of a bench, but that's it.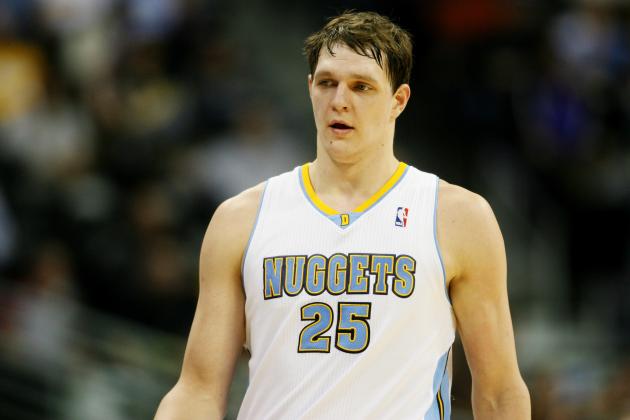 USA TODAY Sports

Last Team: Denver Nuggets
Age: 26
Position: C
2012-13 Per-Game Stats: 2.6 points, 2.6 rebounds, 0.2 assists, 0.1 steals, 0.4 blocks, 12.3 PER
Timofey Mozgov may not play in the NBA during the 2013-14 season, but he'll be able to find a home if he decides to remain stateside.
According to Sportando.net, Andrey Vedischev has made a contract offer to the big man on behalf of Lokomotiv Kuban.
The 26-year-old Russian center's primary asset is his size. A 7-foot frame is hard to come by, even in the Association. While Mozgov may still be most famous for something Blake Griffin did to him, he's still a big body worth throwing out in a rotation.
He's a capable defender and solid per-minute rebounder, posting 10.5 boards per 36 minutes during his most recent go-around with the Denver Nuggets.
Rick Osentoski-USA TODAY Sports

Last Team: Detroit Pistons
Age: 30
Position: PF
2012-13 Per-Game Stats: 6.9 points, 5.7 rebounds, 0.8 assists, 0.4 steals, 1.3 blocks, 11.3 PER
Jason Maxiell's athleticism makes him a valuable bench power forward, but he's on the wrong side of 30 and already appears to be trending downward. His per-36 minute numbers are dropping as his career progresses, and his efficiency from the field is starting to wane.
Part of the problem during the 2012-13 season was that Maxiell completely forgot how to make his jumper fall. He shot just 31.9 percent on jumpers throughout the year, and defenders weren't as scared of his ability to get to the rim, so he ran out of options.
Maxiell must get in better shape in order to regain his former explosiveness. If he doesn't, he'll have a tough time working his way off the pine.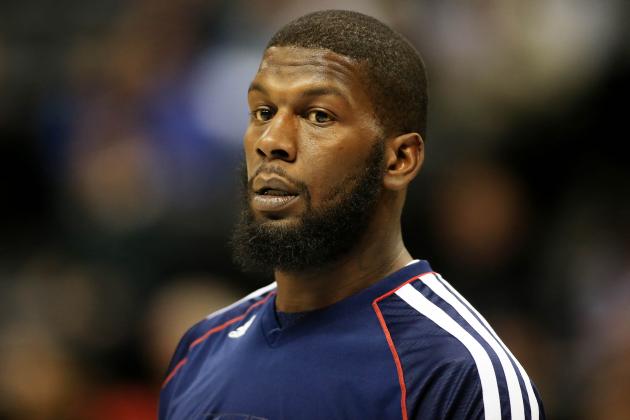 Chris Humphreys-USA TODAY Sports

Last Team: Atlanta Hawks
Age: 29
Position: PF
2012-13 Per-Game Stats: 6.6 points, 3.9 rebounds, 0.7 assists, 0.8 steals, 0.2 blocks, 15.7 PER
Ivan Johnson came out of nowhere and made a sizable impact on the Atlanta Hawks. Both his energy and his toughness off the bench were invaluable, and the 29-year-old made sure that he was intimidated by absolutely no one.
In terms of pure basketball abilities, Ivan can occasionally struggle.
He doesn't have much finesse, and his basketball I.Q. often lags behind where it should be. However, he makes up for it through sheer effort.
Johnson is particularly valuable as a defensive big off the bench. According to NBA.com's statistical databases, the Hawks allowed 2.3 fewer points per 100 possessions when the bearded power forward was on the court during the 2012-13 campaign.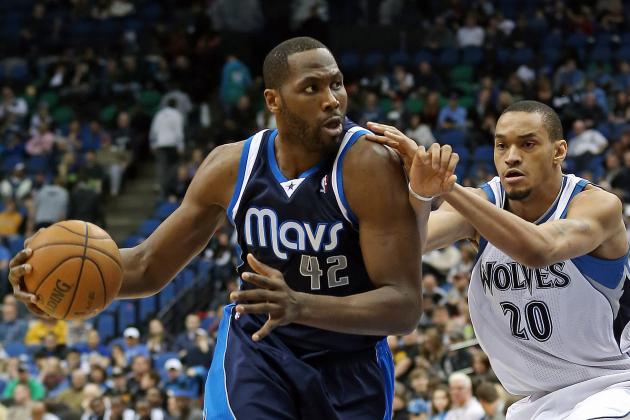 USA TODAY Sports

Last Team: Dallas Mavericks
Age: 34
Position: PF
2012-13 Per-Game Stats: 7.2 points, 6.0 rebounds, 1.0 assists, 0.7 steals, 1.3 blocks, 15.2 PER
The New York Knicks may not be going after Elton Brand any longer, as reported by ESPN's Jared Zwerling, but that's only because they can't afford to sign him.
Brand is more valuable than a minimum deal would indicate, even though he's 34 years old now.
The former All-Star's offensive game is nowhere near the level it used to be back when he was in his prime. However, that's not why he'll be signed by a competitive team.
Brand is still an efficient rebounder and a solid defender, whether he's guarding power forwards or centers. 82games.com shows that No. 42 allowed opposing 4s and 5s to post respective PERs of 14.2 and 17.2.
You could get worse from a big man who doesn't require a massive contract.
Benny Sieu-USA TODAY Sports

Last Team: Milwaukee Bucks
Age: 32
Position: C
2012-13 Per-Game Stats: 6.7 points, 5.9 rebounds, 0.4 assists, 0.4 steals, 1.1 blocks, 18.6 PER
February 5, 2013 is a date that will live on forever in NBA history. Well, that might be an exaggeration, but the memory will never die in Samuel Dalembert's mind.
In a 112-104 loss to the Denver Nuggets, the 32-year-old big man had one of the most unlikely games in recent basketball history. He posted 35 points and 12 rebounds off the bench, doing so on 17-of-21 shooting from the field.
To put that in context, Dalembert only had 12 other games in double-figures, and he never broke past the 20-point barrier again during the 2012-13 season.
Don't expect that type of offensive output again, but Dalembert remains an effective and efficient big man who thrives in small doses.
He's more of a defender and rebounder than anything else at this stage of his career, and he's excellent in each of those areas.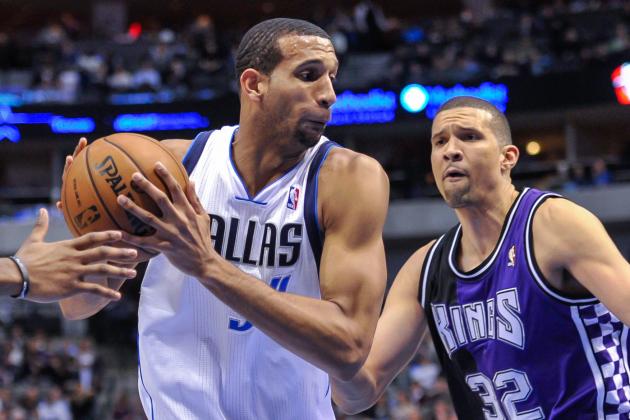 USA TODAY Sports

Last Team: Dallas Mavericks
Age: 25
Position: PF/C
2012-13 Per-Game Stats: 8.5 points, 4.1 rebounds, 0.6 assists, 0.4 steals, 1.2 blocks, 21.0 PER
At this point, it should be pretty clear that the big-man crop is quite weak at this stage of the free-agency proceedings.
Brandan Wright is a quality center in limited doses (see 21.0 PER), but he shouldn't realistically be at No. 3 in many rankings of centers and power forwards.
At least there's a massive jump up in quality as we move to the final two.
The 25-year-old is a fantastic athlete, and he plays within himself. Self-awareness is a beautiful thing in the NBA, and Wright is one of the best at sticking to his strengths. That's reflected in his sparkling 59.7 percent shooting from the field, which is actually down from the mark he posted in 2011-12.
Add in some nice defensive instincts that resulted in 1.2 blocks per game in only 18 minutes of action each contest, and you can see exactly why this young big man is valuable.
He isn't a true game-changing talent, but he's a nice stopgap in the starting lineup and an even better first big off the bench.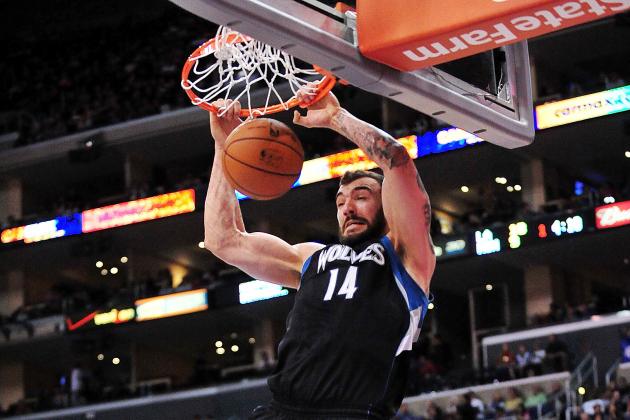 Gary A. Vasquez-USA TODAY Sports

Last Team: Minnesota Timberwolves
Age: 27
Position: C
2012-13 Per-Game Stats: 16.3 points, 8.8 rebounds, 0.9 assists, 0.8 blocks, 0.7 steals, 20.26 PER
A restricted free agent from the Minnesota Timberwolves, Nikola Pekovic is leaps and bounds better than the centers and power forwards who trail him in these rankings. There's a massive uptick in quality between the No. 2 and No. 3 spots.
Pek is a physical specimen who uses his strength to his advantage every time he steps onto the court. He seeks out contact and thrives when it's made, a statement that applies to both ends of the floor. Pekovic has always been a quality defender, and his offensive arsenal has improved throughout his time in the NBA.
The Montenegrin center tends to get a bit too aggressive though.
He's gotten much better at controlling his fouling, but turnovers can still rear their ugly head. He's not much of a distributor either. When Pek gets the ball on the blocks, he's either going to shoot or turn it over.
Still, Pekovic is only 27 years old. There's time for him to continue working on his finesse.