Blue Jays Trade Deadline Strategy Blueprint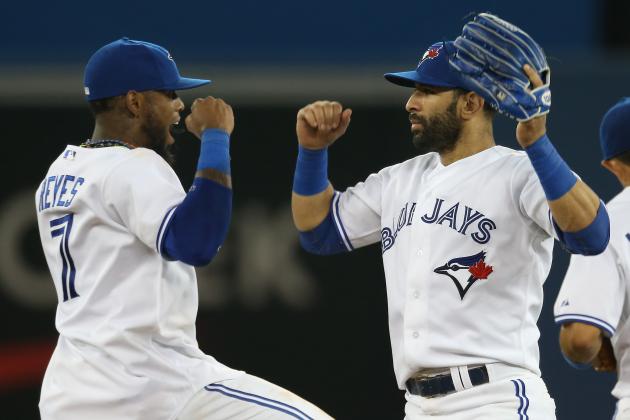 Tom Szczerbowski/Getty Images

Blue Jays fans, circle your calendars.
With the MLB trade deadline scheduled for 4 p.m. ET on July 31, there are plenty of needs in the Jays' lineup.
In a perfect world, general manager Alex Anthopoulos would certainly love to improve his team heading into the final two months of the 2013 season, but the debate of whether Toronto should be buyers or sellers is ongoing.
This wasn't supposed to be the case.
Jays fans were expecting their team to contend and perhaps when July 31 arrived, be in position to add a depth starter or a veteran infielder to improve their chances in the postseason.
Instead, because of the team's struggles to stay around the .500 mark, it has made Anthopolous' job that much harder.
Does he hold on to the roster he sacrificed plenty for during the offseason and hope they rediscover their games either this year or next?
Or does he trade away assets to reload the farm system in what would be an admittance of making some rather large mistakes?
While both of these scenarios are possible, neither seem likely.
Begin Slideshow

»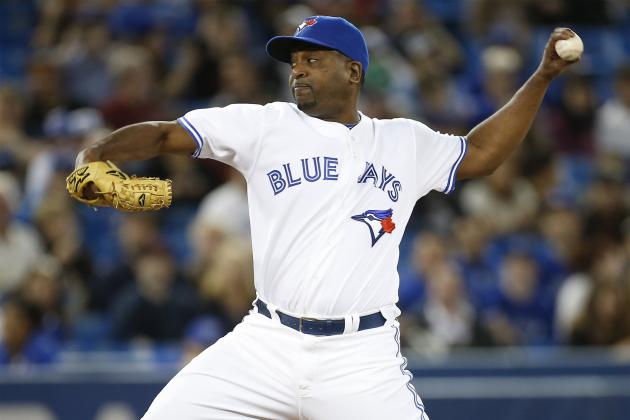 Tom Szczerbowski/Getty Images

During his relatively short time as a major league general manager, Anthopoulos has never been incredibly active at the trade deadline.
However, being an intelligent GM, he's constantly looking to improve his team, both long-term and short-term. It's wrong to group teams into the "buyer" or "seller" category at the trade deadline, especially when it comes to Anthopoulos and the Blue Jays.
He won't be "buying" or "selling". He'll be trying to improve his team.
To borrow a term from Jonah Keri, he'll be looking for positive arbitrage regardless of the impact on the short-term or long-term.
A perfect example of this came in 2010, when Anthopoulos recognized that shortstop Alex Gonzalez was playing well above his head at 34 years old, dealing him for then 28-year-old Yunel Escobar.
In 2011, he took advantage of the trend of overvaluing relievers at the trade deadline by teams heading into the postseason, showing his savvy in making two successive trades to acquire Colby Rasmus.
Anthopoulos is intelligent enough to recognize when his assets are overvalued and attempts to fill organizational needs in the process. His approach to the trade deadline appears to be one of taking advantage of the inflated value of his own players based on other team's needs.
He is active in the sense that he can make improvements to his team at the trade deadline, but passive in the sense that he will not act only on what the Blue Jays need immediately.
What the Blue Jays need immediately is another starting pitcher.
With the Ricky Romero saga ongoing and Brandon Morrow out until August, the Jays have had something of a revolving door at the bottom of their rotation.
The team has already used more starting pitchers than they did in the injury-filled 2012 season, and they're still looking for a solution from the minor leagues.
If Anthopoulos recognized that he needed a shortstop and a centre fielder in 2010 and 2011 respectively, then he certainly recognizes that he needs another depth starter in 2013. Most of the names that have been mentioned in trade rumours, like Matt Garza, Yovanni Gallardo and Jake Peavy, do not seem like fits in Toronto.
Anthopoulos won't waste his time with bigger names, which would require a larger package from the Jays. He will add a starter as a depth move until Morrow, J.A. Happ and potentially Kyle Drabek can return, but it may not be anyone Jays fans have ever heard of.
Another highly-likely scenario involves Darren Oliver heading to a contending team.
The Jays re-signed Oliver in the offseason under the pretences that Toronto would make the playoffs. The veteran had very little interest in returning to the majors for 2013 but became enticed by the Jays' big winter trades.
Despite trying to add value in every possible situation, Anthopoulos will do right by Oliver and trade him to the Texas Rangers.
Don't be surprised if Oliver isn't the only Jays reliever to be traded before July 31. Anthopoulos is known for dealing from positions of strength, and the Toronto bullpen is stacked with players sporting very nice-looking statistics who could bring above-value returns.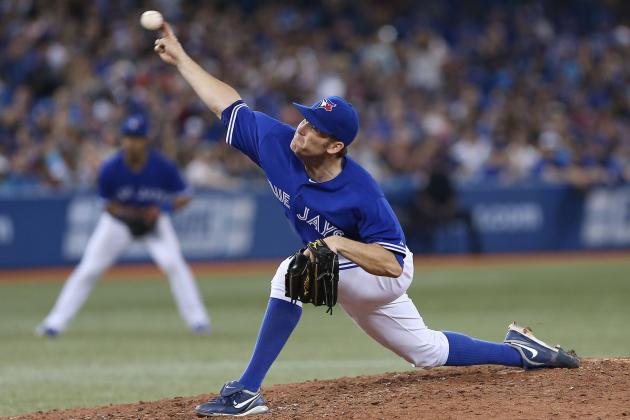 Tom Szczerbowski/Getty Images

The Jays have put Anthopoulos in a difficult situation.
The roster has plenty of talent, but clearly there are some organizational needs. It would be very easy for Anthopoulos to stand pat and hope that his players rediscover their form. The Jays have enough talent and a big enough window to succeed.
It would be tough for fans to swallow considering some predicted the team to win the AL East and they currently sit in last place.
However, the team has R.A. Dickey, Jose Reyes, Jose Bautista, Edwin Encarnacion, Mark Buehrle and several younger arbitration-eligible players under contract until 2015. The core of the team can remain in tact for the next few years if Anthopoulos wants it to.
While fans may be jaded by the team's performance so far in 2013, a team with a core like the one they have now should be playoff contenders.
Trading any of those key pieces to load up on prospects would be a mistake. It would mean throwing out the next two seasons, which could easily result in two playoff appearances. The question Anthopoulos would have to ask himself before trading any of his big names would be is it worth the return to give up on the next few seasons?
Additionally, moving underachieving players like J.P. Arencibia makes little sense considering his trade value would be at its lowest point.
That said, leaving the roster as it is now would be a mistake as well. The team has assets, mostly in the bullpen, who would provide above-value returns. The trade deadline is an opportunity to take advantage, and if Anthopoulos is smart, he'll try and find a starter or a second baseman through peddling one of his star relievers.
He should be entertaining offers on Casey Janssen, Steve Delabar, Oliver, Aaron Loup, Neil Wagner and Juan Perez. Brett Cecil may end up being that elusive starter come 2014, so he may be the closest thing to "untouchable" on the roster.
The Jays should not rush to make any moves, but they should take advantage of a potentially massive opportunity to upgrade at certain positions where the franchise needs help.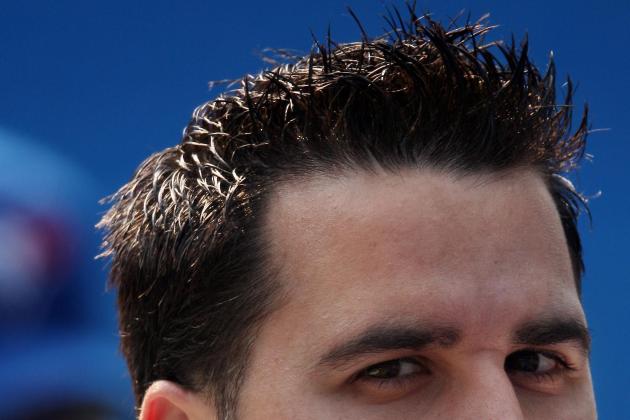 Tom Szczerbowski-USA TODAY Sports

The Blue Jays may have what it takes to contend.
They may not have shown it during 2013, but the sample size is not exactly huge. There are organizational needs in the rotation and in the infield, but the core of the team is strong.
While Anthopoulos will have plenty of options come July 31, his best strategy would be to follow suit with his overall tendencies. The young general manager has always been a proponent of acquiring value by giving up less.
That means remaining active and open to any and all trade requests.
Adding another starting pitcher and a second baseman would be great, but Anthopoulos certainly won't do that just to salvage 2013. He also will not sacrifice the opportunity the franchise has in the next few seasons to acquire long-term assets.
Jays fans have lost a little of that seemingly bulletproof faith they had in Anthopoulos, but he's still a smart general manager who recognizes and understands both the team's needs and the demands of the major league marketplace.
The Jays will likely make a few little tweaks rather than big splashes at the trade deadline but fans should know that it's all for the good of the team.