Ranking the 7 Best WWE Pay-Per-Views in Philadelphia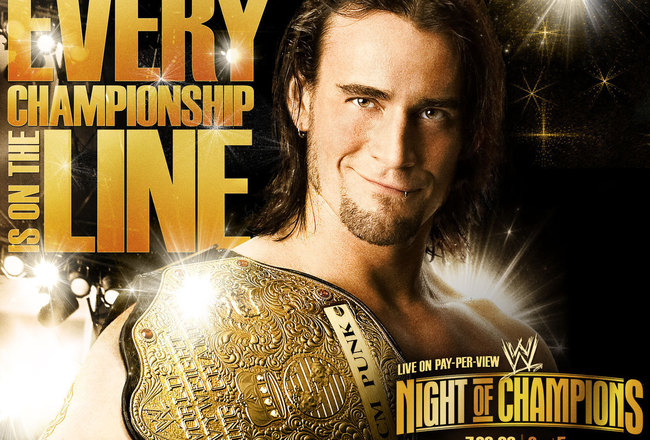 Night of Champions 2009 poster (Image: WWE)

Money in the Bank 2013 comes to Philadelphia on Sunday with a great shot at becoming the best WWE pay-per-view ever hosted by The City of Brotherly Love.
While Philly has been the home for classic matches and some excellent shows, July 14's card has plenty of promise. The two Money in the Bank ladder matches, a John Cena and Mark Henry battle as well as some other potential show-stealers will help the event compete with the likes of Unforgiven 2000 and Royal Rumble 2004.
Philly has seen new champions crowned, the debut of a potential Hall of Famer and a masterpiece courtesy of Shawn Michaels and Mankind.
Ranked on the quality of the main event and the entertainment value of the rest of the card, here are the best pay-per-views in Philadelphia so far.
7. SummerSlam 1990

Clip of Rick Rude and Ultimate Warrior's cage match

Main Event: Ultimate Warrior vs. Rick Rude in a Steel Cage
Notable Matches: Hart Foundation vs. Demolition
An excess of filler and hurried matches dragged SummerSlam 1990 down despite a fantastic tag team match and a compelling main event.
Warrior and Rude put on a good fight inside the cage, but it felt more like a penultimate match rather than the climax of a great event.
The best match of the night was a 2-out-of-3 Falls match between the Hart Foundation and Demolition. The two teams had great chemistry, and Demolition whipped out "twin magic" long before the Bellas came around.
Beyond those two bouts though, Philly fans had little to cheer about. Tito Santana vs. Warlord and Jake Roberts vs. Bad News Brown were forgettable despite the talent involved. Jim Duggan and Nikolai Volkoff squashed The Orient Express.
Randy Savage and Dusty Rhodes disappointed as well. That's a match on paper that sounds like a ready-made classic, but their feud was silly and contrived, focusing too much on Sapphire.
6. WrestleMania XV

WrestleMania XV recap

Main Event: Steve Austin vs. The Rock
Notable Matches: None
Steve Austin and The Rock put on an awesome match to close the show, but it's the rest of the card that has Philly's other pay-per-views pass it by.
Undertaker vs. Big Boss Man is one of the worst Hell in a Cell matches ever, being forgettable other than the uncomfortable sight of Undertaker lynching Boss Man. Bart Gunn boxed with Butterbean in an ill-conceived bout. Sable and Tori delivered one of the night's many clunkers.
Only the first of the Austin and Rock WrestleMania trilogy saved this. It pitted the company's two most popular guys in a rivalry that was electric from the start.
5. Survivor Series 2006

Highlights of Survivor Series 2006

Main Event: Batista vs. King Booker
Notable Matches: Chris Benoit vs. Chavo Guerrero, The Undertaker vs. Mr. Kennedy
Survivor Series 2006 featured three traditional elimination matches including a team of legends taking on The Spirit Squad. Nostalgia couldn't carry that match past the point of average.
Chris Benoit vs. Chavo Guerrero and The Undertaker vs. Mr. Kennedy were the best bouts of the night, but neither will enter many fans' all-time lists.
Most of the matches including the main event were solid, but nothing stood out. It was a good show that fades easily from one's memory because of a lack of greatness.
4. In Your House 10: Mind Games

Shawn Michaels vs. Mankind

Main Event: Shawn Michaels vs. Mankind
Notable Matches: Mark Henry vs. Jerry Lawler, Owen Hart and British Bulldog vs. The Smoking Gunns
Had fans known how great Michaels and Mankind was going to be, they may have been willing to pay full ticket price just to see that. Those two delivered a matchup of power against speed and the underdog versus the monster that ranks as one of WWE's best ever.
Mind Games also featured Mark Henry's debut and a solid tag match where Hart and Bulldog won the titles.
Those moments along with the masterful main event more than make up for the duds on the card such as Jim Cornette taking on Jose Lothario.
3. Night of Champions 2009

Jeff Hardy vs. CM Punk at Night of Champions 2009

Main Event: Jeff Hardy vs. CM Punk
Notable Matches: Rey Mysterio vs. Dolph Ziggler, Randy Orton vs. John Cena vs. Triple H
Hardy and CM Punk delivered a classic to cap off the night, but there were a number of solid performances before that.
Orton, Cena and Triple H battled for the WWE title. Mysterio beat Ziggler in an Intercontinental title bout. The Six-Pack Challenge for the United States Championship featured Kofi Kingston retain against Jack Swagger, MVP, Carlito, Primo and The Miz.
All the undercard matches did well to build toward the main event—Hardy taking the World Heavyweight Championship from CM Punk in 15 minutes of fantastic theater.


2. Royal Rumble 2004

Full 2004 Royal Rumble match

Main Event: Royal Rumble match
Notable Matches: Triple H vs. Shawn Michaels in a Last Man Standing match, Eddie Guerrero vs. Chavo Guerrero
The emotional victory that ended Royal Rumble 2004 is one not often celebrated because it's Chris Benoit who had that moment last eliminating Big Show to win the Rumble match.
Eddie and Chavo's work before that was a solid, and Triple H and Michaels' match was excellent. Their bloody classic combined with the entertainment of the Rumble match overcame the short, mostly mediocre undercard.
Watching Benoit outlast his competition, battling for the entire match has a much different feel today, but Philly fans in 2004 must have been ecstatic watching that drama play out.
1. Unforgiven 2000

Highlights of Unforgiven 2000

Main Event: The Rock vs. Chris Benoit vs. Undertaker vs. Kane
Notable Matches: Triple H vs. Kurt Angle, Chris Jericho vs. X-Pac, Hardy Boyz vs. Edge and Christian
Fans may remember this as the show that Steve Austin returned after being (kayfabe) run over and being out of action for about a year.
It's also a pay-per-view that entertained with a plethora of good matches. Jericho and X-Pac gave Philadelphia fast-paced, exciting action. Edge and Christian took on their rivals Matt and Jeff Hardy in a good cage match.
Angle and Triple H gave an enthralling performance as well, which centered around Triple H struggling through a rib injury.
Add to that the thrill of the four-man main event and Unforgiven 2000 was a definite success. Other shows have had bigger, more famous and better worked main events including some of the shows on this list, but as an overall pay-per-view it ranks as the best Philly has witnessed firsthand thus far.
Money in the Bank, try and top that.
Keep Reading