Washington Nationals Trade Deadline Strategy Blueprint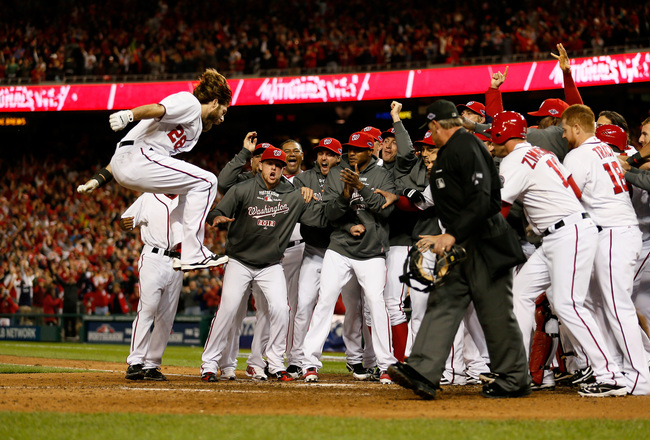 Rob Carr/Getty Images
The Washington Nationals are beginning to click and make a push toward the division lead. With the trade deadline looming, the questions will arise for every team in the hunt as to whether or not a big move will be made.
As with every team at this point in the season, there are moves that could be made, should be made and then the reality of the team's situation.
Are the Nationals poised to make any huge moves at this year's deadline, or will they try to make their final push with the team they have? Let's take a look at what the Nationals should do in the upcoming weeks.
What the Nationals Should Do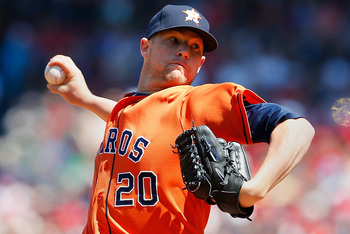 Jim Rogash/Getty Images
At first glance, the Nationals appear to be in a great position in terms of starting pitching. But when you take into account the health at the back end of their rotation, it leaves a bit to be desired.
Ross Detwiler is currently on the DL, and Dan Haren has just returned from the DL. While Detwiler has done a good job when healthy, Haren has had a rough go of it in D.C.
The Nationals have an opportunity to go out and get a quality starting pitcher at the deadline—a move that could be the piece that puts them into the playoffs.
There are a couple of pitchers out there having great seasons on bad teams that could be realistic options.
The No. 1 target should be Bud Norris of the Houston Astros, who is having a great season despite his 6-8 record. Before being lit up on Tuesday, he sported a 3.22 ERA and had pitched at least six innings in 12 of his last 13 games. Norris is only making $3 million this season, which should be a huge factor in his appeal to the Nats.
If the Nats want to make a bit more of a splash, they could go with Matt Garza. Garza is making $10 million, though, and is going to have a few more suitors than Norris will.
What the Nationals Will Do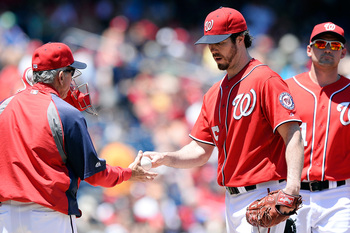 Patrick McDermott/Getty Images
Nats general manager Mike Rizzo recently commented on the topic of pitching depth, per CBS.com (h/t 106.7 The Fan). Rizzo spoke on 106.7 The Fan, stating,
I like our starting rotation. I'm not anticipating trading for a starting pitcher. We think that Dan Haren is going to pitch well for us down the stretch. We feel that we've got great depth in our Minor League system with Taylor Jordan, Ross Ohlendorf, Nathan Karns – could all come up here, and have all come up and pitched well in the big leagues.
The depth in the minor leagues certainly gives the Nats a reason to hold off on making a big move, but it is imperative to remember that they are inexperienced at the big league level. Are the Nats ready to bet their playoff chances on the arm of a pitcher who has not yet made it at the big league level?
If we take Rizzo's comments at face value, then yes, the Nats will live and die with what they have. Despite this, I think that if any other injuries arise between now and the deadline, the Nationals might be forced to make a move, especially considering that the Atlanta Braves are close to getting Brandon Beachy back in their rotation.
What It All Means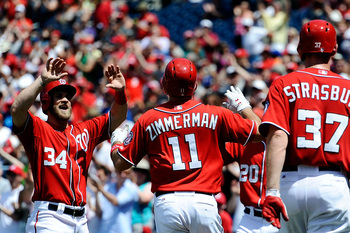 Patrick McDermott/Getty Images
Washington's playoff berth might very well be decided by the decision to make an acquisition in July. It is pretty simple for the Nats: If they make a move, they will stamp their ticket to the playoffs. If they decide to try to make it with their current rotation, they might fall short.
The Nationals need to realize that they cannot fall a pitcher short, as they did last season. The offense that is assembled is more than sufficient to succeed and lead this team to not only the playoffs, but the World Series. Having some insurance in the rotation will send this team deep into the playoffs.
The Nationals have never been afraid to spend money or make a move that they felt could help their ballclub. This might be one of the most important trade deadlines in their short history.
Keep Reading

Washington Nationals: Like this team?