Free Agency Moves NHL Teams Will Be Regretting in Summer of 2014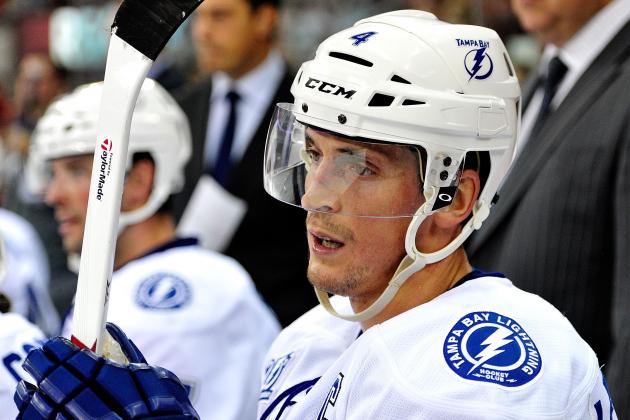 Grant Halverson/Getty Images

Reflecting upon the 2013 NHL free agency period is going to be tough for some general managers around the league. The lack of impact players available made this more of a seller's market than ever, with aging veterans and hit-or-miss forwards receiving paychecks that imply (much) greater things.
After day one of free agency, Mark Spector of Sportsnet.ca wrote that teams had signed 59 different contracts that totaled 105 years of term. The cost?
$375 million.
For a free agency class that was supposed to be among the weakest ever, that seems like a lot of dough. Regardless of who you cheer for, go back and look at the names that were available heading into July 5. Than look back at that $375 million.
This isn't a free agency class that features a Marian Hossa, Zdeno Chara or Zach Parise. We're talking about Ryane Clowe and Valtteri Filppula here.
You may be laughing now—ridiculous overspending of this proportion is usually reserved for Michael Bay movies, after all. There are several GMs who will be regretting some of their moves within the next 365 days.
Begin Slideshow

»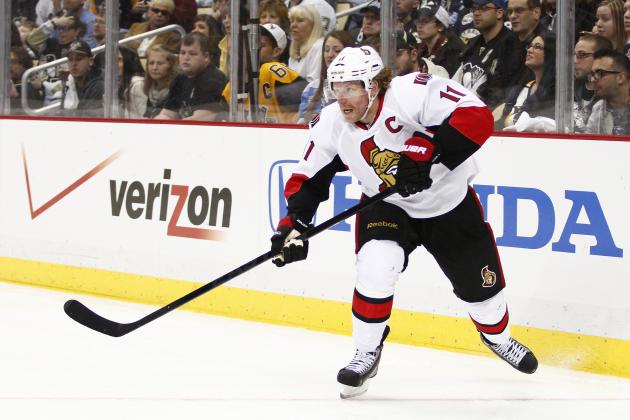 Justin K. Aller/Getty Images

The Detroit Red Wings did some yeoman's work on July 5. A year after striking out on every noteworthy free agent, Hockeytown came up big in 2013.
Within the first hour of free agency the team had hauled in Stephen Weiss and Daniel Alfredsson. The former was inked to a five-year deal worth $24.5 million. The ex-Ottawa Senator came to Detroit on a one-year, incentive laden deal that could be worth $5.5 million if Alfredsson hits his numbers.
The moves themselves don't represent gross overspending. No, these signings will either be good or bad based on what happens with Brendan Smith, Gustav Nyquist and Joakim Andersson.
All three of these players are RFAs, and all three need new deals before the season begins. It's likely Ken Holland has some magic up his sleeve, but as it stands right now Detroit has 14 forwards on the roster.
And that's before bringing Nyquist and Andersson back into the fold.
If the Wings can keep these three young players, more power to them for snagging Weiss and Alfredsson. But if acquiring the latter veteran prevents them from resigning their youth, then this wasn't a wise venture for Detroit.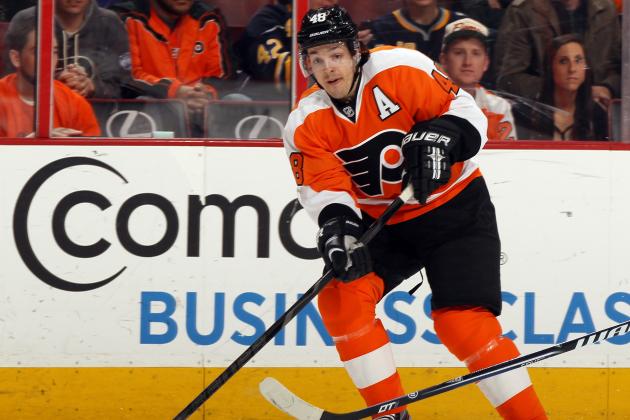 Elsa/Getty Images

2013's class of free-agent forwards wasn't exactly stocked with fire power. Teams looking to add some offense had a very limited selection, with no real standout, top-tier guys to bid on.
The Montreal Canadiens felt the need to add another scoring forward, and they found that guy in Danny Briere. The question must be asked: Did the Habs really—really, really—need to drop cash on another small forward?
Brian Gionta and Brendan Gallagher aren't diminutive enough? All these players are talented, but their styles are remarkably similar. The cap space is there—if you're going to sign off on $4 million for Briere, why not tack on an extra mil and add a guy like Ryane Clowe?
You're still overpaying, but at least overpay for someone that can help change the dynamic of the team for better.
Size is overrated in the NHL to some degree, but right now the Canadiens look a bit too small up front. Something that didn't change by signing Briere. Take into consideration the fact that Briere's point production has dropped in each of the last three seasons, and there's a good chance Montreal ends up regretting this signing.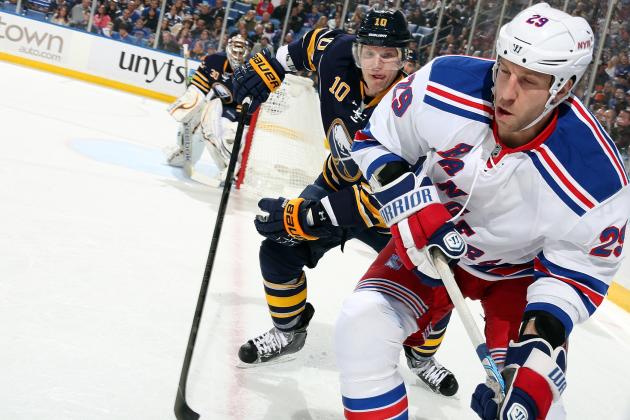 Jen Fuller/Getty Images

Upon losing David Clarkson to the Toronto Maple Leafs, the New Jersey Devils decided to replace him by making two separate pickups. They acquired Michael Ryder to be the hands, and Ryane Clowe to be the body.
Mash them together and you more or less end up with Clarkson, right?
Sure, Lou. Sure.
Ryder was a solid addition and came to Jersey at a good price—something we didn't see happen too often on July 5.
Clowe's contract on the other hand, has potential buyout written all over it. He's two years removed from his best season in the NHL and isn't likely to suddenly re-emerge as a 60-point player at 30.
The argument has been made that Clowe really picked up his level of play once arriving in New York. This is true, if you consider 32 points in 48 games to be "picking it up." That's what his point total would have been had he played all season with the Rangers, based on his production through 12 games in the Big Apple.
Through an 82-game season Clowe would have barely broken the 20-goal barrier—and that's rounding up and hoping that he didn't hit one of his patented "snake bitten" stretches of games.
$24 million well spent? Probably not.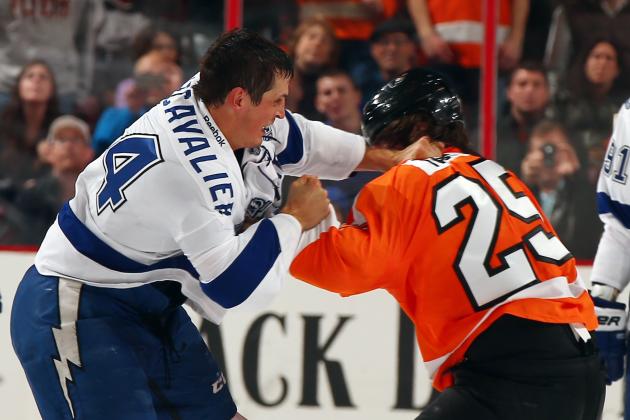 Elsa/Getty Images

Vincent Lecavalier is a good player, and there's no question that he will make the Philadelphia Flyers a better hockey team than they were in 2013. The problem is, they weren't very good last season, and it appears that management didn't notice that scoring goals wasn't the problem.
The team entered the summer in cap hell. They were up against the ceiling and needed some room to fix up a porous defense. The solution was to buyout the contracts of Daniel Briere and Ilya Bryzgalov, giving the team a little wiggle room to supplement Kimmo Timonen—arguably the team's best defenseman.
Instead of improving themselves in the defensive zone, the Flyers replaced the aging and declining Briere with the aging and declining Lecavalier.
The new Flyer is a bigger body at center, but no one has ever accused Lecavalier of being a power forward. What logic stood behind this signing escapes us, which may be a good thing based on Philly's cap situation and lack of a solid blue line.
The problem isn't that Vinny isn't a good player. He is, as evidenced by the fact that he would have approached 70 points last season if not for the lockout. Lecavalier just isn't what Philadelphia needed heading into 2014. They neglected to fix the real issues on the team, instead hurling money bags at the closest big name they could find.
Money bags that, frankly, they just didn't have.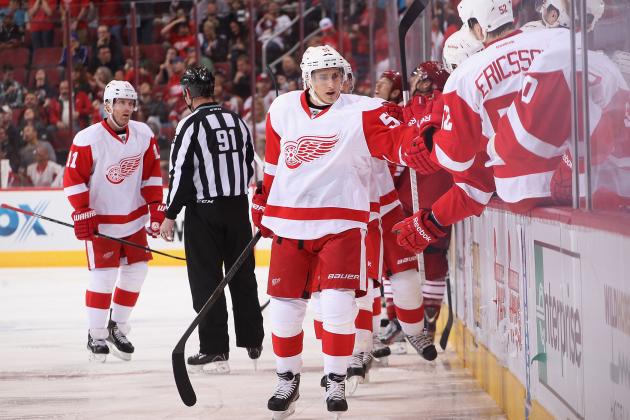 Christian Petersen/Getty Images

Valtteri Filppula and his camp held firm in their belief that he was a $5 million a year player. The Detroit Red Wings felt otherwise, and decided to move forward with Stephen Weiss instead. Which makes sense, since Weiss has scored 20 goals four times, and has been a consistent 50-or-60-point center while playing on a weak team in the Florida Panthers.
Unlike Filppula, who has scored 20 goals once, and posted more than 50 points once—coincidentally in the same 2011-12 season.
Five years seems like a long time for a player for whom consistency has always been an issue. He drove the brass in Detroit up one wall and down another with his disappearing acts. There's always been talent. Talent has never been the issue.
Consistent production hasn't been a strong suit for Filppula. Not exactly the kind of guy that that you want to keep around for a half-decade to prove himself.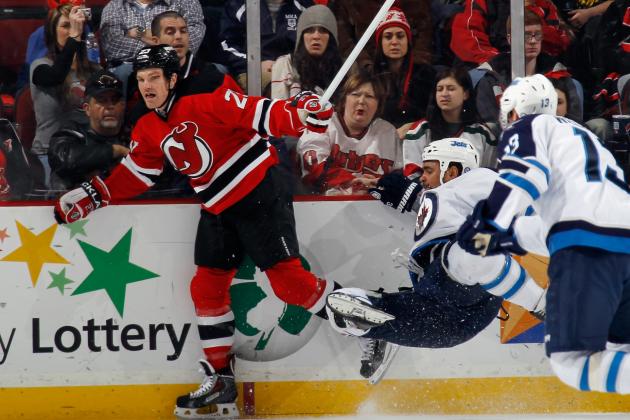 Bruce Bennett/Getty Images

It seems to happen every two or three years. The Stanley Cup champion comes across as rough and tumble, and competing GMs decide to chase a brand of hockey that worked elsewhere. With the Boston Bruins taking so many runs at the Cup, and the Los Angeles Kings trouncing the field on their way to a championship in 2011, toughness was in again.
So it wasn't surprising to see a franchise chuck some big-time dollars at David Clarkson—the apparent "gem" of 2013's free agency class.
Clarkson is going to hit a lot of people for the Toronto Maple Leafs. He's going to fight and throw his body around and endear himself to some of the best hockey fans in the world.
What remains to be seen is whether or not Clarkson is really a 30-goal scorer. For a career minus-32 player, he's not going to be worth $36.75 million across seven seasons unless he continues to shoot at a high percentage and finish around the net. Until he is 34.
Prime age for a body-banging power forward, no?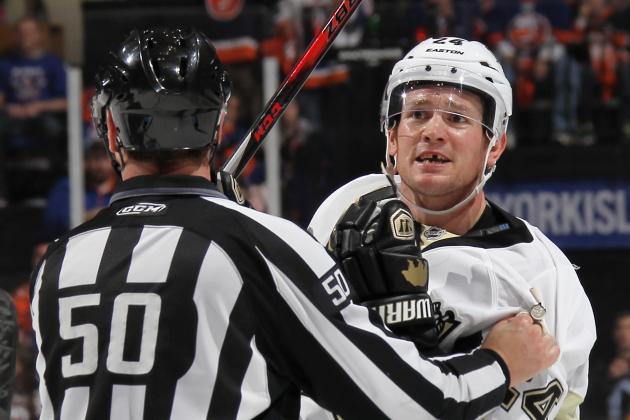 Bruce Bennett/Getty Images

The previous entries on this list don't make sense because of dollars and term. Matt Cooke heading to the Minnesota Wild just doesn't feel right. Fans in the State of Hockey were up in arms after the Wild decided to sign public enemy no. 1 to a three-year pact worth $7.5 million.
While it's true that Cooke hasn't been suspended for his play over the last two years, that doesn't mean that he's stayed away from controversy completely.
It's obvious what Minnesota wants from Cooke out on the ice. He's a strong penalty killer and a decent third-line option. Was there seriously no other option once Cal Clutterbuck was traded though?
That's a pretty brutal check-down. Going from a beloved body-checking forward to a lowly-regarded once-cheapshot artist.