7 Independent Stars Who Need a Shot in WWE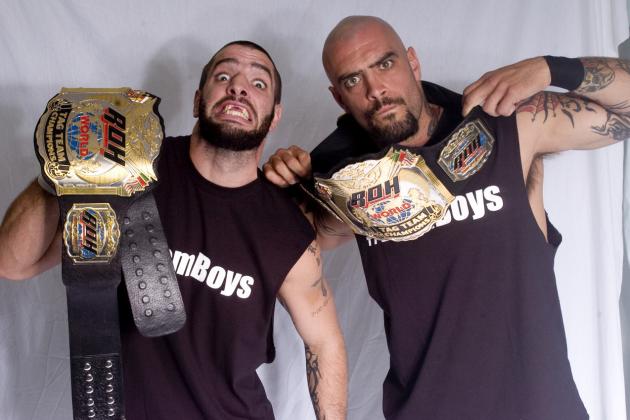 The Briscoe Brothers of ROH fame have left the company and rumor has it that the WWE is their next destination. Photo Courtesy of Tumblr
The WWE's developmental organization NXT has grown by leaps and bounds in the last year or two, signing huge names such as Dean Ambrose, Seth Rollins, Antonio Cesaro and, most recently, Sami Zayn.
Stemming from the massive success of CM Punk and Daniel Bryan in WWE's main event, the WWE continues to incorporate more big-name independent stars into its roster.
If the WWE wants to solidify its roster for years to come, it'll have to look to the independent scene to fill in some gaps and enhance its overall product.
This list was compiled by taking a look at some of the best indy wrestlers on the scene who all bring something different to the table. While all of them are exceptional in the ring, some bring exceptional mic skills, a unique in-ring style or even a great mind for the business, and all are more than deserving of a WWE contract.
So, without further ado, here's No. 7...
Begin Slideshow

»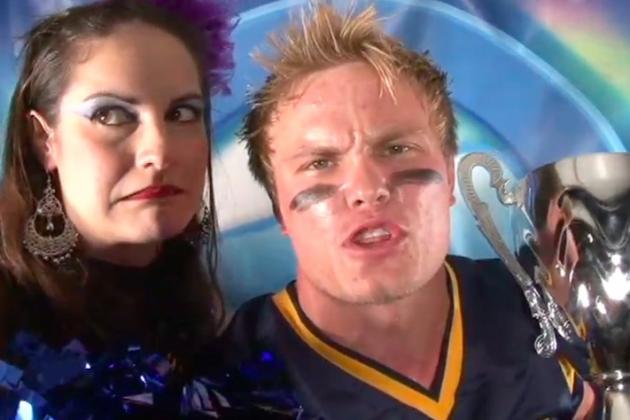 Mark Angelosetti (known as Mr. Touchdown) is a great young talent on the indy scene. Photo Courtesy of Tumblr
Mark Angelosetti is probably the most unpolished wrestler on this list, hence his spot at No. 7, but that doesn't mean he doesn't have anything to offer the WWE.
Angelosetti, who can be seen as Mr. Touchdown in Chikara, has been a big part of Chikara's product. He even earned the Chikara Young Lion's Cup and was part of "The Throwbacks."
Mr. Touchdown is made for NXT. He's young and full of raw talent, but he needs to polish his in-ring work and his mic skills before he's ready for a major position in professional wrestling's No. 1 organization.
Angelosetti is extremely athletic and incredibly exciting in the ring, but his work is a little rough around the edges. He would be perfect for NXT and could possibly one day earn a spot on WWE's midcard.
The WWE should give Mr. Touchdown a shot.
Ladies and gentlemen, allow me to formally introduce you to Willie Mack.
Willie Mack's athleticism can only be described with one word: deceptive. He stands under six feet tall and weighs around 280 pounds. That doesn't sound like the build of a WWE-worthy talent, right?
Wrong.
Pro Wrestling Guerrilla's Mack is one of the most explosive in-ring wrestler's not signed under a WWE contract. He has a motor that doesn't quit and has held his own in the ring with some of the independent scene's best wrestlers.
Mack, like Angelosetti, is a little rough around the edges, but if he spent some time being groomed in NXT, he would be a great addition to the WWE roster.

Plus, who doesn't want to see Big E vs. Willie Mack?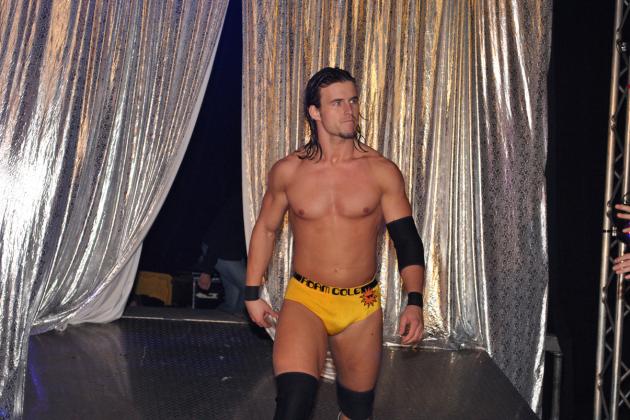 Adam Cole has been an amazing fan of numerous organizations for years. Photo Courtesy of ROHwrestling.com
Adam Cole has been on WWE's radar for the last little while, and rightfully so. Cole, the former Ring of Honor Television champion, is an extremely impressive wrestler.
Cole is coming off of an amazing match against Sami Callihan with Pro Wrestling Guerrilla. The 60-Minute Iron Man match was Callihan's go-away match as he prepares to head to the WWE.

Cole has climbed the ranks in Ring of Honor, getting a few title shots last year, and he's one of the most impressive wrestlers on the independent scene, let alone in the world.
The best part about Cole? He's only 24. The WWE's elite are starting to get up there in age. Adding a few young Superstars to the mix definitely can't hurt, especially when they're as talented as Adam Cole.
Colt Cabana has already had his shot at the WWE, but let's be honest, this guy is a gold mine. Cabana, wrestling as Scotty Goldman, was in the WWE from 2007-2009 and never really did anything aside from jobbing.
Cabana would be an amazing addition to the WWE roster a second time around because of everything he brings to the table. Cabana, notorious for his comedic style in the ring, would be perfect for WWE's PG programming. He's a much better comedy act than Santino or Great Khali.
Another huge plus for the potential addition for CM Punk's childhood buddy is his involvement in social media. Colt's podcast "The Art of Wrestling" is a huge hit in the professional wrestling community and would be an immediate addition to the WWE's growing interest in Internet shows and other outside content.
He's also pretty solid in the ring.
Win-win.
Vince McMahon and the WWE seem to have a fondness for giant monsters. Enter Michael Elgin.
"The Unbreakable" Michael Elgin truly looks unstoppable in the ring. Imagine Ryback, with a ton more talent. There you have Elgin.
Elgin's most well-known work is with Ring of Honor and Pro Wrestling Guerrilla, and if you have any doubts about what he can do in between the ropes, watch the video above.
Elgin took on Davey Richards for the ROH World Championship in a ridiculous match that would go on to earn five stars from Wrestling Observer Newsletter's Dave Meltzer.
Elgin is more than capable of going in the ring. His true challenge in the WWE would be winning the crowd over on the mic. While he's definitely as good as or better than Ryback, he could definitely use some help. Thankfully for Elgin, he's got experience with a manager after being accompanied by his mouthpiece Truth Martini in ROH.
Elgin's upside in wrestling is simply ridiculous. He's fast, strong and explosive, and he's been competing on the independent circuit since he was 16. In that time, he's become one of the most powerful and imposing talents out there.
Elgin has the WWE look but also has what many of the WWE's past musclebound maniacs have lacked: talent.
Since they're a tag team, we'll make real-life brothers Jay and Mark Briscoe a packaged deal on this list. Who would want them alone anyway?
"DemBoys" are one of the best tag teams in the world, and for good reason; they've been doing it for a long time. The Briscoes (actually the Pughs) have been wrestling together since their family built a wrestling ring in the back yard.
The Briscoes would be an absolutely perfect addition to the WWE roster. The WWE tag team division, while it's a bit better now, is still struggling. There are still only two or three teams that tag together consistently and even fewer that ever get a shot at the title.
The Briscoes would immediately improve the tag team division. Their...unique look and style would bring something interesting and different to the table that the WWE doesn't have. Heck, put them in the Wyatt Family; they could make that work.
The WWE needs to work on strengthening all of its titles, not just the WWE and World Heavyweight belts. Adding some legitimate competition who could garner a huge crowd response would be great for the WWE, not just the tag team division.
But wait, there's more. The best thing about the Briscoes? They recently cut their ties with Ring of Honor and, according to WrestlingInc.com's Marc Middleton, they have shown up at a few WWE events.
Kevin Steen has been one of Indy wrestling's best for years. Photo Courtesy of ROHwrestling.com
Honestly, who else could No. 1 be?
Kevin Steen, while he doesn't have the WWE look, is simply one of the best professional wrestlers in the world. He's surprisingly athletic, incredibly strong and extremely good on the mic.
Steen has shown he can get the job done, participating in numerous huge feuds, including his epic battles with El Generico, but the versatility of Steen is where he would be most successful in the WWE.
Steen has a deep repertoire of moves and maneuvers in the ring, ranging from crossfaces and sharpshooters to 450 splashes and terrifying package piledrivers. Also,, he has shown that he's extremely comfortable against big guys, little guys and everything in between. And he's shown that he can get it done in tag teams or on his own.
The guy can do it all.
Steen might not have the WWE look, but that's not necessarily a bad thing. If Brodus Clay can pass as a WWE Superstar, why not Steen?
The WWE learning curve, which has proved to be pretty difficult to cope with, wouldn't be a huge issue for Steen. While most new talents come to the WWE with little familiarity with the roster, Steen would come in with a ton of history against some of the other new guys. He's fought both with and against Sami Zayn (El Generico) a ton, and he's also tangled with Seth Rollins and Antonio Cesaro on a few occasions.
If the WWE was smart, it would keep a very close eye on Kevin Steen's ROH contract and swipe him up if it has the opportunity.