Bruins GM Peter Chiarelli is notoriously conservative, but after dealing Tyler Seguin and signing Jarome Iginla, the Bruins may not be done making big offseason news just yet.
The Fourth Period's Shawn Hutcheon suggests the Bruins may be considering another big trade or two:
As @GlobeKPD tweeted yesterday, my sources are telling me it's true that #NHLBruins are shopping Chris Kelly & Brad Marchand.

— Shawn Hutcheon (@ShawnHutcheon) July 9, 2013
Despite winning the Eastern Conference, the Bruins have moved into a major roster overhaul since losing the Stanley Cup Final to Chicago in six games. With top-line winger Nathan Horton shipping out and Jaromir Jagr testing free agency, the Bruins desperately needed to rebuild the right side of their lineup.
To do so, they dealt two right-sided players, Tyler Seguin and Rich Peverley, to Dallas for top-six winger Loui Eriksson and three prospects. With the cap space opened up by the deal, the Bruins also went out and added Iginla, who inked a cap-friendly, one-year deal on July 5.
With those deals complete, Boston's only evident roster hole is at right wing on the third line, but the Bruins may not be opposed to another big move.
The fact that the Bruins are shopping Chris Kelly is far from a head-scratcher. The 32-year-old center signed a lucrative four-year, $12 million deal after scoring 20 goals in 2011-12. He then followed up the career year with an abysmal 2013 campaign, which featured just three lamp-lighters.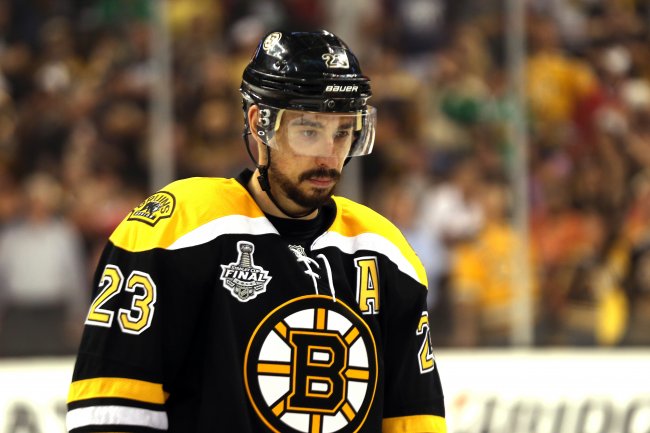 Bruce Bennett/Getty Images
With an annual cap hit of $3 million over the next three years, Kelly is no longer cost effective. He still does a lot of things the Bruins like, especially defensively and in the faceoff circle, but he can likely be replaced at a fraction of the cost.
Trade talk surrounding Brad Marchand, on the other hand, comes as a shock. The 25-year-old Marchand led the Bruins in both goals (18) and points (36) this past season, and he added 13 points in the playoffs.
According to Cap Geek, The "Little Ball of Hate" signed a four-year, $18 million extension last summer, and he was expected to be a part of the Bruins' core for the foreseeable future. However, amidst concerns about his maturity, he could face the same fate as the Bruins' previous scoring leader, Seguin.
Marchand was somewhat inconsistent in the postseason, and his habit of taking bad penalties re-emerged. Still, he has been Boston's most consistent goal scorer over the past three seasons, and he has proven to be an asset in the clutch.
Capable of playing in all situations, Marchand would fetch a hefty return on the trade market, but as an established fan favorite, Chiarelli would be putting his job at risk if such a deal didn't pan out.
The Boston Globe's Kevin Paul Dupont gave the following thoughts on what the Bruins could ask in return for the two key players:
March/Kelly combined $7.5m cap hit. So, my target would be late-20s LW, $5-6m range. With size, scoring resume, 2-3 yrs on deal.

— Kevin Paul Dupont (@GlobeKPD) July 9, 2013
Dupont's criteria seem to fit someone like Bobby Ryan perfectly, but the former Duck was dealt to Ottawa on July 5. They also seem to describe brand-new Bruin Loui Eriksson quite well. If a deal materializes, it should involve a player of that caliber.
The Bruins have been the model of consistency over the past few years, returning 17 players from their 2011 championship team to the Stanley Cup Final in June. However, since the Blackhawks' wild Game 6 victory, something has changed in Boston.
Expect the unexpected over the next few weeks from the Bruins—they might just have another blockbuster in the works.
All contract figures courtesy of Cap Geek.