LSU Football: 5 Freshmen Who Will Make a Huge Impact in Fall Practice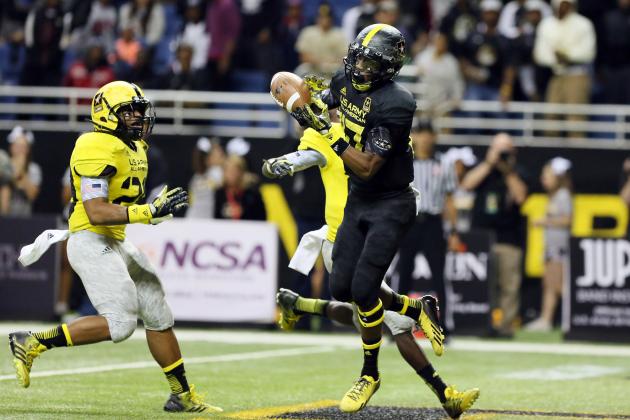 USA TODAY Sports

The basis of LSU's success revolves around the quality of the Tigers' recruiting and the effectiveness of inserting a young player into a contributing role.
It's Les Miles' bread and butter and it's what makes him an elite coach at the college level. His ability to acknowledge players' attributes and quicken the learning curve for them is uncanny, and it can be viewed throughout his LSU tenure with sensational freshman performances by Tyrann Mathieu, Eric Reid, Jeremy Hill, Odell Beckham, Patrick Peterson, etc.
Entering the 2013 football season, the Tigers have many candidates for breakout freshmen, but who will emerge from this great LSU recruiting class to become the next young Tiger great?
Here are five players to keep an eye on, as they'll likely make a case to start in fall practice.
Begin Slideshow

»
This is offensive coordinator Cam Cameron's type of tight end.
At 6'4", 225 pounds, DeSean Smith possesses some size to go along with his 4.7-second 40-yard dash time. Add in some athleticism and good catching ability, and Smith is basically a big wide receiver playing the tight end position.
Once again, this is Cameron's type of guy.
Should he flex wide or run a route out of a three-point stance, he should be able to find openings in the zones of defenses, giving Zach Mettenberger a reliable check down when needed.
Of course, you can't forget about Travis Dickson at LSU, but Smith's athletic prowess might engineer more focus on the tight ends in the passing game this fall.
Tre'Davious White may be raw, but none can deny his athletic ability.
His quickness and ball-handling skills will allow him an opportunity to challenge for a starting cornerback position this fall. So much so, that he may take Jalen Collin's starting position, opposite of Jalen Mills.
White did it all in high school, serving as a cornerback, wide receiver and dual-threat quarterback. He's come to LSU, AKA DBU (Defensive Back University), with intentions of playing cornerback, though.
That's where he'll most likely succeed. His talents are far too superior to ignore, as his motor runs at a high speed.
His speed should give him an opportunity to make an impact in the return game as well.
Kendell Beckwith is too good to sit the bench this season.
True freshman or not, Beckwith is a versatile player, standing at 6'3", 225 pounds.
His quickness and suddenness give him an opportunity to play at defensive end for the Tigers, while his size insinuates that he'll play at the outside linebacker position.
Either way, Beckwith gets on the field.
The Tigers will have plenty of new recruits to choose from on the defensive line, while the linebacker position will sport multiple players with experience. The odds are stacked against Beckwith starting in those terms, but with his God-given talent, Beckwith should see some playing time despite it.
This wide receiving corps is deep.
Headlined by Jarvis Landry and Odell Beckham, supported by Kadron Boone and James Wright and hyped with newcomers Travin Dural and John Diarse, big things are expected from this unit in 2013.
But though this group has a lot of explosive players, it's missing a tall target that can be effective near the red zone. Quantavius Leslie is that man.
With two years of junior college experience in his back pocket, Leslie comes to LSU primed and ready to make an immediate impact.
There are plenty of targets for Mettenberger to share the football with, and fans can expect Leslie to be another name the Tigers utilize in its passing game this fall.
Rashard Robinson is coming to LSU with a lot of hype.
Dandy Don stated that his inside source told him "he was '100 percent blown away' by Robinson and said that he was running with NFL talent and covered the pro wideouts like he was a seasoned corner" at Patrick Peterson's inaugural camp.
If that's truly the case, Robinson has a legitimate shot at playing in the secondary as soon as this fall.
One thing that may be holding him back is that fact that he's taking summer classes and has yet to report to LSU.
His competition has a leg up on him, but if he has the cover skills that people are saying he has, he should impress enough to find the field this season.