Definitive Blueprint for Houston Rockets to Transform into Title Team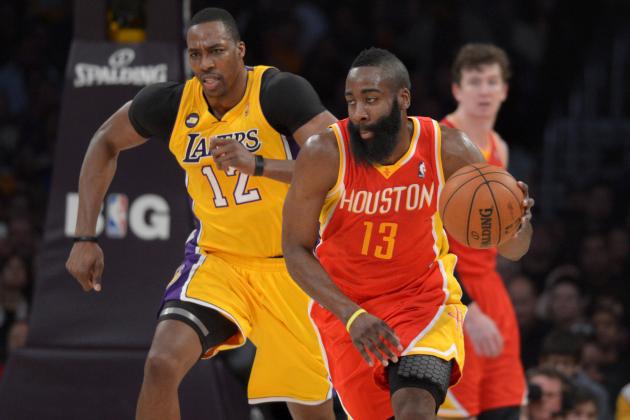 USA TODAY Sports

The Houston Rockets have pulled off one of the most extraordinary roster overhauls in NBA history in the course of two seasons. After cleaning house in 2012, they've landed both James Harden and Dwight Howard in the course of one calendar year, giving up nothing more than expendable pieces to get it done.
The question is, how can the Rockets make their final push and break into the realm of the title contenders?
There's no question that the skill is there, as the Rockets have one of the most awe-inspiring rosters in the NBA. From superstars to budding role players, the Rockets can rival anyone when it comes to name value.
With that being said, there's a major difference between being popular and becoming elite.
The Rockets still have steps to take before they truly make that leap, but each is manageable. Standing their ground is equally as detrimental a step, as the following slides would be beneficial.
It's all about avoiding complacency.
Begin Slideshow

»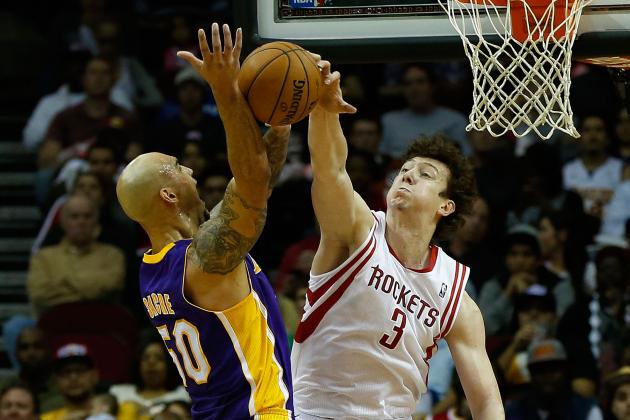 Scott Halleran/Getty Images

According to Brian Windhorst of ESPN, center Omer Asik has formally requested a trade. The Houston Rockets have since denied the attempt, opting to keep both Asik and the recently signed Dwight Howard on the same team.
In order to become a championship contender, the Rockets must trade Asik and maximize the value of one critical thing—chemistry.
Howard is entering Houston with two tumultuous rides with the Los Angeles Lakers and Orlando Magic behind him. While the elite players were present in L.A., the Lakers couldn't figure out how to play with one another until it was all too late.
Trading a player who "doesn't want to play with Howard" would be a great way to ensure Houston doesn't run into similar issues.
Asik has no offensive skills outside of the paint, and neither does Howard, which makes placing them on the floor at the same time rather senseless. By trading Asik—a player with significant value after ranking in the top five of rebounds per game—the Rockets would be able to fill other voids.
Running yourself thin when Howard is on the bench hurts, but nothing is more detrimental than an absence of chemistry.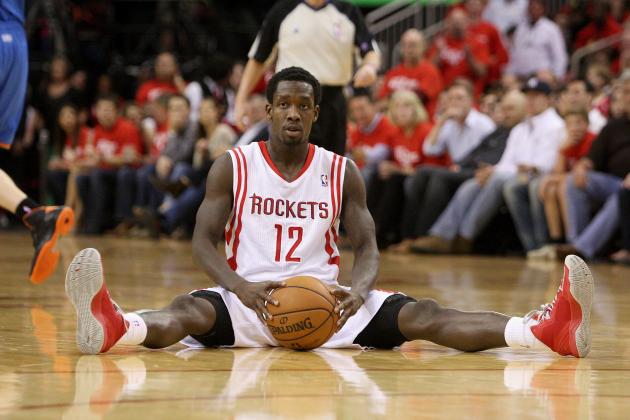 Troy Taormina-USA TODAY Sports

The Houston Rockets have a quality second unit led by the likes of Patrick Beverley, Omri Casspi, Francisco Garcia and Greg Smith. With that being said, it's relatively unclear who the Rockets will use as their sixth man.
The loss of Carlos Delfino creates that void and thus creates one truth—until they get a scorer to guide their bench, it will be a question mark.
There will be an inevitable case of short-term memory and over-analyzation of misleading statistics when it comes to Delfino's impact on the Rockets. The truth of the matter is, if not for the Argentinian swingman, Houston wouldn't have made the playoffs.
From his clutch shooting to his veteran leadership, Delfino played a major role for a Rockets team that appeared to be too inexperienced to make an impact.
As it presently stands, it's relatively unclear who will come off of the bench and provide an impact with major minutes. With the sixth man becoming a player akin to championship aspirations, finding the perfect fit will be key for Houston.
Beverley certainly serves as an option, but until that player is defined, Houston has a major question along their second unit.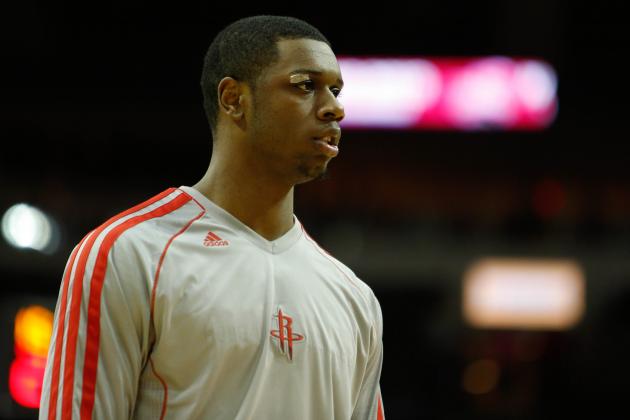 Thomas Campbell-USA TODAY Sports

Over the past year, the Houston Rockets have traded Marcus Morris, Patrick Patterson, Thomas Robinson and Royce White. All five of those players were either the starting power forward or viewed as the future of the position in Houston.
What now?
As it presently stands, the Rockets' best options at power forward are Donatas Motiejunas, Greg Smith and Terrence Jones.
Omer Asik has no game outside of the paint and Dwight Howard is at his best when his power forward can space the floor with their shooting.
Motiejunas has flashed three-point range, albeit inconsistently, thus suggesting that the 7'0" big man will see more than 12.2 minutes per game in 2012-13. Smith has displayed the upside of an NBA starter, crashing the boards and scoring efficiently, albeit without a deep jumper.
The true star that's waiting in the wings, however, is Jones.
The former Kentucky star is a do-it-all forward that can defend three separate positions, facilitate, take his man off of the bounce and shoot the three when necessary. Jones has a tendency to fall in love with his jump shot, but he's also a menace working out of the post and a powerful ball handler
With Howard working down low, Jones can set up shop in the corner or take the ball at the high post.
Whether he's making crisp entry passes, running the pick-and-roll or taking jump shots, Jones is the perfect player to complement D-12.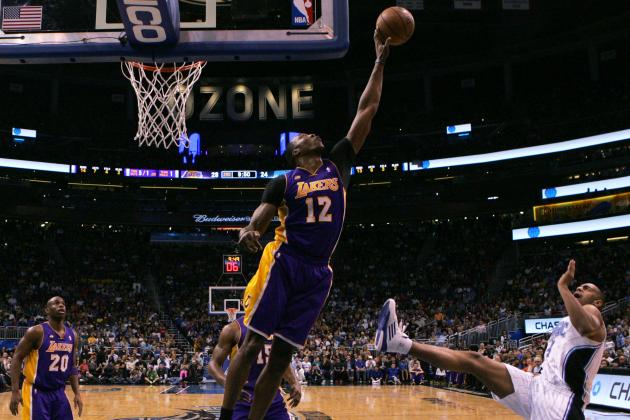 Douglas Jones-USA TODAY Sports

Dwight Howard is a seven-time All-Star, three-time Defensive Player of the Year and five-time All-Defensive Team selection. He's led the NBA in rebounds in five separate seasons and topped the league in blocks twice.
Just don't make the same mistake as the Los Angeles Lakers and assume that his arrival means everyone else is off the hook.
Jeremy Lin and James Harden are a shaky defensive back court and there remains uncertainty as to who will play power forward. Even if Omer Asik stands pat, he's an elite rebounder with average defensive skills.
Suddenly, the pressure elevates.
There's no question that Howard will help the Rockets, but they're coming off of a season in which they were 28th in scoring defense. In order to improve, they'll need to play in the offensive half court more and utilize the addition of the game's premier pick-and-roll finisher.
It's then that they can prevent opponents from getting out into transition and thus allow D-12 to set up in the paint defensively.
From there, it's on Lin and Harden to improve their defensive fundamentals. Chandler Parsons continues to develop into an offensive force, but without support along the perimeter, the Rockets will be asking Howard to do even more than he was tasked with in Los Angeles.
Without a defensive identity, Houston will be just another team that's fun to watch but without a paddle as a title contender.
Scott Halleran/Getty Images

On paper, the Houston Rockets have one of the NBA's elite pick-and-roll tandems with Jeremy Lin and Dwight Howard. The same can be said for James Harden and Howard.
The question is, who are the Rockets going to enlist as their primary ball handler?
More often than not, Lin and Harden were each at the baseline waiting for an outlet pass from their inbounding teammate. In those instances, one player would get the ball and the other looked out of place working off of it.
Houston must fix that issue as soon as possible.
In 2012-13, Lin saw his usage rating drop 7 percent from his time with the New York Knicks. In turn, he was forced off of the ball and became a jump shooter, thus glorifying his most glaring weakness.
With that being said, Lin shot 37.5 percent from beyond the arc after the All-Star Break and proved just how powerful his work ethic can be.
Harden, meanwhile, became an MVP candidate by posting averages of 25.9 points, 5.8 assists and 4.9 rebounds per game. Harden also ranked eighth in the NBA in usage rate, but somehow avoided the "Kobe Bryant dominates the ball" comparisons due to a favorable image.
Harden posted a usage rate of 27.4 percent to Lin's 20.6. Even still, Harden—labeled as Houston's facilitator—posted an assist ratio of 18.7 percent to Lin's 28.4 percent.
A stunning number considering the way coach Kevin McHale used Lin as more of an off guard.
Those numbers display just who should be setting up the offense for Houston. They also show you that Houston failed to capitalize on the vaunted two lead guard set.
Balance will be the key for Houston in 2013-14, but if they continue to force Lin to play to his weaknesses, their season will not end well.