Predicting the 2013-14 NHL Season's 10 Biggest Breakout Stars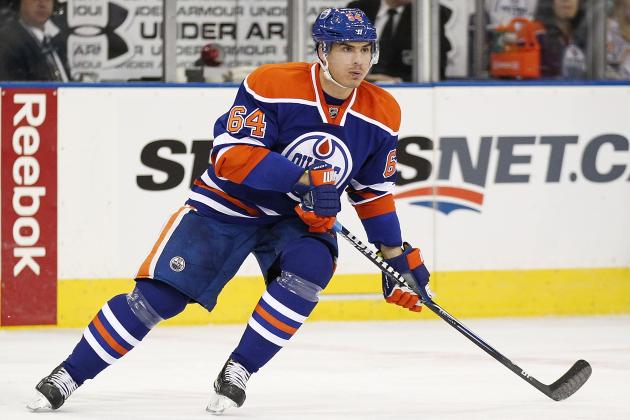 Perry Nelson/Getty Images
Nail Yakupov should blossom in his 2nd NHL season.
As the NHL offseason gets started, it's time to start looking ahead to 2013-14.
Each year, a new group of players break out and reaches a new level of success. They go from average players to good ones, from potential to production.
Here is a list of the top 10 potential breakout players in 2013-14. These players were chosen based on a combination of their potential and the situation they find themselves in during the coming season.
Feel free to mention any players you feel belong on this list. Obviously, there are a lot more players with the potential to improve a great deal than the 10 listed here. Please indicate why you feel your choice belongs on the list ahead of the players listed here.
Begin Slideshow

»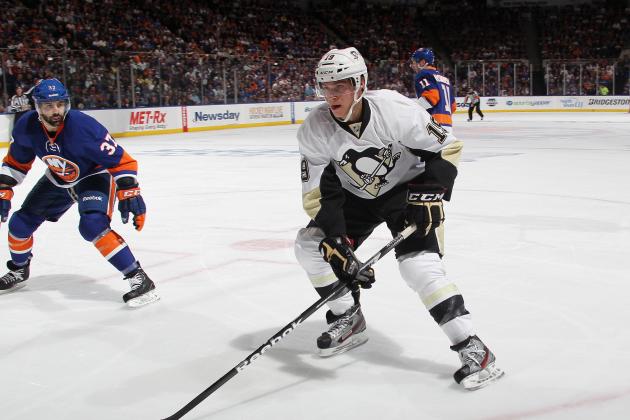 Bruce Bennett/Getty Images
Beau Bennett showed flashes as a rookie with the Penguins.
Beau Bennett wasn't expected to play a lot with the Pittsburgh Penguins last season, but when injuries hit the club, Bennett got a bit more ice time than planned.
The 6'2", 207-pound, Gardena, Calif., native scored three goals and 14 points in 26 games with the Pens.
Bennett saw some time on the second power-play unit and did not look out of place. His size and hockey sense help project him as a top-six forward, even on a team as deep and talented at forward as the Penguins.
Look for Bennett to put up much stronger numbers next season, especially if he sees a little ice time with either Sidney Crosby or Evgeni Malkin.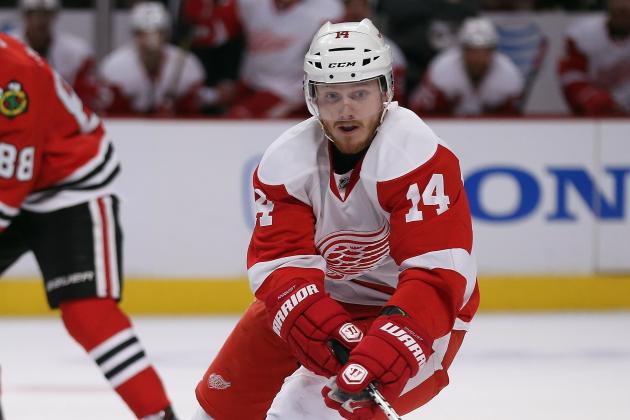 Jonathan Daniel/Getty Images
The Wings brought Gustav Nyquist along slowly and hope next season is the year he breaks out.
The time should be now for Detroit Red Wings winger Gustav Nyquist. He will turn 24 before the start of next season and will have two full seasons of North American pro hockey under his belt.
The former University of Maine star has excelled at the AHL level, but he now needs to show he can be as productive in the NHL when the players are bigger and faster. Nyquist scored 58 points in 56 AHL games last year and was named a first-team All-Star.
Last season, Nyquist scored three goals and six points in 22 games with the Red Wings. He scored some clutch goals in the playoffs, including a game-winner in Game 2 of Detroit's series with the Anaheim Ducks.
A strong training camp could get Nyquist second-line ice time next season, which means he should put up significantly better numbers than he did as a rookie.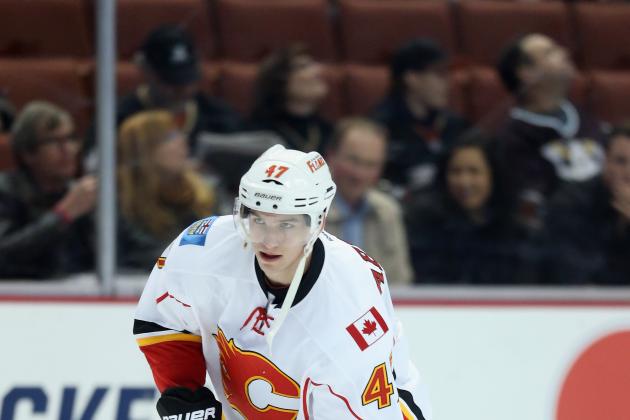 Jeff Gross/Getty Images
Sven Baertschi should shine in his second NHL season.
Calgary's Sven Baertschi is another player with a strong potential to have a breakout season.
The Swiss native will turn 21 in October and now has a full season of pro hockey under his belt. He was slowed by a neck injury last season, and a return to health should also help him put up improved numbers.
After the lockout ended, Baertschi scored three goals and 10 points in just 20 games for Calgary.
The Flames are in the midst of a rebuilding program, and that means Baertschi should get every opportunity to become a top-line player. The departure of Jarome Iginla at last year's trade deadline left a void in Calgary, and as a former first-round pick, Baertschi is the heir apparent.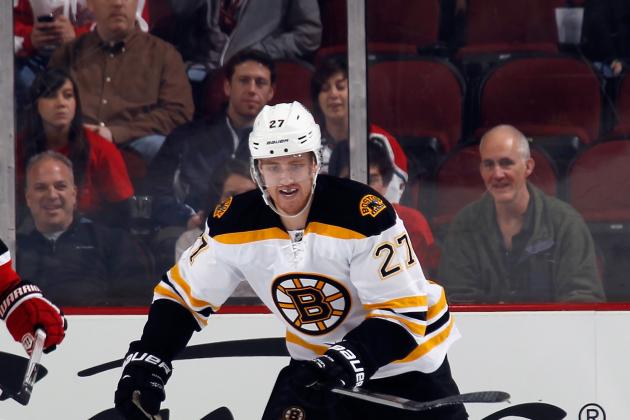 Bruce Bennett/Getty Images
Dougie Hamilton hopes to build on a strong rookie year.
Dougie Hamilton impressed many hockey scouts with his coolness under pressure and consistency during his rookie season.
The Toronto native scored five goals and 16 points in 42 games for the Boston Bruins last season.
He got a taste of playoff action, picking up three assists in seven games before injuries shelved him and forced him to miss the Stanley Cup Final.
With the departure of Andrew Ference and Wade Redden, expect Hamilton to see more ice time next season.
Look for Hamilton to build on his strong rookie year and to put up even better numbers as a 20-year-old.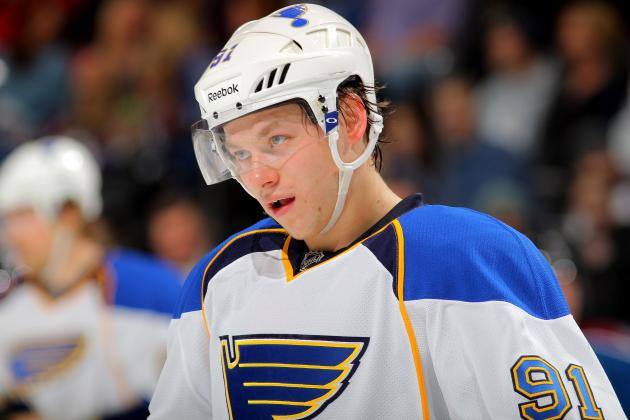 Doug Pensinger/Getty Images
If he stays healthy, Valdimir Tarasenko should have a bright NHL future.
A lot was expected of Vladimir Tarasenko in his first NHL season. He got off to a great start, scoring two goals in his first NHL game. He was later named NHL Rookie of the Month for January after scoring five goals and nine points.
Unfortunately, the Russian forward couldn't maintain that torrid pace and finished the season with just eight goals and 19 points in 38 games.
Tarasenko showed glimpses of his talent, but needs to learn how to stay consistent over the course of a full season. The fact that he has one year in the NHL under his belt and has adjusted a bit to the North American style of play should help.
The St. Louis Blues need a sniper and have high hopes that Tarasenko will fit the bill. He should see plenty of ice time and be a big part of the Blues' power-play unit this season, so he should be given plenty of chances to excel in 2013-14.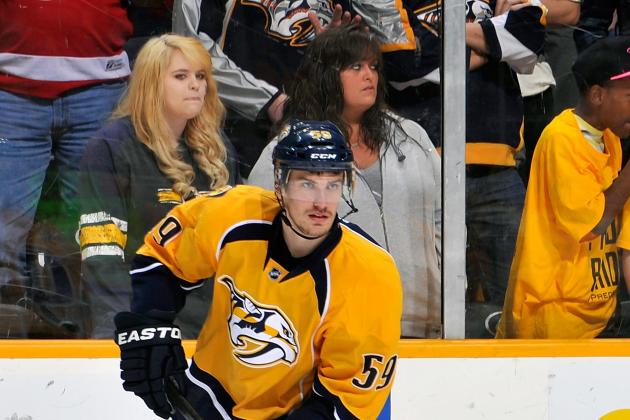 Frederick Breedon/Getty Images
Roman Josi will have more responsibilities and more ice time this season.
Roman Josi was considered one of the players who could help fill the void left by Ryan Suter when he departed Nashville for the Minnesota Wild last summer.
Josi has good size at 6'1" and 192 pounds. Defensemen tend to take a little bit longer to develop than forwards, and at 23, the time should be now for the Swiss blueliner.
Last season, Josi had five goals and 18 points in 48 games for the Nashville Predators. He also played 23:21 per game, which placed him 20th in the league among defensemen.
When Nashville missed the playoffs, Josi went to play in the World Championships for Switzerland and was named the tournament MVP after leading his club to a surprising silver medal.
The Predators showed how important Josi was to their future plans when they signed him to a seven-year, $28 million contract last month.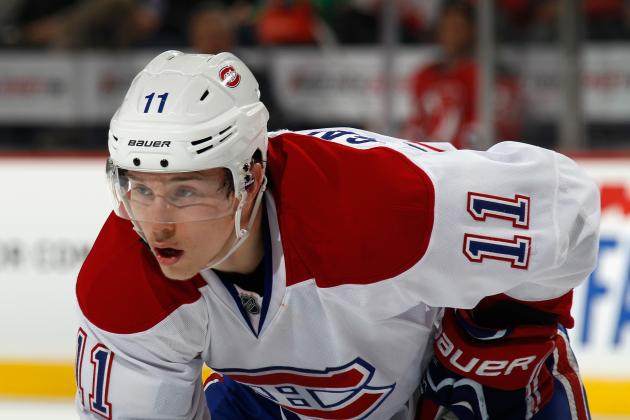 Bruce Bennett/Getty Images
The Habs have high hopes from Brendan Gallagher.
Brendan Gallagher had a strong rookie season for the Montreal Canadiens last season, scoring 15 goals and 28 points in 44 games. He was also a finalist for the Calder Trophy as the NHL's top rookie.
The Edmonton native just turned 21 and has adjusted to life in the NHL despite his relative lack of size.
Expect Gallagher to get increased ice time in his second season. He should see plenty of time on the power play and in situations when the Canadiens need to score goals.
Look for Gallagher's numbers to improve even further in 2013-14.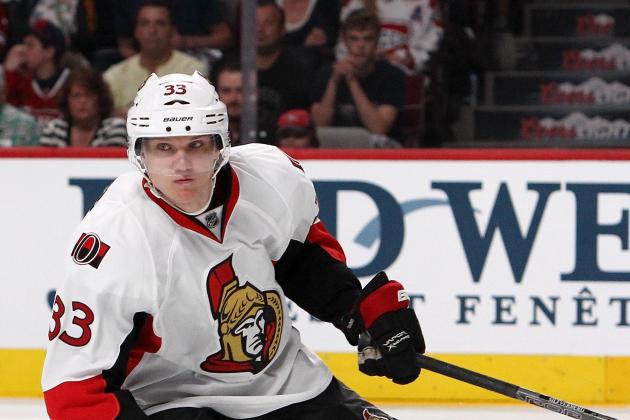 Francois Laplante/FreestylePhoto/Getty Images
A new team should mean a new start for Jacob Silfverberg.
Welcome to Anaheim, Jakob Silfverberg. Your new linemates may very well include star players like Ryan Getzlaf and/or Corey Perry. If Teemu Selanne decides to play another season, it's possible Silfverberg could be paired with him as well.
The talented Swede played his first NHL season last year with the Ottawa Senators and scored 10 goals and 19 points in 48 games.
Silfverberg should be better adjusted to the smaller North American rinks and the NHL style of play by next season. He has pro experience, having already played four seasons in the Swedish Elite League.
Silfverberg should have plenty of chances to play with talented offensive players on his new team, and that should mean increased production.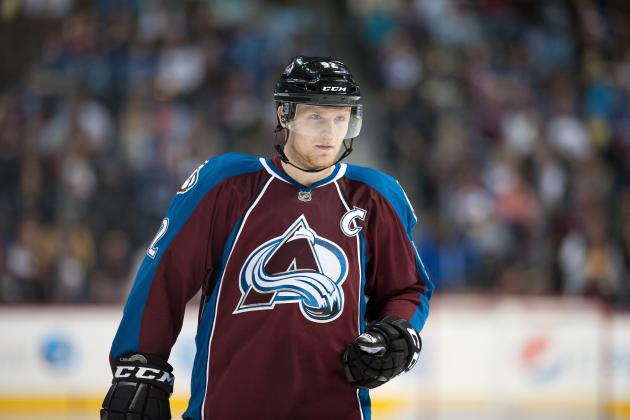 Dustin Bradford/Getty Images
The Avs hope the NHL's youngest captain makes a big leap in his third season.
Maybe it was the sophomore jinx or the weight of wearing the "C" on his sweater, but Gabriel Landeskog didn't meet expectations last season.
The 20-year-old Swede scored only nine goals and 17 points in 36 games after scoring 22 goals and 52 points as a rookie the previous season.
Now that he has adjusted to life as an NHL captain and has another year to mature physically, expect Landeskog to bounce back and be more productive this season.
It doesn't hurt that the Avalanche have plenty of other talented forwards on their roster like Matt Duchene, Ryan O'Reilly and P.A. Parenteau that should help Landeskog put up solid numbers.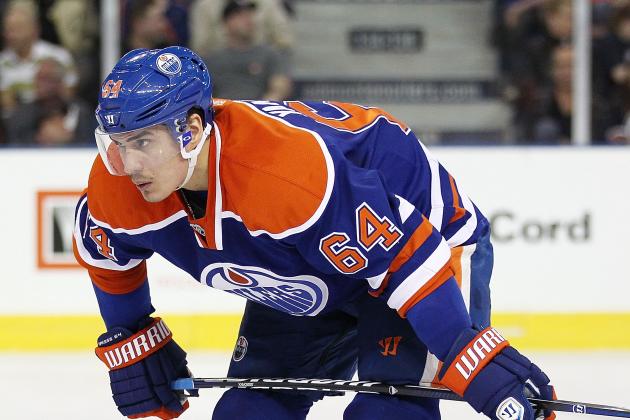 Perry Nelson/Getty Images
Nail Yakupov was last year's top overall draft pick.
Nail Yakupov was the first overall selection in the 2012 NHL draft. Last year, he was the preseason favorite for the Calder Trophy, although he did not end up winning the award.
He did have a solid season, finishing with 17 goals and 31 points in 48 games for the Edmonton Oilers, which put him on pace for 29 goals and 53 points over a full, 82-game campaign.
Yakupov won't turn 20 until early October. He will be surrounded by plenty of young, talented players in the Edmonton lineup like Taylor Hall, Jordan Eberle and Sam Gagner.
Add the fact that Yakupov has had one season to adjust to life in the NHL, and you have to figure he should improve on his rookie performance.