Day 2 is in the books at the 2013 Gold Cup, and it provided some enthralling football.
The first day of the tournament featured some of the bigger sides in the tournament, but the football was definitely lacking at times.
That wasn't the case on Monday, as fans were treated with two pretty fun matches. They had about everything you could have asked for.
Here are quick recaps of the two Group B matches.
El Salvador 2, Trinidad and Tobago 2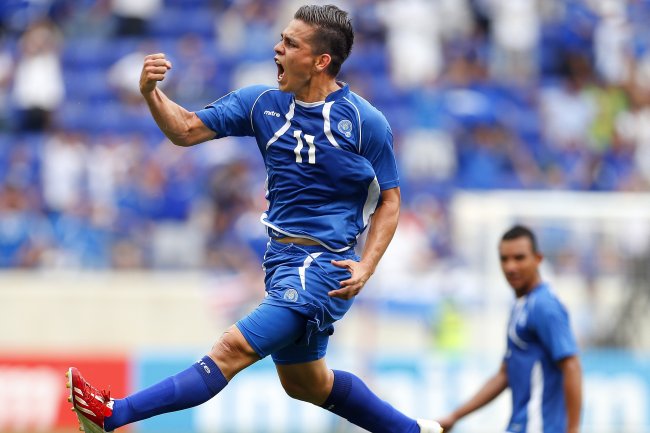 Rich Schultz/Getty Images
Day 2 certainly got started with a bang after El Salvador and Trinidad and Tobago began the proceedings with a fun 2-2 draw.
Trinidad and Tobago wasted little time in getting going. Eleven minutes in, Keon Daniel found himself some space about 25 yards from goal. Honduras was playing a pretty high line. Daniel was onside and simply ran straight at the goal and fired in a shot from about 10 yards out to put Trinidad and Tobago up, 1-0.
It was a nice touch from Daniel to control the pass and immediately make his run.
Fox Soccer posted a highlight of the goal:
GOAL Trinidad & Tobago! Keon Daniel gives his side an early lead over El Salvador: - http://t.co/vTYtD6KrJv

— FOX Soccer (@FOXSoccer) July 8, 2013
Just 10 minutes later, Rodolfo Zelaya equalized for El Salvador. He had a free kick from about 25 yards out. It was a threatening position, but you knew Zelaya would really have to hit it well to get in the back of the net. That's exactly what Zelaya did as he curled the free kick over the wall and got it to dip just below the crossbar.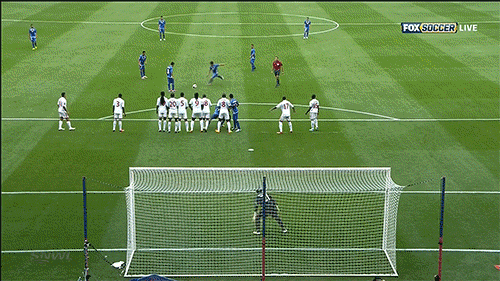 It's still early in the tournament, but the goal will likely be one of the best of the Gold Cup.
The first half ended with both teams tied at 1-1. Fox Soccer thought it was a great first 45:
HT: El Salvador 1, T&T 1. A fun match so far highlighted by Zelaya's free kick goal, definitely worthy of a #GOLDCUPGOALS nomination.

— FOX Soccer (@FOXSoccer) July 8, 2013
El Salvador went ahead in the 69th minute, and it was that man again.
El Salvador hit back with a great counter that resulted in Zelaya getting his head on the end of a cross from Darwin Ceren. Jan-Michael Williams looks to have gotten a piece of it, but he couldn't react fast enough, and it was 2-1 to El Salvador.
Fox Soccer posted a highlight of the goal to its Twitter feed:
GOAL El Salvador! It's Zelaya again, giving his side the lead over T&T. Watch it: - http://t.co/dLMycWTZLU

— FOX Soccer (@FOXSoccer) July 9, 2013
Just as El Salvador were settling into their lead, Kenwyne Jones hit back for Trinidad and Tobago. In the 73rd minute, Jones collected a long ball, chesting it down. He was able to shrug off the defender and keep the ball in front, leading to a well-struck finish with his left foot.
Jones is often ridiculed for his inability to score, but he did very well on the goal.
You can see the goal courtesy of Fox Soccer's Twitter feed:
GOAL T&T! Jones strikes right back against El Salvador. See the equalizer: - http://t.co/ioDOCSqify

— FOX Soccer (@FOXSoccer) July 9, 2013
It was Jones' first goal for the national team in quite a while, per Trinbagonian journalist Clydeen McDonald:
Kenwyne Jones last international goal was on the 15 November 2011 at Hasely Crawford Stadium against Guyana @tv6tnt

— Clydeen McDonald (@ClydeenMcDonald) July 9, 2013
The match ended 2-2, but not before Williams made an absolutely fantastic save on Zelaya to deny the player his hat-trick.
Perhaps it's because both countries are under less pressure back home, but this match featured two teams willing to take risks and play open, entertaining football. This match was a nice contrast to the slightly more direct and dull matches from Sunday.
Soccer by Ives' Ives Galarcep was pleased with what he saw:
FINAL- Trinidad & Tobago 2, El Salvador 2. A thrilling draw, boosted by a lively crowd. Group B will be a wild one. Honduras vs. Haiti next.

— Ives Galarcep (@SoccerByIves) July 9, 2013
When people say they can't stand soccer because of the draws, show them a match like this. Neither El Salvador nor Trinidad and Tobago could get a major advantage for a long stretch of time. A draw was the fairest result.
Honduras 2, Haiti 0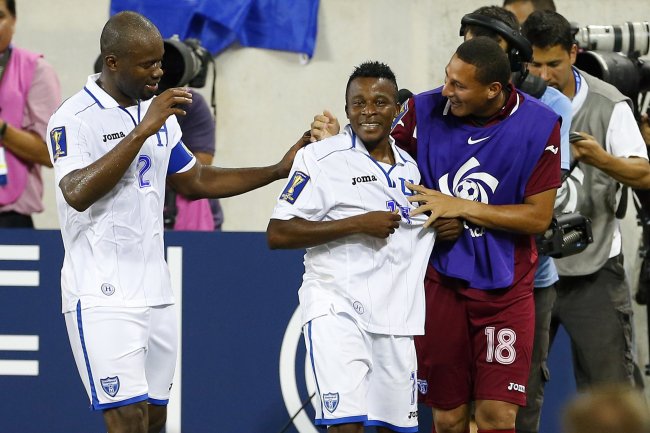 Rich Schultz/Getty Images
It was going to be hard for Honduras/Haiti to top the previous match, but it came pretty close. Honduras got the 2-0 win, but it could have been a much different result had Haiti been much better with their finishing. They wasted a lot of good chances in the final third.
Honduras didn't allow their opponents any time to settle as they scored with their first shot of the game. Rony Martinez put his side up, 1-0, after his right-footed shot was fired in from close range.
You can see a replay of the goal below, per Fox Soccer:
GOAL Honduras! Martinez gives his side an early lead over Haiti. See his strike: - http://t.co/tkSh2D3tyY

— FOX Soccer (@FOXSoccer) July 9, 2013
It was the kind of quickfire goal that made you think that Haiti would concede about four or five goals. The reality was quite the opposite, though.
Haiti turned out to be the aggressors in the match. They were the team pouring men forward and creating chances in the final third. The problem was nobody could get on the end of any moves. Each and every chance for Haiti was going begging.
The North American Soccer Network's Trevor Hayward was complimentary of Haiti's overall play but critical of their finishing:
No surprise, Haiti have been an awful lot of fun to watch but way too sloppy despite dominating

— Trevor Hayward (@HeyHayward) July 9, 2013
The second half was much the same story. Honduras were the team sitting back, while Haiti were on the front foot. Still, the Haitians couldn't find a way to unlock the defense and find a goal.
For a while, the best action of the second half was when a squirrel ran onto the pitch. That says a lot about how the match was unfolding.
Galarcep thought it was one of the better players for Haiti:
1-0 Honduras in the 74th minute and now there's a squirrel on the field. He is already Haiti's best finisher. Need to get him the ball tho

— Ives Galarcep (@SoccerByIves) July 9, 2013
In the 78th minute, Marvin Chavez put the match out of reach when he slotted a low finish into the bottom left corner.
Fox Soccer tweeted out a replay of the goal:
GOAL Honduras! Chavez puts his side up 2-0 over Haiti in the 78th minute. Watch: - http://t.co/SWV2TIOlAf

— FOX Soccer (@FOXSoccer) July 9, 2013
Credit Luis Fernando Suarez as well, since he brought on Chavez in the 53rd minute. Chavez was definitely an impact substitute.
That was the last real action of the match as Honduras took home a 2-0 win. According to Fox Soccer, Haiti had 11 shots off target and five on goal, yet they couldn't score. It was a match that Haiti will definitely feel got away from them.
Galarcep thinks Haiti will be a major stumbling block for the rest of Group B:
They might lose tonight, but Haiti's play has sent a message that they're going to make things tough in Gold Cup Group B. #NeedToFinishTho

— Ives Galarcep (@SoccerByIves) July 9, 2013
With the win, Honduras definitely looks like the team to beat in the group.