With less than a week until the highly anticipated Money in the Bank, the newest Raw was chock-full of important, entertaining action.
First, there was a slew of terrific matches that helped build momentum for next Sunday's pay-per-view. The headliners included Daniel Bryan vs. Sheamus, Chris Jericho against Curtis Axel and CM Punk vs. Randy Orton in the night's main event.
And those matches—which were all technically clinical, invigorating battles—were only a handful of the notable events from Monday night.
Vickie Guerrero was replaced by Brad Maddox as Raw general manager, Mark Henry and John Cena had an important altercation and several exciting videos perfectly hyped Rob Van Dam's potential in ladder matches.
Oh yeah, and then there was the moment everyone was looking forward to: the debut of The Wyatt Fami—obey, obey, obey, obey, obey.
Bookend, strong bouts tonight #Raw. Great work by @WWEDanielBryan @WWESheamus @RandyOrton @CMPunk. Loved #WyattFamily entrance. @WWE

— Jim Ross (@JRsBBQ) July 9, 2013
Anyway, let's take a look at what went down from 1st Mariner Arena in Baltimore, a venue CM Punk himself couldn't hide his love for:
I confess, I love this building.

— CM Punk (@CMPunk) July 8, 2013
Quick Results
Daniel Bryan defeats Sheamus.
Fair win. Shudda known better than to put a tasty #Cloverleaf under the nose of a hungry goat. #RAW

— Sheamus (@WWESheamus) July 9, 2013
Seth Rollins and Roman Reigns defeat Brodus Clay and Tensai.
Mark Henry and John Cena argue inside the ring. Henry attacks Cena.
Chris Jericho defeats Curtis Axel, who was distracted by The Miz.
Alberto Del Rio vs. Sin Cara ends in a no-contest when Dolph Ziggler distracts Del Rio.
Vickie Guerrero is fired after losing the vote from the WWE Universe. Brad Maddox is named new WWE Raw GM.
Kane defeats Christian. Afterward, Wyatt Family attacks Kane.
A.J. Lee and Alicia Fox defeat Kaitlyn and Layla via DQ.
CM Punk defeats Randy Orton. Afterward, Daniel Bryan attacks Punk and Orton, then climbs the ladder to the briefcase.
Wyatt Family Debut
Despite so much going on during this week's Raw, this will undoubtedly be the moment everyone will be talking about.
WWE handled the debut perfectly.
Throughout the first two hours of the show, there were a series of creepy videos that only got everyone more and more excited—and giddy for the family's arrival.
Bray Wyatt and his family are barely humans. Can't wait to see them show up.

— Renee Young (@ReneeYoungWWE) July 9, 2013
We came to #RAW to chew bubble gum and see the #WyattFamily. RT if you're all out of bubble gum.

— WWE NXT (@WWENXT) July 9, 2013
After Kane's victory over Jericho, it finally happened. The Wyatt Family appeared via a dark entrance that won't soon be forgotten:
I was looking forward to #WyattFamily but when they came down the ramp at #RAW in #WWEBaltimore, I got chills!

— John Cone (@WWErefJohnCone) July 9, 2013
As Bray Wyatt sat in his rocking chair, Erick Rowan and Luke Harper brutally attacked Kane, smashing his head in between the steel steps.
The only thing that ruined the perfectly chilling moment was the totally unnecessary "Husky Harris" chants from the crowd.
Nevertheless, the WWE is in good shape with The Wyatt Family, which has speculation and anticipation running high.
Will Bray Wyatt replace Kane in the Money in the Bank ladder match? Jericho certainly had some high praise for the newcomer:
I Said it before and I'll say it again…@WWEBrayWyatt is going to a MAJOR player in the @wwe #heshere #lambmask

— Chris Jericho (@IAmJericho) July 9, 2013
That's pretty impressive.
Momentum surrounding the unique threesome is very high right now, and it will be incredibly compelling to see where the company takes them from here.
Wyatt Family debut as impressive as advertised! I'm stoked for their future. #raw #wwe

— Chase Woods (@ChaseBrutal) July 9, 2013
Either way, the WWE is heading into Money in the Bank on a high note.
Brad Maddox Replaces Vickie Guerrero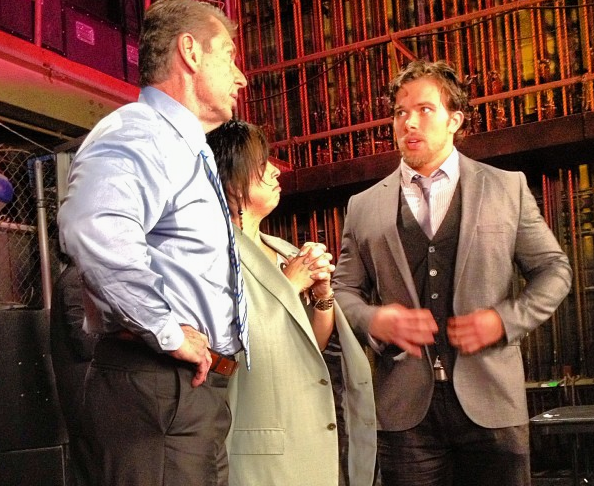 There are a few different ways to feel about this development.
On the one hand, the move from Vickie to Maddox doesn't exactly change the dynamic of the WWE much. And considering the company spent the past month using some fairly bland McMahon family skits to build to this moment, it feels a little underwhelming.
Brad Maddox?!?! I have at least 3 spare hours a week @WWE....give the rookie a shot! #raw

— Michelle Beadle (@MichelleDBeadle) July 9, 2013
On the other, Maddox has potential.
What was your favorite moment of the night?
He has comedic talent and is a good performer capable of attracting interest.
Many fans seem fairly lukewarm on this entire segment, but if it leads toward some twists and turns as we approach Money in the Bank, it will be worth it.
And it appeared as though that's exactly what we're going to get, as Ryback shockingly hugged and consoled Guerrero backstage.
Color me intrigued.