All-Star weekend is taking shape, as the MLB has announced the participants of the 2013 Home Run Derby. With high-profile players from both leagues entering the competition, there will be no shortage of fireworks at Citi Field.
With an evaluation of the two sides, however, it's clear that the American League holds a significant advantage over the NL.
Some of the top home-run hitters in the MLB are on board for this event, as they look to establish themselves as the league's No. 1 home-run hitter. While crushing pitches during the regular season is of higher importance, bragging rights are worth something too.
Here's how the teams look before the MLB announces the fourth and final American League hitter.
AL #HRDerby lineup: Robinson Cano 20 HR (Captain) Prince Fielder 15 HR Chris Davis 33 HR pic.twitter.com/7vmhLqGHZz

— Baseball Tonight (@BBTN) July 8, 2013
NL #HRDerby lineup: David Wright 13 HR (Captain) Carlos Gonzalez 24 HR Michael Cuddyer 15 HR Bryce Harper 13 HR pic.twitter.com/fqvH8b3aOz

— Baseball Tonight (@BBTN) July 8, 2013
Two powerful teams, to say the least.
While both sides offer reason for excitement, the American League is the on-paper favorite. Not only are there home run hitting superstars, but the AL owns quite a few critical advantages.
Specifically, their regular-season production.
Does 3 Defeat 4?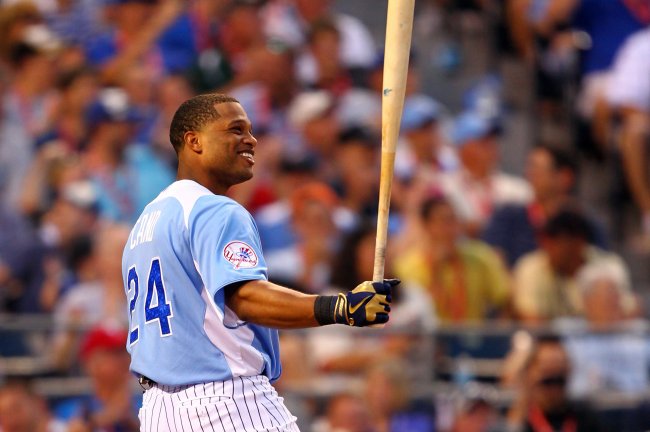 Dilip Vishwanat/Getty Images
Thus far, the American League's three participants have combined for 68 total home runs. By comparison, the National League's four competitors have accounted for a collective 65 home runs.
It appears as if three is better than four in this instance.
The American League has an early edge with Chris Davis, who leads the MLB with 33 home runs. Throw in captain Robinson Cano, a veteran of the event, and two-time winner Prince Fielder and you have yourself a significant advantage.
Not even hometown hero David Wright, young phenom Bryce Harper, five-tool player Carlos Gonzalez and the rejuvenated Michael Cuddyer can match up to that—especially the Fielder factor.
Two-Time Champion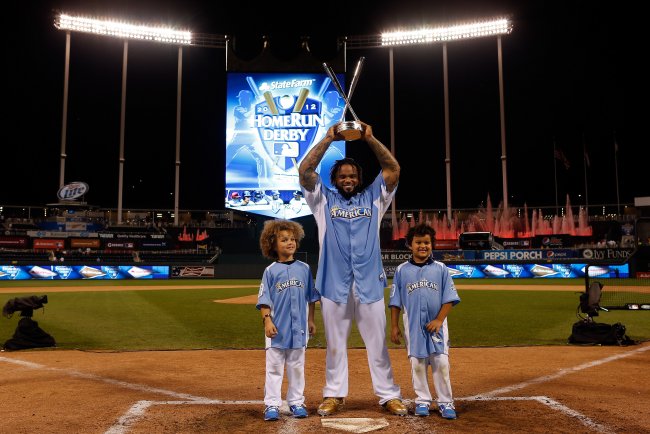 Jamie Squire/Getty Images
The MLB Home Run Derby was inaugurated in 1985, and since then, only two players have won the event multiple times. One of those sluggers is future Hall of Famer Ken Griffey Jr., who took the the gold in a record three years.
The only other player to achieve the feat is American League participant and defending champion Prince Fielder.
Fielder won the Home Run Derby title both in 2009 and 2012, ranking fifth all-time with 28 total long balls in the latter event. Of the players to hit more than Fielder in one event, one just so happens to be his teammate in this event.
American League captain Robinson Cano.
That combination of big bats gives the American League a significant edge over a relatively inexperienced National League crew. It certainly doesn't hurt that the third AL bat belongs to the league's leader in home runs.
Is this all making sense yet?
The Davis Factor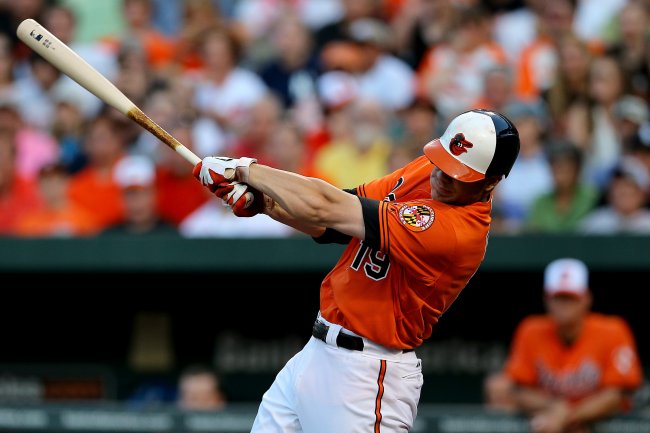 Patrick Smith/Getty Images
The American League has two prolific bats in Prince Fielder and Robinson Cano, but it's their inexperienced teammate that clinches their on-paper win. While we could make this case in hyperbolic form, this player truly does have the most powerful bat in baseball.
Baltimore Orioles first baseman Chris Davis currently leads the MLB in home runs—and there isn't a close second.
Davis currently has 33 home runs hit, with 17 coming on the road. He's hit more than nine home runs in each of his first three months of action and is five home runs ahead of the next leading player, Miguel Cabrera, in that category.
With the pressure alleviated and the swings flying freely, who's to say Davis will slow down come the Home Run Derby?
When Davis is the question mark of your home-run hitting team, you know that you've got a stellar cast. For that reason, the American League has formed one of the most powerful Home Run Derby squads in recent memory.
One that the NL simply cannot compete with on paper.