In just a little over a month, the Los Angeles Dodgers' Yasiel Puig went from being a promising young prospect to the most polarizing man in all of baseball.
His .409 batting average, eight home runs and 19 RBI in just his first month in the big leagues offers a little insight as to why. The man is really, really good.
The question as to whether or not he has earned a spot on the National League All-Star team is one that has brought on endless debate. Do the merits of one spectacular month overshadow the contributions made by players over the course of the entire season?
The argument for his inclusion is a compelling one. Having taken the league by storm the moment he stepped foot in the batters box June 3, he has become far and away the most exciting player in baseball, casting doubt on the previously accepted notion that this is Bryce Harper's and Mike Trout's league for the future.
With baseball, admittedly, having lost a bit of its aura—ratings trending downward for years—the reasoning behind including the instant sensation that is Puig does make sense. He has become must watch television.
Furthermore, with baseball insisting that the All-Star game now counts, it would be prudent to ensure that the best possible team is fielded. The way Puig is currently hitting, his inclusion makes more and more sense.
On the other hand, however, the inclusion of Puig would mean the omission of someone who has been doing it since day one. Jonathan Papelbon, closer of the Philadelphia Phillies, shared strong opinions as to the merits of Puig making the team, via Matt Snyder of CBSSports.com:
To me, it's an absolute joke. It's really kind of stupid if you ask me," Papelbon said on MLB Network Radio, as he had trouble even saying Puig's name correctly. "The guy's got a month, I don't even think he's got a month in the big leagues, and just comparing him to this and that, and saying he's going to make the All-Star team, that's a joke to me. It's just really what happens in baseball when … to me it really does an injustice to the veteran players that have been in the game for eight, nine, 10 plus years, and it kind of does them an injustice because they've worked so hard to stay there.
As the great Yosemite Sam would say, "them be fightin' words!"
Baseball, more than any other sport, is one built upon tradition. For players like Papelbon, the inclusion of Puig would be an injustice to not just the players snubbed, but to the game itself.
While it is certainly an understandable stance, is it the correct one? Baseball's insistence on keeping with tradition has its merits to be sure, but it has also stagnated the progression of the sport.
Look no further than its refusal to expand instant replay. It seems that everyday there is a story of an umpire missing a crucial call. And for what? Because that's the way the game used to be played so that's how it should be played now? It's silly, plain and simple.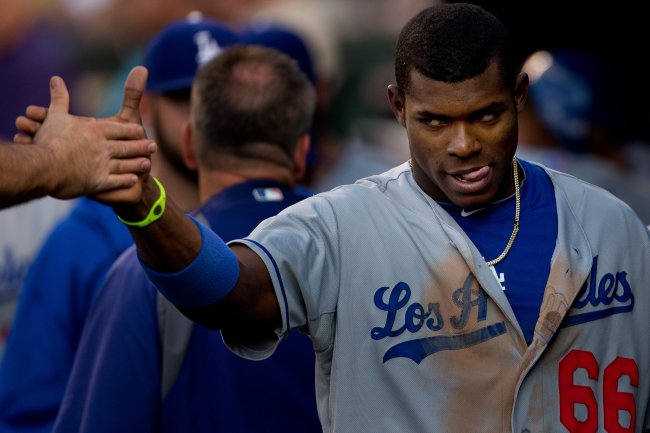 Justin Edmonds/Getty Images
No, tradition should not be the reason to keep the supremely talented Puig off of the All-Star team. A far more compelling argument would be to stun the growth of his increasingly arrogant style of play.
At 22 years old, Puig is one of the great young talents the game has to offer, on par, if not further along, in his development as the Harper-Trout duo that took the sport by storm last season.
With Harper, we saw signs of immaturity early in his career, the brash, cocky nature of his game rising along with his talent. It seems in his second season, however, that Harper has indeed toned it down.
With Puig, it seems like we're seeing it all over again. Players with one month of professional experience should not be goading runners, as he did to the San Francisco Giants' Pablo Sandoval, daring him to run on his lauded right arm.
They also shouldn't be getting into verbal exchanges with established closers such as Sergio Romo. Let's be clear, Romo strung him along with his antics, but there is still something to be said about knowing your place in the game.
As a rookie, it left a sour taste in the mouth of many fans to see him give in to the taunts and escalate the situation even more. He will learn the nature of baseball soon, as his actions will not soon be forgotten by the Giants' clubhouse.
Should Yasiel Puig be voted into the All-Star game?
Maturity will come in time, however, and the All-Star game is but a week away. The question isn't whether or not he is mature enough to play in the game, but rather if he is good enough. And that is a question that he has answered through his play in his first month.
Everything else aside, Yasiel Puig gives the National League the best chance to win the game. If his first month was any indication, he is already one of the premier players in the game.
With the game now counting, fans of any National League team would do well to vote him in through the final fan vote. After all, it could be his bat that ultimately wins their team home-field advantage in the World Series this season.
All statistics are courtesy of ESPN.com and are accurate through the start of play on Monday, July 8