NBA free agency has swallowed up most of the top players on the market, even if things aren't official until after July 10.
Dwight Howard, Andre Iguodala and Josh Smith are just a few of the top names who have pledged their allegiances to teams so far through the first few days of the free-agent process, but not all players have been as swift with their decisions.
Which free agent made the worst choice so far?
D12's decision clouded the future of many players; we saw a direct shift in movement and activity once the former L.A. center announced his intention to move from the Lakers to the Houston Rockets when he can officially sign a new contract.
That being said, several of the league's top players are still available, and there are just as many franchises that have missed out on "big fish" as there are those that have landed them.
As we dissect the remaining free-agent market, here's a look at the best landing spots for three of the best still available.
Andrew Bynum: Dallas Mavericks
The Philadelphia 76ers are the biggest loser from the Dwight Howard-to-L.A. trade—bar none. The 'Sixers gave up Iguodala and Nikola Vucevic in the deal, and Bynum didn't play a minute in Philly last year.
Philadelphia traded for Nerlens Noel at the 2013 NBA draft, signaling the end of Bynum's time in town before it ever really started.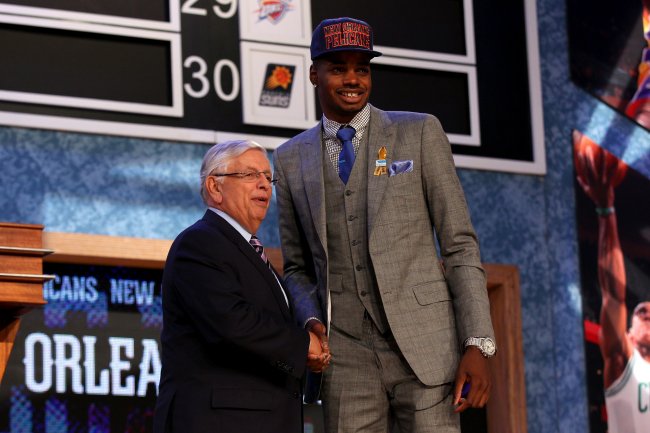 Mike Stobe/Getty Images
That hasn't stopped interest in Bynum and his shaky knees from being high in a post-Howard free-agency market.
The Cleveland Cavaliers, Atlanta Hawks and Dallas Mavericks are all listed as potential suitors for the 25-year-old center, and according to ESPN's Marc Stein, the Cavs have emerged as a "legitimate contender" for his services next season.
Bynum was reportedly in Cleveland on Monday, but according to Stein, the maximum contract that the Cavs will offer him is an inflated one-year salary:
Cavs don't want to do anything to cut into 2014 cap space. So one-year deal is as far as they'll go. Mavs remain Bynum's other prime suitor

— Marc Stein (@ESPNSteinLine) July 8, 2013
Stein also had this nugget about Bynum's other meetings still to come:
Another Andrew Bynum update: ESPN has learned that Bynum has also scheduled face-to-face recruiting meetings in Atlanta & Dallas this week

— Marc Stein (@ESPNSteinLine) July 8, 2013
While Cleveland now has a young core of Kyrie Irving, Dion Waiters and Tristan Thompson and picked up two contributors in Anthony Bennett and Sergey Karasev in the first round of the 2013 draft, a healthy Bynum joining the squad would potentially make Cleveland a playoff team in the Eastern Conference.
That being said, the best spot for his long-term future would appear to be in Dallas.
The Mavericks have been in the market for a star since they blew up the 2011 NBA Finals championship roster, and when healthy, Bynum can be that guy.
According to Stein and ESPNDallas.com's Tim MacMahon, the Mavs have begun an "exhaustive" process to evaluate the extent of Bynum's injuries, something that has to appeal to the big man after missing all of last year.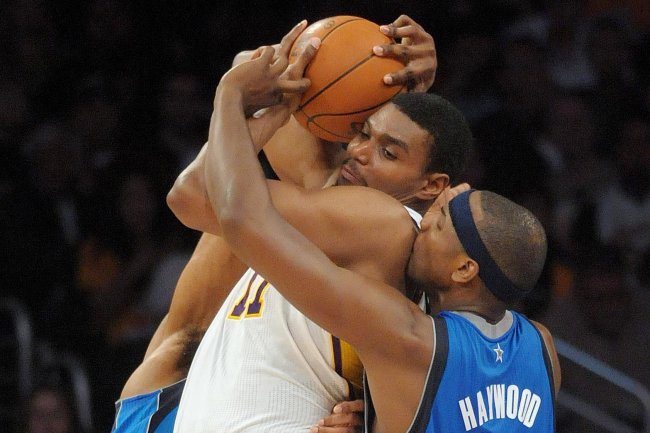 Kirby Lee-USA TODAY Sports
Per that report, Dallas would also be willing to offer Bynum a four-year deal, giving him some financial security in the event that his faulty knees acted up again during the life of the contract.
Bynum has a better chance to avoid immediate expectations in Dallas than any of his remaining potential destinations and would not have to compete with anyone for a starting job in Dallas, as he would in Cleveland (Anderson Varejao) or Atlanta (Al Horford, Paul Millsap rotation).
Each city offers something different, but Dallas appears to be the best spot for Bynum to jump-start his career and make more money doing it—he'll just have to prove his worth on the court to do so.
Monta Ellis: Sacramento Kings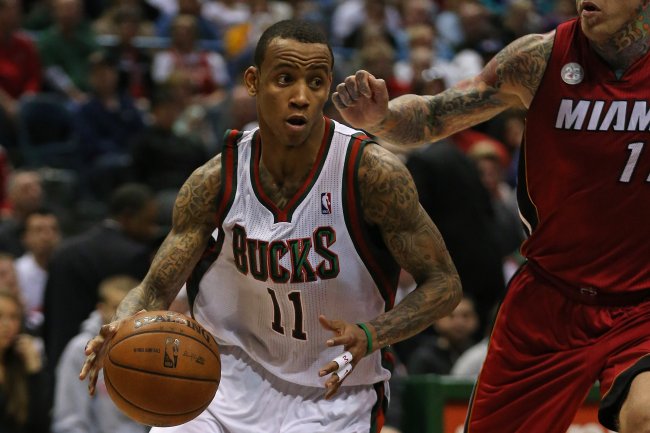 Jonathan Daniel/Getty Images
The Sacramento Kings and Monta Ellis have felt like a perfect fit since Mike Malone was announced as the team's new head coach.
Ellis was once a star in California with the Golden State Warriors, and he might have a chance to return there (albeit to a different franchise) to continue his West Coast legacy.
According to Yahoo! Sports' Marc J. Spears, things are heating up between the two sides:
Kings' contract talks with Bucks free agent guard Monta Ellis have been described as "aggressive," a source told Y! Sports.

— Marc J. Spears (@SpearsNBAYahoo) July 8, 2013
Ellis has also been a target of the Hawks, but Atlanta has already re-signed Kyle Korver and has 2012 first-round pick John Jenkins developing on the roster. Although Ellis would be an upgrade, he's one that might not fit the vision of general manager Danny Ferry.
As Stein noted on Sunday, the Hawks might have their eye on another Milwaukee Bucks guard who is in limbo this offseason:
What happens next for Monta Ellis and Brandon Jennings? It's detailed here in this @TrueHoop buzz link: http://t.co/hgroHIhvuN

— Marc Stein (@ESPNSteinLine) July 8, 2013
Ellis fits Sacramento's vision perfectly.
A former GS employee who worked with Ellis, Malone will have familiarity with how to get the most out of Ellis' game.
With Ben McLemore tabbed to take over the shooting-guard spot after being the team's first-round draft pick, Ellis can finally become what he's needed to be for the last four years—a full-time sixth man.
I truly believe he'll thrive in that role, and Sacramento's second unit would thrive under his leadership as a spark plug and late-game scorer.
There aren't many options left for Ellis, but Sacramento is a great one if the Kings can clear some cap space and convince Ellis he's a shoe-in for the NBA Sixth Man of the Year Award with a strong season.
Andrei Kirilenko: Utah Jazz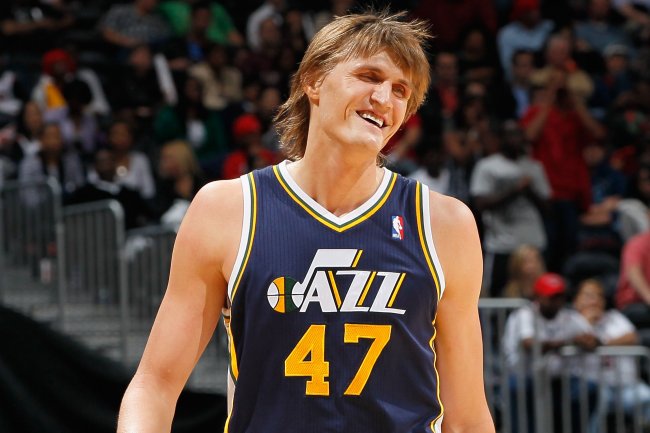 Kevin C. Cox/Getty Images
There hasn't been much movement on the Andrei Kirilenko front. As this tweet from Hoopshype would suggest, there might not be for quite some time:
Kirilenko tells Russian reporter he will make a decision on his future between July 10 and September 29. http://t.co/cmanZcIn8Q Owned.

— HoopsHype (@hoopshype) July 1, 2013
Kirilenko opted out of the final year of his deal in Minnesota, looking for a long-term contract at the age of 32. The San Antonio Spurs were thought to be a team that could give it to him, but as Jeff McDonald of the San Antonio Express-News reported on Sunday, the team used up most of its financial flexibility with Manu Ginobili, Marco Belinelli and Jeff Pendergraph.
Looking around the league, there don't appear to be many options left for a guy who had a strong start to the year during his first NBA season away from the Utah Jazz.
Could a reunion with Utah be in the cards? Bill Oram of The Salt Lake Tribune squashed the idea in June, but it could make a lot of sense for both sides:
Yes, Andrei Kirilenko is a FA again, but don't expect a return to the Jazz. Can't imagine Utah committing the dollars/years.

— Bill Oram (@tribjazz) June 30, 2013
If Kirilenko relinquished his lofty demands for a three- or four-year deal and took a two-year one with a mutual option for No. 3, he could once again play a valuable role for the Jazz.
A tenacious rebounder, defender and passer when motivated, Kirilenko could both mentor the young players on the roster and likely start right away, with Marvin Williams anything but a sure thing as the starting small forward.
It isn't an ideal situation for the Russian forward, but Minnesota has already re-signed Chase Budinger and might be using Derrick Williams in the small-forward spot next year more often, per Darren Wolfson of ESPN 1500 in Minnesota:
Heard: Derrick Williams continues to work on losing weight to play some 3. Thought he'd be gone. Now think he's here Opening Night. #twolves

— Darren Wolfson (@DarrenWolfson) July 6, 2013
Other options for Kirilenko include the Cavaliers, the Boston Celtics and maybe even the Hawks if they whiff on the remaining free agents, but a return to Utah could serve both sides well in terms of familiarity and impact right away.
Utah clearly won't shell out $30 million for his services, but at this point, I'm not sure any team would. If Kirilenko met the Jazz (or any team, for that matter) in the middle of what his salary was last year, he might just be playing a big role for a contender when the year begins.
Or he could be playing a familiar one with the Jazz, who have the cap space and knowledge of Kirilenko's game to know what he brings to the table.
Follow Bleacher Report FC Ethan Grant (@DowntownEG) on Twitter.