What Every Fan Needs to Know About the 2013 Minnesota Vikings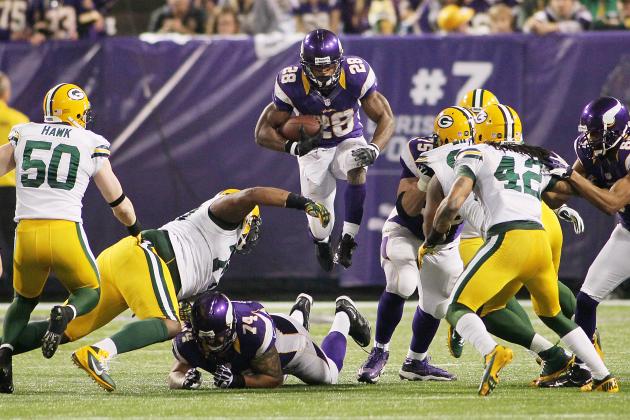 Andy King/Getty Images

The Minnesota Vikings' surprising 2012 season brings with it something that its third-year head coach and third-year quarterback might not be ready for: raised expectations.
Following the dismal 3-13 season of 2011, most Vikings fans were hopeful for a 2012 season that brought the team back up to around .500. A season of bottoming out looked like it might take two to three years to right the ship and get back to being a contender.
Now just a season removed from the disastrous 3-13 campaign, everything has changed. Leslie Frazier has gone from being a coach with his proverbial head on the chopping block, to the steady hand that will lead the Vikings for years to come.
It's funny what a 10-6 season and a playoff appearance can do.
Frazier and general manager Rick Spielman have done a masterful job of making the Vikings relevant again in just one season. But with last year's success comes bigger expectations moving forward. Minnesota will be expected to once again contend for the NFC North title and to make a run in the playoffs for the 2013 season to be considered a success.
As the summer days melt away towards the beginning of training camp, here are the things every Vikings fan needs to know heading into the 2013 season.
Begin Slideshow

»
Bruce Kluckhohn-USA TODAY Sports

Vikings running back Adrian Peterson had a season for the ages in 2012. His 2,097 yards rushing were the second most of all-time and helped Peterson win the NFL MVP award.
How much better was Peterson than every other back in the league? The Buffalo Bills' C.J. Spiller was second in the league with rushes over 20 yards with 12. Two other backs had over 10. Peterson had 27.
Peterson ended the year on a historic 10-game stretch that saw him rush for 1,598 yards and 10 touchdowns, averaging nearly seven yards a carry.
It was an astonishing performance and Peterson deserved every bit of recognition he received. But it all begs the question: How far can a great running back carry you in today's pass-happy NFL?
In the end, with all of Peterson's heroics and exploits, the Vikings had to win their last four games to even make the playoffs. Five of the top-10 rushers in the NFL were on teams that missed the playoffs.
As great as Peterson is, and he's probably got more separation from the second best at his position than anyone in the league, last season proved that he can't do it alone.
How far can a running back take you? Obviously that's an unanswerable question, as the answer contains too many variables on what kind of talent is around any given running back. The Vikings can only hope that Peterson can remain healthy in 2013, and if he does, he'll give them another season of gaudy numbers and breathtaking highlights.
The greater hope is that the Vikings can trot out an offense that is far more balanced in 2013. The continued maturation of quarterback Christian Ponder and the vast improvement of depth and talent in the receiving corps should lighten the load on Peterson in 2013.
Defenses didn't respect the Vikings passing attack in 2012, and they had no reason to. They still couldn't stop Peterson. With an improved passing attack, defenses will have to back up a little bit, which could make Peterson even more dangerous.
The Vikings simply can't ask for anything more out of Peterson than what he gave them in 2012. If they want to improve offensively, the onus is on the passing game. A balanced offense can take you a lot farther than a one dimensional unit.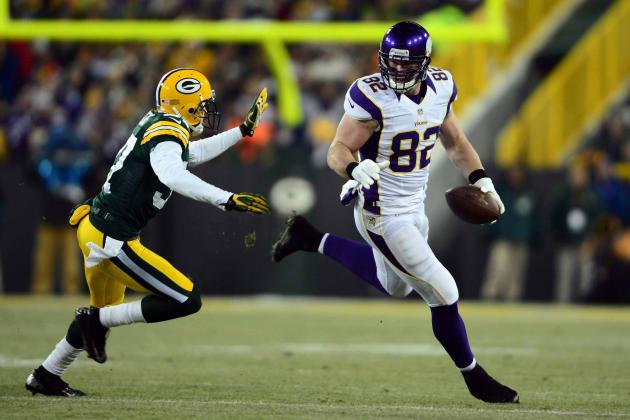 USA TODAY Sports

The Vikings face the New York Giants on Monday Night Football on October 21, in the Meadowlands.
That game, under the national spotlight, will begin a completely brutal 10-game stretch for Minnesota in which they'll have to play road games in New York, Dallas, Seattle, Green Bay, Baltimore and Cincinnati, while playing at home against Green Bay, Washington, Chicago and Philadelphia.
The Vikings are facing a schedule that ranks as the 10th toughest in the NFL, and that stretch of games is mostly why.
All of which underscores how vital it will be for the Vikings to come flying out of the gate if they want to be serious contenders in 2013.
The Vikings open with road games at Detroit and Chicago. Minnesota has simply dominated the Lions of late, and will need to continue to do so. Soldier Field has been a house of horrors for the Vikings over the last decade, the purple going just 1-9 in the Windy City.
Why will that change in 2013? For starters, it's the first September game the Vikings will play in Chicago since 2001. September weather should neutralize the Bears' home-field advantage. For whatever reason, the recent versions of the Vikings have been much better in climate controlled games and games in nice weather, as opposed to the Vikings of yore, who dominated in brutal conditions.
Minnesota should have a gimme in the home opener against the Cleveland Browns, and then a pivotal game could come in week four, when the Vikings travel to London to take on the Pittsburgh Steelers. It's a home game for the Vikings and a win would go a long way towards making a playoff run in 2013.
After the bye week, the Vikings have another must-win game at home against the Carolina Panthers.
All in all, it's a pretty soft start for the Vikings, and it's not absurd at all to hope for a 5-0 start. Things get very difficult after that, so a hot start will be crucial to the Vikings' success in the coming season.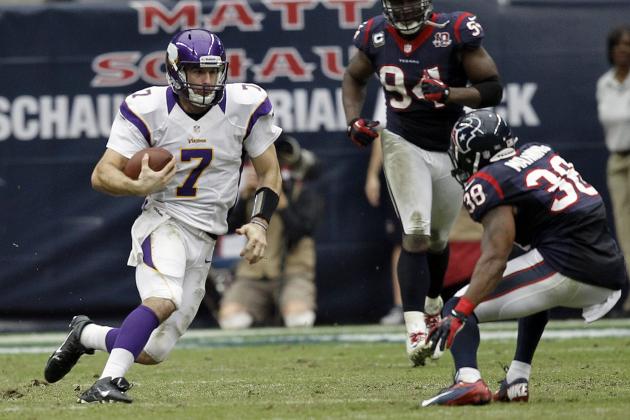 Bob Levey/Getty Images

Don't look now, but it's season three as the starting quarterback of the Minnesota Vikings for Christian Ponder.
Drafted with the 12th overall selection in 2011, Ponder has started 26 games for the Vikings, and while his play has been spotty at best, he's shown enough good things that Vikings coaches are hopeful that he will be the main guy for years to come.
There seem to be three different camps among Vikings fans when it comes to assessing Ponder. There are the faithful diehards who point to Ponder's moderately successful first and last four games of 2012 and tend to ignore the middle eight.
There's a smaller group who have seen enough and are convinced that Ponder will never be a quality starting quarterback in the NFL and that the Vikings will be looking elsewhere sooner rather than later.
Then there's the third and most populous group, those who haven't quite made up their minds yet. The reasons to be unsure on Ponder are many; he's looked good in some small stretches, middling and uninspiring for the most part, and completely awful at times. The simple truth is that his sample size probably isn't quite big enough yet to make any final decisions.
That will no longer be the case following the 2013 season.
Ponder will now have two full offseasons under his belt. The Vikings have bolstered their talent at the receiving positions. The offensive line remains intact from 2012. It's often said that by year three, the game should slow down for quarterbacks and that they can become more proactive than reactive.
Having said all of that, Christian Ponder's improvement is the single most important ingredient to the success of the Vikings' 2013 season.
Some numbers simply have to improve. The Vikings were eighth in the NFL in rushing attempts in 2012 and 28th in passing attempts. That has to become more balanced for the Vikings to get the most out of their offense.
According to ESPN's Ron Jaworski's NFL quarterback analysis, Ponder completed just 28 passes over 20 yards last year, by far the fewest of any 16-game starter. He had just six completions where the ball traveled over 20 yards in the air. His average pass attempt was just 6.43 yards, the lowest in the league.
In Ponder's defense it was certainly a run-first offense with terrible receivers and a passing scheme that was timid at best.
With Adrian Peterson on the field, the Vikings will remain a run-first team, but in order to be a better football team in 2013, the passing offense has to improve greatly.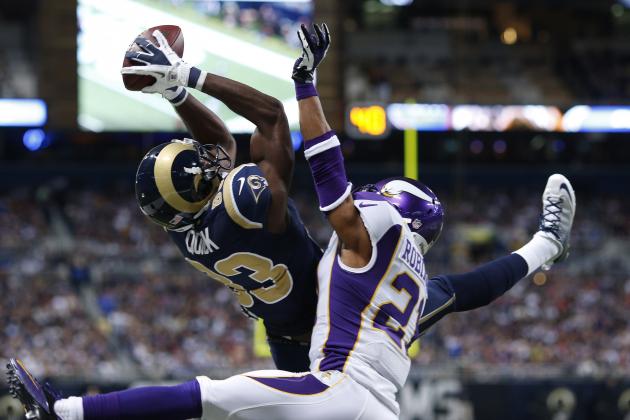 Joe Robbins/Getty Images

The Chicago Bears' defense had 24 interceptions and 20 fumble recoveries in 2012. The Minnesota Vikings had just 10 picks and 12 recovered fumbles. The Bears defense doubled up the Vikings in takeaways, giving their offense 22 more possessions than the Vikings defense gave theirs.
Those numbers have to change in order for the Vikings to take strides forward in 2013. Of the Vikings' 10 interceptions last year, just five belonged to returning members of the Vikings' secondary: three to Harrison Smith and two to Josh Robinson.
Chris Cook was the Vikings first selection in the 2010 draft and he's still looking for his first career interception. Jamarca Sanford has played in 57 NFL games and has just two picks. Mistral Raymond has one interception in 20 career games.
It isn't just the secondary at fault here, the entire Vikings defense has to generate more turnovers for the team to improve on last season's success.
Help is certainly on the way as both Smith and Robinson were rookies in 2012 and the Vikings selected highly touted cornerback Xavier Rhodes with the 25th overall choice in this year's draft. It's the fist time the Vikings have used a first round pick on a corner since 1994.
For Cook it seems just a matter of time; he's a good cover corner whose career has been snake bit so far. Both Robinson and Rhodes will provide speed and athleticism and Smith is a budding star at safety.
The linebacking corps will be more athletic with the additions of Desmond Bishop and rookie Gerald Hodges.
Up front the Vikings have three excellent defensive ends who are playing for new contracts. Jared Allen, Brian Robison and Everson Griffen are all athletic marvels who should generate more than their fair share of turnovers in 2013.
Football can be a funny game when it comes to turnovers; momentum certainly seems to be with you or against you in generating them. For the Vikings to make a playoff run in 2013, they'll need a lot more takeaways than in the recent past.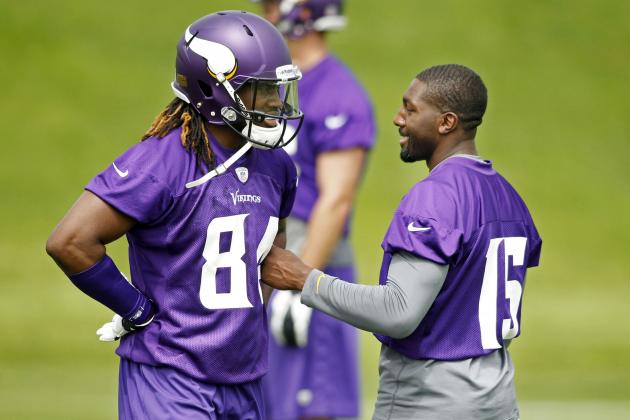 Bruce Kluckhohn-USA TODAY Sports

Take one of the worst groups of wide receivers in the NFL and then trade away the only legitimate player in that group, and what do you have?
For the 2013 Minnesota Vikings, oddly, you have a much improved group that may no longer be the anchor that weighs down the offense.
Yes, the Vikings traded away the mercurial Percy Harvin, but they've added a pair of players that should more than make up for the loss of Harvin. First, the Vikings signed free-agent Greg Jennings away from the Packers and he'll instantly become the Vikings' No. 1 receiver. Jennings has caught over 60 balls in four of the last five seasons and has 53 touchdown catches in his seven seasons.
The Vikings then traded back into the first round to take the electric Cordarrelle Patterson, who the Vikings hope can make fans forget about Percy Harvin sooner rather than later. Patterson is a 6'2", 220-pound athletic freak who will evoke comparisons to both Harvin and, gulp..... Randy Moss.
Jerome Simpson caught the injury bug in a forgettable 2012 season, but is healthy heading towards 2013 where he hopes to cash in on all the potential he flashed in Cincinnati in 2011. Jarius Wright looked more than capable when he finally got on the field for the last seven games of his rookie season.
The fifth spot in the Vikings' receiving group will be up for grabs in what should be a hotly contested battle in training camp. Stephen Burton and Chris Summers are both 23-year-olds who are dying to breakout, but the most intriguing player in camp will be former quarterback Joe Webb.
Webb has proved over and over that he's a phenomenal athlete, but has finally made the position switch after last season's playoff debacle at quarterback. Webb is big, fast and can run and catch. How all that translates at receiver will be very intriguing.
There's really been no word on the future of Greg Childs as of yet. Childs is running and catching balls this summer, but the team is taking every precaution with him as he's coming off two torn patellar tendons in his knees.
All in all, Minnesota should be vastly improved at receiver and when you then throw in the budding stardom of tight end Kyle Rudolph and the hopefully resurgent John Carlson, finding receiving weapons shouldn't be a problem for Christian Ponder.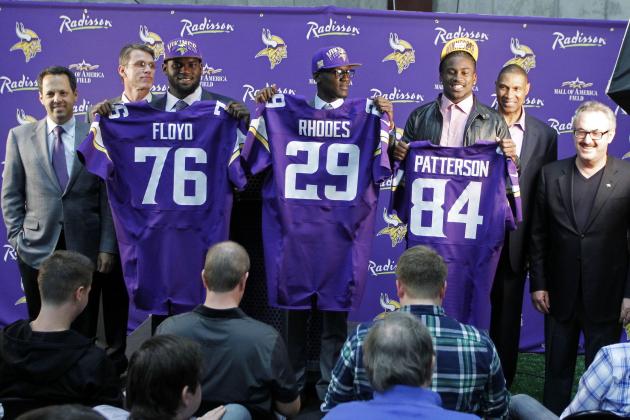 Bruce Kluckhohn-USA TODAY Sports

The Minnesota Vikings bottomed out at the end of the 2011 season. They watched their best player tear apart his knee on the second to last Sunday of an awful 3-13 season.
It's amazing how far they've come just a season removed from that disaster. Kudos are due to both general manager Rick Spielman and head coach Leslie Frazier, who've stuck to their ideal that you build a team through the draft and supplement it in free agency.
The Vikings had a landmark draft in 2012, getting three players (Matt Kalil, Harrison Smith and Blair Walsh) who will all make multiple Pro Bowls along with solid contributors in Josh Robinson, Jarius Wright, Rhett Ellison and Robert Blanton.
They followed that up with what looks like another stellar haul of players in 2013, maneuvering to get three first round picks that all filled positions of need in Sharrif Floyd, Xavier Rhodes and Cordarrelle Patterson. They also added a new punter in Jeff Locke and added quality depth in Gerald Hodges, Michael Mauti, Jeff Baca and Travis Bond.
You just can't do a whole lot better than that in back to back drafts.
It's a roster that's now much deeper and more talented than it was at the end of 2011. The Vikings now have credible backups at most every position, outstanding special teams and difference makers on both sides of the ball. Minnesota has a great mix of veterans and younger players that can feed off of each other.
They've also stacked the roster with high character players that do things the right way.
The Vikings won 10 games in 2012 and should be a markedly improved team in 2013. It's always best to subdue your optimism as an NFL fan; it's a crazy league that can change dramatically from year to year. Nobody saw the last three Super Bowl champions coming, and none of the three won any more than 10 games in the regular season.
Consider the Vikings hat officially in the ring.