Projected San Francisco 49ers Final 53-Man Roster, Training Camp Edition
Kelley L Cox-USA TODAY Sports

Fresh off a gut-wrenching Super Bowl loss, the San Francisco 49ers are set to rally behind the shield of coach Jim Harbaugh once again. This is a team that has experienced an incredible resurgence, inching closer to the Lombardi Trophy each season.
In only 37 games and one-and-a-half offseasons, this team has shutdown the best teams in the National Football League and proved they are championship worthy. Now that they know what it takes it to get there, the 49ers—led by their bull shark Patrick Willis—smell blood in the water.
This time around, the 49ers are sporting a new look behind center and have bolstered the depth of this roster at several position groups. With another offseason of upgrades in 2013, it is possible San Francisco fields their best team under Harbaugh to date.
Here are the final 53 players that will make up that roster.
Begin Slideshow

»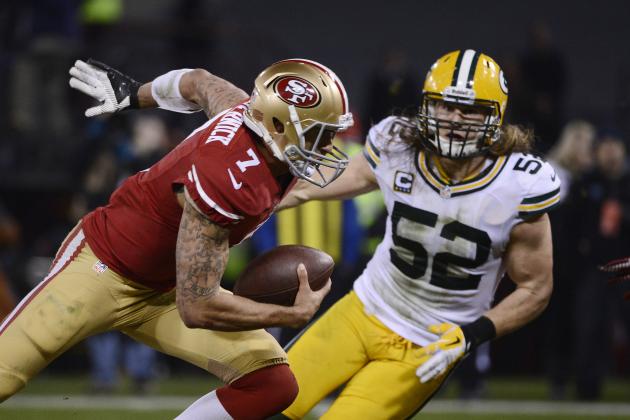 Robert Hanashiro-USA TODAY Sport
Colin Kaepernick will be San Francisco's QB of the future.
(3): Colin Kaepernick, Colt McCoy, B.J. Daniels
Analysis: Can't say there is any dispute on how San Francisco's starting lineup is going to look at quarterback. The 'Niners found their franchise passer in a textbook manner and it is safe to assume they will not be looking back anytime soon.
After swapping Alex Smith for Colin Kaepernick, the front office went ahead and found a suitable backup via the trade wire. The team auctioned a couple of low picks for McCoy, who is lined up to win the No. 2 job.
However, things begin to get interesting at the third and final spot, where there will be a fiery competition between Scott Tolzien and B.J. Daniels. Going with the rookie from South Florida is a low-risk maneuver that will mix things up and give the 49ers more value at the roster spot.
Since Daniels has more upside as a No. 3 QB and versatile "Swiss Army Knife" type of player, the 49ers proceed with him over Tolzien.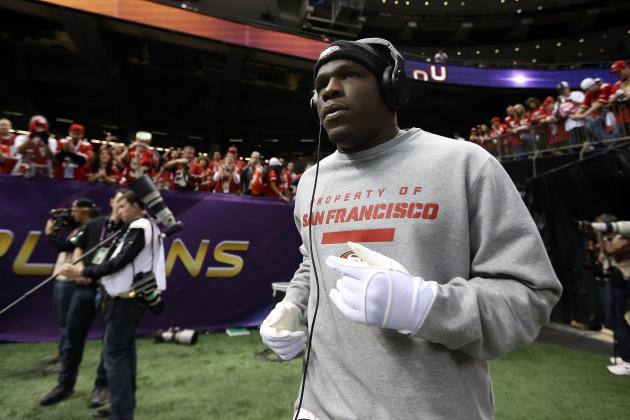 Mark J. Rebilas-USA TODAY Sports
Frank Gore returns to the front lines of this 49ers top-ranked rushing attack.
(5): Frank Gore, Kendall Hunter, LaMichael James, Anthony Dixon, Marcus Lattimore (reserve/non-football injury)
Analysis: Frank Gore returns as San Fran's feature back, aiming for his seventh 1,000-yard rushing campaign in nine years. In 2013, the 30-year-old Bay Area hero will have the best supporting cast he's had in his entire NFL career.
Kendall Hunter and LaMichael James are impact players that are here to stay.
It is a safe bet to say Anthony Dixon will be on the roster at least one more year. He brings continuity to special teams, a second option at fullback and an emergency RB in case one of the top-three guys gets injured.
Second-year tailback Jewel Hampton is likely out, replaced by fourth-round pick, Marcus Lattimore. In all probability, the rookie from South Carolina rides the same list that Hampton did in 2012.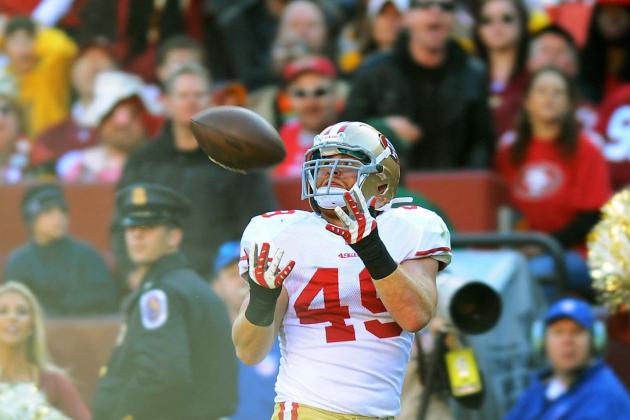 James Lang-USA TODAY Sports
Bruce Miller is evolving into one of the league's best fullbacks.
(1): Bruce Miller
Analysis: Having played at a high level for two straight years, Miller may officially cement himself as an All-Pro in 2013. He has been a do-it-all player for San Francisco, largely acting as its battering ram out of the backfield.
In that role, Miller demonstrated his versatility, working as an effective pass-blocker, run-blocker and receiving outlet. In his third season, he may start to resemble his position coach before him, Tom Rathman.
Lets not forget, Miller has also shined through as one of San Fran's best utility players, regularly contributing on special teams.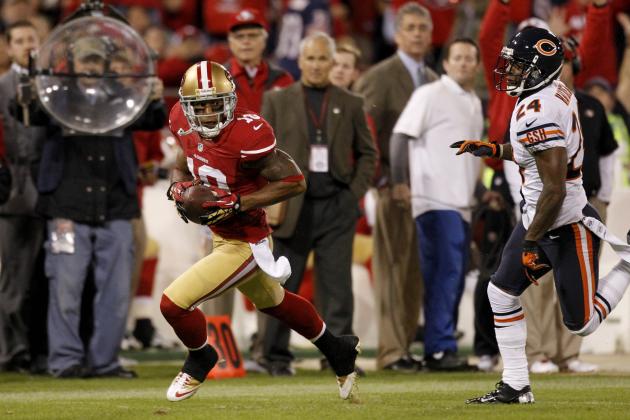 Cary Edmondson-USA TODAY Sports
Is Kyle Williams poised to breakout in 2013?
(7): Michael Crabtree (PUP), Anquan Boldin, Kyle Williams, Quinton Patton, A.J. Jenkins, Mario Manningham, Ricardo Lockette
Analysis: According to the PUP rules, Crabtree will be eligible to return for the postseason (by Week 7), granted the 49ers secure a spot. The injury to his Achilles tendon gives him a similar recovery timeline as Terrell Suggs in 2012, who was back that very season.
With that said, a hot-handed Anquan Boldin is fully capable of leading the pack in the meantime. Outside of him, Williams is a vet poised to break out, while Manningham will return to give this unit a boost during the season.
The 49ers also have two recent investments via the NFL draft that they've been itching to get on the field. Patton and Jenkins are big plays waiting to happen and should get valuable reps early in the season, which may help them build a callus by January.
Then there is Lockette, who will be the sixth man while Crab is out. Upon his return, Lockette will likely be sent down in order for San Fran to stay at 53 players. Of course, if he breaks ground, the team may keep him and waive another player.
If these six are rockin' n' rollin' during the season with Colin Kaepernick behind center—and then Crabtree returns—San Fran may have the deepest, most well-balanced receiving corps in the NFC playoffs.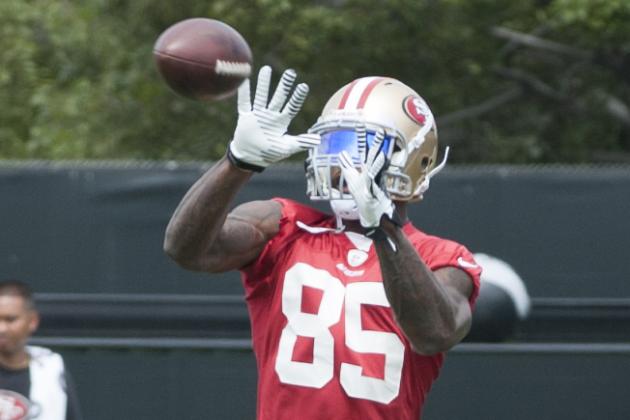 Ed Szczepanski-USA TODAY Sports
Vernon Davis has been a rock for this 49ers offense.
(3): Vernon Davis, Vance McDonald, Garrett Celek
Analysis: 2013 is setting up to be a big year for Jim Harbaugh's tight end unit in San Francisco. With the 'Niners leading receiver going down, there is reason to believe Vernon Davis could be in for career-highs, which may include his first 1,000-yard season.
No. 85 has long been known for his speed, athleticism and overall ability to present matchup problems for defenses.
Moreover, with Vance McDonald now in town, it will free up Davis as a receiving option. The Rice product stood out as the strongest TE at the regional combine, and at 6'4", 267 pounds, his size is problematic.
The 49ers will have a duo of multitalented tight ends. Then add in Celek, who has continued to develop and show forward progress, and San Fran will be fielding a dynamic trio at the position.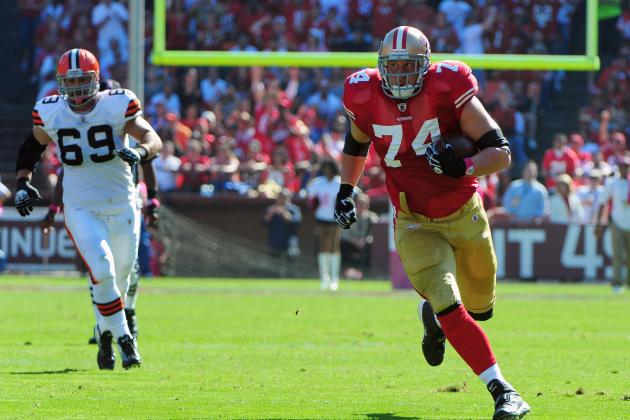 Kyle Terada-USA TODAY Sports
Joe Staley is the total package as an offensive lineman, capable of virtually anything.
(3): Joe Staley, Anthony Davis, Adam Snyder
Analysis: The 49ers have their tackle situation locked up in Staley and Davis, who will be manning the edges together until 2018, at least. These two bring a great mix of size and athleticism, both showing an ability to handle the league's best pass rushers.
Directly behind the starters, the team has Snyder returning to the OL, following his one-year stint with the Arizona Cardinals. The 49ers need depth at tackle, and given his position flexibility and experience, Snyder is a favorite to be retained.
And although the future may be bright for them, the combination of injuries and inexperience will keep UDFA Luke Marquardt (foot) and seventh-rounder Carter Bykowski tied to the practice squad. San Fran would be hard pressed to count on one of them if either Staley or Davis went down to injury.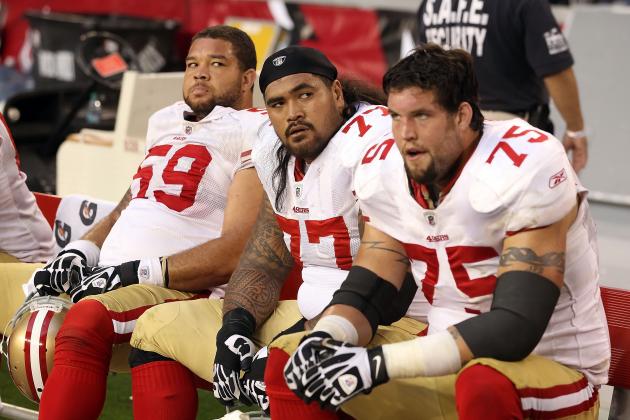 Christian Petersen/Getty Images
There might not be a better trio of interior offensive linemen in the NFL.
(5): Mike Iupati, Alex Boone, Jonathan Goodwin, Daniel Kilgore, Joe Looney
Analysis: Over the past two offseasons, the 'Niners unearthed the final components to their O-line in RG Alex Boone and C Jonathan Goodwin. These two fortified the interior line, complementing the trio of first-rounders that makeup the front five.
Across the board, Iupati, Boone and Goodwin have been playing at a Pro Bowl level. In 2013, this starting offensive line may reach new heights in their second consecutive season together melding as a cohesive unit.
Behind the starters, the 49ers have continued to draft and develop offensive line prospects that may provide the team with leverage come contract time. When Goodwin's deal expires after this season or Boone wants top guard money, the 'Niners will not be caught with their tail between their legs.
Buried on this depth chart, Daniel Kilgore and Joe Looney have been quietly becoming NFL ready.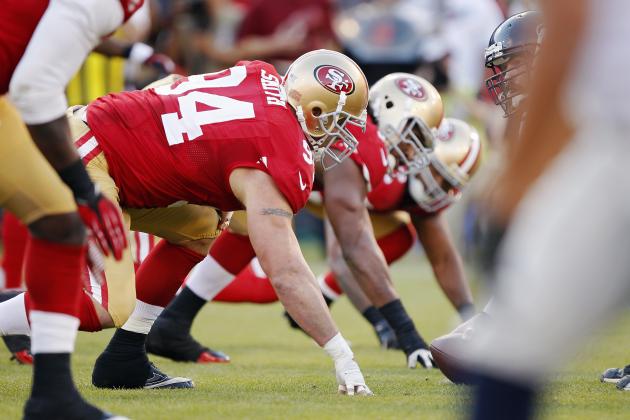 Brian Bahr/Getty Images
Justin Smith leads a very strong group of defensive tackles in the Bay Area.
(6): Justin Smith, Glenn Dorsey, Ray McDonald, Ian Williams, Tank Carradine, Quinton Dial
Analysis: Entering his 13th season, Justin Smith is among the NFL's best defensive linemen, showing no signs of slowing down. Since he arrived in 2008, the Cowboy emerged as the driving force behind this unit, helping to raise the games of those around him.
The 'Niners now have one of the more revered D-line groups in the league.
Dorsey and McDonald are your starters-to-be at nose tackle and left defensive tackle, respectively. Their presence will keep this unit stout against the run, as they both excel at controlling the line of scrimmage, allowing the linebackers to roam free.
The 49ers also upgraded their depth, re-signing Ian Williams, and adding Carradine and Dial via the NFL draft. These three will plug into the lineup at times, providing a healthy rotation up front, which keeps bodies fresh.
Renowned UDFA signing Lawrence Okoye ultimately finds himself on the practice squad, while Will Tukuafu, DeMarcus Dobbs and Tony-Jerod Eddie fall victim to a new year with an enhanced level of competition.
This DL group may be the best they've had in years.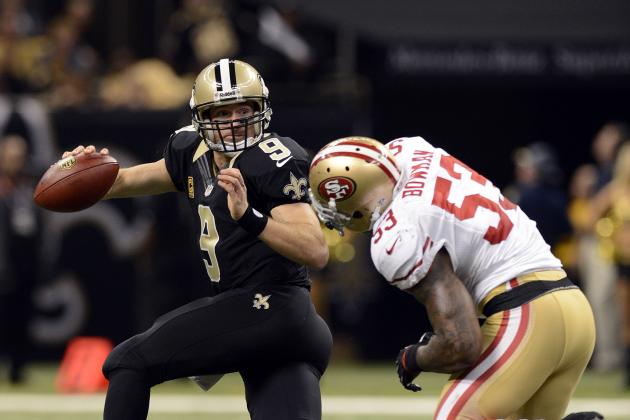 John David Mercer-USA TODAY Sports
NaVorro Bowman's emergence has given the 49ers an awe-inspiring duo at ILB.
(4): Patrick Willis, NaVorro Bowman, Nick Moody, Dan Skuta
Analysis: It does not get better than two first-team All-Pros. Over the past two seasons, Willis and Bowman have set the bar at ILB, proving to be the two most capable sideline-to-sideline backers in the league. They'll put this defense on their back again in 2013 and in all likelihood, keep this unit in the top five overall.
However, with Larry Grant and Tavares Gooden both gone, the 49ers are looking for the depth behind Nos. 52 and 53. And given the state of the special teams, those candidates need to be able to play a factor on the coverage team.
With that said, Florida State draftee Nick Moody and ex-Bengals gunner Dan Skuta make the most sense. Both players were targeted and acquired for this reason, so it is their job to lose in training camp. They will each have a chance to solidify their place as a S/T extraordinaire.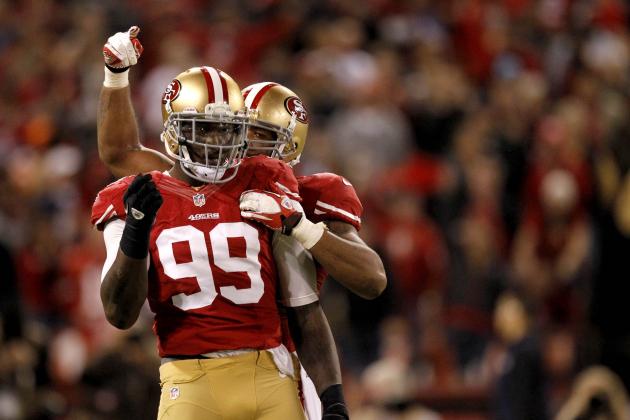 Cary Edmondson-USA TODAY Sports
Aldon Smith and Ahmad Brooks have been a very efective and complementary pair.
(4): Aldon Smith, Ahmad Brooks, Parys Haralson, Corey Lemonier
Analysis: San Fran has a pair of dynamic and very complementary OLBs in Aldon Smith and Ahmad Brooks. Together, they do it all, from setting the edge, to rushing the passer, to stopping the run, and even making plays in coverage.
The main changeover from 2012 to 2013 will be a healthy Parys Haralson as the No. 3 backer. According to NFL insider Ian Rapoport, the eight-year pro agreed to restructure his deal in order to remain in the Bay Area, which will give the 'Niners a proven starter as a rotational player.
Meanwhile, third-round pick Corey Lemonier expects to burst onto the scene as a situational pass-rusher. If everyone vying for the position sees their potential, it will be the Auburn defender that wins it outright. He is the most physically gifted and San Francisco needs that added dimension come playoff time.
Overall, the Niners may have four starting-capable OLBs on game day.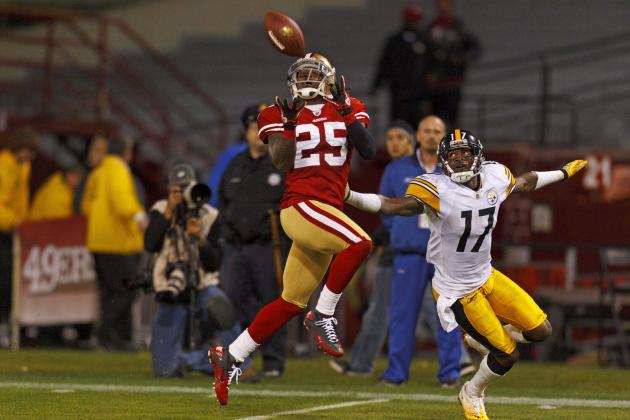 Jason O. Watson-USA TODAY Sports
Tarell Brown is silently one of the most efficient CBs in the league.
(6): Carlos Rogers, Tarell Brown, Chris Culliver, Nnamdi Asomugha, Tramaine Brock, Perrish Cox
Analysis: The 49ers had their struggles in the secondary toward the end of 2012, but not because of a lack of talent at CB. There were impactful injuries to the front seven, which affected the overall performance, but that is another discussion for another day.
For the past two seasons, Rogers, Brown and Culliver have been the three featured corners taking a majority of the defensive snaps. For the most part, Brown and Cully have operated on the boundary while the veteran Rogers has been San Fran's go-to cover guy in the slot.
This year, Asomugha joins the bunch, looking to add even more depth to a pretty talented group of corners. The All-Pro is a straight press corner, which makes him an asset outside the hashes. Therefore, he may take reps from Brown or Culliver, or force one of them to move inside this season.
Behind those four corners, the 'Niners have Brock and Cox, who are very quick DBs with great versatility. They are capable of spelling any of the starters, lining up against all sorts of receivers.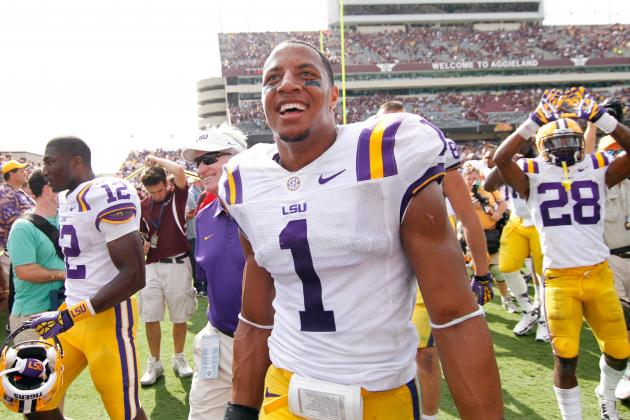 Brett Davis-USA TODAY Sports
Eric Reid is looking to fill in for a departed All-Pro as a rookie.
(5): Eric Reid, Donte Whitner, C.J. Spillman, Darcel McBath, Craig Dahl
Analysis: Having traded up to No. 18 overall in the 2013 draft for him, FS Eric Reid is bound to start for San Francisco by Week 1. Whether or not he is totally ready is another story—but he will certainly be in the lineup. Hopefully, he will receive support from the Pro Bowler playing alongside him, SS Donte Whitner.
These two will be the featured safeties protecting the backend this year.
In his two years with the team, defensive coordinator Vic Fangio has carried several safeties. They are important to have for depth purposes, and even more so for the special teams aspect of it.
Spillman, McBath and Dahl will provide competition for Reid, while helping to restore the kickoff coverage team. As a result, Trenton Robinson and Michael Thomas are replaced in favor of NFL-ready utility players with experience.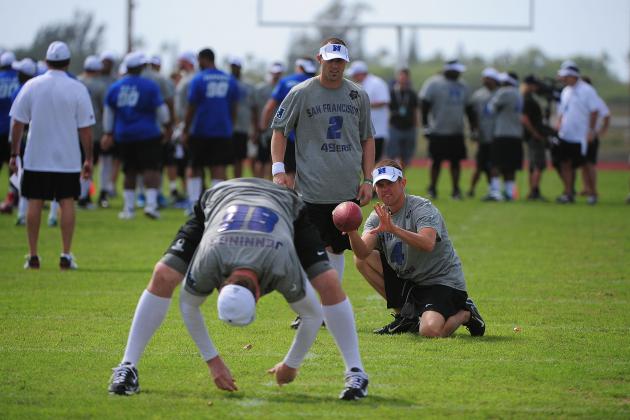 Kyle Terada-USA TODAY Sports
Andy Lee and Brian Jennings may earn Pro Bowl honors again in 2013. Will Phil Dawson join them?
(3): Andy Lee, Phil Dawson, Brian Jennings
Analysis: This is a no-brainer. 49ers punter Andy Lee and new kicker Phil Dawson are All-Pros, while Brian Jennings has made a couple trips to Hawaii as a Pro Bowl long snapper.
This group is and will remain uncontested throughout training camp.
Dylan DeSimone is the San Francisco 49ers Featured Columnist for Bleacher Report. A former NFL journalist and fantasy football writer for SB Nation, Niners Nation and SB Nation Bay Area, Dylan now writes for B/R.
To talk football with Dylan, follow him on Twitter @DeSimone80.