Texas A&M Football: Why None of the Aggie Defenders Should Miss Any Games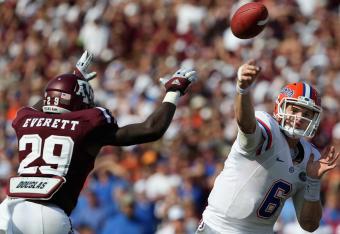 Ronald Martinez/Getty Images
The offseason for college football has unfortunately become a time where many of the athletes get into trouble with the law. Three Texas A&M defenders have been arrested during the offseason, but none of them deserve to miss any playing time.
Defensive lineman Kirby Ennis and defensive backs Deshazor Everett and Floyd Raven have all spent time in the Brazos County Jail during the offseason.
Write-up on the arrest of Aggie football player Floyd Raven and the accusations regarding teammate Deshazor Everett: http://t.co/tY6CroBf2n
— Steve

Fullhart

(@stevefullhart) July 1, 2013
Evidently Ennis recently pleaded guilty to the offense of disorderly conduct for displaying a handgun to another driver. It appears that Ennis was simply involved in some kind of road rage deal.
Everett and Raven were arrested for assault and criminal mischief that occurred during a fight. All three players were arrested for misdemeanors that typically result in a sentence of probation in Texas courts.
There are many people who feel that all three players should be punished by the team and should miss at least one football game during the season. This is flawed logic for multiple reasons.
When you are a football player for a major university you live under a microscope. Any mistakes you make are magnified by the press.
Anyone who watches SportsCenter on ESPN now knows that Everett and Raven were arrested. Their arrest made national news.
Receiving a scholarship and playing football for a major university is a privilege. In exchange for receiving this privilege, players are expected to conduct themselves in a manner that brings honor to themselves and the school they represent.
Ennis, Everett and Raven obviously did not do this, but at some point people need to allow them to simply be college students. Everyone makes poor decisions when they are young, especially when they are far away from home and in a peer group of other college students.
Literally hundreds of college students are arrested for fighting and other misdemeanors every week. Rarely do any of the arrests ever even make it into the local media.
The three Aggie defenders have already brought embarrassment upon themselves and their families. They have to go through the legal process just like any other person would.
Why must they miss games in order for the general public to feel that they have been adequately disciplined? The missed games do nothing to dissuade the behavior or you would not see so many football players arrested during the offseason.
The rationale behind suspending the players is that it would hurt the players and their teammates. If all three players miss the opening game, it negatively impacts the chances of the team winning the game.
The reality of the situation is that Texas A&M will not have any problem winning their first two games of the season whether Ennis, Everett and Raven are there or not. If those three players missed the Alabama game then that could have a major impact on the game.
It is highly unlikely, however, that a suspension will extend that far into the season. The three defenders will likely miss the season opener against Rice and that is about it.
If you want to change the behavior of the football players, then let Aggie strength coach Larry Jackson put them through some workouts designed to punish them for making poor choices. Jackson is much more likely to find a way to "encourage" the football players to change their behavior, than a one- or two-game suspension will.
Suspending the three Aggie defenders is nothing but a temporary band-aid that makes the general public feel good. It does nothing to change the behavior of the suspended, which should be the goal of any punishment.
The punishments should be handled internally within the program. The effectiveness of said punishment will be readily apparent by the behavior of the team on and off the field.
This article is
What is the duplicate article?
Why is this article offensive?
Where is this article plagiarized from?
Why is this article poorly edited?

Texas A&M Football: Like this team?