5 Reasons Darren Lehmann Can Make a Difference to Australia's Ashes Hopes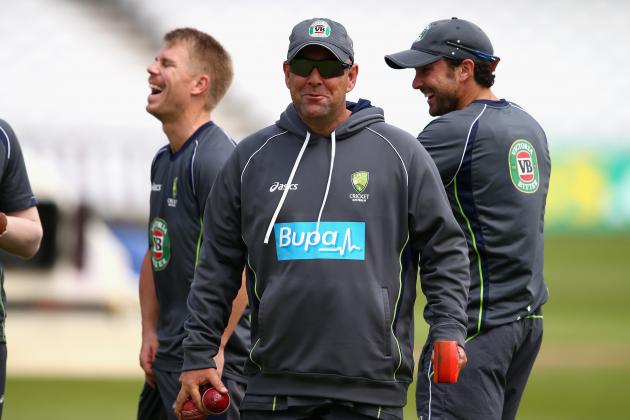 Ryan Pierse/Getty Images

Sick and tired of pyjama cricket? Never fear, the Ashes are almost here. A few weeks ago, many would have been forgiven for thinking the Aussies haven't got a snowball's chance in hell. Things aren't quite so clear cut now.
While they do enter the series in the back of a 4-0 thrashing at the hands of India, Darren Lehmann has rejuvenated their hopes. The tourists might still be sent home with their tails between their legs, but at least they have some hope now.
Lehmann is the opposite of now unemployed Mickey Arthur. He might not be Midas, but he will certainly have some magic up his sleeve.
We pick five reasons why he will have given the Aussies new hope. Add your thoughts in the comments.
Begin Slideshow

»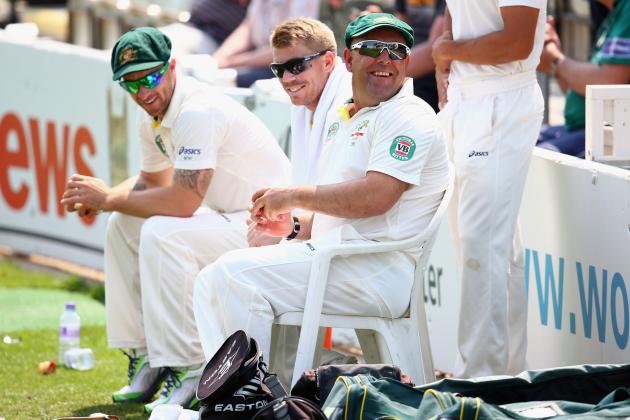 Ryan Pierse/Getty Images

Being able to laugh - at situations, at others and most importantly at yourself - is a great quality to have. Being able to make others laugh is an indispensable quality. Darren Lehmann knows how to not be so very serious.
During Australia's warm-up match against Worcester last week, Lehmann revealed some of his fun side.
While the Aussies were toiling away in the heat and on a flat track, he dressed up in a full Aussie kit. He trudged onto the field carrying the drinks during the break.
That might seem slightly childish and almost foolish to some, but being able to poke fun at himself and lighten the mood is something Lehmann will do well.
Of course, there's no point in laughing off defeat, but seeing the light side of things is important.
He might not kit himself out in whites to carry drinks in a Test match, but should things go horribly awry, Lehmann will undoubtedly find a way to lighten the mood just a bit.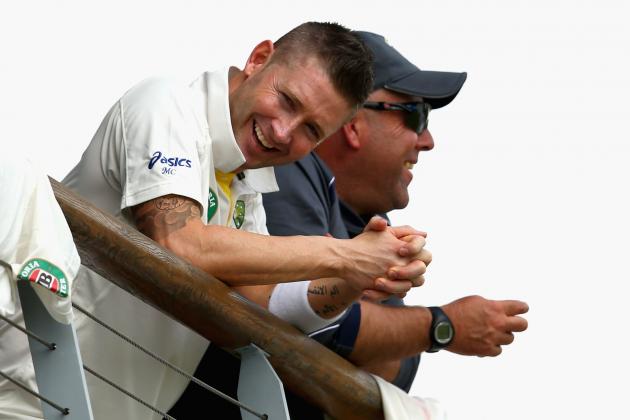 Ryan Pierse/Getty Images

Few things bring people together quite like troubled times, provided the right folk are at the helm.
When things were falling apart in India and during the Champions Trophy, there was no authority to get the Aussies to pull their socks up.
For quite some time now, the Australian team has been rumoured to be fractionated. That would have all come to the boil in the face of adversity.
Luckily, that adversity can now be channelled positively. Beaten and broken, the Aussies can take heart from the fact that they have all been embarrassed over the past few months.
Lehmann can channel that frustration into something positive. They all have a point to prove and hell hath no fury like an Aussie scorned.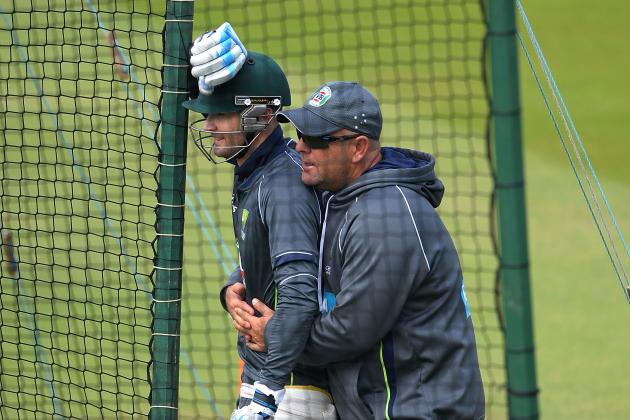 Laurence Griffiths/Getty Images

While Mickey Arthur was quite content to be in the background, Lehmann likes to get his hands dirty.
Not by sticking it into sweaty wicketkeeping gloves, but he likes to get stuck into training.
Arthur preferred to give subtle orders from the sidelines, Lehmann's approach is far more bootcamp.
If you bowl a good ball in the nets, Lehmann will let you know what he thinks. If you bowl a bad ball in the nets, Lehmann will let you know what he thinks.
There's no hiding and getting by with just doing the minimum amount of effort required. Lehmann watches everything that's done like a hawk and he's not scared to speak his mind.
If he feels somebody needs to be out in the middle doing two hours of throwdowns and nobody wants to do the actual throwing, Lehmann will do it himself.
He's far more involved, on a personal and coaching level, than Arthur was. He wants to create an environment where players can speak up if they're unhappy instead of bottle things up.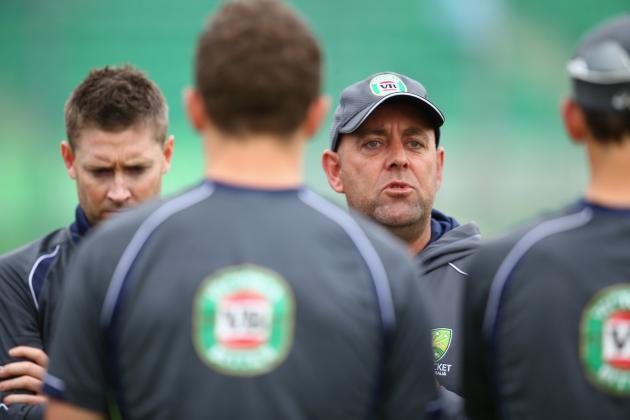 Michael Steele/Getty Images

Darren Lehmann knows Andy Flower from the days they played State cricket in Australia.
Their paths also crossed a few times on the county circuit. Flower was with Essex and Lehmann with Yorkshire.
Flower is nothing like Lehmann, but that doesn't matter. Lehmann will know, to an extent, what Flower is thinking.
He will know what his weakness are and he will know how to exploit them.
Whether one of those is mental fragility and whether Lehmann will expose it through mind games, using the press as a vehicle, remains to be seen.
The point is, Lehmann might come across as the jovial joker, but he is no fool.
He will use every resource available to exploit any sort of weakness England might have.
Whether that means using what he knows about Flower to his advantage or calling up Yorkshire's coach Jason Gillespie for some inside info on the Yorkshiremen in the side, he'll use it all.
Knowing your enemy is one of the one of the most crucial parts of battle.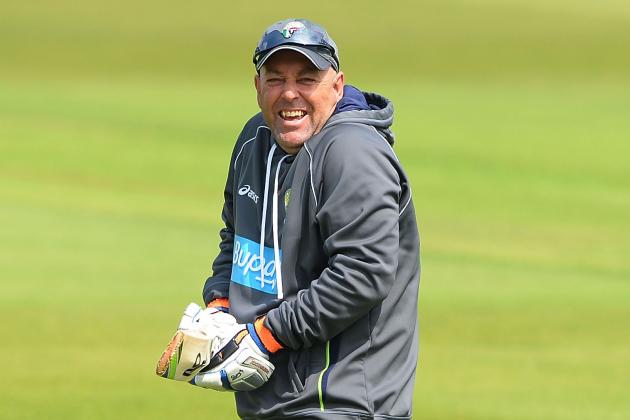 Laurence Griffiths/Getty Images

So much has been made about the current Australian squad needing a mentor, a father figure, if you will.
Brad Haddin was reportedly drafted back into the side for partly that reason, but Darren Lehmann fills that role on a whole new level.
Lehmann is, what many has referred to as "a proper Aussie bloke". He's far from the poster-child for discipline and has had his fair share of controversy. He is, however, somebody the Aussies might be able to relate to better than Mickey Arthur.
Being able to relate to one's coach makes it easier to share any sort of issues there might be. The current Aussie set up are a far cry from Mark Waugh's unbeatable soldiers, but they are not short on talent.
With a little bit of TLC, some good coaching and perhaps a kick up a few backsides, they could certainly give England a run for their money.