Oakland Athletics at Pittsburgh Pirates Live Blog: Instant Analysis and Reaction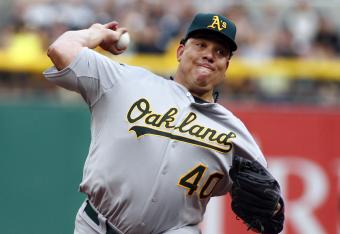 Justin K. Aller/Getty Images
Two of baseball's most unlikely aces squared off Monday as Oakland's Bartolo Colon bested Pittsburgh's Jeff Locke.
Colon and Locke were each named All-Stars on Saturday, and proved their worth on Monday. Colon gave up just one run over seven innings and handed Locke his first loss since April 10.
Coco Crisp made a game-saving catch in the seventh to rob Andrew McCutchen of extra bases. Ryan Cook and Grant Balfour each threw scoreless innings, allowing Balfour to break Dennis Eckersley's club record of 40 consecutive saves.
Both teams are locked in tight divisional races. Texas is half a game behind the A's in the AL West, and the Pirates are a game and a half behind the eternally competitive Cardinals in the NL Central.
Grant Green, Oakland's 2009 first-round draft pick, made his Major League debut at second base and batted eighth. Green went 0-3 with two strikeouts, but made a couple nice plays in the field.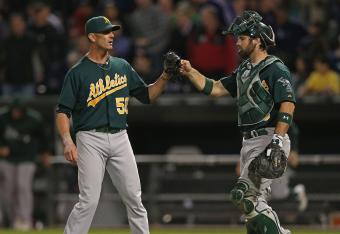 Final Score: Oakland 2, Pittsburgh 1
Grant Balfour's 41st consecutive save breaks Dennis Eckersley's team record, and the A's take the first game of the series. Balfour has 23 saves this season to go along with a 1.77 ERA, adding to the mystery of his exclusion from the AL All-Star team.
Bottom 9, 2-1 A's: Close call there, but Cespedes hauls it in at the wall. One more scream from Balfour, and here he goes for the last out.
Bottom 9, 2-1 A's: Talk about a gift strike. That pitch bounced over the strike zone, but if Marte swings he swings.
Bottom 9, 2-1 A's: Interesting to see Moss in as a defensive replacement, since neither him nor Freiman are anything special with the glove.
End 8, 2-1: A passed ball through Norris' legs put runners at second and third, but Yo snares Barmes' liner. Here comes Balfour!
Bottom 8, 2-1 A's: Pirates are back at it with two on and one out. Let's see if the D can pick Cook up like they did with Colon.
Bottom 8, 2-1 A's: That's it for Colon. 7 IP, 7 H, 1 ER, 5 K, 1 BB. Pittsburgh stranded eight runners.
Bottom 7, 2-1 A's: And the Pirates are on the board. Donaldson is solid in the hot corner, but barehand plays like that require Brooks Robinson-esque fielding. The only player on the A's who's that good is Crisp, who saved the lead with a diving catch in left-center.
Bottom 7, 2-0 A's: Good move by Barmes holding at third. Would have been out by a mile, judging by Cespedes' throw from left.
Bottom 7, 2-0 A's: On the biggest pitch of the game, Locke misses just inside. Those Oakland A's have a funny way of turning walks into runs.
Top 7, 1-0 Oakland: Hard to tell from the replays, but it looks like Cespedes did beat the throw out. Still threatening now with runners at the corners.
Top 7, 1-0 A's: And just like that, Oakland's bats have woken up. Consecutive singles by the 2-3 hitters are always a good thing.
Bottom 6, 1-0 A's: Nice backhanded play by Green, nice pick by Freiman. The infield has Colon's back today.
Word most likely for you to read 1000 times before hearing someone say it outloud.......Myriad

— Andrew Carignan (@A_Carignan38) July 9, 2013
Middle 6, 1-0 A's: Let's make it 1,001: There are a myriad relievers tweeting while their team is in a close game.
Middle 6, 1-0 A's: Lowrie's double is still the A's only hit, but as the scoreboard shows, it's better to be lucky than good.
Top 6, 1-0 A's: The day just keeps getting rougher for Grant Green. It's a long season, big guy.
End 5, 1-0 A's: Donaldson's grab and Lowrie's exceptional fielding beg the question: did the All-Star snubs just get a new source of motivation?
Bottom 5, 1-0 A's: Per the Fox graphic on the screen, hitters are batting just .156 against Colon's slider. How crazy is that?
Middle 5, 1-0 A's: Fantastic play by Barmes up the middle. That's way too short of a half-inning, especially considering Colon finished toiling away and probably wants more rest.
Top 5, 1-0 A's: That pitch was right down the middle, and Freiman almost made it a 2-0 ball game. Almost being the key word there.
End 4, 1-0 A's: Clutch play by Lowrie to get Colon out of another jam. Once again, the Pirates strand two.
Bottom 4, 1-0 A's: Green's got a case of the debut jitters. Double clutching that throw was all the time Martin needed to beat out the double-play throw.
Middle 4, 1-0 A's: Do you think the little boy in the A's jersey knows his green foam finger says "Pirates"?
Middle 4, 1-0 A's: Congrats to Bobby Mel for officially getting his well-deserved hardware.
This article is
What is the duplicate article?
Why is this article offensive?
Where is this article plagiarized from?
Why is this article poorly edited?

Oakland Athletics: Like this team?