2013 MLB Home Run Derby: Grading Robinson Cano, David Wright's Picks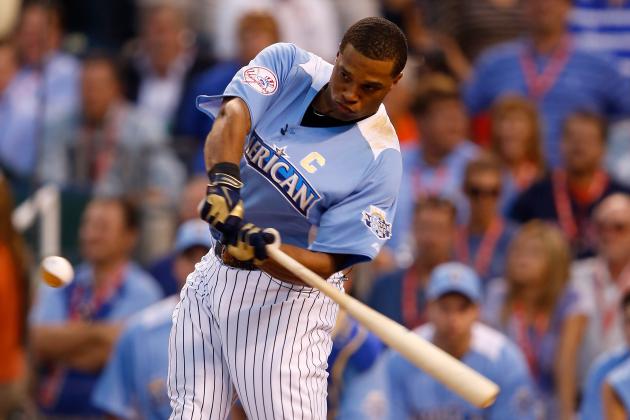 Jamie Squire/Getty Images

The biggest event of All-Star week for a lot of fans is the annual Home Run Derby, and the new format of having one captain per team pick his members leads to a lot of debate.
With the festivities happening in New York City, it makes sense that Robinson Cano and David Wright would lead the American and National League squads, respectively. One of the best changes to the event is that anyone can be a part of it, not just the players who were selected to the All-Star Game.
On Monday night, the captains unveiled the talent competing in the power-hitting exhibition in seven days at Citi Field. Eight players total will take part in the event, four on each side.
Representing the NL will be Wright along with Colorado's Carlos Gonzalez and Michael Cuddyer, as well as Washington's Bryce Harper.
Meanwhile, in the AL will be Cano along with Detroit's Prince Fielder and Baltimore's Chris Davis. Cano will make the decision for the final slot on Tuesday.
In anticipation of the big event next Monday, here are our grades for the captains' picks and a look at some of the players we would have preferred to see with the understanding that not everyone is willing to participate in the Derby.
Note: Home run-distance totals courtesy of ESPN Home Run Tracker
Begin Slideshow

»
2013 Home Run Total: 24
Average True HR Distance: 406.5 feet
At first glance, Carlos Gonzalez might appear to be a product of Coors Field, and there certainly was a time when a lot of his offensive production was because of the thin air in Colorado. But he has really evolved into one of the best all-around players in the game and can succeed anywhere.
Gonzalez's split stats this season are as balanced as they have ever been. He is hitting .280/.360/.600 with 11 home runs at home and .329/.379/.640 with 13 home runs on the road.
In addition to those stats, the Rockies star boasts one of the prettiest left-handed swings in the game with incredible bat speed and loft to drive the ball out. His ability from the left side of the plate makes him a very solid and inspired choice for this year's Derby, assuming his hand will allow him to participate.
Grade: B+
2013 Home Run Total: 15
Avg. True HR Distance: 407.5 feet
While David Wright did an overall good job of picking his team—thanks in large part to the final choice, whom we will discuss next—the selection of Michael Cuddyer is the one that doesn't really light the world on fire.
Even though his overall season stats are very good with a .337/.392/.583 line, there is a clear divide between the player Cuddyer is at Coors Field and who he is on the road. His home stats are .362/.423/.646 with nine home runs; on the road, he is hitting .314/.362/.526 with six home runs.
Plus, Cuddyer just isn't that exciting as a home run hitter. He has carved out a nice career as a solid hitter, but he has broken 20 home runs just three times in 12 years at the major league level. He could be the surprise of the event since no one is going to predict him to win, but it is hard to think there wasn't someone else for his spot.
Grade: C-
2013 Home Run Total: 13
Avg. True HR Distance: 406.5 feet
If there is one player fans want to see in the Home Run Derby, it would be Bryce Harper. He is a player fans pay money to see hit home runs. He was put on the cover of Sports Illustrated at the age of 16 with a caption talking about him hitting 570-foot home runs.
Plus, when you break down Harper's season credentials, how do you not take him? Despite missing 31 games, he is slugging .549 and is hitting one home run every 13.5 at-bats. That is a better rate than Gonzalez (14.0) and Cuddyer (17.6). And Harper is doing all this at the ripe old age of 20.
There are not enough superlatives in the English language to describe how great and perfect Wright's pick was. It gave the Home Run Derby a much-needed jolt of electricity. The fervor that used to surround Josh Hamilton in this event will be matched easily by Harper and what he is capable of doing.
Grade: A+
2013 Home Run Total: 15
Average True HR Distance: 397.7 feet
It isn't a Home Run Derby without Prince Fielder, is it? The Tigers first baseman gets overshadowed by Miguel Cabrera in the lineup, but if you were to pick one of the two to put in a home run-hitting exhibition, Fielder should be the choice.
In addition to being a more engaging personality than Cabrera, Fielder just has the kind of swing you want to see in batting practice. His hands and wrists are so quick through the zone that he is able to launch balls as far as anyone in the game and can do it to all fields.
2013 hasn't been Fielder's best demonstration of power, with a .462 slugging percentage representing a career low in a full season. But that doesn't diminish what the big man can do when you put him in this contest. It also helps that he is the defending champion and will look to retain his crown.
Grade: B+
2013 Home Run Total: 33
Average True HR Distance: 405.9 feet
With the exception of Bryce Harper, there is no one fans would have wanted to see in this contest more than Chris Davis. The American League leader in home runs has been one of the most pleasant surprises this season with 33 moonshots and an overhauled approach that has allowed him to put up a .320/.395/.712 line so far.
That .712 slugging percentage would be the highest for a player in a single season since Barry Bonds put up a ridiculous .812 line in 2004, if Davis can maintain this current level the rest of the year.
More important than the stats, just look at Davis' swing to understand why he is perfect for a home run contest. He doesn't have a lot of wasted motion or effort, but is so strong and controlled that he can drive the ball a long way to all fields.
Grade: A
Note: Since Robinson Cano didn't make his final selection yet, we are judging him as a contender and will update the piece on Tuesday to include the fourth AL participant.
2013 Home Run Total: 20
Average True HR Distance: 400.5 feet
After a terrible showing in the Derby last year, thanks in large part to a Kansas City crowd that acted childish because Billy Butler was passed over, Cano goes for redemption in his home city. Granted, it will still be enemy territory at Citi Field.
From strictly a swing standpoint, Cano is so fun to watch anytime he steps into the box because he is so smooth and confident. The Yankees second baseman has the talent and power to hit 15 home runs in one round and could easily win his second Derby in three years.
Regardless of what happens this year, the smart money would be on Cano not repeating the zero homers he put up at Kauffman Stadium in 2012.
Grade: A-
2013 Home Run total: 15
Average true home run distance: 407.9 ft.
Cano rounded out his team with Oakland's slugging left fielder Yoenis Cespedes (h/t Susan Slusser of the San Francisco Chronicle). Even though the Cuban star has battled injuries and a regression in his approach this year, the power is still playing, as you can see by having the farthest average home run distance among players in the field.
Even though Miguel Cabrera was said to be Cano's final choice, the Tigers star ultimately declined due to a sore back. It makes you wonder what kind of damage he can do when he is completely healthy if this is what he does at less than full strength.
That said, Cespedes is an inspired choice. He is a freak athlete with incredible raw power that you want to see in a home run contest. He can drive the ball as far as anyone in the game with relative ease and makes the AL the easy favorite heading into this event.
Good for Cano, too, for thinking outside the box and going with a non-All Star who fans know has power and will look forward to watching in this event.
Grade: A-
These are the players from the National League we would have liked to see on the roster, while also understanding some players may have said no, weren't invited or just ran out of room due to other invites.
Giancarlo Stanton, OF, Miami Marlins
It is hard to believe that Giancarlo Stanton is four years into his career and has yet to take part in a Home Run Derby. This year, even though the numbers don't look great due to an injury that has allowed him to play in just 45 games, the 23-year-old still has eight homers in 171 at-bats.
Plus, at the age of 22 last season, Stanton led the league with a .609 slugging percentage. He is a monster with some of the best raw power in the game. He needs to be in the event one day.
Pedro Alvarez, 3B, Pittsburgh Pirates
While not a great overall hitter because of his inability to recognize off-speed stuff and high strikeout total, Pedro Alvarez has substantial power and has really started to play much better in games. The Pirates third baseman is slugging .512 and ranks third in the NL with 22 home runs.
Evan Gattis, C, Atlanta Braves
An offbeat and (likely) controversial choice, I am sure, Evan Gattis has seen his playing time cut since Brian McCann returned, yet he still ranks 13th in the NL with 14 home runs and his .577 slugging percentage would rank third in the league if he had the at-bats to qualify.
And why not give Gattis a moment to bring his incredible story to a much bigger audience who might have no idea what he went through just to get to the big leagues?
Mike Trout, OF, Los Angeles Angels
What a great marketing opportunity for MLB to have its two best young talents (Mike Trout and Bryce Harper) on the home run-hitting stage before they take the field for the All-Star Game on Tuesday.
Trout's power since coming up last year has been a huge surprise. Not that people thought he wasn't going to hit homers, just that they didn't expect him to hit this many right out of the gate. But that speaks to the rare talent that he is.
And lest you think he hasn't earned it, Trout currently ranks fourth in the AL with a .554 slugging percentage. He can drive the ball as well as anyone in the league.
Edwin Encarnacion, DH, Toronto Blue Jays
Jose Bautista is the best all-around hitter in the Blue Jays' lineup, but Edwin Encarnacion is the best power hitter. He had a breakout season in 2012 with 42 home runs and a .557 slugging percentage and is following that up with a very impressive 23 homers and .532 slugging percentage this year.
You want players who are just full of power, even if they aren't the best pure hitters, in the Home Run Derby. Encarnacion can hit homers as well as anyone in the sport right now.
Miguel Cabrera, 3B, Detroit Tigers
When you are the best pure hitter on the planet, why not take your chances in a Home Run Derby? Miguel Cabrera has been in the event before, most recently in 2010, but that seems like a lifetime ago considering what he is doing with the bat right now.
Even though Cabrera doesn't have the boisterous personality usually associated with this contest, fans aren't going to care about theatrics when you are hitting home runs.