LSU Running Back Jeremy Hill Formally Charged with Simple Battery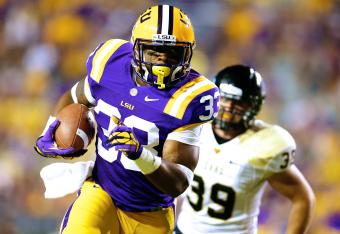 LSU running back Jeremy Hill, who was suspended indefinitely by the team in April, was arrested and formally charged with simple battery in a Baton Rouge court in July.
UPDATE: Friday, Sept. 6
According to Scott Rabalais of The Advocate, Hill will likely play in LSU's clash with UAB:
LSU running back Jeremy Hill will be allowed to play Saturday in the Tigers' home opener against UAB, a source familiar with the situation said Friday.

Hill will not start but will play in a backup role behind senior Alfred Blue and possibly after fellow running backs Kenny Hilliard and Terrence Magee, the source said.

Hill dressed out and participated in pregame warmups for LSU's season opener against TCU last week in Arlington, Texas, but did not play because of his offseason legal issues. Blue got the start against the Horned Frogs and is expected to start again Saturday.
UPDATE: Sunday, Aug. 11
Hill spoke to the media for the first time about the incident, as relayed by Jim Kleinpeter of The Times-Picayune:
"Playing football here is definitely a privilege. Not too many guys get offers to play for this program and to put this uniform is definitely a privilege."

When asked if he knew what the full nature of his punishment from Miles would be, Hill declined to answer. Miles said the punishment would be internal but did not rule out game suspensions.

"I can't discuss that right now," Hill replied. "You will have to ask him that question."
Hill also talked about apologizing to his teammates:
"I wouldn't say it was tough (to apologize); it was heartfelt," he said. "I really put those guys through a lot. They didn't deserve any of this, especially getting asked all these questions about me being a distraction."
UPDATE: Monday, Aug. 5, by Eric Ball
From Jim Kleinpeter of NOLA.com:
#LSU coach Les Miles: The reality is we're people, we're flawed, everyone of us. Hopefully we learn by mistakes. Hill has chance to do that.

— Jim Kleinpeter (@JimKleinpeter) August 5, 2013
From Scott Rabalais of The Advocate:
Miles: Hill has to work his way up. Would have been starter, definitely behind senior RB Alfred Blue now. #LSU

— Scott Rabalais (@RabalaisAdv) August 5, 2013
UPDATE: Monday, Aug. 5, by Eric Ball
From Jim Kleinpeter of NOLA.com:
LSU coach Les Miles reinstated suspended sophomore running back Jeremy Hill Monday after he was sentenced to two added years of probation earlier in the day. Hill practiced with the Tigers Monday afternoon, the first day of fall camp.

Miles did not announce any team disciplinary action of Hill but said there would be further punishment that will be internal.
UPDATE: Monday, Aug. 5, by Brandon Galvin
From WAFB.com's Staff:
A judge ruled suspended LSU running back Jeremy Hill will continue to be on probation, but added 40 hours of community service, during a hearing Monday...

... Judge Bonnie Jackson ordered Hill to perform the community service at Bishop Ott Service. He will also remain under the curfew imposed by a previous judge.

The case is scheduled for review on Jan. 10, 2014.
The Times-Picayune has released a video of Hill's attack. WARNING: Video contains NSFW language and violence.
Hill pleaded guilty to the misdemeanor charges he faced on Friday, according to Mike Shingleton of WBRZ in Baton Rouge. Shingleton also reported on Hill's punishment and the judge's comments to the running back.
Breaking: Jeremy Hill pleads guilty as charged. @WBRZ

— Michael Shingleton (@MikeShingleton) July 12, 2013
Hill sentenced to 2 years unsupervised probation, $375 for victims medical bills, write a letter of apology, 50 hrs comm. service. @WBRZ

— Michael Shingleton (@MikeShingleton) July 12, 2013
Curfew still in effect, attend anger management class, no comments to press, no Facebook or social media, weekly updates to judge @WBRZ

— Michael Shingleton (@MikeShingleton) July 12, 2013
Judge Erwin, "I watched Cecil Collins play at LSU. He was the best running back in the schools history. He was also the dumbest... (1) @WBRZ

— Michael Shingleton (@MikeShingleton) July 12, 2013
Erwin cont . "you have the chance to be that good but you're going down the wrong road." @WBRZ

— Michael Shingleton (@MikeShingleton) July 12, 2013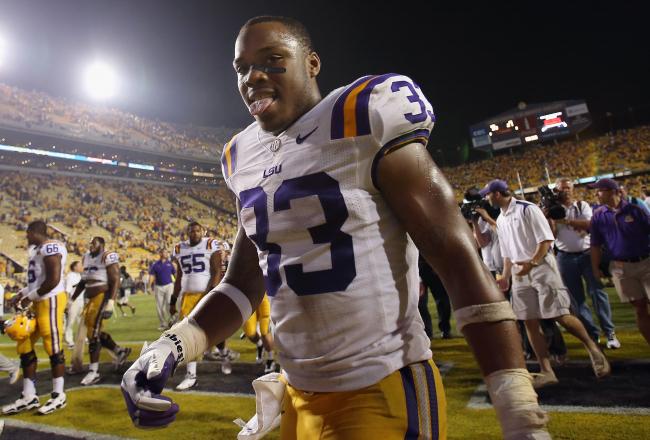 Hill will be arraigned in court Friday, according to district attorney Hillar Moore. The Times-Picayune's Jim Kleinpeter was the first to report on the story, which has been brewing since the late-April bar brawl that got Hill removed from the Tigers roster by head coach Les Miles.
The explosive young back was arrested after allegedly punching a victim outside Reggie's bar in Tigerland. A cell phone video captured the events, in which Hill punches Connor Baldridge in the back of the head as he was walking away from the scene of an argument. An associate of Hill's, Robert Bayardo, then punches the victim again in the video, knocking him out temporarily.
Hill has denied all involvement in the incident. He claims to have been at Reggie's bar on the night of the incident but has steadfastly claimed to not be a part of the fracas.
Already on probation after pleading guilty to misdemeanor carnal knowledge of a juvenile in 2012, Hill has received harsher punishment due to this arrest. Kleinpeter's report notes that Hill has been given a curfew of 9 p.m. and cannot leave his home again until 6 a.m.
He is also required to stay away from local bars, which he is not legally allowed to enter regardless as a 20-year-old. Judge Bonnie Jackson has also required Hill to take a substance abuse evaluation and then adhere to any requirements thereafter.
"Right now we're trying to maintain the status quo and abide by the conditions of his probation, including the new conditions set forth today," Marci Blaize, Hill's defense attorney, said on Monday, per the Associated Press via ESPN.
Hill has been suspended from the football team but has not been removed from the program altogether. The team released a statement in late April through information director Michael Bonnette, saying it "will let the incident play out through the legal system before making any additional comments."
A highly-touted recruit from Baton Rouge, Hill burst onto the scene last year for the Tigers. He was the team's leading rusher with 755 yards and added 12 touchdowns. Running with a steadfast toughness at 6'2" and 235 pounds, he was expected to be a key cog in LSU's offense in 2013. He and fellow running back Kenny Hilliard helped lead the Tigers to a 10-2 regular-season record and a berth in the Chick-fil-A Bowl.
Hill rushed for 124 yards and two touchdowns on 12 carries in the bowl game, a 25-24 loss to Clemson.
Neither Hill nor LSU has released a statement on the matter at this time.
Follow Tyler Conway on Twitter:
This article is
What is the duplicate article?
Why is this article offensive?
Where is this article plagiarized from?
Why is this article poorly edited?