UFC 162 Results: Key Stats from Silva vs. Weidman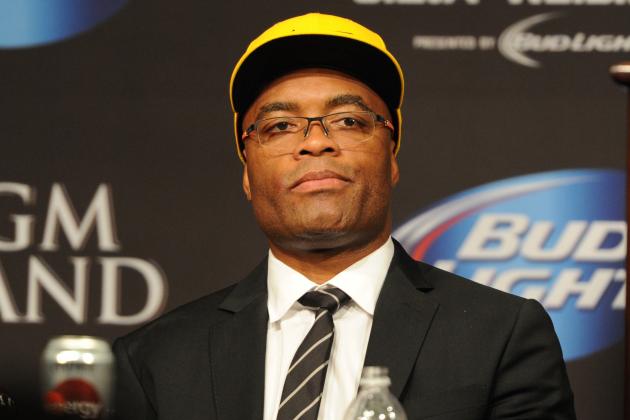 Jayne Kamin-Oncea-USA TODAY Spor

The UFC 162 results are in from the MGM Grand Garden Arena, and with the event in the books comes another installment of our Key Stats series.
Following every event, the numbers are broken down and compared to the key statistics of past fight cards.
Individual performances will be highlighted, as will the card's overall performance.
UFC 162 was certainly a unique event. Middleweight champion Anderson Silva saw his undefeated streak in the UFC ended and his reign as top middleweight terminated. Chris Weidman defeated the longtime top pound-for-pound fighter with a second round knockout.
Some fighters earned strong results, as well as impressive stat lines. Others, like Silva, did the opposite.
Let's walk through the key stats from the Fourth of July weekend event.
Stats courtesy of Fightmetric.com
Begin Slideshow

»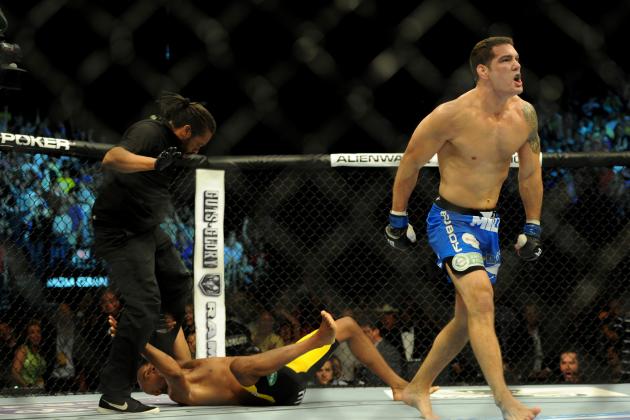 Jayne Kamin-Oncea-USA TODAY Spor
Chris Weidman finishes Anderson Silva in the UFC 162 Main Event
Following the lackluster June pay-per-view, UFC 161, the first UFC event of quarter three boasted six stoppage victories in 11 fights.
The preliminary portion of the event jolted the stoppage-rate of the card to a respectable 54.5 percent with four of six fights ending within the scheduled time.
The main card—a highly entertaining one if Tim Kennedy vs. Roger Gracie is mercilessly excluded—featured two stoppages. The obvious highlight of the card came in the main event when Chris Weidman put Anderson Silva away with strikes.
With a 6:5 finish-to-decision ratio, the card finished in the better half of events so far in 2013 in terms of stoppage-rate. Only five events had an equal or higher percent of finishes. Here they are:
UFC on Fuel 10: 83 percent
TUF 17 Finale: 75 percent
UFC on Fox 7: 67 percent
UFC on FX 7: 54.5 percent
UFC on Fox 6: 54.5 percent
Another interesting stat from the event has to do with how few submissions occurred; there were zero submission wins. This was the fourth event in 2013 to feature knockouts exclusively.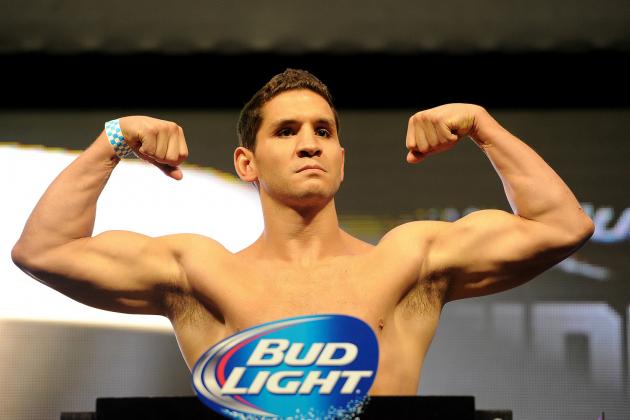 Jayne Kamin-Oncea-USA TODAY Spor

UFC 161 turned into a field day for the underdogs as five earned upsets. There were just two improbable victories last weekend in Vegas.
The most notable upset came in the main event. Weidman, a nearly 2-to-1 underdog, topped Silva via technical knockout.
The other upset came on the preliminary card when UFC rookie Brian Melancon brutally knocked out Seth Baczynski at the bell signaling round one's end.
All other fights went the way the odds predicted.
Of course, the card included several lopsided fights. Three fighters entered the cage as more than 5-to-1 favorites. Just one matchup—Mark Munoz vs. Tim Boetsch—was a legitimate pick 'em fight.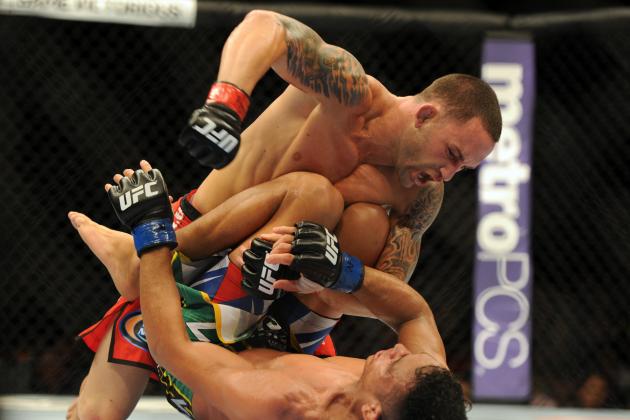 Jayne Kamin-Oncea-USA TODAY Spor

Frankie Edgar scored an impressive 81 strikes in his three round win over Charles Oliveira on the pay-per-view card. On the preliminary card, Gabriel Gonzaga landed just three, but he, too, won.
Edgar impressed in his first win at featherweight, landing 55 percent of his significant strikes. He also defended 70 percent of the strikes thrown his way.
Gonzaga, meanwhile, didn't need 15 minutes. In fact, he barely needed 15 seconds.
In the card's lone heavyweight contest, "Napao" tore through underdog Dave Herman in 17 seconds. The former heavyweight top contender needed just three significant strikes to earn the knockout stoppage.
Herman also landed three strikes, but the fight couldn't have been more uneven.
Other impressive striking performances include Mark Munoz's win over Tim Boetsch and Edson Barboza's knockout win over Rafaello Oliveira.
Munoz landed 69 significant strikes to Boetsch's 23. But it was Munoz's ability to get the fight down that allowed him to put on a dominant performance. Landing five of 10 takedown attempts, Munoz was able to brutally ground-and-pound his way to a unanimous decision victory.
Meanwhile, Barboza took care of the job on the feet. After less than 1.5 rounds, Oliveira's lead leg had been battered with kicks, which yielded a technical knockout stoppage.
Oliveira managed to land just 19 strikes. Barboza landed 49.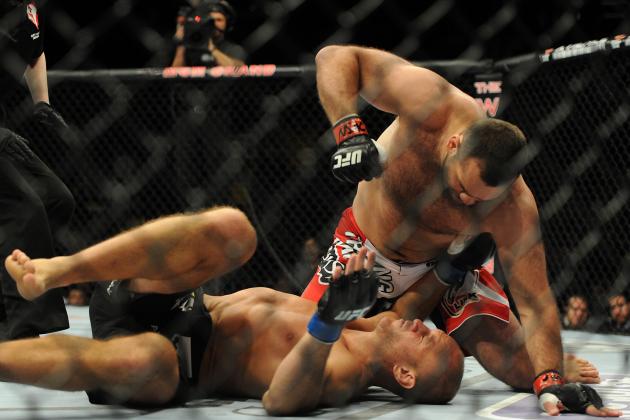 Jayne Kamin-Oncea-USA TODAY Spor

We already touched on Gonzaga's knockout win, but it was much more than just a brutal heavyweight stoppage. After all, almost 75 percent of heavyweight contests end via stoppage, according to Fightnomics.com.
It was the amount of time Gonzaga needed that was truly impressive.
The 17-second time of stoppage was the fastest in almost four years for a heavyweight fight.
In August of 2009, Todd Duffee dominated Tim Hague en route to a seven-second win, the fastest official knockout in UFC history.
Of course, Duane Ludwig's 6.26 unofficial knockout time from UFC Fight Night 3 is largely considered the fastest in the promotion's history. Even Dana White admits this.
Even though 17 seconds would seem enough to be the second-fastest knockout in heavyweight history, Gonzaga's win does not take that spot. Instead, it falls behind Andrei Arlovski's 15-second KO win over Paul Buentello from way back at UFC 55.
And, for what it's worth, Gonzaga's knockout time did not even make the top-15 list of fastest knockouts in UFC history.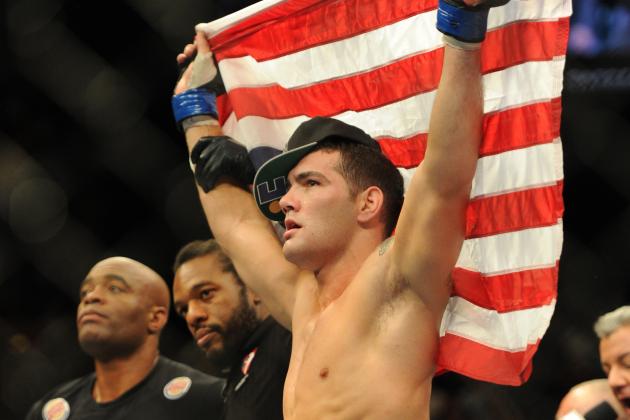 Jayne Kamin-Oncea-USA TODAY Spor

Now to the biggest statistic, storyline, and takeaway from UFC 162.
Anderson Silva's loss to Chris Weidman was historic due to the longtime champion's lengthy UFC reign. But it highlights this list for more reasons than one.
Silva's UFC career began back in 2007 when the Brazilian made quick, easy work of Chris Leben. He'd fight fifteen more times before Weidman ended the 16-0 run of "The Spider."
But Weidman would also be the first man to hand Silva a knockout loss.
In his first 37 fights, Silva lost four times—He was disqualified once, submitted twice, and dropped a single decision.
The acclaimed striker, easily the most prominent in the sport's history, was thought to be untouchable on the feet; his showboating ought to have been plenty of proof of just how good he believed he was.
Now comes the speculation concerning how the fight may have been different had Silva utilized any striking defense aside from his head movement.
But that argument won't change the fact that Weidman did the unthinkable, beating Silva at his own game.
"Chris Weidman is the best," Silva said in the post-fight interview with Joe Rogan.
It certainly seems that way.
Jayne Kamin-Oncea-USA TODAY Spor

Silva was definitively defeated at UFC 162, but, make no mistake, "The Spider" is the greatest fighter in UFC history and probably the sport's as well.
During his UFC career, Silva earned the top spot in several significant categories. He holds the record for most knockdowns in UFC history with 17, as well as the highest significant strike accuracy (67.5 percent).
He also holds the record for most consecutive wins in UFC history with 16. Georges St-Pierre and Royce Gracie hold a tie for second on that list with 11 a piece. Silva and St-Pierre are tied for most UFC title wins with 11 each.
But perhaps the most staggering statistic from Silva's reign was pointed out by MMAFighting.com's Mike Chiappetta following the result of the UFC 162 main event.
Chiappetta tweeted that Silva's run as champion lasted 2,458 days. During that span, 26 other fighters held a title in the UFC.
Silva's run may have ended with his lights going out, but his title reign will go down as one of (if not the) brightest in UFC history.