There are two bits of news Tottenham fans will be excited about on Monday: The team released its 2013-14 home and away kits, and Gareth Bale was modeling them.
From the team's official Twitter account:
Revealed. #IWILL #OurArmour @UnderArmourUK pic.twitter.com/TPvmh9ZRgD

— Tottenham Hotspur (@SpursOfficial) July 8, 2013
The club released the following information in a press release on its website:
Tottenham Hotspur Football Club today unveiled the Club's new Under Armour home and away kits for the forthcoming 2013/2014 season.

This year's innovative home kit features white shirt with blue and white taping around the neck, blue shorts and blue socks, which pay tribute to the kits worn during the Club's successful 1960s period. The bespoke Cadet Blue in the home kit is the deepest, darkest blue that Spurs have worn. From head-to-toe the away kits are in a new energetic bright blue dubbed Capri.
Spurs also announced a new partnership with HP, the sponsor now appearing on the uniform.
Squawka Football has an image of the home, away and goalie kits for next season:
Tottenham Hotspur's new home and away kits for next season. #THFC pic.twitter.com/h5mEZs2nfu

— Squawka Football (@Squawka) July 8, 2013
While that away uniform is very...fluorescent, most Tottenham fans likely won't notice, given their excitement over Bale rocking out in one of the home kits.
Here you go, Tottenham fans—another image of Bale still wearing a Spurs uniform, courtesy of Chris Hewett of the Times and Independent Series:
Bale in his new Tottenham Hotspur shirt...not a Real Madrid one thank God!! #COYS #THFC pic.twitter.com/S7mBJmfPzd

— Chris Hewett (@TimesChewit1987) July 8, 2013
You can't get enough of that, can you? He looks much better in Tottenham's colors than he would in Real Madrid white, wouldn't you say?
Let's talk about that away kit for a second, though. I liked the navy blue away uniforms Tottenham wore last season, but these fluorescent blue ones are a bit harsh on the eye. At least the players won't have a difficult time picking each other out on the pitch.
In fact, they may want to play in sunglasses. Here's another look at the away kit, via Tottenham's Twitter account:
Revealed. #IWILL #OurArmour @UnderArmourUK http://t.co/Hrc3Q67J30 pic.twitter.com/AqDOE3pQT8

— Tottenham Hotspur (@SpursOfficial) July 8, 2013
I get that they were trying to match up with the color of HP's logo, but personally I thought last year's navy blue was really sharp.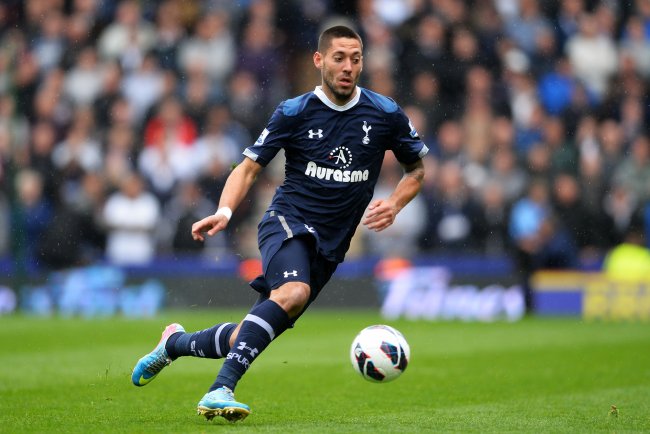 Laurence Griffiths/Getty Images
The new home kits are pretty sweet, however, and the HP logo looks solid against the lighter background, as do the darker shorts and socks. The home kits added a few quality tweaks to an already simple but classy design.
The alternative third kit will be released later in the summer, according to the team's website.