Premier League Fixture List: 7 Games to Decide the Title in 2013-14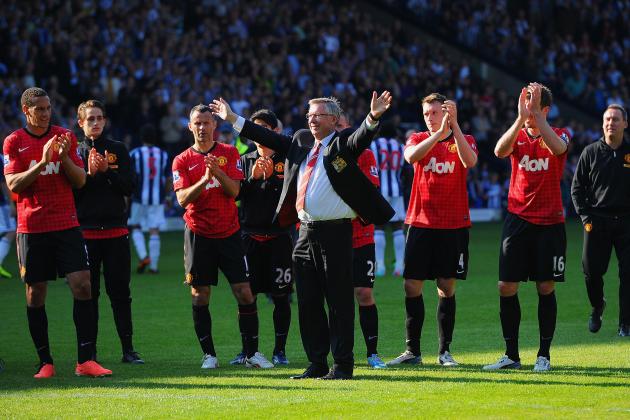 Michael Regan/Getty Images
Sir Alex has chosen his successor to lead Manchester United in the quest for their 21st league title.
Just 40 days and 40 nights. Nah, we're not suggesting going out into the desert or even celibacy here—at least, not in the usual sense.
It's 40 days until the new Premier League season kicks off; 40 days until the atmosphere-mongers' and build-up merchants' efforts come to a head on Matchday 1, only for the carnival feeling to subside as we all go back to the pub musing that, hey, it's OK to lose on the first day.
So to kill the time between now and then, let's take a look at some fixtures that could have an effect on the outcome of 2013/14.
All stats are courtesy of the Barclays Premier League unless linked otherwise.
Begin Slideshow

»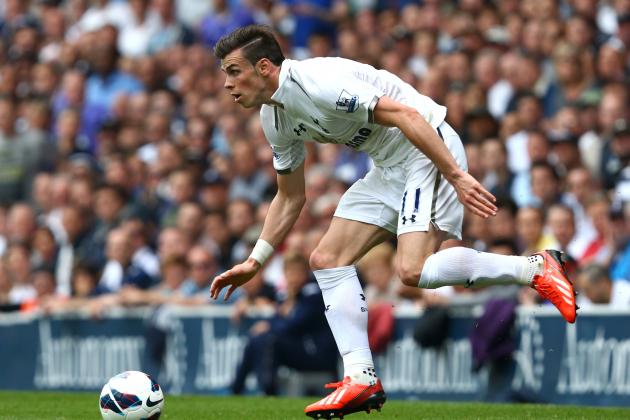 Jan Kruger/Getty Images
Spurs are hoping that they can persuade Gareth Bale to stay for another season.
It remains to be seen if Tottenham Hotspur will even be in contention for the Top Four in January, let alone in the title race—it seems that it will hinge on whether they can hold onto Gareth Bale or not. But one thing that is for certain is that this will be a tough fixture on both sides.
After last year's effort, Manchester City are expected to mount a more convincing challenge under new manager Manuel Pellegrini, and while Spurs might not be in the running, they can still have an effect on the outcome.
Although Spurs won the last meeting in April this year 3-1, you have to go back to May 2010 for the last time they beat City, with only one point gained from the five league games in between. That Spurs won 11 out of the 12 previous league meetings leading up to 2010-11 shows how far City have come since the Abu Dhabi takeover in 2008.
If City are genuine title-contenders, they need to show that by beating the teams who also covet that status—same goes for Spurs. However, while Daniel Levy and Co. definitely have ambition, it is not quite to the same degree as City's, and a defeat in this game for the Sky Blues could have serious implications that may end up costing Pellegrini his job come May.
It should be a good match, and while the result won't cause any major upsets straightaway, it could have a heavy weighting at the end of the season for both teams.
Prediction: Spurs 2-3 City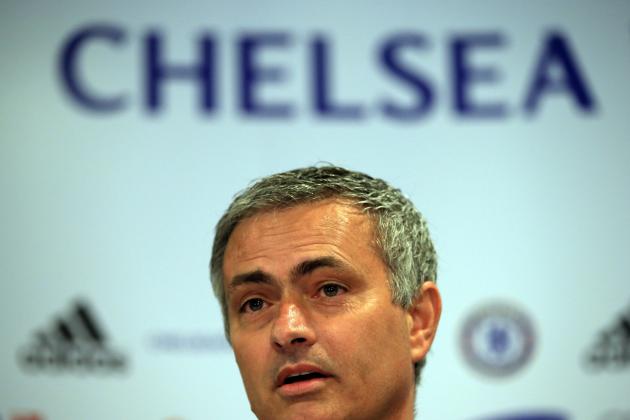 Richard Heathcote/Getty Images
The world waits to see how long Mourinho and Abramovich can go without a clash of egos.
A great opportunity for each side to discredit the other's claim to be the rightful successor to current champions Manchester United.
Manchester City vs. Chelsea is the fixture that everyone looks forward to regardless of how you feel about the clubs. Why? It's the closest thing you can get in real life to FIFA Ultimate Team; a showdown between the oil wells of the Middle East and the aluminium of Siberia.
Both Jose Mourinho and Manuel Pelligrini are expected to win the title by their respective bosses, and both will know that, with Manchester United in a period of transitional uncertainty, this season is the golden opportunity.
That one man's glory will come at the other's expense will show on the day, from both the players and the managers, and considering some of the players who will be involved (at the time of writing) it could get quite emotional on the pitch. As in, expect a few minutes added on at the end.
As with Spurs vs. City in January, it's still early doors, but for the loser the consequences could become cruelly apparent in the final weeks.
Prediction: Chelsea 2-1 City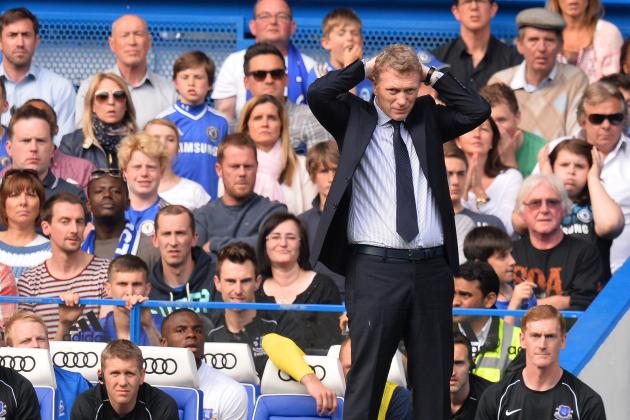 Mike Hewitt/Getty Images
Moyes and Co. will be ready for a tough first season as the other contenders will try and use the uncertainty to their advantage.
Now we're not saying that Arsenal will be title-contenders—then again, who knows?—no matter who they sign this summer; they are still not quite at that level yet. But they are capable of taking points from any of the top teams, and considering that their form seems to kick in during the second half of the season, it's entirely plausible that they could have a huge effect on the title-race without even being involved.
No one knows how good David Moyes' United team will be next year, but even if we assume that they are still as cohesive as Sir Alex's version, they are still in for a hard ride—of the last seven league meetings at the Emirates Stadium, United have won only two and drawn two.
That, and though you might have expected the rivalry between the two clubs to have waned a little as they've drifted further apart in the table, there is still plenty of bad blood—as with any game between rivals, it could go either way.
Prediction: Arsenal 1-2 United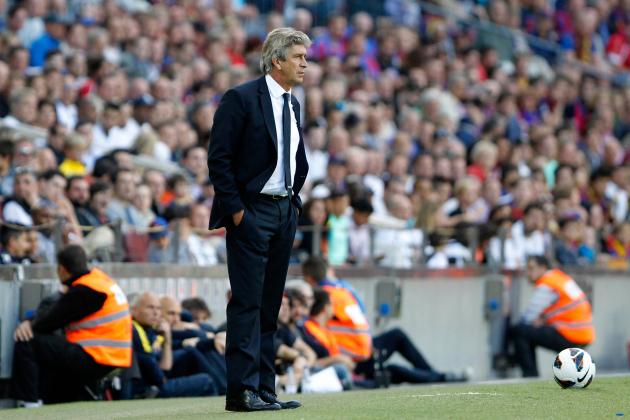 David Ramos/Getty Images
With both Manchester clubs under new management, it will be interesting to see how both parties settle in to the fierce rivalry between the clubs.
City have a lot to prove. Even forgetting the pitiful defence of their title, since 2008 there has been an injection of ambition as well as cash, and the board will be in no doubt that winning one Premier League just isn't enough if the club is to reach the level of prestige that they desire.
So, if you want to become the biggest football club in the world you have to beat the other big clubs, especially if one of them happens to be not only your closest neighbours, but also Manchester United.
City have already proved that they can win on the day, beating their traditional rivals in three of the past five league meetings and losing just one.
There is a feeling, however, that the integral problem with City's challenge is that they are basing their goals on being better than United, rather than just focusing on themselves. But I don't buy into that theory—if City want to be the best, they have to beat the best, and despite the rumblings of some, United are currently that.
Naturally, the result of the meeting at the Etihad in September could have some weight, but this game is close enough to the end of the season that both sides will be focused on the day, and depending on how Chelsea are doing, this game could potentially decide the title.
Prediction: Manchester United 2-2 Manchester City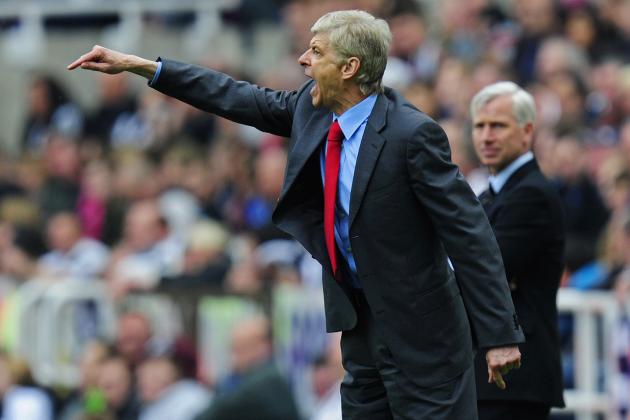 Stu Forster/Getty Images
Arsene needs to make some good, early signings this summer.
We've had some great London derbies in recent years, particularly between these two. What makes these games so exciting is the feeling that the result really could go either way, regardless of recent form, injuries or any of the usual excuses.
Granted, Chelsea did the double over Arsenal last season, as well as having done better in the league meetings since 2003-04 (won 10 and drawn six out of 20), but in the games last season and several before that, both sides had enough chances to put the match away but failed to do so. On top of the fact that it's a derby, there is a distinctly open feel to proceedings when these two face off.
Last season Arsenal were under par as a squad, so this year should go more smoothly as long as Wenger makes the right signings this summer. But even if he does, the Frenchman will still struggle to compete with the selection that Jose Mourinho will have to hand, and on the day it looks as though the superiority of Chelsea's individuals could shine through.
On the tactical side, Arsenal's attack will have to be far better than last season if they are to break down what will be a typically solid Mourinho defence.
That said, Arsenal are capable of taking points off anyone, and if they hold onto Gervinho, he might just go out and get a hat-trick—you never know with Gervinho.
Prediction: Chelsea 2-0 Arsenal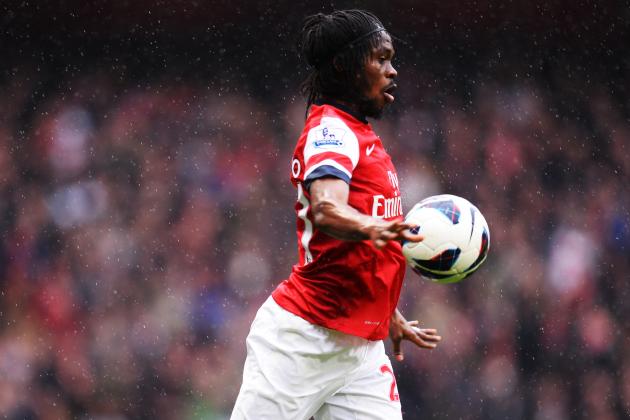 Mike Hewitt/Getty Images
There was something with his hair that night...
Coming the week after Arsenal's fixture away at Chelsea, the Gunners' mentality going into this could be greatly affected by the result at Stamford Bridge.
By the end of March, the table will have really taken shape, and City are unlikely to let results slip in the way that they did at this juncture in 2012-13, so Arsenal will really have to be on their game. Then again, City are one of those teams that needs to be winning to win, if you catch my drift.
It will mainly hinge on how the City players' heads are, and also how much the Arsenal fans ratchet things up, which will in turn depend on where the London side are in the table and the recent results.
If City are in cruise control as they have been at various points in the past few seasons, then Arsenal won't stand a chance. But if the game comes during one of those low ebbs that have punctured previous campaigns, we could see a City side struggling to even keep up with Arsenal's pace.
A big plus for the Gunners would be if they could persuade their forwards to get into the box more often rather than hovering on the edge of it. Not just in general terms, but against defenders like Vincent Kompany your best option is to get them on the back foot, which Arsenal had chances to do but didn't take advantage of in the games last season.
Prediction: Arsenal 1-2 Manchester City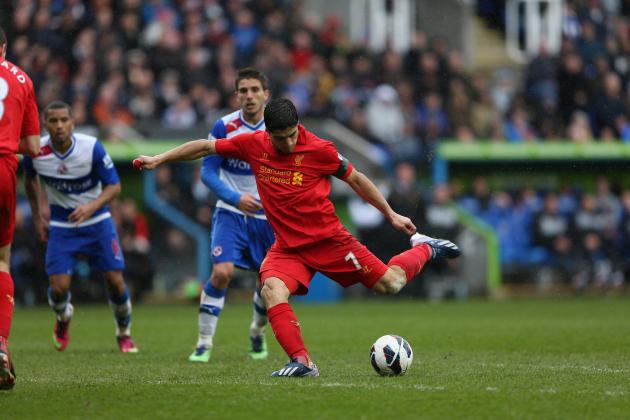 Warren Little/Getty Images
Liverpool will be desperately hoping that they can hold on to their star player.
Any Liverpool fans reading this, don't get too excited—we're absolutely not implying that Liverpool will be anywhere near the title race in April. But what they could very probably do is cause a few upsets in the final weeks.
Although there is an important game between Liverpool and Manchester City at Anfield on April 12th that could have massive implications, there is an equally mouth-watering fixture two weeks later against Chelsea.
It is doubtful that Liverpool will have a better motivation to win the game than a Europa League place, but that is why the other title-contenders should feel like they can rely on them—at Anfield there is a certain pride in winning that doesn't pay attention to league placing. Somewhat surprisingly, considering the dividing chasm in terms of squad and finances, of the past 10 league fixtures against Chelsea, Liverpool have won six and drawn two.
Although, with it looking increasingly likely that Luis Suarez will be leaving England this summer, Liverpool need to find a prolific goalscorer just to have the confidence that they will need to win big games like this, especially against a defence that will be as well-drilled as Mourinho's.
Prediction: Liverpool 3-3 Chelsea