There are plenty of NHL trade rumors circling around, and it's time to break down the latest buzz.
There are some relatively big names being dangled, in many cases for cap-space reasons.
Which players could be on the move, and where could they go?
Read on to find out.
Braydon Coburn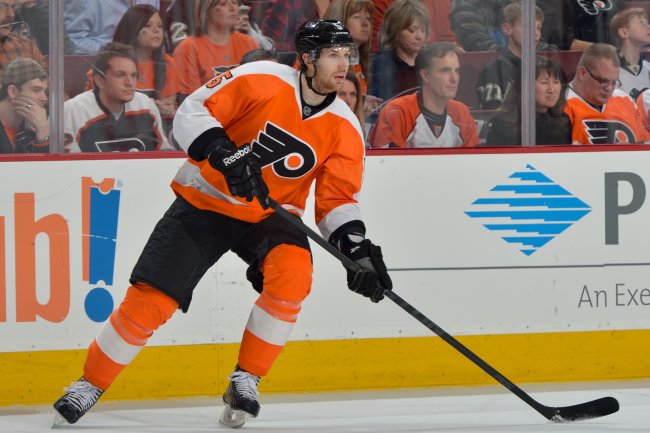 Drew Hallowell/Getty Images
According to Tim Panaccio of CSN Philly, the Philadelphia Flyers and Edmonton Oilers have been talking about a potential Braydon Coburn trade:
Flyers and EDM been talking all weekend about a Braydon Coburn trade

— Tim Panaccio (@tpanotchCSN) June 30, 2013
The trade makes perfect sense for the Oilers, as they have a well-documented need for defense. Last year, they gave up 2.73 goals per game, which was 19th in the league.
They've already taken steps to improve the blue line, by signing Andrew Ference to a four-year deal. A pairing of Ference and Coburn, who scored one goal and had four assists last season, could help the Oilers make the leap into the playoffs.
For the Flyers, the main incentive to trade Coburn is cap relief. According to CapGeek, the Flyers are currently $1,053,522 over the cap limit. Corburn, via CapGeek, is set to make $4.5 million for the next three years.
The Oilers are loaded with offensive talent. The Flyers could get someone like Magnus Paajarvi, who scored nine goals last season, or Sam Gagner, who scored 14 goals last season.
This trade makes sense for both teams, so it'll be interesting to see if the talks progress into something more.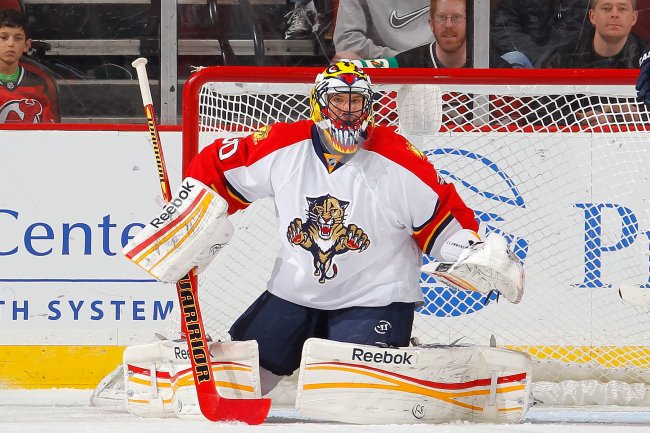 Jim McIsaac/Getty Images
Renaud Lavoie of RDS reports that the Florida Panthers have put Scott Clemmensen on the block:
Talking about goaltenders, Panthers are shopping Scott Clemmensen. One year left. 1.2 M is the cap hit. #RDS

— Renaud Lavoie (@RenLavoieRDS) June 29, 2013
Clemmensen is coming off a down year but has proven in the past that he can be a reliable spot starter. Last season, he posted a pedestrian 3.67 goals-against average and a .874 save percentage in 19 games.
But in 2008-09 with the New Jersey Devils, Clemmensen had a really good year. Playing in a career-high 40 games, Clemmensen posted a 25-13-1 record, with a 2.39 goals-against average and a .917 save percentage.
For a relatively minimal cap hit, Clemmensen could provide solid minutes for a team that needs goaltenders. Teams like Edmonton, Colorado, or even Winnipeg would benefit from Clemmensen's services.
Mike Cammalleri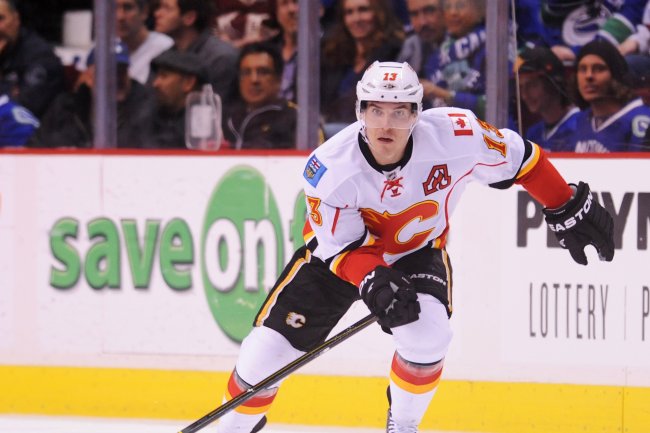 Derek Leung/Getty Images
Flames GM Jay Feaster has made it pretty clear that he is willing to trade Mike Cammalleri. Stephen Whyno of the Canadian Press tweeted the following:
Feaster: No interest from other teams in Cammalleri. He tells fellow GMs: "My number is in the directory. Give me a call."

— Stephen Whyno (@SWhyno) June 28, 2013
Why would the Flames want to trade Cammalleri? For one, according to CapGeek, he has a $6 million cap hit through next season, which is far too expensive for a team that is rebuilding.
For another, Cammalleri's goal-scoring output has declined in recent years, from 39 in 2008-09 to just 13 last season: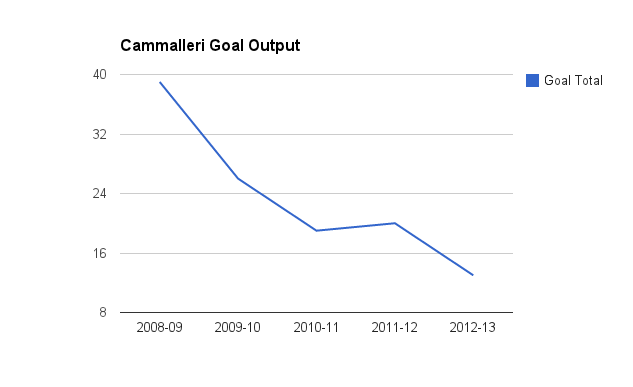 It may not be surprising, then, that the Flames are having difficulty getting rid of Cammalleri. Still, it's possible that the winger could be rejuvenated on a new team. The Flames are pretty devoid of talent up front, and Cammalleri could excel on a team with more offensive talent.
It remains to be seen if the Flames could move his contract, but they have made it clear that Cammalleri is available.