The Los Angeles Lakers were only able to keep Dwight Howard around for one season, as the superstar center bolted to the Houston Rockets in free agency. Now, L.A. has to retool the roster in a cost-effective way to have even a slim chance of competing for an NBA title next season.
Rumors are swirling as to how the Lakers plan on absorbing the loss of the 27-year-old superstar center, which is coming without any sort of compensation.
In light of the latest chatter, it appears that GM Mitch Kupchak isn't going to make substantial changes to the team in order to maintain as much of last year's core as possible.
Some free agents remain feasible to sign, but L.A. is already having luxury-tax issues, and thus Kupchak needed to make some sort of move to enhance flexibility on the open market. Below is a closer analysis of the developing situation as the Lakers look to move on from Howard's disappointing decision.
Pau Gasol to Return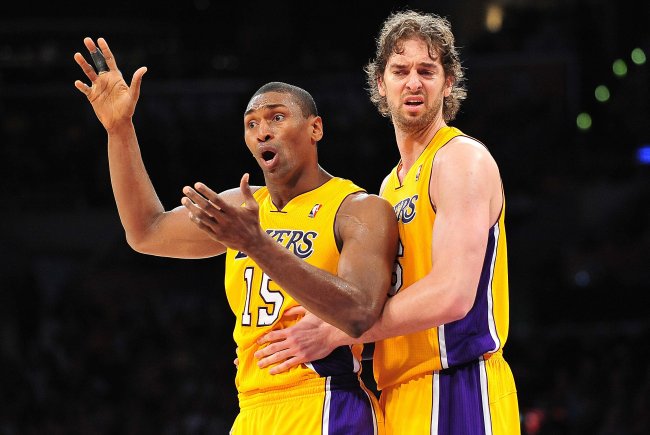 Gary A. Vasquez-USA TODAY Sports
There was the possibility of Gasol being amnestied if Howard decided to come back, but the longtime Lakers big man is safe now that the saga has blown over, according to ESPN Los Angeles' Ramona Shelburne.
Mike Bresnahan of the Los Angeles Times asserts that Gasol will remain, too.
Gasol is due to make $19.3 million in 2013-14, and by amnestying his deal, the Lakers would have taken that salary off the books.
Metta World Peace was slated to pocket roughly $7.7 million this coming season but will reportedly be amnestied, per Kevin Ding of the Orange County Register:
Sweet a guy as he is, @MettaWorldPeace will be waived via amnesty by Lakers to save about $30 million, barring some late change.

— KEVIN DING (@KevinDing) July 8, 2013
Both players were due to be unrestricted free agents following the season, but Metta World Peace will be reevaluating his future immediately.
The good news is that there is a mutual showing of loyalty between Gasol and the Lakers organization. Aging superstars Kobe Bryant and Steve Nash are coming off injury-plagued years but have a key cornerstone in Gasol.
With Metta World Peace gone, the organization has a little bit more flexibility with which to upgrade the roster slightly in order to be a factor next year.
Elton Brand or Chris Kaman to Boost LA's Frontcourt?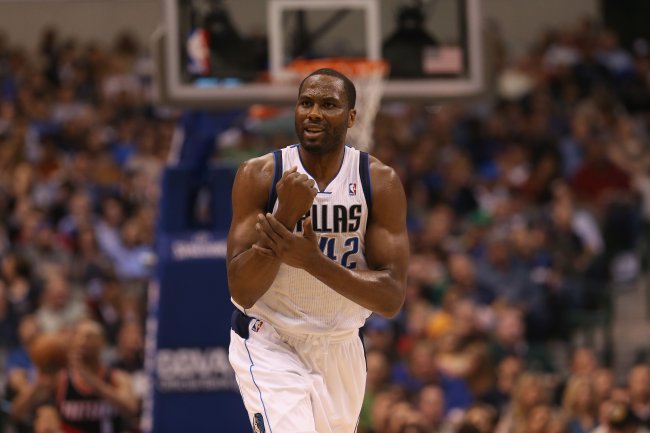 Ronald Martinez/Getty Images
A pair of recent Dallas Mavericks are drawing the Lakers' attention to potentially upgrade the rotation of bigs. Gasol is going to be the centerpiece, with Jordan Hill to see significant minutes, too.
Beyond that duo, Robert Sacre is really the only other option, along with second-round pick Ryan Kelly out of Duke. Thus, the interest makes sense, yet—even for a player in Brand, whose best basketball days are clearly behind him—it may be too big of a cost for L.A. to incur, per Shelburne:
Lakers also have an interest in Elton Brand, but he may be outside their price range

— Ramona Shelburne (@ramonashelburne) July 6, 2013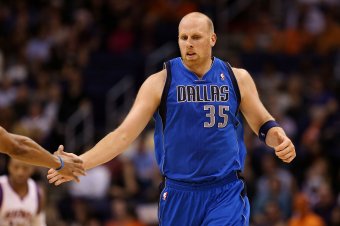 Christian Petersen/Getty Images
Brand averaged just 7.2 points and exactly six rebounds per contest last season—both of which were career-low numbers.
At least Kaman scored in double figures (10.5 points per game), and his size at 7'0" and 265 pounds is intriguing. Adrian Wojnarowski of Yahoo! Sports broke news of the Lakers' interest in Kaman.
Shelburne then reported that the Lakers signed Kaman to a one-year deal with the minimum mid-level exception:
Kaman will get the Lakers mini midlevel exception, Im told

— Ramona Shelburne (@ramonashelburne) July 8, 2013
If Brand's price tag is thought to be too high, the younger, better Kaman was a wise choice with the mid-level exception. The Buss family and Lakers brass might have to simply pay the luxury tax—no matter how high it is—and acquire more assets to have a better team in place.
Wing Players on Lakers' Radar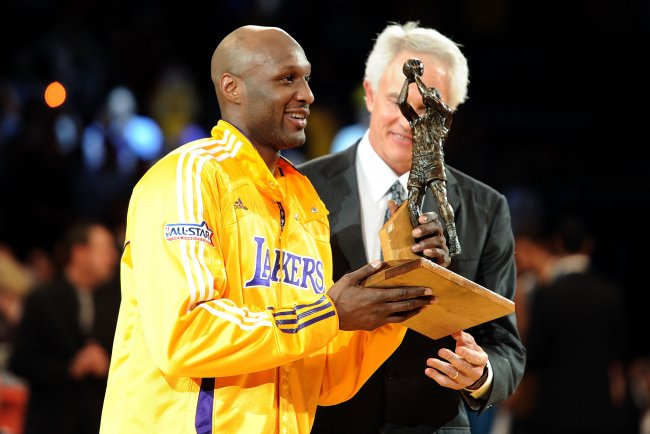 Harry How/Getty Images
According to Shelburne, it appears that Lamar Odom is on the radar:
Lakers have reached out to Lamar Odom, but it been hard to determine how high interest level is on either side thus far.

— Ramona Shelburne (@ramonashelburne) July 6, 2013
The skilled forward can handle the ball like a point guard and create mismatches from just about anywhere on the court.
Unfortunately, Odom has been mired in a funk since leaving the Lakers two years ago, shooting far below 40 percent and averaging way less than double figures—something he hadn't done in 12 prior NBA seasons.
What he could provide is a stopgap swing man that has chemistry playing with Gasol and Bryant at a championship-winning level. Head coach Mike D'Antoni's up-tempo offense could be what Odom needs to break out of hiss slump, as well.
Anthony Morrow is another intriguing option, though. Morrow is being widely coveted, but L.A. is among the teams seeking his services, according to Alex Kennedy of HOOPSWORLD.com:
Grizzlies, Warriors, Bobcats are latest teams to express interest in Anthony Morrow. Lakers, Spurs, Suns, Rockets, Knicks reached out too.

— Alex Kennedy (@AlexKennedyNBA) July 7, 2013
The 27-year-old sharpshooter is yet another Maverick, and he didn't get much playing time under Rick Carlisle in his brief, 17-game stint.
Who is the best rumored free agent option for the Lakers?
In his first three years in the Association, though, Morrow established himself as a rainmaker from downtown, stroking it at well over 40 percent.
He's a career 42.4-percent three-point shooter, and the Lakers could ideally use another perimeter threat, considering the top four beyond-the-arc marksmen from 2012-13 were point guards.
Morrow lit it up to start his young career with the Golden State Warriors in a fast-paced offensive attack, which is precisely what he'd be a part of in L.A. The mid-level exception could be used on him and not count against the cap, either.