Indiana Basketball: Every Projected Starter's Signature Highlight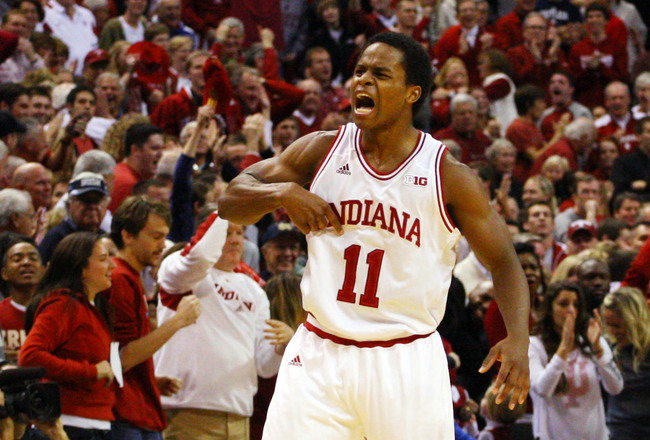 Brian Spurlock-USA TODAY Sports
Indiana basketball's projected starting lineup may be young, but the players have already had some big moments in their careers.
Yogi Ferrell, Will Sheehey and Jeremy Hollowell have made their fair share of important shots in a Hoosier uniform. Freshmen Noah Vonleh and Luke Fischer are just starting their time at Indiana but have highlights from high school to get IU fans excited about their arrival.
This slideshow will discuss the defining highlight for each player. For the freshmen, a play or game from high school will be used.
Yogi Ferrell: 3-Pointer vs. Butler
Yogi Ferrell was just a freshman last season, but he was the starting point guard. Early in the year, he hit the signature shot of his young career.
Indiana played state rival Butler University in the Boston Scientific Close the Gap Crossroads Classic. The Bulldogs never backed down from the No. 1-ranked Hoosiers.
In the game's waning moments Butler led 76-73. Instead of trying to get a quick basket and then foul Butler, forcing it to make free throws, IU went for the tie. Ferrell was open and made the most of it, tying the game.
Indiana ended up losing in overtime in one of the season's biggest upsets, but there was a silver lining for Hoosier faithful. Ferrell's shot showed he wasn't afraid of the spotlight, and Indiana could count on him in the clutch going forward.
Will Sheehey: Game-Winner vs. VCU
After an improbable regular season, the 2011-12 Hoosiers made the NCAA tournament. It was Indiana's first appearance since 2008. With a Sweet 16 bid on the line, IU squared off against Virginia Commonwealth University.
After making the Final Four a season earlier, VCU was eager to prove it was not a fluke. The game was a back-and-forth battle that was tied at 61 with only seconds left.
Following a VCU miss, Victor Oladipo grabbed the rebound, raced down the court and found a wide-open Sheehey, who drained a corner jump shot. The Rams missed on their final possession, and IU advanced.
Sheehey's shot proved to be the game-winner.
Jeremy Hollowell: Performance vs. Michigan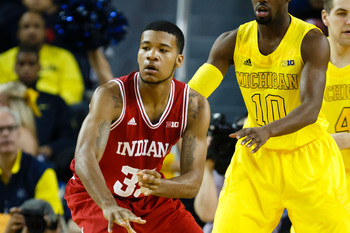 Rick Osentoski-USA TODAY Sports
Jeremy Hollowell played key minutes during his freshman year. His most important came on the road when Indiana battled the Michigan Wolverines. If the Hoosiers prevailed, they would be outright Big Ten conference champions for the first time since 1993.
With almost seven minutes gone in the second half, Indiana was down by four. The Hoosiers needed someone to swing the momentum in their favor.
Hollowell delivered.
Jordan Hulls missed a three, but Hollowell grabbed an offensive rebound and made a layup. Michigan scored, but Hollowell answered with a three-pointer. Then the Wolverines missed, Hollowell pulled down the rebound, and on the ensuing possession, Will Sheehey made a three.
Suddenly, IU was up 48-46, mainly because of Hollowell.
Noah Vonleh: McDonald's All-American Game
Noah Vonleh was selected to play in this year's McDonald's All-American Game. Only 25 players get picked for the prestigious contest. Vonleh followed in the footsteps of basketball greats LeBron James, Isiah Thomas, Kevin Garnett and Magic Johnson.
Vonleh played decently. He finished with a respectable stat line (3 PTS, 6 REB). His six boards were tied for second most on the East Team.
The experience was a highlight for Vonleh because he was honored as one of the nation's top high school players.
Luke Fischer: Second State Championship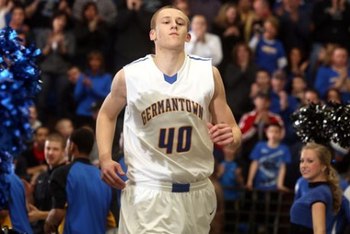 Credit: maxpreps.com
Looking back on Luke Fischer's high school career, it was exceptional. He won back-to-back state championships. During the impressive two-year run, Germantown High School went 58-0. Finally, he was named Wisconsin's Mr. Basketball.
Despite all of the success, Fischer's final game has to be his defining highlight. All of the pressure was on him and his teammates. They had won 57 games in a row and were just one game away from a second consecutive state title.
The game might not have been Fischer's best statistically (17 PTS, 7 REB, 2 BLK), but he got the job done. He led his team to another state championship.
Keep Reading

Indiana Hoosiers Basketball: Like this team?