Stock Up, Stock Down for Boston Red Sox's Top 10 Prospects for Week 14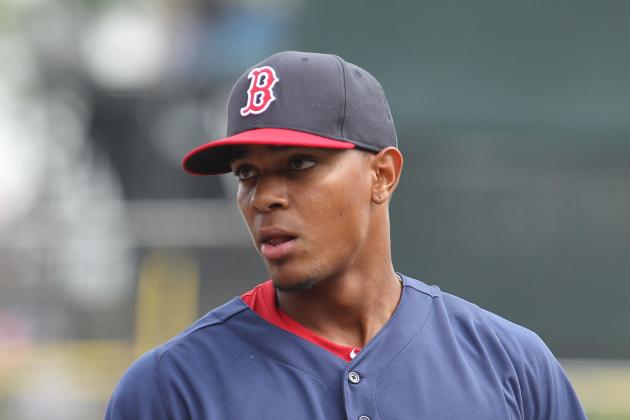 Kim Klement-USA TODAY Sports

As the calendar changes to July, the time has come to really take stock in what the Boston Red Sox have to offer in their farm system.
The first-place Red Sox will look to their deep prospect field in search of pieces to move at the trade deadline. Plenty of options are open for Boston to consider as it tries to make a run at its first postseason berth since 2009.
Baseball America's Jim Callis ranked Boston's farm system as the fifth-best in the majors entering the 2013 season. The up-and-comers have done nothing to discredit his ranking.
The following players were the top-10 ranked prospects entering the season according to Baseball America.
Please note: Players recently drafted by the Red Sox will not be included, as they do not have any statistics to draw from. If you would like more information about Boston's most recent additions to the minor league system via the draft, have a look at their scouting profiles right here on B/R.
Begin Slideshow

»
2013 Stats
.271/.351/.421, 15 2B, 6 3B, 2 HR, 26 RBI, 23 R, 6 SB
Overview
Blake Swihart might be one of the best prospects in the Red Sox farm system, but his performance last week could not have been more underwhelming.
The only part of the 21-year-old's stat line that has changed since last week is his batting line, and each of the three numbers has gone down. He was virtually absent at the plate for High-A Salem, and that does nothing to help his stock.
With that said, Swihart is still enjoying a fine season for such young a catcher, so a poor week is hardly enough to make the Red Sox worry about his future.
Last Week's Stats
2-for-18, 0 2B, 0 HR, 0 R, 0 RBI
Stock
Down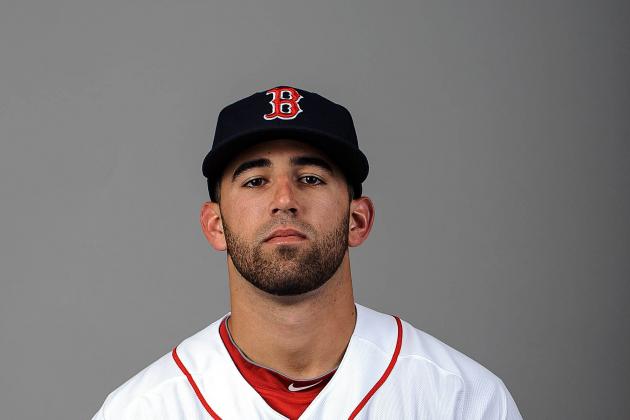 USA TODAY Sports

2013 Stats
.267/.351/.354, 16 2B, 0 3B, 1 HR, 13 RBI, 35 R, 14 SB
Overview
Deven Marrero continued his recent warmth at the dish, enjoying another productive week with High-A Salem.
He was able to drive in two runs while touching home four times in the past week. His success in run production can mostly be attributed to his plate discipline, as Marrero walked five times last week.
As Boston's first-round selection in the 2012 draft, Marrero is tagged with high expectations. His recent displays at the plate should make Red Sox fans feel that the Arizona State alum has potential down the road.
With his glove and emerging bat, Marrero is a prospect on the rise in the Red Sox farm system.
Last Week's Stats
5-for-19, 0 2B, 0 HR, 4 R, 2 RBI
Stock
Up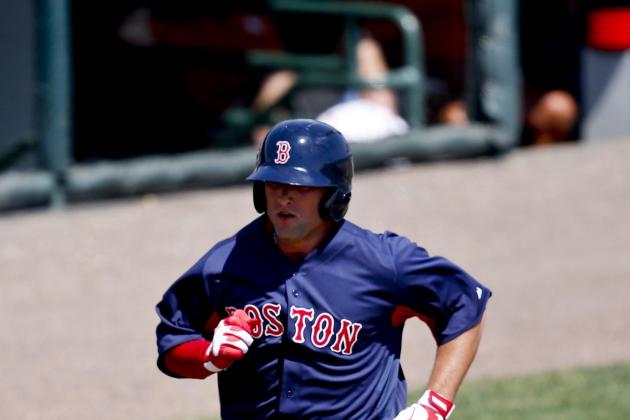 Derick Hingle-USA TODAY Sports

2013 Stats
.269/.319/.485, 15 2B, 1 3B, 16 HR, 53 RBI, 34 R, 1 SB
Overview
Bryce Brentz has met most expectations this season. His 16 home runs and 53 RBI showcase his power, while his .319 on-base percentage demonstrates his deficiencies.
This past week has been par for the course for Brentz. His five strikeouts and his pair of extra-base hits are an exhibition of the right fielders skills.
Brentz might be in the majors right now if it weren't for his sub-par plate discipline. This week, that has not improved, and neither has his stock.
Last Week's Stats
4-for-16, 1 2B, 1 HR, 1 R, 2 RBI
Stock
Flat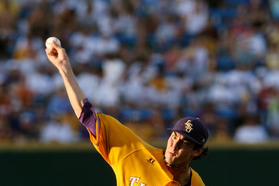 2013 Stats
16 GS, 8-2, 2.67 ERA, 32 BB, 94 K, 91.0 IP
Overview
While Anthony Ranaudo didn't enjoy a win this past week, his performance was nice, nonetheless.
The righty pitched seven strong innings, allowing just four hits and two runs in his start. He struggled with control a bit, walking three batters, and he also struck out only three batters, a total far lower than the Red Sox are accustomed to seeing.
Ranaudo continues to prove that his resurgence this season is legitimate. Boston is excited that their former first-round pick remains on track to rise through their system.
Last Week's Stats
1 GS, 0-0, 7.0 IP, 4 H, 2 ER, 3 BB, 3 K
Stock
Up
2013 Stats
16 GS, 6-4, 3.40 ERA, 39 BB, 93 K, 79.1 IP
Overview
Henry Owens can't be excited about his most recent start.
The 20-year-old lasted just two innings, while allowing five runs and getting tacked with the loss. He allowed six hits in his start, and granted five free passes.
The atrocious start was Owens' worst on the season, and caused his ERA to soar nearly a full run. Hopefully the left-hander can rebound in his next outing, and prove this game was an aberration in an otherwise fantastic season.
Last Week's Stats
1 GS, 0-1, 2.0 IP, 6 H, 5 ER, 5 BB, 3 K
Stock
Up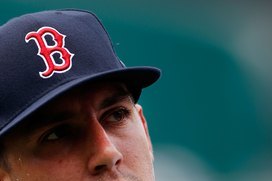 2013 Stats
16 GS, 4-5, 5.32 ERA, 25 BB, 83 K, 67.2 IP
Overview
This past week, Matt Barnes' disappointing 2013 season was further marred by an injury.
The righty lasted just four pitches in his July 6 start, as he exited after taking a line drive off his right wrist.
Portland manager Kevin Boles sounded optimistic when discussing Barnes after the game:
"That ball squared him up pretty good. He said he felt fine after throwing those couple of warm-up pitches. But we're going to err on the side of caution, no doubt about it."
Hopefully Boles is right, and Barnes will miss minimal time. The 2011 first-round pick needs to be out on the mound to work on his game.
Last Week's Stats
1 GS, 0-1, 0.0 IP, 1 H, 1 ER, 0 BB, 0 K
Stock
Down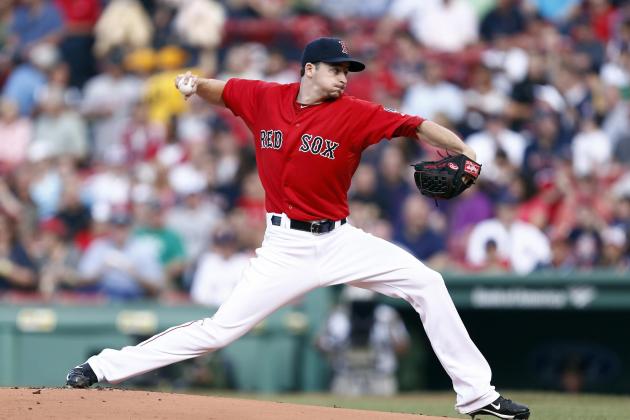 Mark L. Baer-USA TODAY Sports

2013 Stats
10 GS, 5-1, 2.98 ERA, 22 BB, 56 K, 51.1 IP
Overview
After five starts, Allen Webster finally captured his first major league victory.
The righty was far from perfect during his July 4 start against the San Diego Padres, allowing five hits and four runs over six frames. That was plenty good enough for the 23-year-old to pick up the victory, though, and move to 1-2 on the season.
Clay Buchholz should be returning to the rotation soon, so Webster's time in the Red Sox rotation is limited. With the struggles of Boston's bullpen, Webster might keep his spot in the majors. If not, he will resume his career with Triple-A Pawtucket.
Last Week's Stats (With Boston)
1 GS, 1-0, 6.0 IP, 5 H, 2 ER, 4 BB
Stock
Up
2013 Stats (with High-A Salem)
.350/.469/.547, 19 2B, 4 3B, 5 HR, 33 RBI, 44 R, 15 SB
2013 Stats (with Double-A Portland)
.418/.522/.600, 4 2B, 0 3B, 1 HR, 7 RBI, 14 R, 0 SB
Overview
Garin Cecchini is labeling himself as an untouchable prospect in the Red Sox farm system.
Cecchini has been knocking the seams off the ball all season long, and that has not changed with his recent promotion to Double-A Portland.
In his first 55 at-bats in Double-A, the third baseman has batted .418 with seven doubles and 14 runs scored.
The 22-year-old is certainly putting a lot of pressure on fellow hot-corner tender Will Middlebrooks. Cecchini's emergence as an elite prospect now gives the Red Sox the flexibility to move Middlebrooks in a trade, or at least grants them an alternative option at third in the future.
Last Week's Stats
11-for-22, 4 2B, 1 HR, 6 R, 4 RBI
Stock
Up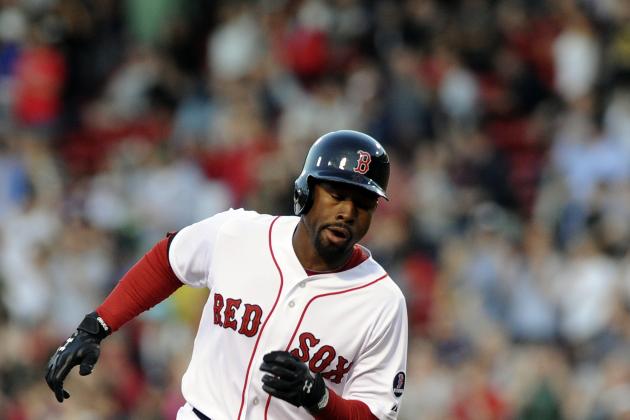 USA TODAY Sports

2013 Stats
.300/.393/.530, 18 2B, 2 3B, 7 HR, 21 RBI, 33 R, 4 SB
Overview
Jackie Bradley Jr. has recently been showcasing a part of his game not many people recognize: his power.
With three solo home runs this past week, the center fielder is proving that he has the muscle to extend his hits beyond the outfield wall.
The 23-year-old continues to knock at Fenway Park's doors, but the excellent outfielders on Boston's current roster block the way. His emergence gives the Red Sox a perfect secondary plan if they are unable to sign free-agent-to-be Jacoby Ellsbury this offseason.
Last Week's Stats
6-for-24, 1 2B, 3 HR, 6 R, 3 RBI
Stock
Up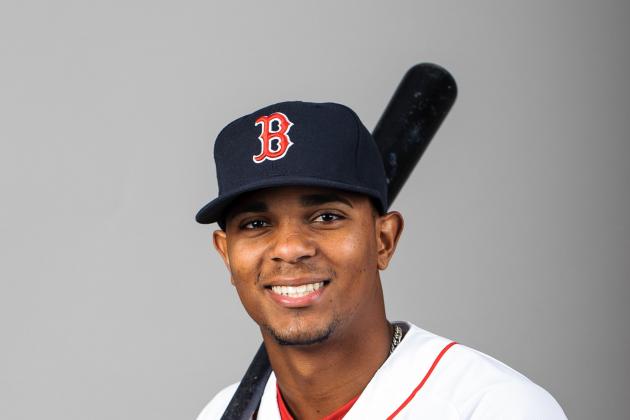 USA TODAY Sports

2013 Stats (With Double-A Portland)
.311/.407/.502, 12 2B, 6 3B, 6 HR, 35 RBI, 40 R, 5 SB
2013 Stats (With Triple-A Pawtucket)
.262/.361/.440, 0 2B, 0 3B, 5 HR, 15 RBI, 11 R, 2 SB
Overview
Whether it is Double-A or Triple-A, Xander Bogaerts continues to produce at a high level.
This past week, the 20-year-old has done nothing to diminish the value the baseball world places on him. His ability to fit in as an elite run-manufacturer was put on full display, as the shortstop drove in five runs and scored a pair.
The Dutch phenom has a ceiling-less future, and if his speedy development continues, a September call-up to Boston might give Red Sox fans their first taste of budding star Bogaerts.
Last Week's Stats
7-for-22, 0 2B, 1 HR, 2 R, 5 RBI
Stock
Up