Michigan State Basketball: Every Projected Starter's Signature Highlight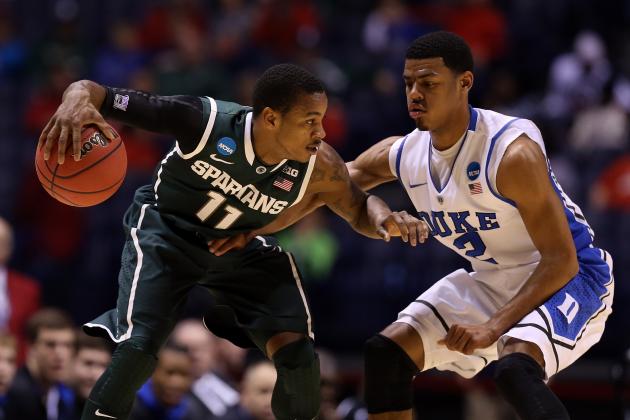 Streeter Lecka/Getty Images
Spartans senior Keith Appling is known for slashing and driving. But he's more than that.
In the day of the highlight, making an impression with a last-second shot or thunderous dunk is a great way for a player to make a name for himself.
And when looking at the Michigan State Spartans, there are more than a few capable of becoming staples on top-10 lists this upcoming season.
Keith Appling, Adreian Payne, Gary Harris and Branden Dawson have a few moves they're known for. As the core of the Spartans' rotation, expect at least one of them to come up with a jaw-dropper worthy of a hashtag or other type of social media praise in 2013-14.
Begin Slideshow

»
Doubting Keith Appling's clutch abilities could be fatal for the opposition.
The Spartans senior point guard may be an up-and-down scorer and sometimes inconsistent presence on the court, but he's certainly come through when coach Tom Izzo has needed him most.
Appling can get to the basket and around a defender in a hurry by using his lightning-quick jukes. Leaving the opposition with a blank expression on their face is common for Appling, who's also athletic enough to dunk on much taller foes on the way to the rim.
However, Appling's surefire signature highlight is his ability to hit free throws with the game on the line. Whether it's a go-ahead or lead-padding bucket from the stripe, Appling gets the job done more times than not.
The above video is a prime example of Appling's talents, just add an and-1 to the end of the equation to visualize his bread-and-butter move.
Skying through traffic with the ball comfortably placed on his right forearm is just the beginning for Branden Dawson.
Finishing with an iron-bending slam comes next.
The 6'6" pogo-legged junior forward is one of the more athletic wingmen in the country. He's developing an outside game, but his moneymaker is, without a doubt, powerful dunking.
Expect to see a mixture of tomahawk and windmills this season. He's proven to be quite effective with them.
The state of Michigan had two sharpshooting stars in 2012-13, Michigan State's Gary Harris and Michigan's Trey Burke.
During the national tournament, Burke hit shots from insanely long range. At times, onlookers couldn't believe he'd dare to take such a chance. But after the ball swept through the net, they couldn't wait for him to do it again.
With a success rate of about 41 percent, Harris, then a freshman, was the Big Ten's fifth-leading three-point shooter this past year.
In 2012 as a senior at Hamilton Southeastern, Harris heaved a half-court missile to knock off North Central in the state championship—he already has the makings of a late-game hero.
His impressive range will likely come into play several times for the Spartans.
Adreian Payne's game has matured during three years at Michigan State.
Now entering his senior season, the 6'10" forward/center has made it a point to jump over and through just about anyone in an attempt to gain possession.
He can dunk, sure. He has a nice mid-range game, too.
But Payne just may be college basketball's most gifted in terms of corralling the un-catchable rebounds. With a wing span just over 7'0", length is Payne's best asset.
Imagine shooters clanging the ball on the heel. As the ball sails 11 or 12 feet above the floor, Payne will be there to snag it before most even make a move.
Big rebounds will get Payne noticed this season.
And dunks from the rebounds. Don't forget about those.
Now a sophomore, Denzel Valentine will get more than a few chances to showcase his precise passing. His rebounding, though, may be a bit overlooked. He's effective in the paint and not afraid to take punishment when fighting for the ball.
Matt Costello, a sophomore, and Alex Gauna, a junior, each played a similar role for Izzo this past season. At roughly 6'9" and 245 pounds, each of them has a familiar skill set. Diving for loose balls like a special teamer on an onside kick could be their moments in the sun.
Travis Trice, a junior, is a shadow; he sticks to ball-handlers like a bad rash. His defense will take center stage.
Follow Bleacher Report's Michigan State Spartans basketball writer Adam Biggers on Twitter @AdamBiggers81