9 Coaches on the Verge of College Football Recruiting Stardom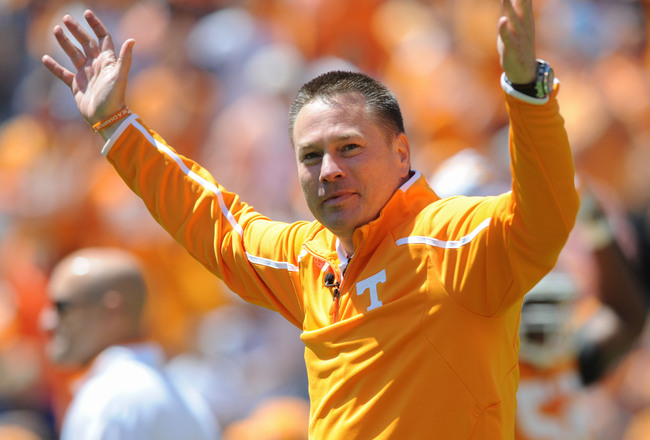 Randy Sartin-USA TODAY Sports
College football has seen coaches such as Nick Saban, Jimbo Fisher, Urban Meyer, Brady Hoke, Mack Brown and Lane Kiffin reach recruiting stardom. These coaches are known to embrace the grind of recruiting and have excelled at signing great classes.
However, they will not be alone forever, as a new cast of coaches appears to be on the brink of joining them. A pair of coaches in the SEC are using 2014 recruiting as their coming-out party, a coach in the Pac-12 is making his case to join the elite and a Big Ten coach is in the middle of overcoming terrible recruiting odds.
Also, two other coaches in a great conference are looking to validate their prior recruiting success to become permanent stars on the trail.
Al Golden, Miami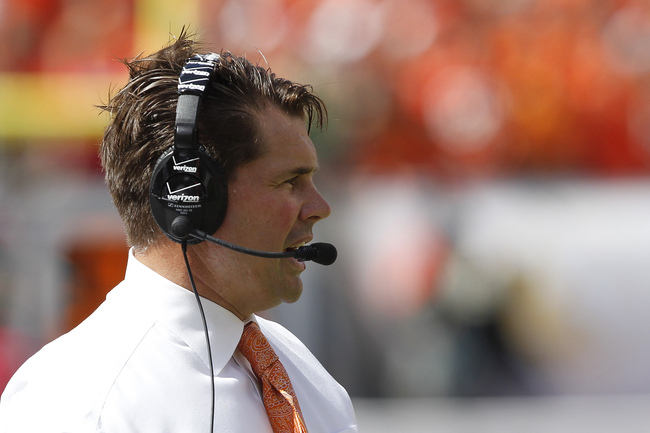 Joel Auerbach/Getty Images
Al Golden, who came to Miami from Temple, has been overlooked as a recruiter with the Hurricanes.
However, he has the No. 3 class in the country, says 247Sports, and things are good in Coral Gables.
Golden has signed two straight Top 25 classes, and if he keeps pace this year, he will have this third. Although rival coaches Jimbo Fisher and Will Muschamp are dominant at Florida State and Florida, respectively, with another Top 25 haul, Golden should be considered a recruiting star in his own right.
Jim Mora, UCLA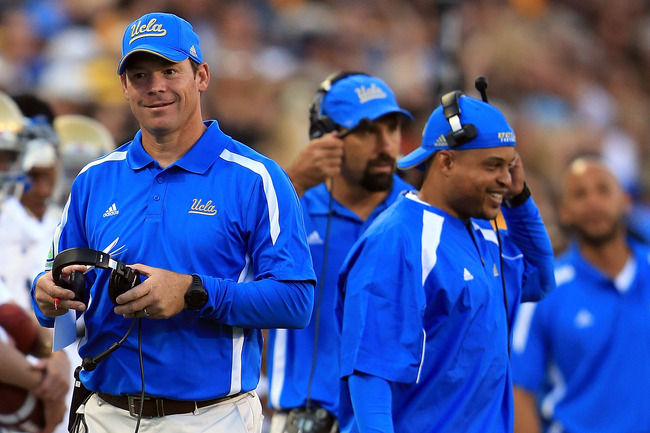 Doug Pensinger/Getty Images
Jim Mora, who has an NFL background, came to Westwood in December 2011, and many questions surrounded him. With such little experience as a recruiter, how would he fare at luring high school prospects to a program being overshadowed by its rival?
So far, so good, as Mora has brought in two straight Top 25 classes. He made shrewd hires, adding assistants who were known as great recruiters.
Mora's charisma and energy have resonated well with young recruits, and he has molded UCLA into a well-respected recruiting program. Although the Bruins are behind the pack in 2014, look for Mora to get them going and finish strong, which should help him reach recruiting stardom.
Mike London, Virginia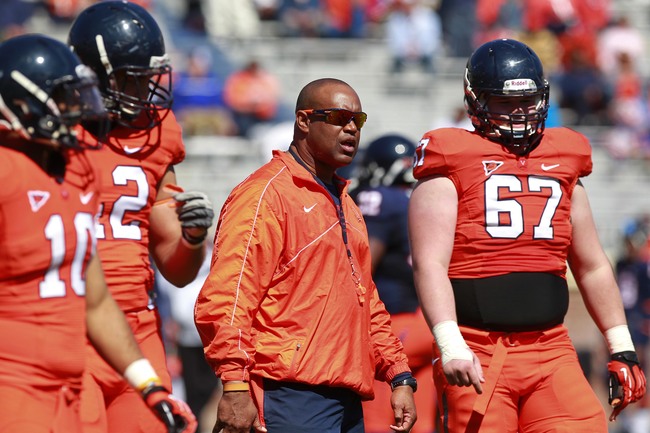 Geoff Burke-USA TODAY Sports
Mike London, who came to Charlottesville from Richmond, has a chance to be this year's Hugh Freeze. The Cavs have two 5-star commitments in safety Quin Blanding and defensive tackle Andrew Brown and could be on their way to a Top 25 class.
London is building a great class and has finally found a way to mine the elite talent in his state. He has been a solid recruiter since arriving at Virginia in 2010, landing good in-state recruits such as linebacker Eli Harold and running back Taquan Mizzell.
However, London's current class could be the group that pushes him over the top and changes his national perception from "middle-of-the-pack recruiting head coach" to "star."
Hugh Freeze, Ole Miss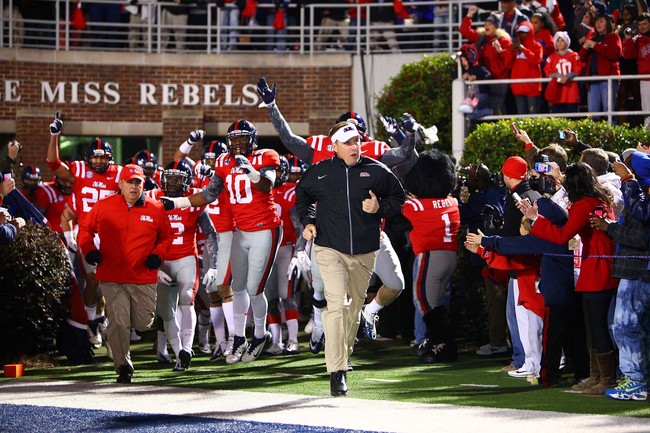 Spruce Derden-USA TODAY Sports
Hugh Freeze, a Southern Miss alum, was the storyline of the 2013 recruiting cycle. He led Ole Miss from the pits of the SEC recruiting trail to having a Top 10 recruiting class in the 247Sports rankings.
Many felt Freeze's class was luck and nothing more than a fluke. The 2014 recruiting cycle was supposed to validate these statements and expose Freeze for not having the ability to sustain recruiting success in Oxford.
Freeze has proven otherwise, as he has a Top 15 class, says 247Sports. If Freeze keeps his current pace—or even just finishes in the Top 25, he should be deemed a recruiting star, as it is difficult recruiting at Ole Miss against the rest of the SEC.
Steve Sarkisian, Washington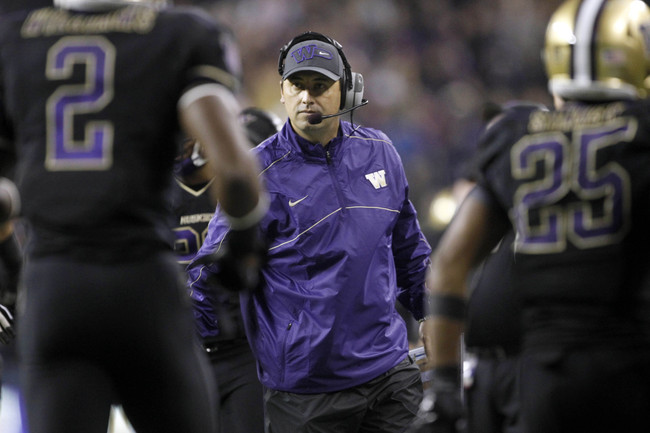 Joe Nicholson-USA TODAY Sports
Steve Sarkisian, a former USC and Oakland Raiders assistant, has signed three consecutive Top 25 classes in Seattle. Before he arrived, Washington did not exactly strike fear in the hearts of rival schools in the Pac-12.
Sarkisian, a Pete Carroll disciple, has turned things around for the Huskies, as Washington is a respected recruiting program out west. While he does not get the national attention he deserves, those in the coaching profession know how great a job Sarkisian has done for U-Dub.
If Washington can make a surge up the rankings and sign a fourth consecutive Top 25 class, Sarkisian should be considered an unquestioned recruiting star.
James Franklin, Vanderbilt
Frederick Breedon/Getty Images
James Franklin, who previously was the offensive coordinator at Maryland, has done the unthinkable in the SEC by bringing in two straight Top 25 classes at Vanderbilt.
The Commodores play for a great university, but they have not enjoyed great success on the field. Combine its past history, with the high academic standards set by the school and one can see the great difficulties that come with recruiting at Vanderbilt.
However, Franklin, who is 15-11 during his tenure as head coach, has provided a jolt to Vandy's recruiting efforts.
Already a rising star in the coaching profession, if Franklin signs another good class, he will arrive as a recruiting star. After that, it could be tough for Vanderbilt to hold on to Franklin.
Bill O'Brien, Penn State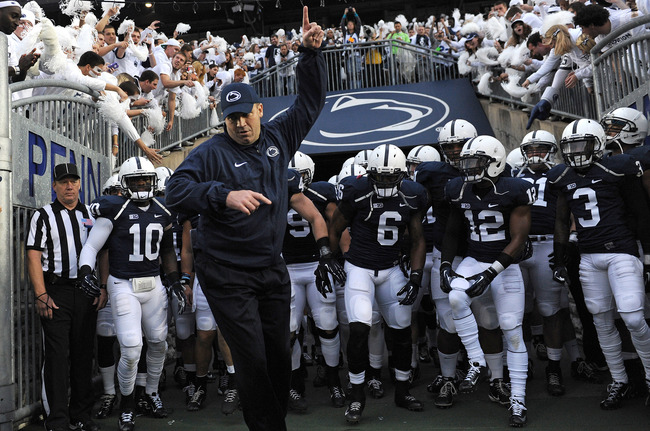 Patrick Smith/Getty Images
Bill O'Brien was blindsided by NCAA sanctions several months after accepting the job in Happy Valley. Part of the penalties imposed by the NCAA were scholarship sanctions, which will make recruiting tough for the Penn State Nittany Lions coaches.
However, O'Brien still landed a Top 25 class in 2013, per ESPNU and is working on another Top 25 group. Last year's class was a remarkable accomplishment and opened the country's eyes to O'Brien's recruiting prowess.
Yet, with the sanctions levied upon his program, should he hold on to his current Top 25 class ranking, O'Brien will be a recruiting star.
Mark Stoops, Kentucky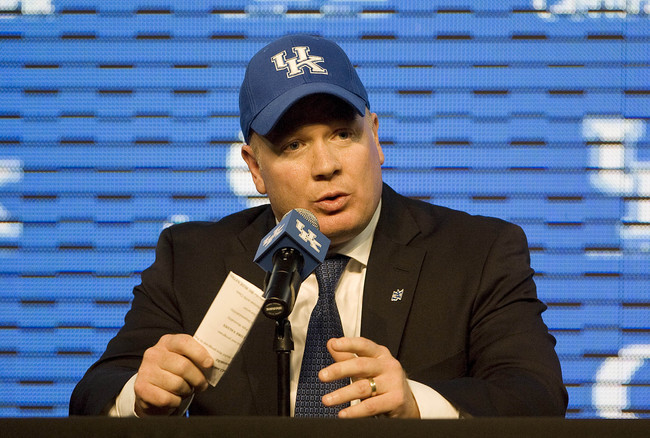 Mark Zerof-USA TODAY Sports
Until Mark Stoops arrived, Kentucky was most recently led by Joker Phillips. Respected around the country, Phillips never could raise the Wildcats' recruiting profile.
However, Stoops is now in charge in Lexington and has been electric on the trail. Stoops, who previously led Florida State's defense, sprinted out to a terrific start and has the nation's No. 11 class, per 247Sports.
An Ohio kid at heart, Stoops has made great early strides in his native state, as well across the South. Kentucky has commitments from five 4-star recruits, which has not happened often in its history. If Stoops can sustain his recruiting pace and finish with a Top 15 class, a parade may be thrown in his honor.
Butch Jones, Tennessee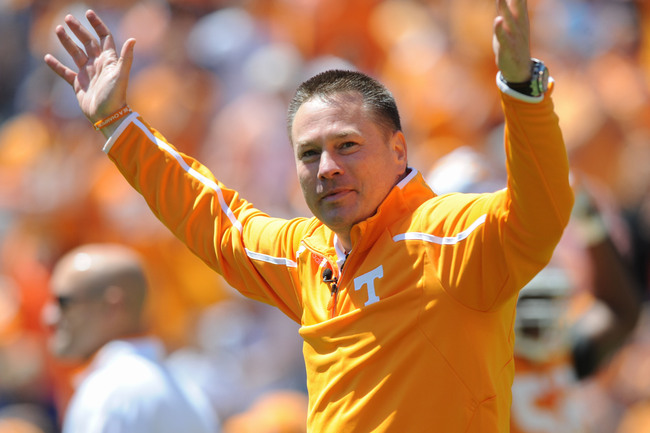 Randy Sartin-USA TODAY Sports
Butch Jones' early tenure in Knoxville is similar to Jim Mora's at UCLA. Both coaches took jobs at programs that were struggling and faced recruiting questions. They each hired who can recruit well.
And they have netted big early results.
Jones has a Top 10 class, says 247Sports, and Tennessee could not be happier with its new head coach. Jones has commitments from players such as running back Jalen Hurd, safety Todd Kelly Jr. and linebacker Dillon Bates.
A renewed sense of confidence and enthusiasm has riveted throughout the Vols' program, and it is all thanks to Jones, who has quickly become a force on the recruiting trail. Look for Jones to add several other solid commitments and finish in the Top 10 of the rankings, which will make him a rock star on "Rocky Top" and a recruiting star around the country.
Edwin Weathersby is the College Football Recruiting Analyst for Bleacher Report. He has worked in scouting/player personnel departments for three professional football teams, including the New York Giants and Cleveland Browns.
Keep Reading