NHL Free Agency: Teams Under the Most Pressure to Be Better After Signings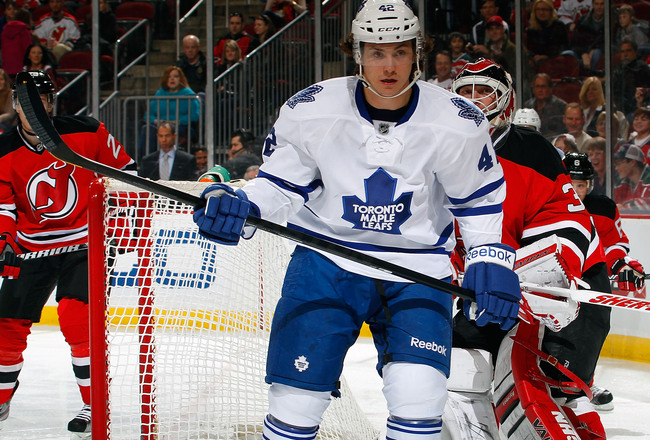 Paul Bereswill/Getty Images
The 2013 NHL free-agency season's first weekend is officially in the books, with many contracts being signed and plenty of money being thrown around.
Some teams made news with signings, while other teams made news by remaining quiet.
The teams that made noise by signing players and spending exorbitant amounts of money will be judged on their signings next season if their teams do not pan out as well as the money would indicate.
Here are the five teams that will be under the most pressure to be better after the free-agency signings.
5. Nashville Predators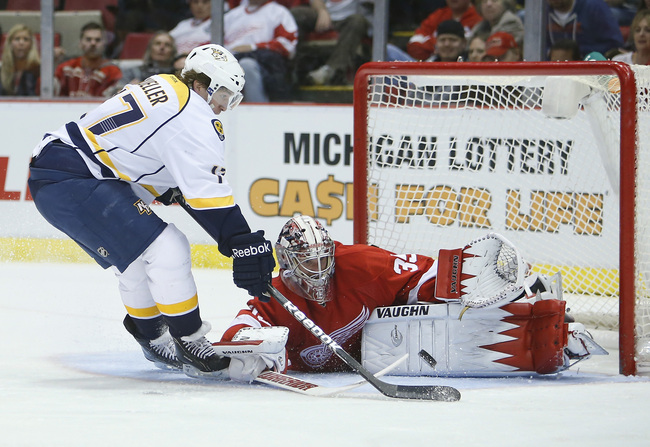 Tom Szczerbowski/Getty Images
The 2011-12 season featured a Nashville Predators team that not only made the playoffs as the No. 4 seed, but also knocked the Detroit Red Wings out in the first round.
In the offseason, Ryan Suter signed with the Minnesota Wild, and the Predators were forced to match the Philadelphia Flyers' offer sheet to Shea Weber. The Predators were suddenly looking a lot more hapless going into the lockout-shortened season.
The Predators won just a third of their games in the lockout-shortened season, going 16-23-9 while scoring just 2.27 goals per contest.
The challenge in Nashville this offseason was likely to get high-scoring players to come to a franchise that has long been renowned for a defense-first style of hockey.
That really hasn't happened so far this season with the Predators signings at forward. "Smashville" has brought in Viktor Stalberg, Matt Cullen, Matt Hendricks and Eric Nystrom up front. Those four players combined have just three 20-goal seasons, meaning that the Predators are likely in for another challenging season offensively.
To be blunt, there is even more pressure on these four forwards to find a way to increase Nashville's anemic offense this coming season.
Whether that offense will materialize is another question.
4. Phoenix Coyotes
Jeff Gross/Getty Images
On paper, the Phoenix Coyotes seemed like they could give the Predators a run for their money in terms of lack of offense.
Phoenix was slightly better than Nashville last season, finishing at 21st overall with 2.52 goals per game. But that won't get the job done on most nights, as the 'Yotes missed the playoffs this past season after going to the Western Conference Finals in 2012.
Enter Mike Ribeiro. The 33-year-old center had 49 points in 48 regular-season games last season, but he had just two points in a seven-game-series loss in the first round of the playoffs.
The Coyotes also re-signed goaltender Mike Smith, who had just 15 wins last season after leading Phoenix to the Western Conference Finals against the Los Angeles Kings.
But the Coyotes are putting all of their eggs in one basket, so to speak.
Giving what is currently the ninth highest cap hit in the NHL to a goalie who has been a starter for just two years and has had a save percentage of above 91.6 once in his life (2011-12) is dangerous.
The new Coyotes owners will absolutely be assessing this team following next season. If the Coyotes aren't making waves in the playoffs again, it could very well come back to pointing the finger at the signings in this offseason.
3. Boston Bruins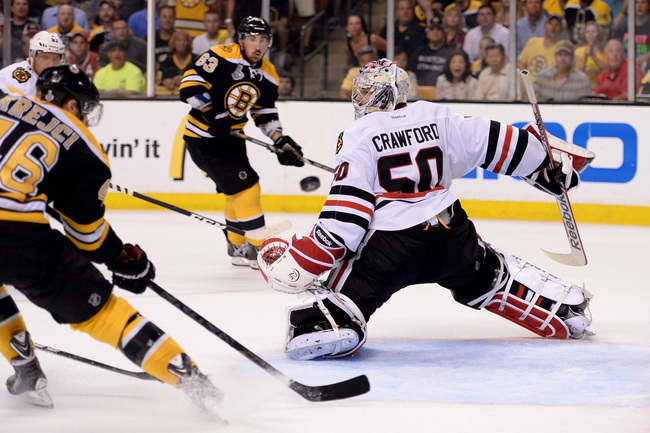 Harry How/Getty Images
Re-tooling a Stanley Cup champion or finalist can be challenging at times (2010 Chicago Blackhawks) and easier at others (2012 Los Angeles Kings).
The Boston Bruins are going for the more difficult route. The Bruins lost Nathan Horton to the Columbus Blue Jackets, and Jaromir Jagr will likely be playing elsewhere next season (if he plays at all). The Bruins also lost Andrew Ference to Edmonton and Tyler Seguin in a trade to Dallas.
But the Bruins management acted quickly and picked up Jarome Iginla (for real this time) via free agency and Loui Eriksson.
But Eriksson will need time to develop chemistry with his other linemates, and Iginla might be over the hill of sorts in terms of goal scoring.
With two very big-name players in Iggy and Eriksson, the Bruins will be expected to be better next season than this one, even without the likes of Seguin, Horton, Jagr and Ference.
2. Detroit Red Wings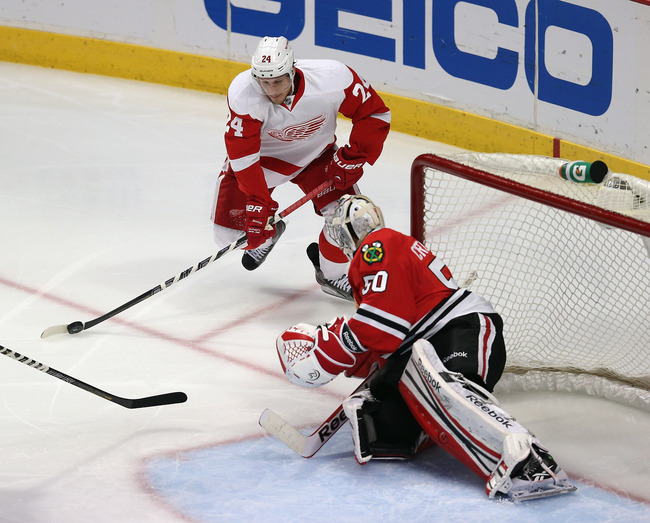 Jonathan Daniel/Getty Images
The 2013 Detroit Red Wings were not supposed to be anything special without the likes of Nick Lidstrom, Brad Stuart and others from the 2011-12 squad.
The Wings proved their doubters wrong. Despite being the No. 7 seed in the NHL playoffs, they defeated the Ducks in seven games and took a 3-1 series lead on the Blackhawks before bowing out in overtime of Game 7.
For the Red Wings, their offseason free-agency plan looked to be one of the simpler ones. Let second-line center Valtteri Filppula go for big money and take a look at signing a second-line center in free agency. Meanwhile, focus on re-signing some key Red Wings UFAs and RFAs.
The Red Wings took care of the No. 2 center by signing Stephen Weiss, but not before they made waves by inking Daniel Alfredsson to a one-year deal worth up to $5.5 million.
There's no denying that Alfredsson brings a lot to the team. But if the Red Wings cannot find a way to clear up some cap space, they will not be able to sign some key restricted free agents, and thus their long-term future could suffer.
Detroit will be expected to contend even more next season than this season.
1. Toronto Maple Leafs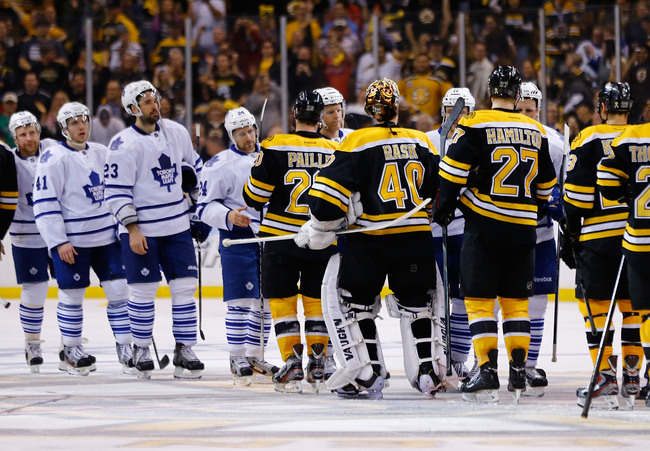 Jared Wickerham/Getty Images
When a team's season ends the way that the Toronto Maple Leafs season ended in 2013, there are no words.
The Leafs were eliminated by the Bruins in seven games. Boston would advance to the Stanley Cup Final as the Eastern Conference champions.
The Leafs management, albeit possibly overspending, re-signed Tyler Bozak and David Clarkson for a combined $9.45 million. But will the Leafs be better this season than last season?
Well, Toronto also picked up Dave Bolland in a trade at the draft. So for the moment, the Leafs look to be in better shape than when they had Mikhail Grabovski and Clarke MacArthur.
In Toronto, the expectations are always high. Now that Leafs fans have had a taste of playoff hockey for the first time in almost a decade, they will likely want more and expect their team to be better after some of the signings and acquisitions this summer.
The Leafs, on paper, are a better team. How much better is debatable, but it would likely be shocking not to see them back in the playoffs and going further than the first round next season.
But these are only expectations, of course.
All statistics via NHL.com or CapGeek.com unless otherwise noted.
For more article updates, Follow @Isaac_Smith91
Keep Reading